AceRoute considers itself to be software specifically to make the jobs of field service workers easier. People working at the site or who go from one area to another, like route drivers, have different software requirements. Along with getting efficient route mapping to navigate through the traffic, they need features like receiving updates about the routes through notification, creating delivery invoices, proof of delivery, etc.
In this Ace Route Review, we look at AceRoute's features and the benefits received from using those features. Ace Route is a functional tool that can offer a lot of value to a business and save time and money.
What is AceRoute?
AceRoute is a field service management software that businesses of all sizes can use. The software has been designed and launched by AceRoute Software, headquartered in California, United States. It started as a web-based platform and later had its own mobile application. Different industries like retail, wholesale, transport, automation, and delivery can use it as management software.
AceRoute is a useful solution for businesses of all types and sizes, thanks to features like work order scheduling, custom reporting, dispatch management, etc. With its extensive set of features, AceRoute aims to provide comprehensive field service management that is powerful yet straightforward with an intuitive user interface.
Simple, Intuitive Features Offered by AceRoute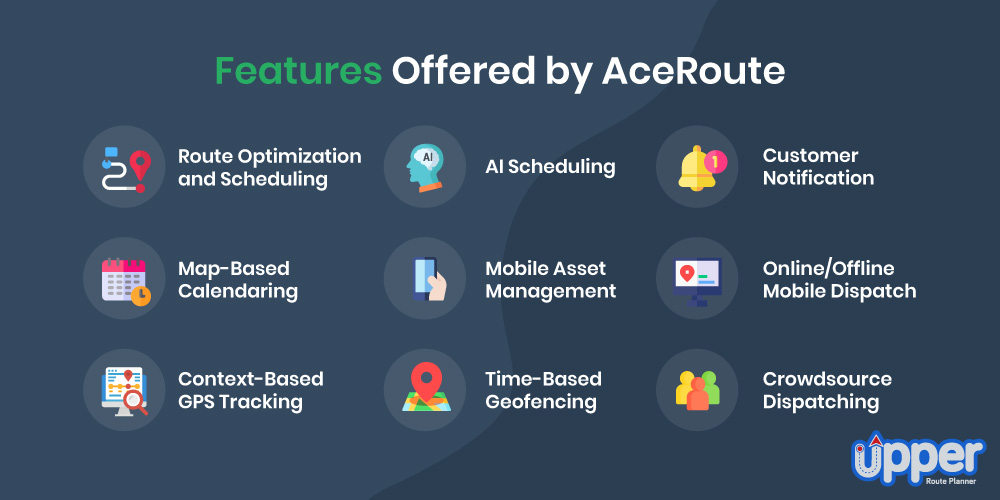 Route Optimization & Scheduling
With a proper schedule and route optimization, the right worker will be assigned to the right task. The field workers will really appreciate the decrease in travel time and confusion. The optimization planner uses the most optimized way to schedule jobs. It strongly considers the multiple constraints of business and customers.
AI Scheduling
The BestFit Scheduler analyzes the current plan, dynamically pushes-pulls jobs within constraints. It also suggests a list of optimal time slots based on machine learning. A business can plan last-minute changes or find the optimal time for a customer without putting them on hold.
Map-Based Calendaring
The unique split-screen dispatch board ofAceRoute offers a bird's eye planning view. It has a drag and drops calendar with an integrated map that allows an employee or worker to visually schedule or assign jobs or routes based on proximity and availability.
Customer Notification
With automatic customer notifications, businesses can eliminate the laborious task of contacting customers for each little update. Twilio and Mailgun power these notifications. Companies can confirm schedules, manage appointments, and provide route visibility.
Mobile Asset Management
With mobile asset management, managing service routes and logistics for your mobile assets and customer-owned fixed assets in one location becomes easier. It offers combined asset tracking and planning for utilities, heavy equipment rentals, and Liquid and Solid Waste industries.
Online/Offline Mobile Dispatch
With Online/Offline mobile dispatch, an employee or route driver can manage jobs, notes, audio memos, photos, annotations, parts, assets, breadcrumbs, and more. It also offers an integrated map, navigation, and GPS-aware timecard.
Context-Based GPS Tracking
The context-based GPS tracker engine keeps an up-to-the-minute log on the team's location about their assigned jobs. This way, an employee can monitor and gain insight into all field activities and job events.
Time-Based Geofencing
With time-based geofencing, an employee can monitor field vital signs and apply job punctuality and timeliness. Dynamic time-based geofence automatically scans and alerts field activities that deviate from the routes.
Crowdsource Dispatching
AceRoute can dynamically manage crowd workers with optimal job assignments based on expertise, location, availability, and acceptance rate. The dispatcher can auto-escalate tasks based on timeouts and worker declines.
Benefits Derived from Using AceRoute
Here is a list of benefits gained from using AceRoute.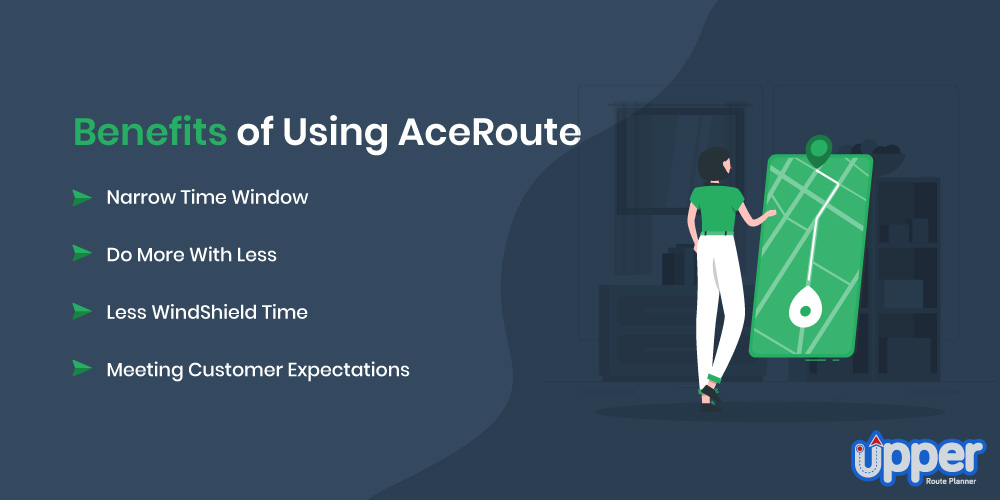 Narrow Time Window
Customers will not want to sit around and wait; they have better things to do. A business can optimize its schedule to cut down a four-hour wait into a one-hour wait. With a narrow time window, a company will have a competitive advantage.
Do More With Less
A business can also maximize its efficiency with work order management. This means AceRoute can fill the dead time between jobs to service more orders with fewer resources per day. Compressing the schedules and confirming the constraints set by a business will help.
Less WindShield Time
With automatic geographic location, drivers can eliminate needless travel time. A business can optimize route sequence to minimize the total distance traveled along with cutting the fuel cost.
Meeting Customer Expectations
AceRoute helps businesses in setting up the right customer expectations and then meeting them consistently. This is done by accurately planning the schedules and reliably estimating arrival at job locations depending on the travel and service times. This can improve overall customer satisfaction.
Is There An Alternative?
AceRoute can prove to be a useful software for many different businesses of all sizes. Any company that requires features like a map-based calendar, GPS tracking, intelligent job handling, proof of visit, work order management, and asset management can benefit from using AceRoute. A smaller company or business with a limited number of employees at work and a small number of customers to serve daily might find many of these features to be supplementary. A smaller company with fewer customers and limited management requirements can look for an alternative.
What is Upper Route Planner?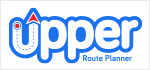 Upper Route Planner is a route planning and optimization solution that can help route drivers, contractors, and small businesses manage their daily delivery schedules. Couriers and small businesses can save time with automated route optimization and add multiple stops to the routes. While planning a route, it considers factors like urgent stops and stops duration. Upper Route Planner's advanced algorithm considers multiple factors that eventually help you in saving time and money.
What Makes Upper Route Planner Suitable?
With Quick Address Input, Excel Import Feature, and robust optimization, Upper makes sure that you get more addresses in less time. It allows you to duplicate routes and share them with others. In addition to this, it offers best-in-class customer support with reports and insights. The Upper mobile app runs on Apple and Android mobile devices.
Conclusion
Field service workers outside the office and need correspondence with their office team need a solution like AceRoute. Depending on the requirements, they can choose AceRoute or any other option that is more suitable for them. Those who need to find out more about other route planner apps can visit our blog.