Getting complete delivery management support from the delivery logistics platform is easier for any business, rather than collecting different business tools to build management software. Many businesses require easy-to-use software that can smartly schedule appointments, offer support to field service staff, route optimization, save fleet operating cost, and work as an overall delivery logistics platform. AntsRoute has made it possible.
AntsRoute software offers a useful delivery infrastructure at each step of the delivery process by considering business constraints, managing delivery operations, capacity planning, scheduling driver management, and customer service. In this AntsRoute Review, we will go through some features and know which industries it has offered as a delivery management software.
What is AntsRoute?
AntsRoute is a route planning & optimization software. It was developed by the French startup Antsway in 2015. The innovative software offers a smart and easy way to schedule deliveries, operations, and appointments. By way of optimizing routes and supporting deliveries, AntsRoute helps professionals and improves customer satisfaction.
AntsRoute not only reduces your operating costs and optimizes the use of your resources but also digitizes the entire delivery process with the use of dematerialized route plans and services or delivery reports. Your field service workers will spend less time on the road looking for an address or customer details and more time carrying out the maximum number of stops. This support can improve working conditions.
AntsRoute has a mobile application for both iOS and Android devices. It also offers a 14-day free trial of the delivery management software and its features. We do not comment on specific pricing details because they may vary. Please consult the company or visit the Antsway website for updated pricing details.
What Are The Features Offered by AntsRoute?
In addition to route planning and optimization, AntsRoute software offers the following features.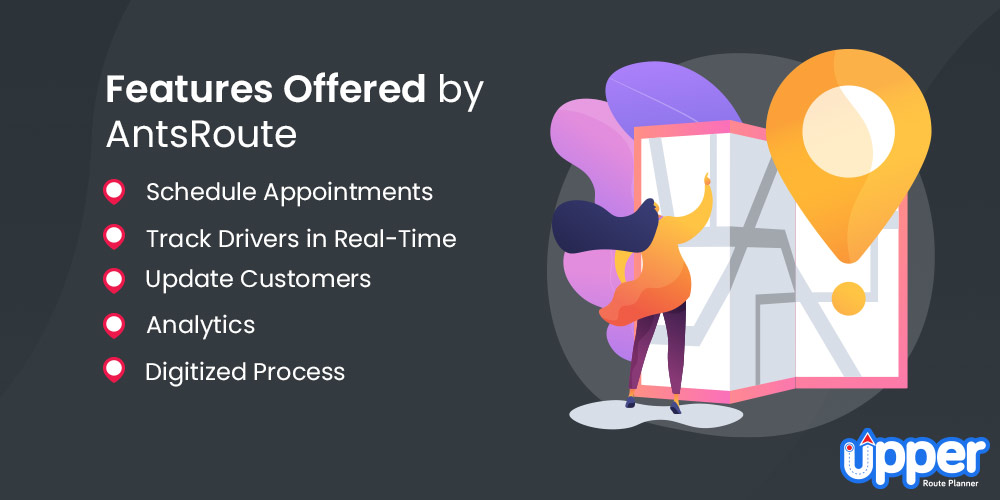 Schedule Appointments
The smart appointment module understands the skill available for each task. It also creates a logical point cloud of orders to make sure route building plays its role. It also makes sure that the geographical coherence relating to customer expectations. It considers factors like orders, order duration, lunch breaks, agents' skills, vehicles' capacity, time slot, etc.
Track Drivers in Real-Time
When the drivers are using the AntsRoute mobile application, you can easily track their progress. With the AntsRoute field staff tracking app's help, route plans can be easily dispatched to the drivers. Users can schedule last-minute orders, manage unexpected solutions, and send updates to drivers in real-time.
Update Customers
The real-time order and delivery tracking offer features that allow your customers to confirm or reschedule appointments using their smartphone. Customers can be kept in the loop by forwarding the email and SMS alerts throughout the delivery process. The automated sending of post-visit links is another useful feature that helps in collecting feedback about customer experience.
Analytics
The AntsRoute software's reporting module can provide you with all the necessary information. It gives you a comparison between scheduled and completed delivery routes. You can analyze your route plans and your field's economic indicators like the number of daily orders, kilometers ratio per order, kilometers per day, gas emissions per order, etc.
Digitized Process
The delivery report and data generated in the software are automatically sent to the operations manager as soon as the field workers complete work or delivery. You can customize the delivery reports. Field workers and drivers can use the mobile application for the input of data. This way, you can avoid data entry and at the same time avoid losses of documents or input errors.
Industries That Make Use of AntsRoute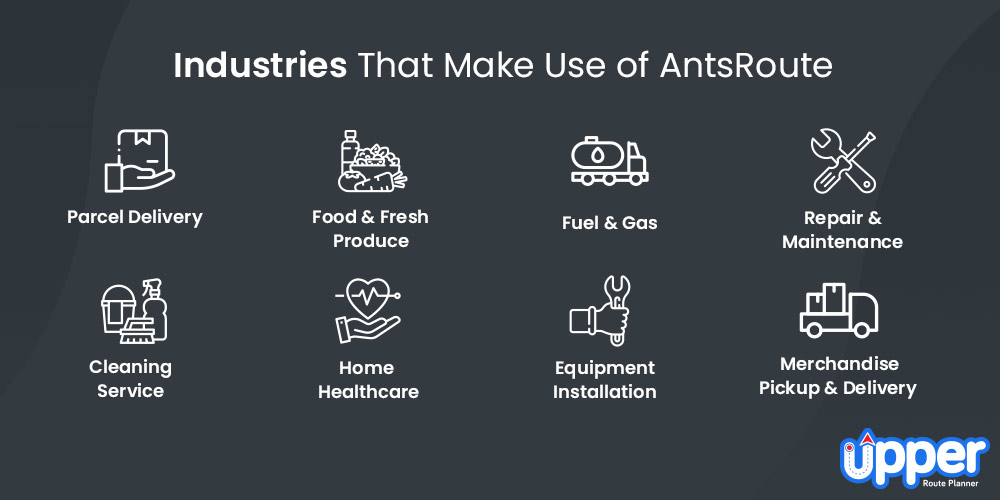 Parcel Delivery
For parcel delivery companies, AntsRoute software can help them by reducing operational costs by considering factors like time windows and vehicles' capacity. The managers can receive proof of delivery, keep the customers updated, and receive feedback from customers. Companies can also automate orders, optimize pick-up and delivery route plans, track couriers in real-time, and manage last-minute changes.
Food & Fresh Produce
Food and fresh product companies down the delivery time and improve productivity by making orders easier. Companies can also send automated notifications, deliver fresh produce by appointment, optimize route plans in a single click, automate dispatch to field service staff, track deliveries in real-time. Food and fresh produce businesses can ensure on-time deliveries and also collect proof-of-delivery.
Fuel & Gas
Fuel and gas companies can build delivery route plans while integrating logistics constraints and integrating factors like working hours, availability, lunch breaks, and increasing deliveries. Schedulers are provided with an intuitive solution for cutting down planning time and enhancing customer satisfaction.
Repair & Maintenance
Repair and maintenance professionals can create maintenance route plans and determine technicians for carrying out maintenance or repair operations, suiting their skills and qualifications. Businesses can offer optimal service quality, make the scheduling process easier, improve customer service, and reduce operations costs.
Cleaning Service
Cleaning services can smartly schedule cleaning operations, build optimized routes, and manage last-minute changes. The cleaning operatives can receive dematerialized routes, automate proof-of-visit collection, export cleaning service routes, and send SMS alerts to buyers to know customer availability.
Home Healthcare
Schedulers can determine the best home healthcare workers depending on their skills and qualifications, travel time slots, and other distance constraints. Home health care workers can access daily routes via the AntsRoute mobile application, communicate with coordinators in real-time, determine specific departure addresses, and automate proof-of-visit collection.
Equipment Installation
AntsRoute can cut down multi-stop route planning time for equipment installation company owners and managers, enhance customer satisfaction, decrease operational costs, and integrate the AntsRoute system with their own system. With the AntsRoute cloud-based system, schedulers can automate installations, build the best multi-stop routes, keep the installers informed, and smartly assign last-minute operations.
Merchandise Pickup & Delivery
AntsRoute can smartly schedule orders for merchandise distributors, send notifications to customers, keep them updated, communicate with managers, and integrate the software with their own system. Schedulers can build optimized routes in a single click, automatically dispatch routes to field workers and truck drivers in the field. With AntsRoute merchandise, businesses can ensure on-time deliveries of goods, collect proof of delivery, and send SMS alerts to buyers.
Is There an Alternative?
An all-in-one solution or route planning software can really help many businesses out there. But not every business will have the same requirements. Several small businesses and individual contractors might not need scheduling driver management and other extensive logistics features. Such software can also prove to be expensive for small businesses and individual contractors. This is why we need an alternative solution.
What is Upper Route Planner?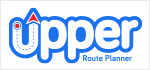 Upper is a route optimization software that can help field service workers and small businesses require a cloud-based web interface and mobile app to create efficient routes for on-time deliveries.
What Makes Upper Route Planner a Suitable Alternative?
Upper has an intuitive web interface and mobile app that can offer ease of use to all the users. It can help you save time and money and find route performance indicators for your business. Upper can be a suitable option for individual contractors, start-up businesses, and small businesses. It offers web-based software and a mobile application for iOS and Android devices.
Conclusion
AntsRoute by Antsway is a useful business software that offers support to different industries ranging from food delivery to gas and fuel. We hope this blog has helped you know more about the Antsway software and if it can be of help to you. You can check out our blog for information on other route planner apps.