Planning truck routes is a lot of hard work. A few years ago, delivery and logistics businesses spent a large amount of their time and resources to plan routes. Thanks to route planning and optimization technology, all the base work for creating efficient routes is now automated. But why exactly is it important for businesses to have specific tools to create truck routes? Does using an app for truck routes really enhance the performance of the delivery?
In this article, we will take a look at what exactly route optimization is and why it is so important for delivery businesses. We have also presented a list of the 5 best tools that can help you to create the most optimized routes for your daily delivery tasks.
What is Route Optimization?
Route optimization is the process of identifying the most efficient and cost-effective route for multiple stops. It is about identifying the most time-effective route to reach from one place to another while considering other factors like the number and location of the stops, time windows, real-time traffic incidents, and more.
Route optimization needs to be done by any business or organization that has delivery drivers making deliveries or sales reps traveling from one place to another. Having proper route optimization will help these businesses not only saving time and fuel costs but improve their overall delivery performance by delivering on time and making customers happier.
How to Optimize Routes Properly?
Route optimization is a difficult task to perform manually. With manual route planning, the uncertainties and risk factors cannot be eliminated. This is why businesses choose optimization algorithms that automate the process.
Fleet managers and planners make use of algorithms to figure out a smooth plan. The need for using an algorithm arises from the complexity of the task. It becomes difficult for humans to compute routes manually while considering multiple factors. Route optimization algorithms aim to solve two of the biggest problems faced by logistics businesses: Vehicle Routing Problem and Traveling Salesman Problem.
Importance of Optimizing Truck Routes
It saves time, fuel, and money.
Improves revenue per driver and reduces the overall operational cost of the delivery.
Offers an extra set of resources or data that help in making efficient deliveries.
On-time delivery and features like SMS notifications, real-time ETAs, proof of delivery can improve customer experience.
It helps in equally distributing the workload among drivers.
Replanning or accommodating changes or additions to the plan becomes easier.
Improves driver safety and productivity with the help of real-time tracking.
5 Best Apps for Route Planning & Truck Navigation
Here is a list of applications for truck route planning and navigation. no
1 – Upper Route Planner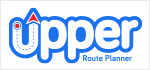 Upper Route Planner is a route planning and optimization tool used by independent contractors/drivers, delivery businesses, truck drivers, and individuals who need to plan their trips. With automated route optimization, businesses can plan multiple routes with multiple stops for multiple drivers at once. Upper Route Planner has a human-centric design that aims to provide an easy-to-use interface and optimal user satisfaction.
Available on: Web, iOS, and Android
2 – Descartes Route Planner
Descartes Route Planning software offers features that help businesses maximize the utilization of their fleet and mobile resources. It constantly creates optimal truck routes to use lesser trucks and travel lesser miles per delivery. Different industries like retail, field service & sales, transportation & logistics, and manufacturing & distribution can make good use of Descartes's route planner.
Available on: Cloud, SaaS, Web, iOS, and Android
3 – Route4Me
easy-to-use route optimization software that solves the routing chaos for your delivery business. Route4Me makes sure that you spend less than 10 minutes a day planning your delivery routes because it knows there are other important tasks that need to be handled.
So, it allows you to automate the planning and optimization of your truck routes. It is a really good choice for field service, territory management, and last-mile delivery. It is designed as both horizontal and vertical solutions that can work for any business.
Available on: Cloud, SaaS, Web, iOS, and Android
4 – Optimoroute
Optimoroute is a cloud-based route planning software that helps businesses in planning efficient route schedules. It supports multiple order parameters for multi-stop route planning, mid-route changes, live tracking, and customizable SMS and email notifications. It also offers proof of delivery and the ability to add notes in the mobile app. This feature can be handy for delivery drivers and field service technicians.
Available on: Cloud, SaaS, Web-based, iOS, and Android
5 – Routific
Routific is a route planning and delivery management software that helps fleet managers control the delivery operations. It keeps your drivers on schedule, tracks them, reduces cost-per-delivery, improves efficiency, and manages your entire fleet. Businesses ranging from food delivery to courier delivery can take the help of Routific to manage their daily delivery operations.
Available on: Cloud, SaaS, Web-based, iOS, and Android
---
FAQs
The best GPS app for truck drivers is the one that is mainly designed to meet the needs of commercial vehicles. There are several truck-specific GPS apps that you can use. Some of the best GPS apps are Sygic and Trucker Path.
Waze is one of the crowd-sourced GPS apps that shows the most updated information on routes, traffic, road closures, gas prices, accidents, and more. But it doesn't specifically have a truck mode. But if more truck drivers use it, the app generates up-to-date information for the community.
---
Start Optimizing Your Truck Routes
Having tools and applications to help you with truck routing and truck navigation is extremely important for completing delivery tasks for any logistics business. Tools specifically built to help route planning and optimization for trucks can consider several factors like truck GPS navigation, weigh stations, toll roads, fuel usage, truck dimensions, truck washes, low bridges, and overall safety of the fleet and truck drivers. We hope this article has helped you figure out why it is important to have specific route optimization tools for your fleet.