Alongside meals, electronics, clothes, groceries, books, and a litany of other consumer goods, you can now get your drugs delivered directly to your home. No, we're not talking about those kinds of drugs. We're talking about the life-saving prescriptions that many folks rely on day in and day out.
While most home delivery services are touted for their convenience factor, many deliveries are more than just convenience. One such type is delivery is pharmaceutical deliveries. For those who have limited mobility or are immuno-compromised, going to the drugstore or hospital isn't necessarily easy or safe. Certainly, as we continue to live through COVID-19, the importance of being able to access one's prescriptions without having to go out in public has become invaluable.
Unlike home delivery of regular consumer goods, there are special considerations for pharmaceutical deliveries. They require proof of delivery at all the stops. More and more businesses have this requirement. That's why it's important to use a reliable route planner that takes these factors into account. In this article, we'll first look at what a route planner app is designed to do. Next, we'll explore special considerations that must be taken into account when delivering the stops requirement proof of delivery. Finally, we'll look at the best route planner for routes requiring proof of delivery.
What is a Route Planner?
What is involved in Route Planning?
If you own a business that offers delivery services or in-field services (e.g. cable installation, lawn mowing, etc., you rely on route planning to manage your deliveries or service workers. Route planning involves more than just plotting points on a map to plan your delivery route. It includes identifying and taking into account numerous factors in order to plan the route that is most efficient and most cost-effective.
While some small businesses may rely on Google Maps for planning routes, Google Maps is not a route planner, it is a web mapping service. It was not designed for planning routes with multiple stops, so while Google Maps does a great job of mapping an efficient route from Point A to Point B, it doesn't fare so well when mapping multiple stops on a delivery route.
Can Google Maps Optimize My Route?
Historically, before even Google Maps was available as an option, businesses had to manually plan their delivery routes. This was not only a time-consuming and costly exercise but a very imprecise one. That's because to be at its maximum efficiency route planning must account for myriad factors in real-time. Humans simply don't possess the brainpower to compute all of these factors and, until recently, real-time data about traffic conditions, weather, etc. wasn't easily accessible to most businesses.
Today, most businesses are bypassing manual route planning and Google Maps in favor of a route planning software solution. Unfortunately, this app is not designed specifically for route optimization, they use algorithms that account for numerous factors and real-time data. However, they do not do optimization to find the best routes in mere minutes or even seconds.
How to Save Time and Money?
At the end of the day, route planners save businesses time AND money. Their delivery drivers spend less idle time on the road and can complete their route more quickly or add more customers to the route. Customer satisfaction can also be positively impacted, as route planning apps help ensure fewer delivery errors, and, in many cases, the app provides customers with up-to-date information about the expected arrival time of their delivery.
For more insight into route planning,
Check out our article, What is Route Planning?
Special Considerations for Stops Requiring Proof of Delivery
It goes without saying that delivering pharmaceuticals is not the same as delivering a pepperoni pizza. After all, one delivery involves potentially life-saving drugs, while the other simply makes Friday night dinner a breeze.
In this section, we outline four key considerations for pharmaceutical deliveries. Any route planner that is designed for pharmaceutical deliveries should have features that take these considerations into account:
Sensitive Information – Protection of customer data is imperative when it comes to products such as prescription drugs. Customers want to be assured that this sensitive data won't be sold to third parties. They also want to feel confident that their data is securely protected against data breaches, such as hacking. When shopping for a delivery software solution, it's important to examine the fine print regarding customer data and ensure that the developer is wholly committed to privacy and protection.
Best Delivery Process – When it comes to pharmaceutical deliveries, there are a few special considerations that need to be taken into account in terms of the delivery process. For example, in many instances, it's required that the customer is at home when the prescription drugs are delivered. An app that allows a customer to select a specific time slot for delivery and provides real-time tracking of the delivery driver en-route helps ensure maximum efficiency and customer satisfaction. Some pharmaceutical delivery apps will also offer other valuable features such as organizing a customer's prescriptions based on the time of day they need to be taken, and automated refills.
Signature Capture & Photo Proof – The sensitive nature and importance of prescription drugs to a person's life make it imperative that the delivery driver gets the package to the right customer every single time. A delivery app should account for the need to capture the customer's signature upon delivery, as well as photo proof that the proper prescription order has been delivered.
On-time Delivery – If your pizza doesn't arrive on time or at all, what's the worst that can happen? You have to eat Cheerios for dinner right? But when it comes to prescription deliveries, the stakes can sometimes be much higher. If you run out of insulin and your refill doesn't get delivered on-time, you may end up at the doctor's or in the hospital. While it's important for customers to order their prescriptions in a timely manner to avoid the need for emergency deliveries, the fact is that not all customers are going to remember all the time. This is why it's important that your pharmaceutical delivery service can guarantee fast, on-time delivery.
Unlimited Stops and Unlimited Routes – Finding a multi-stop route optimization tool with unlimited stops has become almost a minimum requirement nowadays. Google Maps which has only 10 stops will not cut it. Most delivery companies that are looking to find the best app for their delivery drivers, know that they need unlimited stops (or addresses) as well as unlimited routes.
These are just a few of the key considerations to take into account when shopping for a route planning app for your delivery service. Check out our Route Planning article for other features and general considerations to take into account when choosing a route planning software solution for your delivery drivers.
Plan quickly, deliver faster, delight customers and get home early.
Everyone deserves to have simple and easy route planning.
Upper Route Planner: The Best Multi-Stop Route Optimizer for Proof of Delivery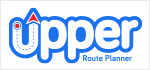 We recommend Upper Route Planner as your best multi-stop route planner app for delivery drivers who need unlimited stops. Planning routes with proof of delivery is not the easiest job, and you need an app that will be both user-friendly, allow you to add unlimited stops and routes, and will allow you to navigate with ease. Let's run through some of the advantages of managing routes and stops with the Upper Route Planner app.
Easy and Simple: Upper's app has developed its interface to be very accessible, intuitive, and easy to use.
Quick Routes: The user can quickly create routes and add as many stops as they like.
Proof of Delivery: Upon arrival at any of the stops on any of your routes, you have the ability to record proof of delivery. The app offers three options: signature, picture, and notes. All the data will be logged into your secure back-end and you will be able to access it at any time in the future.
Unlimited Stops and Unlimited Routes: As well, the app provides the user with unlimited access to routes and addresses, making it a go-to routing software for sales people, field sales reps, last-mile carriers, and other professionals.
Privacy of Data: Your data will be safe and secure on our servers.
Multi-platform: We are on the web, Apple iPhone's App Store, and Android Google Play Store. You can create routes in one app, and navigate to those routes in the other app. Everything syncs instantly.
Conclusion
If you are looking for the best planner with multiple stops, you certainly have to look beyond Google Maps (which is good for driving directions but not for route optimization). In terms of the best app for the job, you need to look at the critical we named above, including on-time delivery. For us, when you want to get as many routes done, as efficiently as possible we recommend Upper Route Planner. There are other apps out there that will get you on you way to the stops, routes, addresses that you want. You are free to try them out.