The Covid pandemic has pushed customers towards buying groceries from an online marketplace. This is a trend we have seen in the last year which is slowly turning into a huge consumer habit.
According to the forecast by Statista, online grocery sales are said to reach 59 billion US dollars by 2023.
If you are a grocery store owner, you will want to tap into this opportunity. How can you do this? You can start by applying grocery delivery software and offer home deliveries of groceries.
What Does a Grocery Delivery Software Do?
A grocery delivery software is a logistical tool used by an online grocery business or any grocery delivery service to facilitate the pick-up, delivery, route planning, dispatching orders, and management of all the delivery tasks that a grocery business faces on a daily basis.
The grocery delivery software is a comprehensive solution for an online grocery shopping business that handles all the tasks in the grocery delivery procedure right from order to delivery. You will have to make some critical considerations before you start offering online grocery delivery and use a grocery delivery platform.
Try Upper Route Planner To Boost Your Grocery Delivery Orders
Upper Route Planner helps you scale your deliveries while optimizing multiple routes and managing multiple drivers at once.
How can the Features of a Grocery Delivery Software Make Things Easier for Your Business?
Import Hundreds of Delivery Stops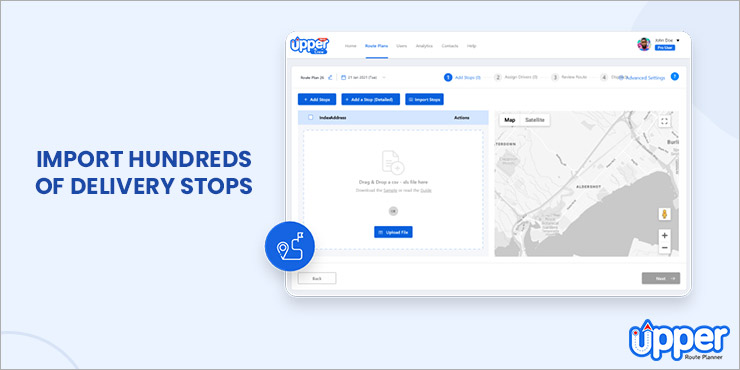 As a business having hundreds of stops to cover throughout the day, you need a more robust solution. Upper Route Planner allows you to add up to 500 stops and divide them equally among multiple drivers.
All you have to do is list all the addresses and delivery details in a spreadsheet and upload it on Upper Route Planner, and you're good to go! It helps you avoid a manual process of adding addresses and identifies and prevents problems like wrong addresses & repeated addresses.
Plan & Optimize Delivery Routes Automatically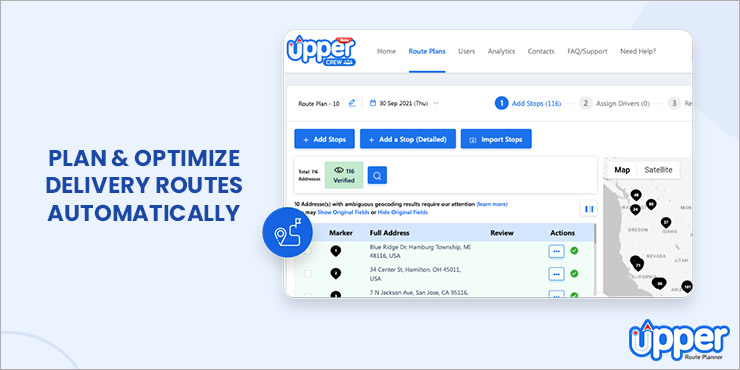 Automated route planning and optimization is one of the most critical aspects for an efficient delivery system. Planning and optimizing routes with Upper Route Planner is done in just a few minutes.
Upper Route Planner provides you the most efficient and optimized routes in minutes. It's not quite possible to achieve such results when optimizing routes manually.
One of our clients – Chef Nicole, a Miami-based meal-kit delivery business, ditched its manual route planning system and decided to adopt Upper Route Planner.
After integrating Upper Route Planner in their delivery process, Chef Nicole gained complete control over their deliveries. Chef Nicole managed to:
Automated route planning & optimization for multiple delivery agents simultaneously;
Saved 33% time in routing and planning activities;
Accommodated 60% more orders;
Opened up for deliveries in 2 major suburbs; and
Increased productivity by 40%.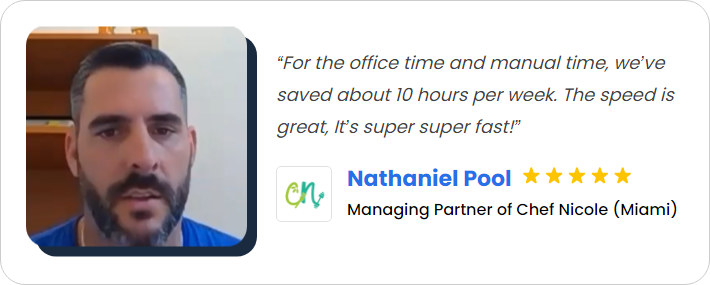 Optimize According to Priority & Time Windows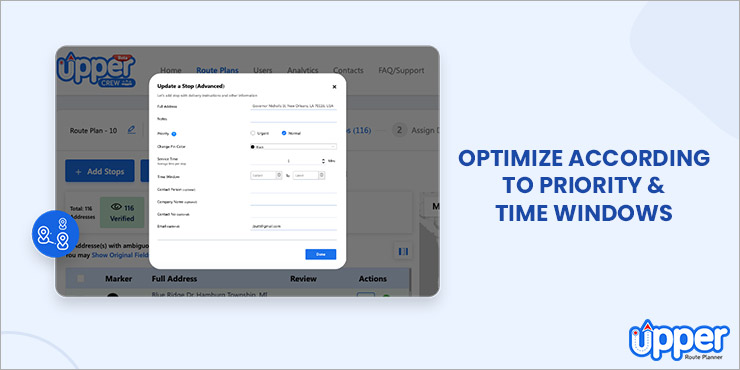 Once you import your stops using a Spreadsheet, Upper Route Planner will:
Calculate the quickest and most delivery schedule to cover all stops;
Divide the stops equally among drivers according to their start & end locations;
Allow you to add delivery constraints like service time & time windows for each stop.
Upper Route Planner optimizes each route by considering multiple factors like time windows, driver location, service time, and vehicle type. This way, you can make sure each of your drivers has the most efficient delivery routes.
Our client, Wishlist.Delivery Maker, creates efficient and accurate delivery routes by prioritizing several urgent orders and managing strict time windows for those orders, instead of relying on guesswork.
Upper Route Planner has helped several clients in managing priority orders in strict time frames while still successfully managing other orders on the same route.
Recipient Notifications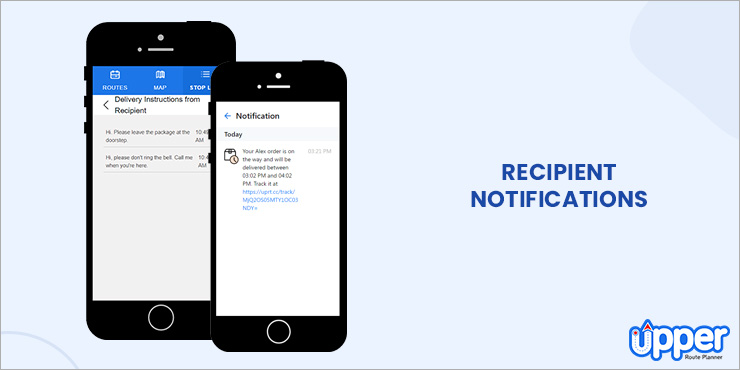 Delivery businesses must have a way of keeping their customers informed at every stage of the delivery process. Informed customers are happy customers. Not being able to keep your customers informed about the location of their grocery items can truly affect the customer experience.
Upper Route Planner's recipient notification feature helps you keep your customers informed from time to time about their order status. Keeping customers informed can drastically improve the buyer's experience.
Proof of Delivery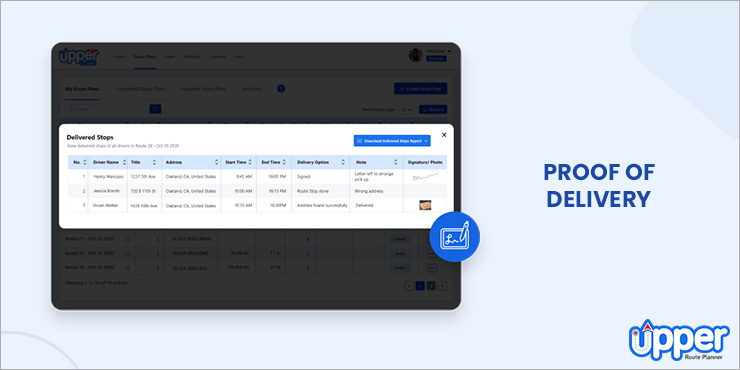 Carrying manual manifests to record customer signatures is extremely inconvenient for your drivers, right? Why not let them record customer signatures or capture images of delivered packages on their mobile phone?
You can do this with Upper Route Planner. Upper Route Planner's proof of delivery feature is the best tool to help you keep a record of the successful delivery of the package. Simply click pictures or collect customer signatures on your mobile app.
One of our clients, Parkwood Pvt. Ltd., a family-owned manufacturing business in New Zealand, used to carry out a printed, manual manifest to record proof of delivery.
With Upper Route Planner, they started recording digital proof of delivery.
The drivers could easily collect customer signatures on their phones. They could click pictures of the goods delivered at the intended address.
Being able to collect digital proof of delivery helped Parkwood Pvt. Ltd. and many of our other clients get rid of false complaints and misunderstandings regarding the delivery of a package.
Reports & Analytics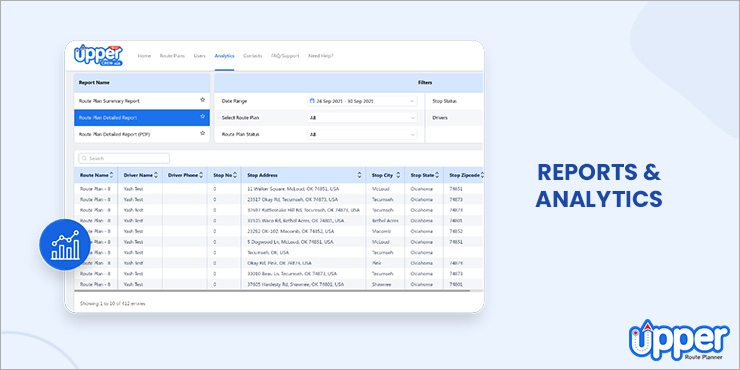 The best way to identify faults or loopholes in your system is by generating an overall report of the tasks performed. Upper Route Planner helps you generate such detailed reports to help you better understand the performance of your drivers and your business.
Upper Route Planner's daily reports help you generate insights into your daily tasks and the overall performance of the business.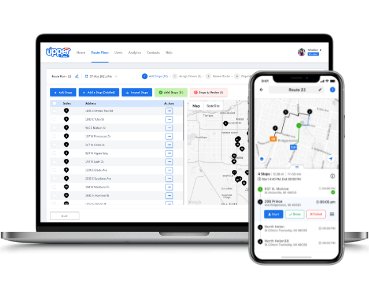 Upper Route Planner
A Simple-to-use route planner that every one is talking about.
Save up to 95% of planning time
Save up to 40% of time on the road
Plan 500 stops at once
What Are The Real-world Benefits of Using Online Grocery Delivery Software Like Upper Route Planner?
Reduce Planning Time
A software like Upper Route Planner helps you plan and optimize hundreds of deliveries instantly. So instead of spending 3-4 hours every day planning, you can get done with it in less than 15 minutes and start delivering packages.
Optimize Routes Considering Real-time Constraints
Upper Route Planner takes into consideration specific delivery constraints like driver availability, delivery time windows, and service time. When routes are created using real-time delivery constraints they are always more accurate and efficient.
Use Delivery Resources to Full Potential
When you have a properly planned delivery process, you will be better able to take advantage of your delivery resources like grocery delivery drivers, delivery vehicles, and fuel. A delivery procedure only proves to be efficient when the resources are utilized wisely.
Offer Curbside Delivery
Customers often require drivers to hand them the package on the curbside. For customers with such specific demands, dispatchers can add the curbside option for that particular customer.
Improve Customer Experience
With features like recipient notifications, contactless delivery, delivery details to drivers, real-time tracking, and proof of delivery, businesses can easily improve delivery experience for their customers.
FAQ
Some of the best grocery delivery apps are Instacart, FreshDirect, & Amazon Prime Now.
Yes, absolutely. Upper Route Planner helps you plan your grocery delivery services efficiently. All you have to do is input the list of stops, let Upper Route Planner optimize the route, and dispatch it to your driver. Upper Route Planner helps grocery delivery businesses in ensuring the grocery orders reach their customers on estimated time while tackling last-minute changes, real-time traffic, and high-volume orders.
Yes, of course. Upper Route Planner helps online grocery marketplace in planning and managing their high-volume deliveries. You can plan and optimize delivery routes, add multiple drivers and customers, send customer notifications, capture proof of delivery, and generate reports and analytics.
Make Your Grocery Deliveries Effortless
There is no reason why your grocery ecommerce platform should struggle to make on-time deliveries when you use a grocery delivery software like Upper Route Planner. The perfect solution is the one that is cost-effective and allows you to manage deliveries, drivers, and customers, all in one delivery software.
Still, have confusion whether this software will be useful for your business or not? Don't worry, you can start your free trial today and start using this software for your business.