It may surprise you to learn that flower arrangement and bouquet delivery services have been around for more than a century and still serves every occasion. The first such service saw 15 florists band together to deliver flowers and bouquets to our loved ones as far back as 1910. Receiving fresh spring flowers from friends and family can make your day. But if you're the one looking to send flowers, it could also mean stress, trepidation, and in the worst cases, last-minute interactions with the company's customer service team.
Since the first service (launched by FTD Flowers), the flower delivery service industry continues growing year on year. Over the next five years, the online flower and bouquet services market is set to grow at a roughly 5% compound annual growth rate (CAGR) until 2025, topping out at about $17 billion per year. Customers can choose from a wide variety of roses, daisies, lilies, carnations, tulips, orchids, and more. Flower services can deliver your choice of flowers whether it is for a birthday, anniversary, or a token of love for your mom.
The key drivers in the industry (apart from fresh blooms) are innovation, customer satisfaction, and same- or next-day flower orders delivered right to your door. With this in mind, let's look at the top five flower delivery services and bouquets available online in 2022.
What Makes for a Great Flower Delivery Service?
The best flower delivery service (or a mobile flower shop) always pays attention to their customers and ensures fast, reliable, and efficient flower delivery services every time. It's no longer necessary to scramble for beautiful flowers for conveying an anniversary or birthday wishes whether you want garden mixes or traditional roses. Today, we can send potted plants along with gift baskets and snack baskets just as easily as a bouquet (and a variety of other products) to any of our loved ones who have a green thumb.
With Valentine's Day just around the corner, now is the perfect time to start looking at which companies provide the best online flower delivery service before it gets too busy. When comparing services, you'll need to consider everything from:
Ordering efficiency
Variety of selections available (birthday flowers, spring flowers, birthday plants and other bouquet options) and naturally
The price you'll pay for the quality of beautiful flowers you expect
Customer Support
We've curated the list of online delivery services for flowers and came up with these five selections as the best options currently available for ordering online bouquets.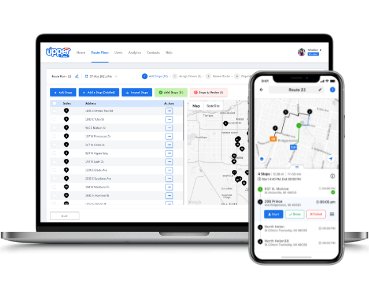 Upper Crew
A Simple-to-use route planner that every one is talking about.
Save up to 95% of planning time
Save up to 40% of time on the road
Plan 500 stops at once
No credit card details required
1 – ProFlowers – The Answer to What is the Cheapest Flower Delivery Service?
ProFlowers is probably one of the best flower bouquet delivery options available for getting value for money. It has the most economical floral arrangements as part of its selections while offering a host of additional value-added services, including same-day delivery and fulfillment. ProFlowers outshines its competition with an affordable service and a wide variety of flowers and bouquets available.
One of ProFlowers' main benefits is they use a network of 30,000 florists from around the country, which makes a difference when you put in an order for flowers in a large metropolis like New York City, Los Angeles, and San Francisco. You can be sure that a local florist may earn from your purchase of a flower arrangement. While this ensures timely fulfillment, you may not always get the exact floral arrangements as they appear in the online catalog. They have an easy-to-use website and often deliver according to your requests.
2 – 1-800-Flowers – Still One of the Best Online Services for Flowers
Since its launch in 1982, 1-800-Flowers.com has remained one of the best bouquet and flower delivery services in the United States. They offer fair prices, a variety of arrangements, and efficient services paired with their quality products.
1-800-Flowers also offers an array of customization options and a selection of affordable products or the best budget pick. The online shop is easy to use, but some of the main criticism leveled at this flower services business is the complexity used to calculate charges for the flowers delivered, whether delivered same-day or at a future date.
3 – FTD Flowers – The Most Experienced Online Flower Service
When it comes to the best flower delivery service, you cannot underestimate the value of experience. Started in 1910, FTD Flowers is still capable of surprising and delighting customers in selecting flower orders. A variety of arrangements, gifts, and stunning flower bouquets has seen FTD Flowers not only survive in a competitive market but also thrive even with stiffer competition, who also offer same-day delivery and other outstanding perks.
The company uses a large network of local florists to deliver fresh flower orders and remains committed to customer satisfaction. If your bouquet isn't up to standard, you can let them know, and they will address your concerns by ensuring you get the best flower bouquet the next time you order.
4 – UrbanStems – Eco-Friendly Online Flower Delivery Services
UrbanStems is one of the best flower delivery companies that take their carbon footprint and environmental impact seriously for customers who want an eco-friendly service and easy ordering process. Working with various Rainforest Alliance Certified farms, the company provides same-day flower delivery (just like 1-800-Flowers.com). It seeks to be the best flower company with a responsible and sustainable business model.
With modern and bohemian aesthetics, their responsible approach to flower delivery doesn't limit their selections, setting UrbanStems apart from the competition. The stunning selections available for people who want flower orders online for delivery also won't break the bank, as UrbanStems has an affordable delivery fee and a subscription service. UrbanStems aims to be a sustainable and responsible service for your flower arrangements while keeping costs in check.
5 – Teleflora – Convenient Online Flower Delivery Services
Our final online floral delivery service is Teleflora. Although they have a smaller selection of flowers and bouquets, they remain unmatched in arrangements and same-day delivery. If getting flowers for a dear one, you'll probably want to ensure you order early for next-day delivery. Teleflora offers easy ordering, a wide selection of floral arrangements, and they don't charge excessive prices for next-day delivery or international shipping.
The online shop tends to represent what you'll get with detailed product pages, and they use more than 15,000 local florists in their network. Teleflora is still one of the best for sending bouquet options to anyone for same-day delivery if you need to send sympathy flowers to a loved one.
There are other popular flower services like H Bloom, Bouqs, Bloomsy Box, and Farmgirl Flowers that offer farm-fresh flowers, sustainably harvested and arranged in a beautiful package.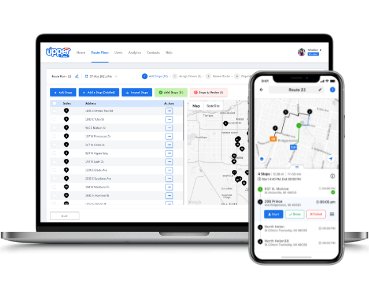 Upper Crew
A Simple-to-use route planner that every one is talking about.
Save up to 95% of planning time
Save up to 40% of time on the road
Plan 500 stops at once
No credit card details required
What are the Best Flower Delivery Services?
The elements that make for excellent flower delivery operations are no different from any other service company. One key element is that flowers are perishable and need to arrive quickly (preferably on the same day the customer ordered it with fresh blooms) to affect the loved one receiving them. Companies also need to make sure the flower arrangement is the same as the product image used on their website – blooms and all. Birthday flowers and birthday plants make the perfect gift as birthday milestones in the life of a dear one that you want to make memorable. The best companies also allow you to order from somewhere like New York City and provide an accurate delivery date anywhere around the world when shipping your flowers, blooms, or bouquets. Although you may not get same-day distribution, if the order is for a family member (like a birthday), ensuring the flowers are fresh is what makes for the best flower delivery companies. Companies like FTD Flowers and 1-800-Flowers have spent years to get their bouquets, shipping operations, and pricing just right.
Using Upper Route Planner to Deliver Your Flowers On-Time
Flowers remain an ideal gift. The bouquet, arrangement, and accompanying message let our dear ones know we care about them on special occasions like birthdays, anniversaries, or any other moment you want to demonstrate that you care. It also doesn't just have to be flowers or bouquets; you can pair your order with gift baskets such as a glass vase, mug, potted plants, or a tasty selection of chocolates, snack baskets, bouquet options and much more including any flower type available.
Bouquets, plants, and other products you offer need optimized route management software to ensure fast and efficient deliveries. With quick address capture, local lookups, bulk import, and real-time optimization, Upper Route Planner is the ideal solution to ensure you get to your customers on the same day and provide the best flower delivery service.
Upper Route Planner helps you schedule your deliveries with the most optimal route available, taking into account factors like traffic and minimizing your driver's time on the road. Whether you're delivering bouquets to someone's significant other or shipping plants to someone's grandma, Upper Route Planner can help you optimize routes for flower delivery and save money.
---
FAQs
Yes, Amazon delivers fresh-cut flowers in countries like the United States and the United Kingdom.
You can choose one of the online flower delivery apps mentioned above in this article to get flowers delivered to your doorstep.
---