Lawn maintenance has become a big business in the United States and around the world. As more homeowners and companies outsource their lawn mowing, landscaping, mulching, and other tasks, lawn care companies are facing more significant growth opportunities as well as fiercer competition. IBIS World reports that the lawn care industry is still growing. To remain competitive, lawn care companies must manage each operation efficiently and ensure they maintain a high level of customer satisfaction and retention. Many companies, large and small, are turning to lawn maintenance routing software solutions that can help them save money and time while reducing errors and enhancing customer satisfaction.
In this article, we'll look at the basics of the industry and the operational challenges they face. We'll then look at landscapers software that can help address these challenges.
What are the Services Provided by a Lawn Care Business?
Companies present many opportunities and challenges. In this section, we'll provide an overview of a lawn care business, the services they provide, and some of the critical operational challenges they face. When we think of lawn care, our thoughts often turn to the dreaded chore of lawn mowing. However, there's much more involved in lawn care other than cutting grass. Professional lawn care businesses often provide numerous services to its residential and commercial clients beyond lawn mowing, including:
brush removal
seasonal yard cleanup
weeding
hedge and tree pruning
mulching
edging
gardening
seeding/sodding
landscape design
installations
property renovations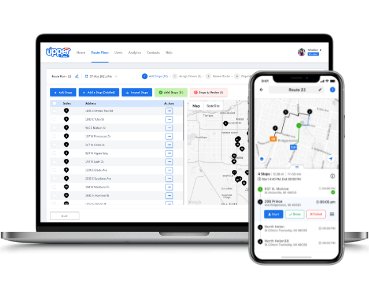 Upper Route Planner
A Simple-to-use route planner that every one is talking about.
Save up to 95% of planning time
Save up to 40% of time on the road
Plan 500 stops at once
No credit card details required
Most customers begin by hiring a professional lawn business to provide three essential services: lawn mowing, fertilization, and chemical application. These services are the 'bread and butter' of any business in lawn care. However, the above list of additional services can become a very profitable revenue stream. Customers seek services such as landscape design, property renovations, and property renovations in higher-income neighborhoods, high-end cottages, and high-end rental units.
A lawn care and landscaping business typically relies on building a base of repeat customers within a particular geographic region. In most areas of the US, lawn care companies have to plan for downtime during the winter months and peak demand during the spring and summer months. To supplement revenues in the offseason, some lawn care companies also offer snow removal services during the winter.
The lawn care industry can be very competitive, in part because the costs of entry are relatively low. With a relatively small investment in equipment, almost anyone can launch such a business. Start-ups tend to serve between 20 – 30 customers every week, while more extensive landscaping businesses can build a clientele of several hundred per week.
What are the Challenges Facing Lawn Care Businesses?
A lawn care team can encounter myriad challenges from inclement weather to stiff competition to problematic customers. In this section, we'll focus our attention on some of the critical operational challenges with which these companies must contend which can be solved by landscape business management software. These are in-house issues that can be addressed and overcome with proper management. They include:
Scheduling Technicians – Efficiently managing a crew can be a very challenging and time-consuming job if done manually. The manager or dispatcher needs to take into account several variables including routing density, technicians' skill level, specific customer requests, frontloading (i.e., scheduling jobs early in the day and leaving time available to respond to urgent tasks and emergencies in the latter part of the day), technicians' vacation days/off days, lawn care invoices, time tracking, and more. Poor scheduling and inefficient job details can increase costs, stifle the business' ability to grow its customer base, and sometimes result in poor customer satisfaction. This is where lawn care scheduling software can come in handy.
Planning Routes – A significant amount of time and money can be saved or lost depending on how efficiently a business plans its routes. We've covered this in previous articles, such as this one about 6 factors to consider when choosing a multiple address mapper. Factors such as geography, route density, traffic conditions, fuel consumption, drive time, etc. must be taken into consideration each time a course is planned. Doing this task using a manual process is time-consuming and arduous.

Plan quickly, deliver faster, delight customers and get home early.

Everyone deserves to have simple and easy route planning.

Managing Costs – This challenge ties into the above difficulty of route planning. Fuel and vehicle costs can represent a significant portion of a lawn care business's expenses with poorly planned routes. The more miles the delivery trucks have to travel on their routes, the more wear and tear they.
Maintaining Customer Satisfaction – Building and retaining a repeat customer base is integral to success in the lawn care industry. The way to achieve customer satisfaction is by performing the service on time and to a high quality. Attentive customer service (e.g., notifications if a technician is going to be late arriving on a job, easy billing with a credit card, etc.) is also essential. Customers that are happy with their provider are much more likely to continue retaining their services and, importantly, to spread the word to friends and neighbors. This is where landscape business management software can come in handy.
The list goes on for much longer as it includes also marketing, dispatch, CRM, invoice and estimate management, GPS location tracking, and much more. By now, you can probably surmise that success in the lawn care business operations depends mostly on two elements: customer retention and efficient management of resources, particularly technician time, to reduce business costs. Customer retention is typically achieved by providing high quality, timely service. Expenses are reduced by managing variable expenses (e.g., fuel, wear and tear on vehicles) and maximizing your technicians' time working on jobs. Companies need to have the best lawn care landscaping products and technologies to best track their leads, jobs, maps, fees, and much more.
What are the Benefits of Lawn Care Software?
As noted in the previous section, lawn care companies can face many challenges. Two significant operational problems that they need to consider at all times concern resource management and customer satisfaction. In this section, we'll look at the benefits of lawn care routing software and how it can help address these operational challenges.
The benefits of software systems are well documented. Before we talk about lawn care software and software for landscapers, let's look at the core concept for a second. Route planning is integral to any business operations that deploys field service workers/technicians or offers delivery services. At its core, route planning involves determining how to optimize routes best to save time and money. This process may sound simple enough, but when you start to consider all the variables involved – from traffic congestion to fuel consumption, technicians' skill levels, etc. – it quickly becomes apparent that route planning is a time-consuming, arduous task. On top of that, when done manually, it's impossible to optimize routes as crucial information (e.g., traffic congestion) is not easily accessible or not available in real-time.
Business software is critical when you consider all these factors. Lawn care software is required in large part because poor route planning can result in high costs to the business (e.g., field service workers' idle time, fuel consumption, wear & tear on the vehicle). Companies in many industries are turning to route planning management software to assist them with this essential operational process.
Routing software for landscaping providers offers many beneficial features. These are three of the key benefits that any quality route planning software solution should provide:
Time Savings – You can reduce the amount of time spent assigning jobs to your field service workers by letting the lawn care software optimize the jobs to routes.
Optimized Routes – Your human resources are one of your most expensive (and valuable) assets. Bearing that in mind, the less time they're driving from job to job, the more time they're able to service clients. Routing software can optimize routing and jobs, so your field service technicians spend less time on the road and more time providing lawn care services.
Fuel and Vehicle Cost Savings – Route optimization algorithms take into account various factors. Still, ultimately they are designed to find the most efficient routes, and those tend to be the shortest routes as well. Even a mile or two saved per route can add up over time, resulting in savings on fuel and reducing wear and tear on your fleet of vehicles.
Easy Access Across Platforms – Business software will improve the accessibility of information for all employees and users within the company. For instance, the program can give access to an Android or Apple device. This access can mean a smartphone, tablet, or desktop application. The order of the feature set and the interface is flexible to the users' needs.
These are just a few of the many benefits you can realize by using lawn care management routing software or similar lawn service. Most lawn care software solutions offer a slate of features that can enhance your business's efficiency and customer support, such as: estimating and invoicing, customer management; electronic signature capture; integration with accounting software, etc.
In this article, we will not go over specific route planning or routing software, however, we have created an article that could be useful which talks about the best route planner app in 2022.
For more information, read:
Best Route Planner App in 2022
---
FAQs
The best way is to use business software that can help with customer records and customer relationship management. This software helps your landscaping business or lawn care service to produce estimates, invoices, quotes, and thus increase profits for your field service business.
The best management software for a business depends on the size and complexity of operations. If you have one person, and one driver, you likely do not require sophisticated routing software. If your business is large and complex, you will need a paid software application that can schedule jobs, tracking of locations, control employees and crews, messages, handle payments like credit card and debit card, reduce paperwork and office processes where software can be useful. It must be functional on a mobile device.
---
The Bottom Line
The bottom line is that the business management of lawn care companies is a complicated affair. To ensure growth, every company needs software solutions to improve their operations to the maximum. A company needs the tools to manage their users, and often this is done with devices such as a mobile device or mobile app, and sometimes another platform.
The required activities and functions depend on the size of your business. The cost and price you are willing to pay will be a function of the increased productivity and functionality when dispatching, billing, reporting, and deploying the fleet. We did not cover the software landscape (yes, we did that!) for a specific lawn care business app or landscape management software.
However, we still hope this article helps to give a few ideas on software elements to choose from that will lead to more sales and more profit down the road. As with all articles, please contact us if there's anything else you'd like for us to cover!