For many decades, school bus routing has been a challenging topic for school administrators across North America and beyond. Academic researchers have been studying this topic for decades. In most cases, administrators do the planning manually. With punctuality, student safety, and cost management of paramount importance, it can be a complex and challenging task for even the most proficient administrator or dispatcher.
That's why many districts are taking advantage of bus route planning software solutions. These apps help reduce errors, improve efficiencies, and ultimately reduce costs associated with transportation.
In this article, we'll discuss the basics of school bus route software and the critical considerations one should make in planning these routes. We'll also discuss the key features to look for when choosing a school bus software solution. We hope you find this useful for tracking buses in your school district!
Importance of Planning Routes for Buses
Bus planning is a vast and complex undertaking for districts across the US and beyond. When you think about all the variables involved in getting massive numbers of students from their homes to their respective schools every day and on time, it's a mighty impressive feat! And it wouldn't be possible without a serious commitment to effective route planning solutions manual or automated with web-based software.
Plan quickly, deliver faster, delight customers and get home early.
Everyone deserves to have simple and easy route planning.
Effective transportation management system is an integral element of each school's day-to-day operations. If students miss the bus along the way, buses arrive late, or students miss their ride home, there can be serious consequences related to student safety and the smooth delivery of classroom education.
In addition to operations and safety issues, poor planning can be costly. Fuel consumption and vehicle maintenance costs can vary substantially, depending on the efficiency of the routes used by school bus drivers.
Managing a fleet of buses can be high, which is why proper management is vital. These costs must be accounted for in the budget (usually stretched thin as it is), meaning less money is available to allocate to other operations or programs delivered by the bus contractors and operators.
In summary, an effective bus plan is crucial because it can:
affect student safety;
impact daily operations (e.g., if buses arrive late, it can disrupt classes); and,
result in cost savings.
8 Major Challenges When Planning School Bus Routes
Many challenges must be taken into account when routing your buses.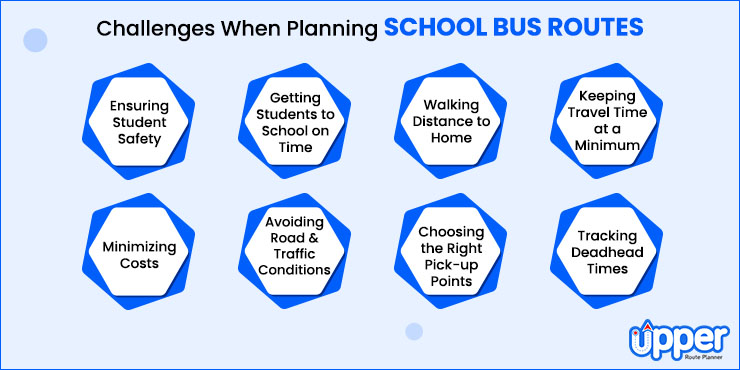 Ensuring Student Safety

Typically, the safety of the path will correlate with the amount of traffic and speed limits – low-traffic streets with lower speed limits are often the safest option. An exception to the rule is when the street's design makes it challenging to navigate with a bus (e.g., sharp turns, narrow lanes, tiny roundabouts, etc.)

Getting Students to School on Time

Delivering students to their school before the first bell of the day rings is paramount. Added layers of complexity arise when students on the same bus must be dropped off at multiple schools (e.g., elementary, middle, and high school).

Walking distance to home

The shorter, the better, unless the student must walk through an unsafe area or busy street. A good planner must avoid these situations.

Keeping Travel Time at a Minimum

Time is a crucial factor when optimizing routes. The travel time for each student is an essential factor for consideration. It is also vital to look at the average across all students. It may be that the ideal way results in a longer ride for one student but a shorter trip for several students.

Minimizing Costs

The main costs associated with all routes are fuel consumption and wear and tear on the vehicle. Neither of these factors is entirely predictable (fuel costs fluctuate, and unscheduled maintenance can occur), but proper planning can certainly help mitigate costs.

Avoiding Road and Traffic Conditions

Traffic congestion can wreak havoc on a schedule, while poorly maintained roads can cause more wear and tear on the vehicle.

Choosing the Right Pick-up Points

If a school only has a limited number of pick-up/drop-off points for students, this must be considered when scheduling the arrival and departure of buses.

Tracking Deadhead Times

Deadhead time refers to the amount of time a vehicle is on the road without carrying any passengers. In other words, it's costly idle time for the bus driver and vehicle.

With these critical variables and others to factor in, a manually routing plan becomes a cumbersome, time-consuming task. That's why many educational districts are turning to school bus routing software to assist with planning.

Furthermore, while some of the above considerations generally apply to routing, many are specific to a routing program. This fact makes it necessary for districts to zero in on finding routing software specific to them, e.g., a school bus routing solution.
13 Features to Consider When Choosing School Bus Route Planning Software
Searching for school bus route software that will suit the specific needs of your school district for tracking school buses? In this section, we'll review the key features to include in a school bus management software. As noted in the above section, school bus route planner presents some unique considerations that don't apply to other types of route planning, such as last mile delivery or field service route planning.
A quality bus routing software solution should include features to address these unique considerations. Key features to look for include:
Route Optimization

A core function of any web-based planning software, route optimization relies on sophisticated algorithms to determine the most efficient way forward. Ideally, it includes navigation with maps and directions, and details for the location of every stop.

Advanced Routing Information

Is there support for the bus contractor to track stop times, runs, offer single map views, access driver schedules and shift capabilities according to varying demands? For instance, if a student no longer needs a drive that morning. With a web-based solution, a driver can get all the advanced routing information like efficient bus routes, accurate schedules, updated maps, stop times, school districts,and more.

Real-time GPS Tracking

You'll want great web-based GPS for school buses. GPS tracking helps solve the routing problem and allows tracking for dispatchers and administrators. Ideally, they can track students and buses in real-time. School bus GPS routing also enables the tracking of crucial information, such as fuel consumption and mileage. The web-based GPS technology and GPS tracking systems may also give real-time information on the whole fleet on a map-based tool.

Bus Driver Management

You need to select a bus routing software that can easily manage drivers' schedules and ensure safe and secure communication between drivers, dispatchers, and administrators. This bus scheduling software can dispatch safe and efficient bus routes, track buses, ensure student safety with added video surveillance.

Dispatch Management and Communication

Having a specialized software enables real-time communication between drivers and dispatchers or administrators to solve unexpected disruptions that crop up, such as emergencies, delays, etc.

Driver Mobile App

It is integral that bus drivers have easy access to the routing program while traveling on their way. Mobile deployment on iPhone and Android is a must. Drivers can simply log into the app specifically designed for the drivers, optimize routes, receive information regarding turn restrictions, mileage, and hazards and make informed decisions.

Parent-Specific Mobile App

A school bus routing software can also provide parents with real-time updates on when the bus will be arriving at their child's pick-up/drop-off point.

Administrator Desktop Software

The installation of a version of the software portal on the desktop may be useful. Users will want to consider Mac and Windows business options.

Student Information System

Staff and teachers must have the systems to track their students' users. This information includes phone numbers and bus stops, and resources relative to each student.

Reporting

This functionality is more useful for administrators. They can monitor productivity, gain further insight, and view records of vehicles. The application of this information can be relevant for internal training and externally; it can help relations with vendors negotiate the order of parts.

Calendar-Based Scheduling and Routing

Plan for current and future semesters, holidays, sporting events, field trips, and more with calendar-based scheduling.

Field Trip Management

Manage every element of the field trip, including permission slips and driver invoices.

Student Tracking Tools

Track when and where to get on/off the bus using a student ID number, bar code, or card technology.
Plan quickly, deliver faster, delight customers and get home early.
Everyone deserves to have simple and easy route planning.
Top 5 School Bus Route Software To Checkout
School Bus Route Software
User Ratings
Top Features
Price
School Bus Manager

3.0/5

Build and organize routes efficiently
Easily keep track of children, buses and drivers
Automatically incorporate turn-by-turn directions into every route and trip
Supports attendance system
Easily search student's information
Ease in data import

$39/Driver/ Month (Paid Annually)
Free 30 Day Trial
Lite: $99 Per Month
Plus: $179 Per Month
Standard: $399 Per Month
Pro: $599 Per Month

Upper Route Planner

4.4/5

Route optimization software
One-click driver dispatch
Support proof of delivery
Easily plan for multiple stops and multiple drivers
Plan for 500+ stops at once
Analytics & reporting

K-12 Transportation Suite

5/5

Territory Management
Scheduling
Route Optimization
Student Information / Records
SGPS tracking
Field Trip Management

Need to contact customer support

RouteABus

N/A

Supports bus stop locator
Attendance system
School locator
Provides fast lane area
Provides most efficient routes

Basic: Free
Small: $450 for 3 Months
Medium: $650 for 3 Months
Large: $850 for 3 Months
Enterprise: Contact customer support

Transfinder

3.7/5

Easily manage bus routes, students and drivers
Analyze bus routes and pickup sites
Seamlessly integrate with district-wide student information systems
Increase efficiencies, enhance services, and reduce costs

Need to contact customer support
FAQs
School bus routing and transportation planning is a complex organization organizing the safest and most efficient route for all students to get to school. It means gathering and processing a tremendous amount of data (total students, total buses, drivers) to generate the most optimal routes that reduce costs and time to a minimum.
The answer to this kind of question is: it depends on your needs. The more elaborate answer is to identify the problems you seek to solve, quantify them (how much is it costing you), and then find an app to give you the best return on investment.
Develop a Good Transportation Management System
Creating a school management system to do the creation of routes, school bus monitoring, and student tracking is quite complicated. As a school bus manager, there is so much student data, special needs, and vehicle tracking data that it makes route management and asset management a high-level challenge.
With good school bus management software, it means the whole school transportation operation can be simplified. We hope this article has helped you identify a list of benefits to look for in mapping your fleet. We hope your experience in implementation will be smooth sailing (or… driving!) As always, please let us know if we've missed anything. Until then, happy routing!