It has been over a year since all of us are collectively struggling with the Covid-19 pandemic and its effects on our lives. The options we looked at as a matter of convenience like – curbside delivery or working from home have now become a major part of our lives and are not going away anytime soon.
Another "convenience" that has suddenly become all the rage and a necessity is contactless delivery. This delivery protocol makes sure that there is no physical contact between the drivers and the customers, making it safe for both parties involved in the exchange.
Customers expect contactless deliveries with extreme safety measures, the drivers and the staff expect to have a safe working environment with no exposure to physical contact with anyone on the job. It seems like the retailers are in the soup in this current scenario. The retail industry will have to adapt to this new way of doing business.
In this article, we are going to cover why it is important to have contactless delivery, what can businesses do to make it a part of their delivery process, and how integrating technology will make it easier for them. Let's jump right into it.
What is Contactless Delivery?
Contactless or no-contact delivery is when a delivery package for a customer is left outside the door without making any direct, in-person contact with them.
In contactless delivery, the customer is notified regarding the successful delivery of the product through a call, text, or email.
Amidst the global Covid-19 pandemic and the current directive of social distancing, contactless delivery has become a norm and a service trend strictly followed by many brands across the world.
Understanding the Growing Need for Contactless Delivery
The concept of offering contactless delivery is not brand new. But the Covid- 19 pandemic has pushed restaurants, grocery stores, e-commerce, pharmacies, and other essential services to provide delivery orders to the customer's doorstep by ensuring safety and taking extra precautions.
As people are isolating or working from home for extended periods of time, the demand for groceries and medical supplies to be delivered to their homes is constantly on the rise.
It will give rise to contactless delivery options through driverless delivery or automated vehicles. Local businesses will also be pushed further to implement contactless delivery.
We will take a look at some statistics to back this up:
In the previous year, almost 37% of respondents had already been using contactless delivery more than usual.
According to a survey by Medallia Zingle regarding The Future of Commerce, over 85% of consumers would prefer if retailers and brands continue to offer options like curbside pickup and contactless delivery.
Takeaways and fast food services witnessed a growth of 8% over the past year.
In order to keep up with the delivery demands, Amazon decided to hire 100,000 people for full-time and part-time positions at their fulfillment centers.
Before Covid-19, the percentage of consumers that visited retailers thrice a week was 78%, which has now dropped to just 34%.
These statistics are proof that this delivery option has now become a default way to deliver orders. It is important and needs to be applied by many companies to keep their fulfillment workers and customers safe.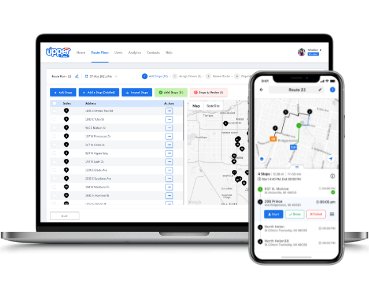 Upper Crew
A Simple-to-use route planner that every one is talking about.
Save up to 95% of planning time
Save up to 40% of time on the road
Plan 500 stops at once
No credit card details required
Popular Examples of Contactless Food Delivery Services
Amid the constant rise in the severity of the Covid-19 pandemic, many food delivery services started offering no-contact drop-off services for their customers in order to avoid physical contact.
Postmates: In addition to delivering food orders through contact-free delivery, it also delivers groceries through Postmates Fresh with maximum safety measures. Customers have the option of picking up their orders themselves.
Grubhub: Grubhub already allowed its customers to leave specific instructions for their delivery drivers. But they officially rolled out contactless delivery following Postmates' announcement.
DoorDash: Last year, DoorDash also changed its default delivery option to contactless delivery in order to reduce the close contact between the Dashers and their customers. For alcohol deliveries, the drivers will still need to verify the recipient's identity.
Uber Eats: Uber Eats started to implement contactless delivery in April 2020 for the safety and well-being of everyone involved in the process.
Caviar: Caviar works like the other delivery services – offering no contact delivery. But it is currently operated only in a few metropolitan areas.
Not only food delivery businesses but there are more than 30 delivery business ideas and opportunities that one can expand in this year.
How Do Businesses Ensure Safety & Success While Making Contactless Deliveries?
Here are some ways in which you can meet safety requirements and at the same time succeed in offering contact-free delivery
Training the Staff: Your staff may or may not be trained for contactless delivery work. It is your responsibility to make them understand the need for it. They must be given all the tools & information that can help them be safe while performing their jobs. As an employer, you can boost your skills using technical training and management tools.
Automate & Facilitate Communication: No more in-person discussions with the dispatcher or fellow drivers. All the communication, right from dispatching their delivery routes to informing them about any changes, must be done through a mobile app. The same goes for the communication between your delivery driver and customers.
Educate your Customers: There should be an effective marketing strategy in place to inform your customers about your contactless delivery offerings. Communicate to them through various channels. Make them understand why you are doing it and how it will keep them safe. More than 35% of customers admitted that education about available options can easily improve customer experience.
Investing in Technology: In 2020, China-based startup, Neolix Technologies raised $29 million to ramp up the production of self-driving vehicles. In addition to boosting logistics efficiency, it will also reduce carbon emissions. The investments in boosting contactless delivery technology will only grow stronger and change the logistics experience.
Collect Feedback: Once you start offering contactless delivery, start collecting feedback from your staff and your customers. This can give you an idea as to whether contactless delivery options work for you or not. This feedback will provide important insights and help you make informed decisions.
How Does Technology Support Contactless Delivery Process?
These are 7 ways in which technology supports your contactless delivery operations.
Set up Online Ordering

An online ordering system will allow you to receive orders from customers through internal messages on the app. The customers can simply choose items from a menu and send their orders through to you.

An online ordering system is important as it can allow customers to be specific about their orders. Important contactless delivery messages and notifications can also be sent and received through this setup.

Contactless Payments

Technology makes it extremely simple for customers to pay for each of their orders online. Retailers present various payment options like debit cards, credit cards, Apple Pay, and PayPal using which customers can send their payments digitally. Digital payments make it easier for both parties involved to facilitate the transaction.

Mobile App for Delivery Drivers

A mobile app works as great support for the delivery. The dispatchers can send out delivery orders through a dashboard and the drivers can receive their schedules on their mobile apps. This mobile app allows drivers to navigate to the location, check customer details, deliver on time, record proof of delivery, and much more. Upper Route Planner is one such solution that helps boost your deliveries. The drivers can make use of Upper Solo and create delivery plans on the app itself. 

Customer-Driver Communication

With the support of technology, urgent communication can be sorted out between the drivers and the customers regarding any specifications or changes to the delivery. Customers can be kept in the loop by sending regular delivery notifications.

For contactless delivery, any communication that needs to happen, must happen digitally and not face-to-face. This is where technology is of immense help to the drivers as well as the customers.

Digital Proof of Delivery

Whether you are delivering pizza or prescription drugs, you need to provide proof of delivery for each order. How do the drivers prove that they fulfilled all their daily deliveries? And that too without customer signatures? It's quite easy. Using the mobile app, drivers can capture digital proof of delivery in the form of notes or photo capture.

The digital proof of delivery can be further shared with the customers as well as the dispatcher to confirm the fulfillment of the delivery order. This is another reason where turning to technology can help a business in facilitating the delivery process.

Communicating Necessary Updates

If your restaurant or store is not functional and no customers are visiting, it will be difficult to keep them updated with what you offer and how you are doing it. The best solution to this is having an app or a portal where your customers can reach you.

If you have a website or an app, regular customers, as well as new ones, will be able to come to you. Using the app or website, you can communicate any important information related to your business, products, or marketing to your customers.

Record-keeping, Reporting, and Analytics

Having the right set of technological tools will allow you to keep a record of each of your delivery orders and streamline your inventory and dispatch.

In addition to record-keeping, the tools can create weekly, monthly and yearly reports on your delivery operations. It allows you to gain necessary insights on how your delivery process is functioning and whether you need to make any changes to it.
FAQs
Without any direct or in-person physical interaction between the customers and the staff, it is easy to keep them both safe from contracting the virus. In the current situation, this service trend is the most favorable one for retailers as well as their customers.
Contactless Delivery is available as an option to the customers. In this case, the delivery drivers can simply leave the package outside the house, or the customers can go to the store and access their package without coming in contact with a staff member. For this delivery method, online payment options are presented to the customers in advance.
To offer contactless deliveries to your customers, you will first have to make your customers aware that you are offering such an option.
Establish an online ordering system
Add an option to choose Contactless Delivery
Hire and train your delivery drivers well
Start accepting payments for orders through an online system
Sanitize all utensils, packages, and other tools before and after delivering the orders
.
Yes, Walmart offers contactless pickup and deliveries for fresh meat, organic ingredients, pantry staples, laundry detergent, paper towels, diapers, and more. Customers can pay online using EBT cards. For delivery, the packages will be left outside the door. For contactless pickup, the staff will load your car in a few minutes.
Are You Ready to Take on This Challenge?
With retail stores, restaurants, and grocery stores not being able to allow customers to enter, people resort to options like curbside pickup and no-contact delivery.
As a business, it can be quite challenging to train your staff, integrate more technology, manage customers, and transition into this new model of making deliveries with safety measures.
Fortunately, all the help and the information necessary for getting you started is available out there. If you have any questions, you can feel free to reach out to us.