The pandemic has given a bunch of great business ideas to work on. While some of us have started working on them, some are still contemplating.
Out of all your courier business ideas like specializing in document delivery, small packages, large shipments, you can choose the one that blends with your long-term business goals. You can also choose to offer all these different services if you think your business will have the bandwidth.
The courier industry has stiff competition. As a result, it becomes challenging to enter and even stay relevant with prominent players like FedEx and DHL and other small players. But it is not impossible. Here, we will discuss significant ways on how to transform your courier business ideas into reality.
Execute Your Courier Business Ideas With These 4 Ways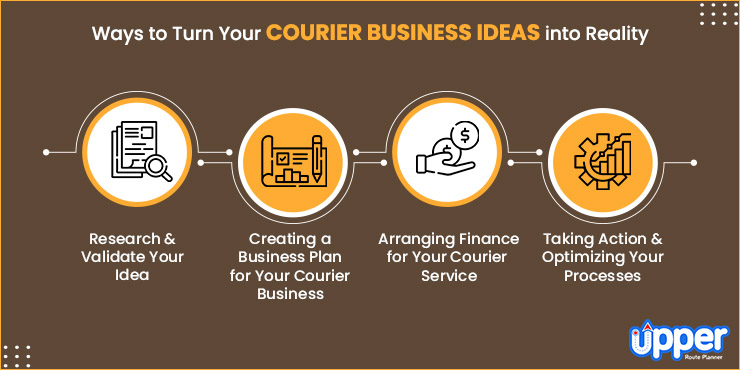 Research & Validate Your Idea
What Problem Are You Solving?

As a delivery service business, what are the problems that you will be solving? This question will help you highlight the unique selling proposition of your delivery service.

Making a detailed study of the solution you offer is going to make things easier for the customer base. How are you going to make the solution to the problem more practical and accessible?

Look closely at how some of the biggest players in the industry, like FedEx and DHL, have stayed at the top of their game. These brands have managed to do it because of the adaptation of:

Technological innovation;
Commitment to the environment; and
Creating a culture of excellence.

These brands have built a more cohesive last mile delivery process for their respective brands.

Market Research

For your market research, you will have to ask yourself all the right questions.

Make sure you know:

Who will you be competing with?
What are your competitors doing or offering?
How are other businesses doing it differently?
Whether you will be serving B2B clients or B2C clients?
How much should you charge for your services?
How will you fit in if you are operating locally?
How will your customer reach you?

The right market research will help you answer all the right questions accurately. Since you have decided to go ahead with a courier service, you probably know it is a greatly viable market. But it is also a highly penetrated market by some of the international giants.

With the insights you gather from your research, you can easily create a robust plan & figure out which business idea works the best for you.

Customer Discovery

If you create a product or a service that solves the target market's challenges, you must be involved in the customer discovery process for better results.

Customer discovery will help you explore the different kinds of customers in the market, get to know them, their problems/needs, and the solutions they require from your service.

As a product or service-offering business, you will have to create a value proposition with the help of a unique customer discovery process.

A good example of creating a unique value proposition from customer discovery is the online vacation rental Airbnb.
"Airbnb exists to create a world where anyone can belong anywhere, providing healthy travel that is local, authentic, diverse, inclusive and sustainable." – Airbnb's Value Proposition
Start Planning for Your Business
Register Your Business

While doing your research, make sure you gather all the vital information regarding the licenses, permits, and documents you will require to register your business and start offering your delivery services.

Things you must consider for registering your new courier business with the local county or clerk:

First, choose the location you will operate in.
Choose a legal structure and entity (sole proprietorship, partnership, limited liability).
Pick a name for your business.
Get a business license for your courier company.
Get appropriate insurance for your business.

Find Out The Costs Involved

The costs involved will also depend on questions like:

What are the costs involved in starting a courier delivery business?
How much operating capital will your courier service business need?

You will need to ask all the right questions to determine the number of costs involved in starting and running a successful courier business:

Do you need to buy new vehicles or equipment?
How much will you pay your drivers?
Do you need an office space or warehouse to store packages?
How much will you charge your clients? What is the pricing structure for your services?

Licenses, Certifications, and Permits

Note all the licenses, certifications, and permits you will require to start and operate your delivery service smoothly.

In addition to your business license, will you need

Driver's license;
Permit to work across all the states;
Vehicle registration;
Ready To Transform Your Courier Business Ideas With Upper Crew?
Upper Crew helps You to take your courier business to the next level as it will handle route planning and optimizing, dispatching, and managing.
Arranging Finance for Your Courier Service
Finding Investors for Your Business

There are several ways of receiving finance for your courier delivery business. Some of the best options are as follows:

Self-funding;
Credit cards;
Small business loan;
Government grants and subsidies;
Crowdfunding; and
Peer-to-peer lending.

Setting up Business Accounts

You will need to ensure that your business banking and credit accounts are separate from your bank accounts. Be sure not to put your assets at risk by drawing a line between your personal and business transactions and accounts.

It will help you keep a proper record and set aside your financial transactions for a business. In addition to that, keep monitoring your expenses and sources of income. It is better to get help from an accountant and let them handle your business accounts for you.

Taxation & Insurance

To operate safely and legally, your courier business needs to have insurance. It will help your courier business immensely in the event of a mishap or loss.

The most common coverage is General Liability Insurance. If you are not aware of other insurance options, you can start with General Liability Insurance in the beginning.

Worker's Compensation Insurance is another important coverage that you must include. Getting insurance will keep your business and its assets safe during difficult times.

Apply for an EIN and register for taxes as well. How you will be taxed will depend on the type of business and business structure you operate in.
Taking Action & Optimizing Your Processes
Hiring Drivers, Equipment, and Office Space

As a courier business, some of the most critical things will be the equipment, vehicles, and the drivers you have in your team.

At the time of starting your courier service business, ask yourself these questions to figure out the needs of your delivery business:

Will you be hiring full-time drivers or contract drivers?
How will you hire and train your drivers and other employees?
What equipment or vehicles will you require? (Car, box truck, pickup truck, bikes, safety gears, etc)
Do you need an office space or a warehouse as your depot?; or
Will you directly pick up from sellers and delivery to buyers?

Ways to ensure you are hiring the right full-time or contract drivers for your courier business:


Conduct background checks;
Check past driving records;
Check if drivers comply with state, federal, and company policies;
Conduct a test;
Check for responsibility and accountability;
Listen to the drivers;
Customer service background or experience;

Marketing Strategy

A courier business must have an all-encompassing marketing strategy that covers just more than one type of client. It allows them to maximize their customer base. Unless you are focusing on only B2B or B2C clients, you must have a marketing strategy that is wide in its reach.

Online Portals: Get your courier delivery service business registered on online portals used by companies and individuals. It will allow you to reach out to a wide variety of clients. You can also see what others are doing and what the customers are going for.

Social & Digital Platforms: Create a website and social media profiles. Improve visibility and reach online or on digital platforms. Build a brand image, talk about your services, get in touch with regular and potential customers.

Referrals: Referrals are a great way of getting new clients. It works like word-of-mouth publicity. There is a possibility that you will receive a lot of new inquiries and clients through referrals.

Points to consider while creating a marketing strategy:

What do your customers value?
Create a SWOT analysis for strengthening your marketing efforts.
What are your objectives or goals?
How will you communicate your ideas and your services to your clients?
Include key performance indicators to measure your reach and success.

Getting the Right Tools & Software

Integrating the right tools and software is the most crucial element of the process. These tools will help you do your job properly and help you reach your goals.

For courier companies, the most important software is route planning and optimization software. Using this software, they can create multiple routes, manage multiple drivers and customers simultaneously.

Using route planning and optimization software:

The best way to manage a team of delivery drivers, you must use route planning and optimization software like Upper Crew.

Upper Crew is a route optimization tool that makes planning and fulfilling deliveries a breeze for dispatchers and delivery drivers. It works towards making each delivery task easier for the drivers.

Benefits of using Upper Crew:

Reduces planning time by 95%;
Plan routes for up to 25 drivers;
Optimize 500 stops at once;
The human-centric design approach makes things easier for the users;
Covering more stops and deliveries on each route;
Increases profitability by reducing cost-per delivery;
Improves accountability.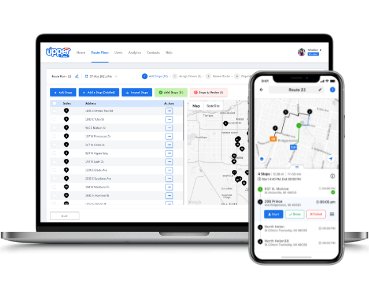 Upper Crew
A Simple-to-use route planner that every one is talking about.
Save up to 95% of planning time
Save up to 40% of time on the road
Plan 500 stops at once
No credit card details required
FAQs
In the current scenario where most packages are delivered to the doorstep of the customers, the demand for courier businesses has skyrocketed. It is an excellent opportunity to start a courier service company as it has quite a lot of scope to generate great profits in this era of contactless delivery and curbside delivery.
Courier services can get clients through advertising, press releases, networking, online job portals, websites, social media channels, and referrals. Unfortunately, the courier industry is extremely competitive, so you will have to do quite a lot of work to find and retain clients.
A self-employed courier can earn anywhere between $45,000 to $52,000 depending on the location and the clients or industry you are working in. An independent courier can take up more orders or focus on certain deliveries that can help them earn little more than delivering regular products.
Get Started With Your Own Courier Delivery Business
If you are thinking of starting a courier business, it is a great time to start one now. Get all your delivery business ideas on paper and try to analyze and see how you can do things differently.
With a robust plan and the right kind of support, you will build a successful, profitable delivery business. At UpperInc, we are dedicated to discussing delivery business ideas, the challenges of delivery drivers, and how we can help them.
If you have any questions or want to discuss something, feel free to reach out to us.