2020 may not have been the most exciting year for businesses. In 2021, countries and economies are gaining momentum slowly, the people are slowly becoming more confident about either reviving their old business or starting a new one.
Each new business idea has one thing in common – How to integrate delivery into the business?
The shift in the buying trends of people all over the world has been drastic. It has also opened new avenues for some big companies as well as local businesses.
The new buying trend has given momentum to the on-demand economy. According to an HBR survey, 49% stake of the on-demand population is that of millennials. If you are looking to serve a more significant part of the on-demand population or just thinking of starting something of your own, you may find this article useful.
We will discuss some delivery business ideas or opportunities in this article. In addition to that, we will discuss some statistics and understand why this is the ideal time to start an on-demand delivery business.
Statistics Relating to Delivery Businesses in 2021
Every business, irrespective of the size or the industry, is going through a challenging phase.
In these challenging times, on-demand delivery businesses have emerged as a blessed oddity. When most companies are suffering losses and shutdowns, on-demand delivery businesses see a considerable demand hike.
The question that arises is: How long will the hike in demand for on-demand services go on?
You'll probably find an answer to the question in the statistics mentioned below:
The on-demand delivery business industry is expected to reach over $400 billion in 2021, with an annual growth rate of over 45%.
The amount for the on-demand industry in 2017 was only $213 billion.
According to Statista, online grocery sales in the United States reach over $41 billion by the end of 2021.
If the trend continues, online grocery sales in the United States will reach $59 billion in 2023.
The share of online delivery food delivery in the restaurant market will also significantly shift in the coming years.
Why is it Ideal to Start an On-Demand Delivery Service Business?
The primary reasons for starting an on-demand delivery service business are:
Increases overall efficiency
Increases ease of doing business
Accountability, payment processing, and tracking becomes easier
Much more cost-effective
Supported by sophisticated technology
The scope of acquiring several potential markets
Creates more jobs & business opportunities
Improves convenience not only for customers but also for businesses and middle-men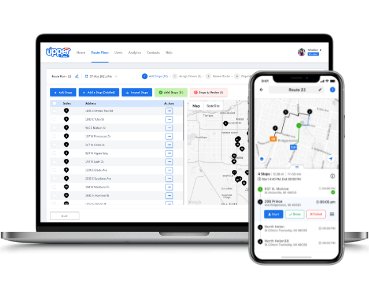 Upper Crew
A Simple-to-use route planner that every one is talking about.
Save up to 95% of planning time
Save up to 40% of time on the road
Plan 500 stops at once
No credit card details required
Understanding the Delivery Businesses Landscape: Challenges & Opportunities
The challenge of facing Covid-19
The recent events have pushed the business landscape in a different direction. Many small and local businesses have found themselves to be shut entirely or be cash-strapped. It shows the existential threat of the small businesses in most countries that have faced an existential threat in the wake of Covid-19.
At the World Parcel & Express Conference, the CEO of Escher Group, Brody Buhler, mentioned how an industry like courier and parcel is facing a new landscape with equal challenges and opportunities. Buhler agrees that the online shopping trend will not fall back to pre-Covid levels even after the pandemic.
The recent shift has made these small and local businesses think about what's important – understanding the changing needs of their customers.
One way of dealing with this disruption, and we have witnessed this in several economies, is to accept the idea of doorstep deliveries openly.
Unlocking new opportunities in the form of doorstep deliveries
Until last year, doorstep deliveries were limited to the food & beverage, digital products, and courier industry. But the changes in the recent past have pushed the idea of doorstep deliveries to several other sectors, including alcohol, prescription drugs, grocery, and furniture.
Most of these delivery businesses or companies were mid to large-cap companies with a heavy amount invested in technology and human resource. Small businesses are now adopting the same thing by hiring a set of delivery resources or outsourcing most logistics operations to a delivery business. It has allowed many companies to be still standing firm in the market.
Small businesses all over the world are facing a tough time. While competing with giants like AmazonFresh and Walmart, they have to deal with the unceasing pandemic. It has left small & local businesses with very few options, which is why it is so important that small businesses find a way forward and keep going strong.
One way of doing it is to integrate on-demand delivery, apart from their business process.
30 Delivery Service Business Ideas Useful for an Entrepreneur
Here are some delivery ideas you can work on depending on the type of business you run.
Grocery Delivery

If you own a local grocery store or a retail store, you can convert it into a grocery delivery business that can also get customers online. You can create an app for your business and start selling your products.

Recently, there has been a supply chain disruption by AmazonFresh in which local grocery stores have tied up as partners with brands like AmazonFresh. It allows AmazonFresh to serve its customers through the local grocery stores.

Other brands like Walmart and Instacart offer grocery delivery services but with a slightly different model. Or you can choose to have a grocery delivery startup from your home.

Courier Service Business

A few years ago, the delivery of mail and couriers took a long time. But with advancements in delivery technology and delivery business models, the courier business has become easier. With the increase in technological advances, the industry also saw a massive rise in the number of competitors.

A courier service business is relatively easy to start locally, and then you can slowly expand. You can also start by getting a courier license & offering bicycle courier services locally. But because there is enormous competition, you will have to have a well-defined niche.

Flower Delivery Service

Flower arrangement and home delivery is another popular business in recent times. When people could not meet their loved ones in person, they started sending flowers for various occasions. A flower delivery business doesn't have to be noticed like a regular flower shop in the town.

You can easily start in a small place with a few delivery boys. A flower delivery service is a great option for local flower sellers who cannot go out for business but still need to make the sales.

Pizza Delivery Business

In the last few months, homemade pizza delivery is all the rage. It seems like people want more homemade things delivered. As a pizza delivery person, you can provide big brands and deliver homemade pizzas made by a local food business.

The homemade pizza delivery business has allowed many people to start a lucrative business through their passion. All you have to do is create a menu, find some customers, and get going.

Laundry & Dry Cleaning Service

The laundry delivery business is a lucrative service in many parts of the world. It is a great idea to have people's laundry pick up from their places and then delivered back to their homes.

Laundry & dry cleaning services allow people to get their daily tasks handled by a third party without worrying too much about it. If you already have a laundry business running, all you have to do is employ many delivery boys and step up your business a notch.

Food Delivery Business

The food delivery services industry has witnessed a fanatical growth in the last few years. The primary reason is convenience. People can have their favorite dishes delivered from their favorite restaurants. It has resulted in an unprecedented growth of food delivery apps like DoorDash and SkipTheDishes.

SkipTheDishes is the most widely used food delivery service with fierce competitors like DoorDash, Postmates, and Grubhub. It is a preferred model for all restaurants because they do not have to employ their delivery boys.

The food delivery business industry in the United States has projected a growth of up to $42 billion in 2025.

Bottled Water Delivery Business

A bottled water business is one of the easiest businesses to get traction from the market. Many companies offer bottled water but only make deliveries for large orders. If you can be a delivery partner for such businesses, delivering bottled water to individuals, you can have excellent scope for growth.

Laboratory Test Business

The entire healthcare industry has been shaken up in the last year. As more and more people needed to get tested without stepping out of their house, the laboratory test business started booming. Until a year ago, most people easily managed to go to the laboratory and get all their tests done.

But with the increased risk to their health, people now prefer someone coming over to get their blood work. It has resulted in more medical staff driving around and more people being hired to collect samples and deliver them to the laboratory.

Upper Crew

A Simple-to-use route planner that every one is talking about.

Save up to 95% of planning time
Save up to 40% of time on the road
Plan 500 stops at once

No credit card details required

Furniture Delivery & Assembling Business

The challenging part about a furniture business is the space where you can have display units for each piece of furniture. But if you are selling furniture online and promise furniture delivery, you do not need a physical store anymore.

You can take inspiration from businesses like IKEA and Etsy that handle the sale, assembling, and delivery of furniture well.

Newspaper Delivery Business

It may be hard to believe, but some people still like to get their daily dose of news from a physical copy of the newspapers. The newspaper delivery business requires people that are punctual because nobody likes stale news. Newspaper vendors can't always go around delivering newspapers, but having a few delivery boys to make the rounds can easily help them cover most areas in the town.

Liquor Delivery Business

In the previous year, people not only got their groceries delivered. It turns out people also got their alcohol delivered. The online sale of liquor surged during the pandemic, and it hasn't slowed down since then. People have easily adopted the trend of getting their alcohol delivered to their homes and do not seem to let go of the trend.

According to a report by IWSR, the United States is said to take over China to become the world's largest alcohol e-commerce market. Starting a liquor delivery business is a great idea. There are some really amazing opportunities in alcohol delivery services at this point.

Parts Delivery Business

The auto parts delivery business is a competitive one. You will have to choose a specific part or a specific type of vehicle that you will deliver for. It is a vast market, but it will be slightly challenging to get a hold of it. It is one of the most lucrative markets, and if you add delivery on top of it, there is a lot of growth for you here.

Packers & Movers Business

The on-demand packers and movers business will not require a lot of investment in the very beginning. All you need is a truck and a bunch of people having experience in the moving business. It would be best if you had a great team to get all the work done well. This is another business that has a significant market but is also quite competitive at the same time.

Air Freight Delivery Business

The air freight delivery business is not only high tech and complicated, but it is also quite expensive to get started with. To start this business, you need to be either a commercial cargo carrier or a freight forwarder.

As a freight forwarder, you will need a commercial carrier to shift from one place to another. This kind of business or service industry is difficult to crack. It would be best if you had years of experience and a considerable investment to get started.

Lunchbox Delivery Business

A lunchbox delivery business is a kind that will find many customers relatively easily. A lunch delivery business has a great scope in most countries. It allows people to go about their day without having to carry their lunch along with them. They can have it delivered a few minutes before they want to eat it.

As a lunch delivery business, you can either tie up with restaurants and fulfill the delivery needs or prepare lunchboxes and have a person deliver those for you.

Clothing & Accessories Delivery Business

Several big businesses have already made it possible to sell clothing and accessories online. This business requires you to stay updated with all the latest trends constantly. If you have an online store, you will also need a place to store all the clothing and accessories.

Clothing & accessories is a competitive market, so you will have to create a niche for yourself and offer something different or alter your prices accordingly.

For instance, NastyGal came at a time when this industry was just getting started. Even as a small start-up NastyGal built a niche for itself by focusing on curating quirky and vintage clothing to the new generation of women. This business will allow you to be more creative with your endeavors and appreciates innovation.

Wholesale Book Delivery Business

Do not forget, the world's biggest online seller, Amazon, started as an online book shop, primarily competing with other local bookstores like Barnes & Noble. So, there is no limit to what you can achieve with a book delivery business.

You can start this business by exchanging old books and expanding the types of genres you include. You need not stop at books. You can sell magazines, comics, encyclopedias, books for high school students and university students.

Restaurant Meal Delivery Business

Restaurants have suffered a lot in the past year. At a time like this, these establishments can only survive because of delivery services and takeaways. At the same time, most people do not want to step out to get food from the restaurant. But they love to have their favorite dishes delivered to them.

It led to the remarkable growth of companies like Uber Eats, DoorDash, PostMates, and GrubHub. It has become a challenging market to penetrate, but you can start locally and see if it works in your territory or in territories where Uber Eats and DoorDash haven't reached yet.

Wholesale Egg Delivery Business

A small investment makes it possible to turn your wholesale egg delivery business into an online delivery setup. As a wholesale business, you can get individuals as well as restaurants and bakeries as your clients.

The thing about selling food items and goods is that the demand never really dies down as long as you sell a good product.

Adding an app to the business will help you organize your operations and customers better, and you will also be able to accept online payments.

Bread & Milk Delivery Business

Like a wholesale egg delivery business, the bread and milk delivery business will also never die down. You will find customers everywhere. That's the best thing about selling essential grocery items. So you can expect a steady income and profit from this business.

With this business, you can get individuals and restaurants as your clients. All you have to make sure is that you are selling a fresh product and reliable sources.

Coffee Delivery Business

People are always fond of coffee. It is a popular breakfast beverage that most people rely on before they go ahead with their day. The coffee delivery business can easily serve individuals as well as local offices. You can have a business website and business cards to advertise your coffee business.

The delivery window for this product will be shorter and mainly limited to mornings or early afternoons. You can easily find a customer base for your coffee business.

Fresh Meat Delivery Business

Fresh raw meat is in great demand. People do not easily find fresh meat everywhere. Even most big supermarkets do not have the freshest raw meat. Even if you are selling a minimal amount of fresh raw meat, you will easily succeed.

You can get in touch with people who do animal farming and handle the logistics part of the business. It allows them to get a hold of their business while not worrying about delivering fresh meat.

Cake Delivery

Many of us developed a passion for baking during the Covid-19 lockdown. Some of us actually turned into profitable endeavors by baking some delicious cakes and finding consumers all around them.

A new trend now is that people do not prefer buying cakes from bakeries. They usually order homemade cakes from an experienced baker. This business allows you to work from home and easily make connections using online channels.

Online Pet Food Delivery Startup

Our pets have almost as much variety in food and accessories as we do. Pet lovers enjoy showering their pets with some delicious treats. The annual revenue for a large pet food delivery business is in millions. You can easily expand into adding toys and accessories for pets.

Digital Products Delivery

Delivering digital products and experiences is a code that giants like Amazon cracked a few years ago. But you can choose to do this business locally by selecting a particular type of product, like smartphones, and then slowly expand into other types like laptops, speakers, television, and music systems. This business requires a large amount of investment, so you must plan accordingly.

Gift Basket Delivery

Gift wrapping and creating a collection of gifts for a particular occasion is an art. It requires specific design, management, and personal skills that allow you to be extremely creative. It is a huge market.

As a gift basket delivery business owner, you can serve individuals, corporates, and local businesses. You can create gift baskets for all different kinds of occasions. It is a specialty that has quite a lot of scope to capture the market.

Stationery Supply Delivery

The stationery delivery business is often a business that isn't taken very seriously. But we all need stationery, whether it is individuals or corporates, in our daily lives. You only need to invest a lot more depending on the variety of products. You will find buyers everywhere. It is pretty easy to find customers and earn with medium effort.

After Hours Delivery Service

After-hours delivery service is a market that hasn't been captured or realized well yet. It is probably not focused on a particular product. But the focus of this kind of service is to serve after regular hours of delivery. Several courier companies offer after-hours delivery. But you can choose to take a different approach.

Meal Kits Delivery Service

Creating special meal kits according to the requirements and delivering them to the right place is one of the biggest trends. When restaurants are shut for business, and people choose to eat healthier, this is a great option. You can create a brand and easily accept orders online. Some of the biggest companies in the fresh meal kit delivery business are HelloFresh, Blue Apron, and Purple Carrot.

Errand Service

Errand service is another quite interesting industry. It allows people to focus on more critical tasks and outsource some of the menial tasks. This business will require a little more market research because very few companies have established themselves in offering errand services.

These delivery businesses have proved that the scope for digitalization of the supply chain in most industries is quite enormous. All you have to do is get the market research together, create a delivery app or software, decide a delivery range, apply for a business license, and start accepting orders.
FAQs
There is a list of things you should consider before starting or planning to start a delivery business. It would help if you asked yourself some questions before starting your own delivery business.
A delivery service business makes different amounts of money depending on what they are delivering, the areas they are delivering in, and the fee they charge for each delivery. The business makes money in the form of delivery fees, commission, and advertising. The revenue models can be peer-to-peer, business-to-consumer, subscription-based, or business-to-business.
You can promote and market your delivery service by creating a website, advertising, posting on local bulletin boards, publishing press releases, getting registered in online directories, and networking.
You do not require a large sum of money initially. You can start with a vehicle, a mobile phone, and a bunch of clients. You eventually have to raise money when you have to register your business, buy an office, and advertise your business.
Make Your Delivery Business Idea a Reality
We hope the ideas and suggestions for the delivery industry mentioned above have proved to be helpful. A little more research on a business idea of your choice will provide detailed insights into delivery business opportunities.
If you have any questions, you can reach out to us. We'd be happy to help. At Upper Inc, we are currently trying to start conversations around delivery service businesses on our blog and the ease or difficulty with which people are currently navigating the waters in the delivery industry.
If you are already running a food delivery business, bicycle courier service, or pet food delivery business, or any delivery business for that matter, you can provide us with your inputs. We will make sure to share them with our audience.