Each business has a specific set of requirements that need to be fulfilled with the help of software. Sometimes a business can require a suite of software to get through the daily business process. For such businesses, it is better to have functions like route scheduling, driver management, transportation management, reporting, and analytics, in a single fleet management software. Businesses can also benefit from having their Telematics and Compliance needs satisfied.
In this Descartes Routing Review, we will look at a route planner on-demand – Descartes, that performs several different functions and route planning and scheduling. We will also look at an alternative that can be preferred if the service requirement is limited to route planning and optimization.
What is Descartes Route Planner?
Descartes Route Planner is an advanced solution that helps a business increase fleet productivity and customer experience by planning and executing routes and managing driver performance. It helps a business decrease the cost, increases productivity, improves service, and reduces your fleet's overall environmental impact. It can be best used for multiple industry verticals, including carriers, forwarders, LSPs, manufacturers, distributors, retailers, private fleet owners, and government agencies.
Features & Functionalities Offered by Descartes
Here is a list of features offered by Descartes on-demand route planner
Route Planning & Optimization
Descartes Route Planner uses AI and advanced algorithms for delivering developmental advancements in strategic and real-time dynamic route planning. The software can develop and optimize sales and distribution territories. Improve strategies, and create routes that can eventually maximize customer service and profit.
Appointment Scheduling
The cloud-based fleet management solution allows real-time appointment scheduling for delivery commitments. It optimizes booing requests by considering order parameters against available resources. It includes configuration options for avoiding costly delivery options. In addition to this, it also offers incentives for beneficial time slots or priority customers.
Dispatching & Tracking
Descartes is an efficient logistics and supply chain management software that can track and respond to exceptions, assign new work or delivery routes to drivers. Measure planned vs. actual execution. This can be conveniently carried out with real-time GPS tracking and mobile communication. It coordinates everyone to streamline operations, facilitate new orders, exception handling, real-time visibility of driver movement, provide key performance indicators, and offer automated customer notifications.
Mobile Apps
The mobile app not only empowers drivers and employees, but avoids paper-based processes, accelerates billing cycles, cuts labor costs, and improves overall customer service. It can offer turn-by-turn commercial navigation, GPS tracking for route execution in real-time, generate AI-based ETAs, offer data collection like signature/photo capture, scan-on/scan-off capabilities.
Fleet & Driver Performance Management
With fleet management and driver performance management, businesses can improve safety and productivity while reducing vehicle maintenance costs. This is done by innovative monitoring, reporting, and coaching solutions. You can recognize and reward good driving habits for attracting and retaining the best drivers and prevent accidents and damage.
Telematics & Compliance
The Telematics & Compliance feature can help businesses stay on top of regulatory mandates. It can also improve driver behavior with advanced visibility, real-time vehicle diagnosis, scorecard, and reporting. With the help of telematics data, a business can improve dispatch and tracking the development. Spotting trends and supporting continuous improvement is made possible.
Customer Reviews & Overall Ratings
Here are some user reviews and ratings of Descartes Route Planner.
A good user interface, easy to use for daily delivery operations.
There should be a way to save repetitive information. Otherwise, too much data entry is required.
Views and monitors out-of-route travel and miles as well as early and late arrivals. Helps in analyzing time and managing work.
Charges for a software update.
You can check out another review by us here:
Decios (Delivery Circle) Review – How Efficient is it For Delivery Management?
Is There An Alternative?
Last-mile delivery companies with complex delivery processes and expectations to meet can really opt for Descartes Route Planner. Descartes Route Planner can be suitable for such companies as it will provide route planning and optimization and offer detailed analytics, fleet and performance management, and Telematics and Compliance. But for a smaller business that does not have such high requirements and needs a simple route scheduling or routing software that can satisfy its daily routing request, they can go for an alternative like Upper Route Planner.
What is Upper Route Planner?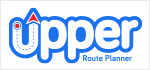 Upper Route Planner is a cloud-based route planning software that allows an organization to focus on more pressing business services that they need to offer to their customers. While other daily management processes like order management, driver management, route-optimization, reporting, etc., can be handled with route planning software. Upper helps create efficient routes that make the delivery process swifter and reduce the operating costs of performing the business services.
What Makes Upper Route Planner A Suitable Alternative?
Upper Route Planner is a platform designed with a human-centric approach, so it makes continuous efforts towards making the operation easier for its users. It does not aim to serve a particular business or company size. All kinds of businesses and individuals can make use of the software on their desktop or mobile device. Upper can help small local businesses, individual drivers, and contractors. The mobile app can be downloaded on Apple and Android devices.
With useful features like Quick Address Input that performs bulk address import from Excel and location-based auto-detect, a business can plan deliveries. Upper has a helpful customer support team that is always ready to guide you and solve any issues that you might face.
Conclusion
If your business or logistics process needs telematics and compliance support, Descartes can provide that support. We hope this review has helped you get to know which software can prove to be useful for your supply chain needs. We will introduce you to more such software on our blog.