Whether it is to make a delivery, go on a road trip, or find the shortest and fastest route to your workplace, we all make use of maps on a daily basis. Until a few years ago, we either went around asking for directions or carried a road map around with us. But with the advent of technology and route planning apps, we can easily find a location with just a few clicks.
Having an app at our disposal is not enough. We must know how to make the right use of it. Apps like Google Maps have so much information available along with a long list of features that are helpful to the users while creating a route. You just have to know all the tips & tricks for an app like Google Maps.
In this article, we will cover some tips related to drawing a route on a map and why using a route planner is most suitable for this purpose.
Overview of Mapping & Route Planning
A route plan provides you with an accurate route to reach your destination. It helps businesses create efficient plans for boosting their sales and deliveries while using minimum resources like time and fuel. Planning routes with a route planner maximize the value of each trip or delivery through unknown territories. You can plan routes with multiple stops on a route planning tool.
Route planning or routing is helpful for field sales reps, delivery drivers, truck drivers, individuals on the daily commute, or people going on road trips. Planning with route maps helps people factor in the time for rest and refreshment, find gas stations, find accommodation on their routes, find out the best routes to reach on time, among many others.
Why Do You Need to Draw a Route on a Map?
By drawing a route on a map:
You get turn-by-turn directions.
It also helps you find out ways to reach your destination faster.
When you have an updated map to follow, you know where to stop for food or fuel.
It helps you prepare before you step out on the route.
Where there is enough preparation, there is little space left for uncertainty and errors.
Creating a Route: Step-by-step Guide
Find the starting point and the destination on the map. Mark these points.
If you have any waypoints or stops that need to be considered before reaching the final destination, find them on the map and add them to the list. You can also create the list using an Excel spreadsheet and then import the spreadsheet to a route planner you are using.
Once you have all the stops and addresses, you can create a route that covers all the stops.
You can change the order of stops according to the priority. With a route planning tool, it is done easily without interrupting or rerouting the entire trip.
Tips on Creating a Route
Planning & Optimization: Make sure you are using a route planning app for the purpose of planning and optimizing your routes.
Order of Priority: If you are creating a multi-stop route, you must also be able to create the stops in order of priority and create the route accordingly.
Multiple Stops & Multiple Routes: Choose a route planning tool that allows you to add multiple stops to a route and create multiple routes as well.
Accommodating Changes: Any immediate changes or adaption should be easily accommodated without disturbing the entire route or re-doing it.
Real-Time Updates: The tool you select must be able to inform you about traffic updates or incidents, along with other factors like elevation profile, street-view, road closures, toll roads, highways, etc.
GPS Tracking: The tool must allow real-time GPS tracking.
Save for Later: If you frequently use the same route, you can save the route and use it for future reference.
Why Use a Route Planner?
A route planner is a software that allows users to create a route plan and find an optimal way to reach from one place to another on a web or mobile interface. Route planners are specifically designed to help users create the most optimized route plan to reach their destination. Most of these route planning apps take into consideration real-time factors like traffic updates or incidents, the priority of stops, and road closures.
A route planning app is used by individuals for a daily commute or road trips, delivery drivers for local deliveries, truck drivers for interstate or intercity deliveries, field sales reps, and anyone who needs route optimization and navigation to reach their destination.
---
---
Time to Switch to Route Planning Apps
We hope the information provided in this article has been helpful to you. By now, you must have figured out that drawing a route on a road map is not only time-consuming but also outdated at this point. The best way to create routes is by either making use of free route planners like Google Maps or paid route planners like Upper Route Planner that offer multi-stop route planning for businesses and individuals.
Find out more about route planning software and its benefits: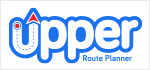 Upper Route Planner is a route planning app that helps you plan and optimize multi-stop routes with multiple locations.