We have a bunch of sophisticated technology at our disposal that helps us move around quickly and efficiently. Whether it is a personal errand or a task related to our business process, we can use this technology to help us find the driving directions with multiple stops.
There are several apps like Google Maps route planner that offer the fastest route with multiple locations. But as the number of stops starts to increase, it gets a bit complicated. While the Google Maps app gives us directions and shows routes for different modes of transport, it is limited to 10 stops per route. It may not be a hurdle for an individual out on a grocery run, but truck drivers or salespeople with a long list of deliveries to make will find it difficult to deal with. They need to find the best route with unlimited stops that can help them save time and money.
This article's focus will be to cover the top tips for driving directions, multiple stops, and addresses. We will cover a few apps and include many tips and tricks, notably for Google Maps and MapQuest. We hope you find this useful!
Why You Might be Looking for Driving Directions with Multiple Stops?
There are a variety of users who would require route planners for driving directions with multiple stops. This list includes delivery drivers, a small business owner, road trips, or anyone with appointments. 
These individuals need to cover quite a few stops on each delivery route daily. While covering all the stops, they have to take care of the fuel they use and the amount of time that goes into fulfilling the deliveries.
Drivers and individuals need a tool that can guide them through their daily trips using the most optimized way for reaching from one point to another.
We're going to cover some answers to many of the questions from these groups.
Which App is Best to Get Directions for Multiple Addresses?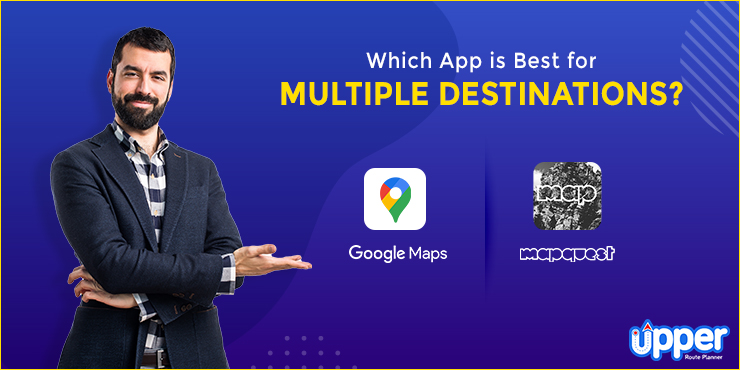 There are many searches for delivery route planner apps to download on the app store, Play Store, Windows, or online. Some of these paid apps offer a free trial, yet we will talk about two of the best apps that will help you get driving commands for multiple destinations in a route. The two apps are the Google Maps app and Upper Route Planner.
We are going to cover these apps in particular for a few reasons:
They both offer a choice of web-based (browser) and Mobile apps (Android & iOS smartphone);
The widespread availability of the tool;
User experience and quality of service;
Available online instructions and support.
How to get Route Directions for Several Stops on Google Maps?
There are many searches for delivery route planner apps to download on the app store, Play Store, Windows, or online. Some of these paid apps offer a free trial, yet we will talk about two of the best apps that will help you get driving commands for multiple destinations in a route. The two apps are the Google Maps app and Upper Route Planner.
Users can easily receive directions and routes for driving, biking, walking, and public transit. It presents you with a bunch of options. The best option will be highlighted in blue on the map.
Let us take a look at how you can get the most accurate route on Google Maps.
Step 1. Open the app on your smartphone or go to https://www.google.com/maps on your computer.
Step 2. Search for your destination on the map, or enter the destination in the search bar.
Step 3. Tap on Directions.
Step 4. Choose from options like biking, walking, driving, or public transport.
Step 5. To get a list of turn-by-turn directions, tap on one of the route options.
Step 6. To select another route, tap on the grey route options on the map.
Step 7. You can also add multiple locations to your route, up to 10 stops.
Step 8. You can also rearrange the order of the stops according to your convenience.
Step 9. Once you have arranged them in the right order, tap on Start.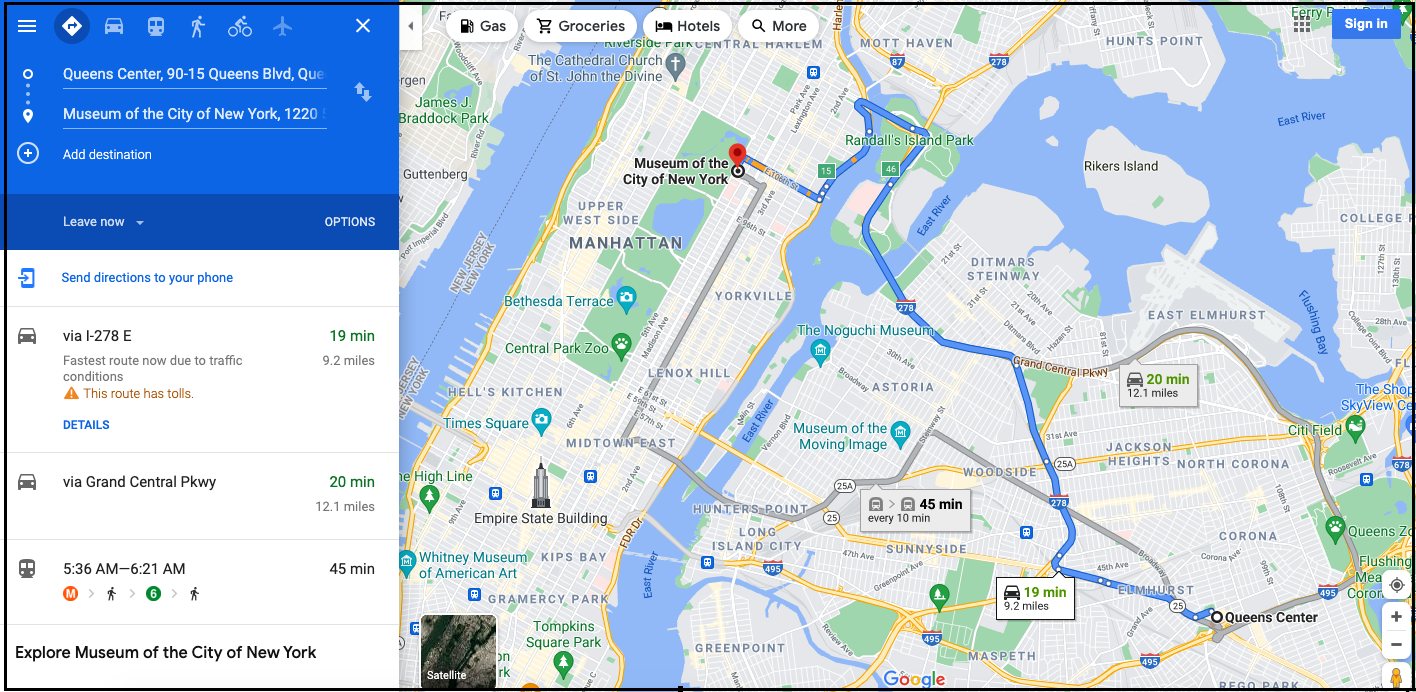 Why is Upper Route Planner Better if You Are Planning Multiple Stops?
We are not saying Upper CRew is superior to Google Maps. But it is just something that allows you to do a little more with your routes.
You can continue to use Google Maps. But when you use it along with Upper Route Planner, you will be putting optimized routes to use.
Let's take a look at how Upper Route Planner's Crew app works.
Create a Route Plan: Tap on Create a Route Plan on the right-hand side.
Add a List of All your Destinations: You can add destinations manually or import all your destinations using an Excel sheet.
Set Priorities: Once you have the list of locations, you can check them and add any priorities or time windows that are specific to the addresses on the list.
Assign Drivers: If you have more than one driver, you can either choose a bunch of drivers to distribute the stops among them or choose a single driver to cover all the stops.
Plan Routes: Now you can tap on Optimize & Assign Routes to optimize the route and all the stops on the route according to the urgency or time windows allotted to them.
Share with Drivers: Once the route plan is ready you can choose to share it with your drivers through email or text.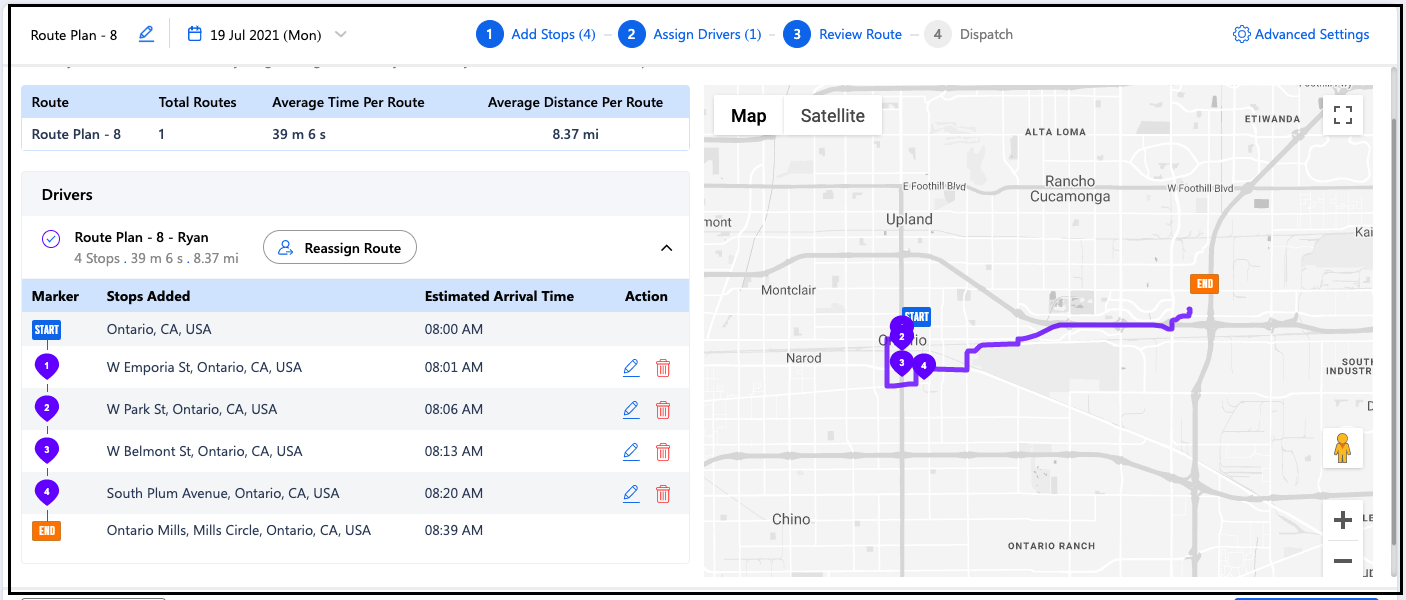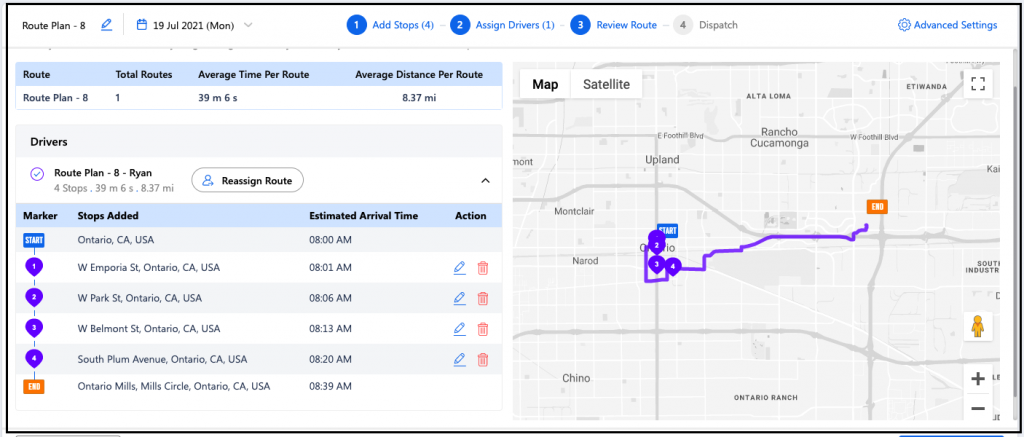 It Offers More Than Just Route Planning
Upper Crew comes with a human-centric design. With that, it aims to make the process easier for its user at each step. 
Upper Crew is a simple and intuitive tool that works for businesses that deal with –  food delivery, meal-kit delivery, flower delivery, courier, field service, and last-mile delivery businesses.
It plans each of your route plans with the help of an optimization algorithm that takes into consideration different factors like time windows, driver timings, and urgency. 
Upper Crew helps dispatchers around the world to create multi-stop routes for their drivers daily. 
In addition to creating a route and dispatching it to the drivers, it generates daily reports for stops covered, stops missed, routes finished on an individual driver level. These reports have proved helpful for dispatchers and managers in conducting their delivery plans better.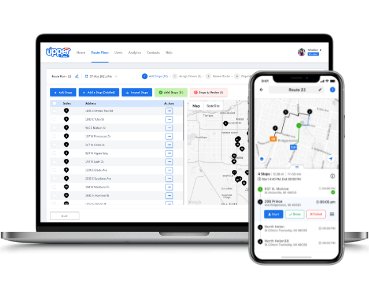 Upper Crew
A Simple-to-use route planner that every one is talking about.
Save up to 95% of planning time
Save up to 40% of time on the road
Plan 500 stops at once
No credit card details required
Tips to Plan Your Route Using a Multi-Stop Route Planner
This section compiled a list of the best tips and tricks to get you going on the best routes possible. We took inspiration from Time Magazine's tips for google maps as well as some other tips.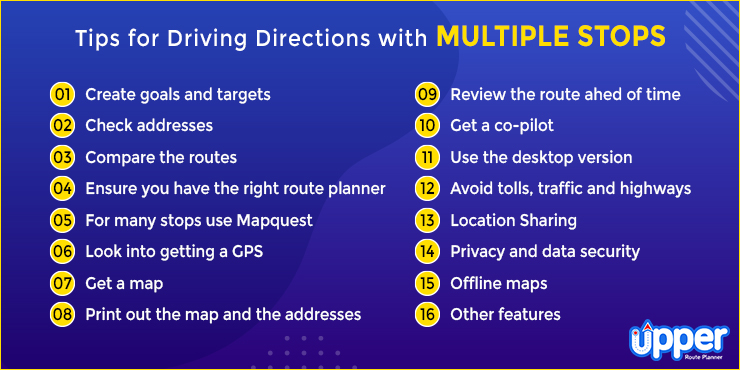 This section compiled a list of the best tips and tricks to get you going on the best routes possible. We took inspiration from Time Magazine's tips for Google Maps as well as some other tips.
Create Goals and Targets: The first step is to identify your goals to find the best route like service time for the route you want to take.So the starting point for you as the user is to note what is critical for you in this route and what you are looking to accomplish. 
Check addresses: It's always good to double-check the zip code and use the route planner to help validate the information's integrity and optimize the trip. This helps delivery drivers avoid wasting any time looking for the right locations.
Compare the routes: When you look at the map, you can examine where each route is taking you, and you can often customize the route order so that you can find the best one for you. You will want to choose the quickest route order. It would help if you also considered traffic incidents while comparing the routes. 
Ensure you have the right route planner: A route planner is essential when planning several routes, or even just one route.  They all have a map feature, which is essential. The right route planner will offer route optimization for multiple routes with unlimited stops. It will help you create efficient routes by considering many factors that are important to create the quickest route.
For multiple addresses, use Upper Crew:  Many route planner apps only allow for a maximum of 2 stops; the advantage of Upper Crew is that it allows users to create routes with multiple destinations up to 26. It features an optimized feature, as well. Users can choose the direct distance route or shortest time route.  This is the most useful tool when hitting many stops like delivery and shipping, field services, or small couriers.
Look into getting a GPS: A GPS or a global positioning device is a tool that can help handle your route or trip. In a commercial vehicle or car, you may find a physical GPS device and a route planner app on your smart phone. The GPS tracking will guide the vehicle from the first destination to the last with voice instructions. 
Print out the map and the addresses: Another idea is to have each address of a route written on a spreadsheet (it will be a spreadsheet with many lines with all contact information in the columns like name, contact number, email address). Then you can print the map and the locations from a computer. You will then have a paper copy of all the route plans in your car. This can be useful for a delivery driver or a truck driver.
Use the Desktop version: For a route planner, the website or desktop version is often much easier to do the inputting (typing in) the addresses. So we suggest you use the "add stop" feature and create your route plans using the web-based route planner.  The desktop version will suggest the best route options for you and give you the distance on a map. As a user has written, "This is the best way to plan my route!"
Avoid Tolls, Traffic, and Highways: There are highways and tolls that you may want to avoid for some routes. For this, you can select it in special features and select the box for highways, traffic, ferries, and toll roads. These are especially useful for truck drivers. 
Location Sharing: These apps have sharing features, making it easy to collaborate with team members (in the case of a small business) or with friends (in the case of a trip). These features create a shareable link that one can send in a text message, email, or social media to send directions for a route.
Privacy and Data Security: Google uses a feature to track movements. This feature is called "location history." For certain users, the privacy of data is critical. These users have a couple of choices. They can choose a competitor like Upper Crew, or they can delete the map history. If you go into the place in Android or Chrome settings, you can disable the location history.
Offline Maps: One of the features & advantages of Google Maps is the ability to create and save a map offline. This feature can be useful if you want to save data usage or travel to an address that doesn't have internet or data access.
Other Features: Some of the important features that every delivery app must have are the search bar, preferences, saving an address, menu items, real-time traffic incidents, customer service team, etc. Google Maps provides some of these real-time features. Upper Crew has these other features like a customer service team and choosing preferences.
FAQs
You need to find an app that allows you to add multiple locations. Most apps like Waze, MapMe, and Apple Maps have a limit of 2 stops. Google Maps allows up to 10, and MapQuest allows up to 26 stops. If you wish to have more than 26, you'll need to pay a professional route planner. You can get the quickest route with several stops, optimized in a few seconds on a professional tool like Upper Crew.
Google Maps allows its users to plan a multi-stop route. But the route must have only up to 10 stops including the start location. This is a limitation of Google Maps app when compared to premium route planning apps like Upper Route Planner, Routific, and Circuit Route Planner.
The best way to create a route with several stops is by using a paid subscription for apps like Upper Crew. The reason you should do this is because it helps you create multiple routes with several stops and it only takes a few minutes to create and optimize all your routes. It helps save travel time for sales people and delivery drivers.
Hoping you Find the Best Route Planning Tool
We hope this helps to clarify the tips, ways, and steps to improve your driving commands and find the quickest route. We hope you will find the best multi-stop route planner and route optimization tool that is most appropriate for your specific needs.
If you have any questions that you wish to ask us, as always, we are always here for you and your feedback. Till then, check out our route planning tool.