We are living in the age of on-demand services. A lot of things can now be ordered and accessed on-demand, right from food to entertainment. This creates a lot of customer expectations about the on-demand delivery of these products. The demands have to be met by the businesses selling these on-demand products. To manage last-mile delivery with route optimization, resource allocation, driver tracking, and maximum customer satisfaction are not easy. Businesses need route optimization and delivery management software for this.
Fixlastmile is one such last-mile delivery solution that helps logistics companies and any business that deals with product delivery. In this Fixlastmile Review, we will look at the software's features and benefits and the industry-specific problems it can solve as a delivery software.
What is Fixlastmile?
Fixlastmile is a last-mile delivery software founded in 2018. It has proved to be a successful delivery management software companies around by providing top-notch last-mile delivery software. Fixlastmile aims to be a versatile software that can provide route planning and optimization to several industries.
Fixlastmile makes last-mile delivery easy and cuts down delivery costs for a company by streamlining their delivery operations with automated dispatch, real-time tracking of the fleet, and advanced route optimization. It offers proof-of-delivery, driver tracking, feedback, and SMS notifications to elevate the overall customer experience.
Fixlastmile's developer-friendly API can accommodate your mobile app, ERP, online ordering system, and inventory management system. It offers a 14-day free trial.
Essential Last-Mile Delivery Features Offered by Fixlastmile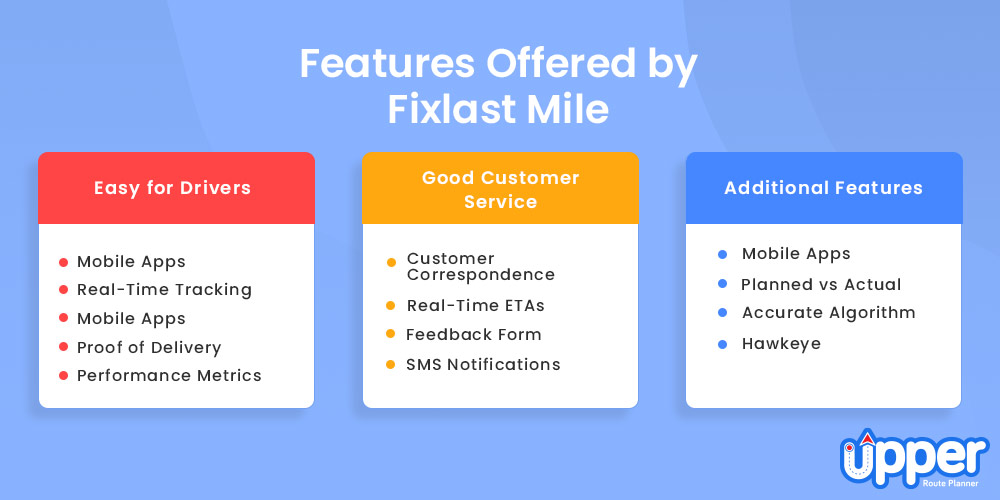 Making It Easy for Drivers
Mobile Apps: Fixlastmile's iOS and Android mobile apps come with an intuitive and interactive interface, making the onboarding process smoother.
Real-Time Tracking: With real-time tracking and data, drivers can avoid routes with high traffic.
Proof of Delivery: It offers an in-app collection of notes, barcodes, signatures, and photos as proof of delivery.
Performance Metrics: With detailed task history and comprehensive driver performance metrics, accountability increases and can improve productivity.
Offering Good Customer Service
Customer Correspondence: With Fixlastmile, companies can allow correspondence between customers and drivers. When customers can contact dispatchers, drivers, and call centers, it improves customer communication.
Real-Time ETAs: With the real-time delivery tracking system of Fixlastmile, customers can be provided with real-time driver locations and ETAs that can offer a responsive web tracking experience.
Feedback Form: Fixlastmile provides a feedback form that the customers can fill to provide the companies with feedback and reviews. This can help in improving the customer experience.
SMS Notifications: Sending automatic SMS notifications in real-time to customers is made possible with Fixlastmile. This way, companies can inform their customers about the status of their delivery.
Additional Features
Analytics: Receiving and auditing key metrics as distance traveled, on-time rates, service times, feedback scores, etc., can help generate descriptive and predictive analysis. The reports and analytics provide you with indicators that tell you where to improve.
Planned vs Actual: A company can compare planned vs. actual routes on the map interface to avoid hold-ups and analyze last-mile delivery using trend lines and heat maps.
Accurate Algorithm: Fixlastmile uses a combination of approximate algorithms for finding real-time ETAs that can be calculated, along with real-time re-routing and delivery route optimization.
Hawkeye: Hawkeye allows you to focus on major priorities, and the automatic dispatch system can assign the most suitable drivers for deliveries.
Industry-Specific Problems and How Fixlastmile Solves Them
Here is a list of industries that make use of the Fixlastmile delivery route planning platform.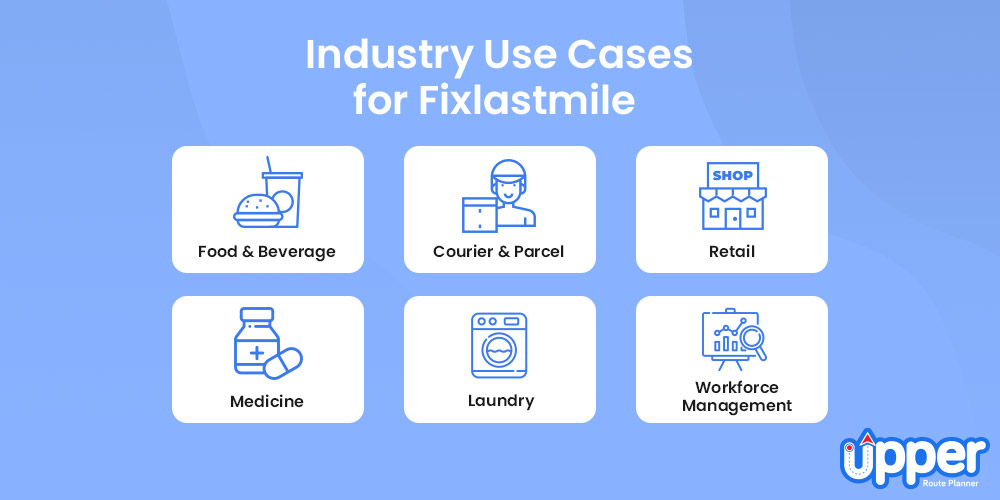 Food & Beverage
Food and beverage companies often face problems like missing deliveries, the complexity of order management, recording maintenance, and lack of a central system. Fixlastmile's intuitive and interactive dashboard helps manage all the delivery operations. The automated allocation system allocates orders to drivers, a summary, proof of delivery, and real-time notification and solves missing deliveries. Customer communication and feedback systems make sure the companies get to know where they are going wrong.
Courier & Parcel
Courier, parcel, and e-commerce businesses have to deal with lost packages, failure to deliver on time; high driver overturns, lack of interaction, and customer loss. With Fixlastmile's optimizing operations and scheduled dispatching, it becomes easier to keep an eye on daily operations. With delivery route planning visualization and delivery record, drivers will deliver on time, and there will be no loss of customers. With tracking orders in real-time and proof of delivery, losing packages will become difficult.
Retail
Retailers and e-commerce businesses have to go through deliveries with no real-time visibility, budget issues, and unable to fulfill customer expectations. Fixlastmile helps them improve and get a hold over their delivery operations by providing solutions like live shipment tracking with notifications, advanced delivery route planning, capacity optimization, and customer engagement. With these solutions' help, the clients have achieved an increased number of deliveries and capacity utilization, meeting timelines, and an overall better delivery experience.
Medicine
Pharmacies and medical supply businesses are often challenged with problems like time sensitivity on deliveries, progress reports, supply chain visibility, order allocation, and lack of coordination. Fixlastmile's algorithm helps them tackle these inefficiencies through real-time tracking delivery, digital records, reports and analytics, dispatcher dashboard, ETA predictor, and digital signature. This way, it improves the supply chain, boosts delivery experience, and enhances productivity while looking out for patients.
Laundry
The major factors that affect a laundry business are poor delivery management, logistical errors, hard to predict and prepare in advance, and transparency for all delivery operations. Fixlastmile helps laundry businesses by providing a solid delivery infrastructure to manage deliveries and pickups. The on-demand laundry solution manages delivery person, along with real-time tracking of deliveries and pick-ups.
Workforce Management
The barriers faced by the workforce management team or companies are often related to record-keeping and data analysis, rising operational costs, real-time collaboration, and increased customer expectations. Fixlastmile helps these teams overcome these barriers by offering a hawk-eye view of on-field operations, streamline operations, better communication, and cut down operational costs.
You can check out another review by us here:
RouteStar Reviews – Is It An Ideal Route Management Software Package for Your Business?
Is There an Alternative Delivery Software?
All kinds of businesses dealing with last-mile delivery or logistics challenges need a delivery solution to help them with functions like resource allocation, route planning, route optimization, saving fuel costs, and making overall delivery operations smoother for a business that doesn't face too many challenges and will not require a delivery solution like Fixlastmile. For such businesses, Upper Route Planner would be a suitable option.
What is Upper Route Planner?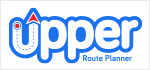 Upper Route Planner is a route optimization platform that helps individual drivers, contractors, small delivery services, and retailers create daily pick-up and drop-off routes. Drivers can create daily multi-stop routes for deliveries. Upper solves the routing problem and also offers reports, insights, and great customer support.
Why is Upper Route Planner a Suitable Alternative?
Upper Route Planner makes use of a human-centric design and algorithm that understands the requirements of its users. It understands that a business offering delivery services requires a platform to solve its daily routing problem. It helps your logistics team prepare for delivery targets or goals while fighting all the delivery process's inefficiencies. Upper is available as a web-based platform and a mobile app for iOS and Android.
Conclusion
A logistics business makes use of efficient algorithms to overcome the challenges related to on-demand delivery services. A business-facing more delivery challenges daily will require platforms like Fixlastmile. While a small business or individual driver can make do with Upper Route Planner. It will not only help create delivery routes but also prove cost-effective.