We are currently navigating a huge shift in the way products are created and sold. This changing landscape is brought into force due to sophisticated technological innovation and product methodologies.
To create an appealing product, you need to think about the:
Market;
User experience;
Efficiency; &
Return on Investment.
For creating such a product, you will have to approach it using a blend of B2B and B2C. So basically, you will be creating B2B products in a B2C world.
Both B2B and B2C buyers are not satisfied with the overload of data and information they can receive from product catalogs or websites. They need real proof.
In this article, we will guide you through the intersection between business to business and business to consumer, how it has changed the way products are created, and how you can effectively build and sell B2B products in a B2C supply chain.
When & How Did B2B & B2C Intersect?
Product development has always been categorized into two different consumer models:

Business to Consumer (B2C): The process of Business to Consumer is defined by selling products or services directly to the consumers. Any company that sells products or services directly to a consumer or end-user can be called a B2C company.
Business to Business (B2B): Business to Business is the model of producing specifically for and selling directly to businesses. Any company that produces and sells products or services to another company is called a B2B company.
| Factors | B2B | B2C |
| --- | --- | --- |
| Target/Objective | Buyers want expertise, efficiency, and ROI. | Customers look for utility and entertainment. |
| Product Development | Product development is slow, version-based, with emphasis on value and stability. | Product development involves fast iterations, A/B tests across markets, with an emphasis on UI. |
| Pricing | These products have multiple pricing tiers and depend on order volume discounts. | Single pricing tier for potential customers across the market. |
| Education/Information | Buyers want to be educated about the product and its utilities. | Consumers like to be educated, but do not need it to influence their purchase decision. |
| Buyer Motivation | Buyers are driven by data, logic, and profitability. | Consumers are largely driven by emotion. |
| Parties Involved in the Purchase | Buyers have to discuss with decision-makers and other members of the hierarchy. | Consumers rarely have to discuss with anyone before making the purchase. |
| Purpose Behind the Purchase | Buyers look to establish long-term contracts, long-term relationships, which can result in a longer sales cycle. | Consumers do not always look to establish long-term relationships. |
| Examples | Product developmentHubSpot! [A marketing company focused on selling social media management tools to other businesses] | Spotify [A music platform that sells online streaming services for their listeners] |
Both business models have different methodologies, goals, products, targeted audience, buying process, and marketing efforts.
With the gradual changes in monetization and acquisition models and the growing demand for a better customer experience, both these parallels began to merge.
When popular brands like Google realised that the larger amount of profits are derived from businesses using their services, they started creating more B2B products.
This process has seen the end consumer change from an individual to a business. This change has influenced the way products have been produced and introduced and the way a company operates.
B2B companies have changed massively. Their buyers and consumers expect more utility, better user experience, faster iteration, and more adaptability. If you notice closely, they have slowly adopted all the major B2C product management methodologies.
This blend of product management methodology and marketing strategies can be seen very clearly in the products that we use these days.
Similarly, our product Upper Crew route optimization software may be a platform built specifically to help enterprises. But at the core, it is a product that is built for real people, real consumers out there. So we focus on building our solution on the basis of what consumers want:
Easy usability
Intuitive
Great user experience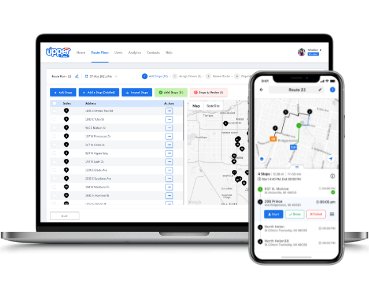 Upper Crew
A Simple-to-use route planner that every one is talking about.
Save up to 95% of planning time
Save up to 40% of time on the road
Plan 500 stops at once
No credit card details required
How Does This Intersection Affect the Developers & Users?
The intersection between the B2B and B2C products will demand innovation and improvement from a product.
B2B products will have to offer users B2C experiences. B2B product designers and developers will have to create designs and user experiences that are at par with their B2C counterparts.
At the same time, the demands and expectations for B2C products have changed as well. The B2C product is expected to work at the same scale as a B2B product. This is a major reason why the new B2C product management methodology now includes the continuous development of the product. It gives rise to faster iterations and feedback.
As a result, the speed and quality at which B2C products are being innovated and produced are now matching the production and innovation of B2B products.
These changes will require developers to:
Focus on user experience.
Improve usability and make the product more intuitive.
Offer a financial incentive or profitability
Develop, test, and deliver on a continuous basis.
Fast iteration and feedback.
Provide more operational agility and strong automation.
Major Indicators on How to Create Effective B2B Products in a B2C Business Model
Here is a list of signs that can help you create an effective B2B product in a B2C business model.
Who is Your Audience?

According to a report by Forrester, United States B2B is said to reach $1.8 trillion by 2023. To gauge such a huge market, you will have to find who your audience is.

A strong B2B product strategy starts with defining who your target audience is. It will require you to create a buyer persona and also map out the buyer's journey.

This activity will further influence all the other marketing campaigns you start, whether you are creating an eCommerce website, generating leads, or creating an online experience.

Where are Your B2B Buyers? Go There!!

Figuring out your target audience will lead you to the next step where you follow them and discover customer expectations.

This exercise will require you to create a presence on search engines and social media channels to get in touch with your audience because that's exactly where new customers are looking for products.

It is not just individual buyers, but also business customers and industrial customer groups that head to a search engine to look for potential products.

For this, you will have to create an online presence by way of having an eCommerce platform. You will then have to engage in some aggressive search engine optimization and digital marketing campaigns.

Understand Their Problems Closely

Understanding their problems will help you as a business to adapt to the needs of the customer. Without this step, it is extremely difficult to create a product that will be accepted by your business audience.

This exercise can help you gauge any shifts in consumer preferences and tastes. As you witness these shifts, you will be pushed to transform your product catalogs to keep offering more value to your buyers.

Develop a Content-Driven Marketing Strategy

After you have followed the steps of understanding the customer problems and making yourself visible on several platforms, it will be easier to grab their attention with an effective content-driven B2B marketing strategy.

With a content-driven marketing strategy, you have an opportunity to tell a story about the value you offer. A carefully curated content strategy in B2B marketing can help forge an emotional connection with the buyers.

Buyers love free content that contributes to their knowledge about the product and what it can do for them. Using educational content can prove to be extremely helpful in reaching end-users and establishing a connection. This content must be dependent on where the buyers are in the buying cycle.

Demonstrate & Communicate the Solutions You Offer

Buyers always look for as much information as they can find about the products they are interested in. Presenting the right set of data and information to your potential customers at the right time will help you in lead generation.

As a business or an eCommerce platform selling products, you will have to demonstrate and communicate how your company's products will help solve the customer's problem.

Throughout the B2B marketing process, ensure customers about the different solutions they can receive by trying out your products.

Offer Free Trials

One of the best ways to increase sales and speed the checkout process is by offering free trials for your products. Most B2B products often sell on the basis of the free trials that they offer their customers.

Free trials ensure your customers that your product is built specifically to solve their problems. With the changing landscape, even individual customers receive free trials for B2B products. It is exactly what helps in lead generation and increases sales.
Popular Examples of Business to Business Products
Here are a few examples of popular Business to Business Products.
FAQs
There is a possibility to create products that cater to both B2B and B2C clients. For this, the product has to be something that is consumed in a similar way by all the buyers in the market. So if you are offering a particular functionality, it should be usable by businesses as well as individuals.
If you are planning to convert from a B2B seller to a B2C seller, you will have to provide products that offer value to individuals. The product must focus on utility, with an emphasis on user interface and experience. Changing your marketing strategy and diversifying product features and pricing tiers will help you immensely in converting from B2B to B2C.
The Amazon Business platform has been making waves in the market recently. Amazon Business is a scaled-up version of Amazon with more business-friendly features. It is a great example of how you can service businesses as well as individuals. With this, the opportunities to reach out to B2B and B2C clients across the globe increases.
The Future of B2B Products Will Bring in a New Paradigm
As the thin line between B2C and B2B products starts disappearing, it becomes more challenging for developers and businesses to create useful products that appeal to a wider audience.
These changes have given a boost to new online retailers, sales channels, eCommerce models, innovative mobile apps, and more price transparency among different sellers.
This shift is going to bring a completely new pattern into existence. For this, B2B products must be created from scratch by focusing on utility and user experience.