In 2019, 150.6 million mobile users accessed Amazon. The latest Amazon fiscal numbers show that the company reported $75.5 billion in sales revenue for the first quarter of 2020. Based on a 2019 survey of more than 2,000 customers in the United States, 89 percent of buyers said they are more likely to purchase from Amazon than other e-commerce sites.
The Amazon effect has revolutionized the way consumers shop, resulting in various changes in the retail market and industry. Amazon gives its customers a hassle-free experience that builds trust and earns customer loyalty. For smaller businesses, it might be tough to compete with the e-commerce giant, Amazon. This article will give you a way to not only survive but thrive and grow by using an independent courier app, despite the stiff competition for customer satisfaction.
Why Consumers Choose Amazon?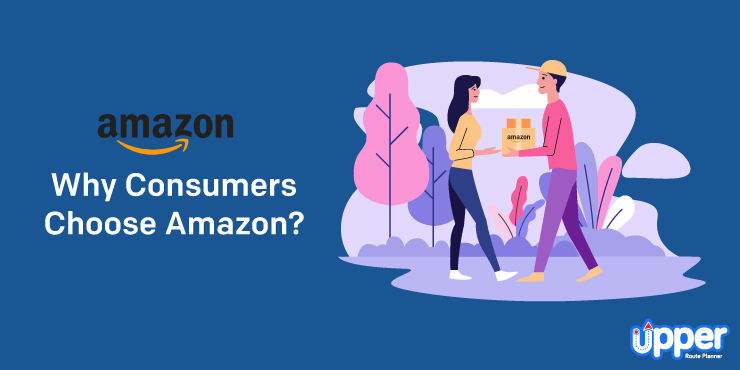 Amazon.com, Inc. is a Seattle-based technology company that specializes in e-commerce, artificial intelligence, cloud computing, and digital streaming. It is one of the Big Four technology companies worldwide, along with Google, Microsoft, and Apple.
Jeff Bezos built Amazon in July 1994 and registered its domain name on November 1, 1994. While Bezos was unsure of what he wanted to retail online, he eventually settled on books. This was because they were easy to source, package, and distribute.
Since then, Amazon has expanded its services to include drone delivery, fresh produce shipping, Amazon Flex, and other innovations. In particular, Amazon Flex is a service that allows anyone to work independently with their vehicle to make deliveries.
Today, most consumers begin their online product search with Amazon, making the e-commerce giant the top of mind site for online shopping. Customers also prioritize Amazon since it offers same-day deliveries that are cost-efficient.
A 2020 survey revealed that free and fast shipping is the most popular reason U.S. internet users shop on Amazon, followed by the platform's wide range of products.
How Can You Compete with Amazon?
Many retailers have integrated technology in their companies to match Amazon's smooth and fast-paced shopping experience. However, a lot of small businesses remain in constant struggle with first-time delivery failures, lack of capacity to track deliveries, and expensive cost of delivery.
Here is a simple solution: use a route planner. The right route planning tool can help you manage customer expectations for faster shipment, transparency, flexibility, and lower prices.
What is Route Planning?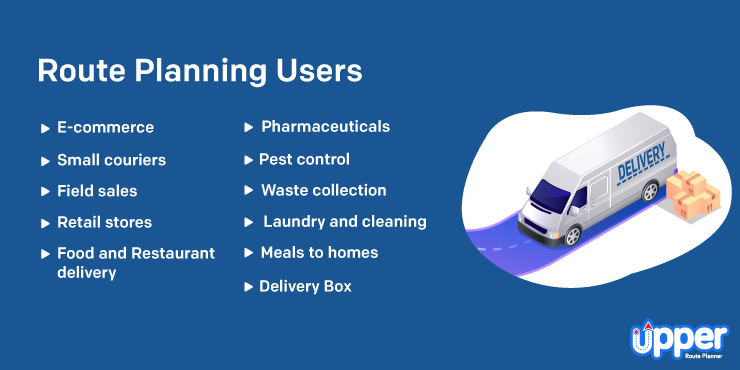 Route planning involves the efficient arrangement of optimized routes to save time and resources for businesses and their clients and is essential to companies and organizations to achieve business growth and gain profits, especially those that need a schedule to deliver goods or services to consumers.
Proper route planning systems are vital to companies with deliveries, logistic needs, delivery routes, field services, and schedules, such as:
E-commerce
Small couriers
Field sales
Retail stores
Food and Restaurant delivery
Pharmaceuticals
Pest control
Waste collection
Laundry and cleaning
Meals to homes
Delivery Box
A company with delivery services can only plan routes manually until customer demands increase or more people require delivery. Logistic challenges become difficult to solve when you are maneuvering through delivery restrictions and multiple client requests like same-day delivery and specific delivery times. Companies like grocery stores, a courier, or anyone dealing in package delivery that uses manual practices are leaving money on the table.
Learn from Amazon and improve your work as an independent contractor or courier by trying a customer-centric approach to route planning. Find the best route planners or delivery apps that work for your business.
Why Should a Courier Use a Route Planning Software?
Here are some questions to answer if you are thinking of using delivery apps:
How do you schedule your routes?
How many delivery jobs do you have?
Are you currently having problems planning routes?
What is the daily average duration of deliveries per driver?
Is your average cost per delivery high?
How do you communicate changes to drivers and clients?
Do you have a website where clients can see orders and pay?
What form of payments do you accept? Is it cash, or only digital ways? What are the delivery fee rates for each order?
How do you want to track income, discounts, and earnings in your account?
Do you need a portal for the shopper? For outside contractors?
Do you need to do home delivery?
Do you need a route planner with specific truck knowledge details?
Do you need any other feature like proof of signature, mileage, state directions,
Are there items that require insurance?
Can you accommodate customer requests like the desired delivery date and time?
Can you factor in variables such as traffic and weather in managing delivery schedules?
A delivery driver app can help you solve your problems in delivering packages, scheduling routes, bring transportation costs down, and yield other benefits.
What are the Benefits of an Effective Route Planning Software?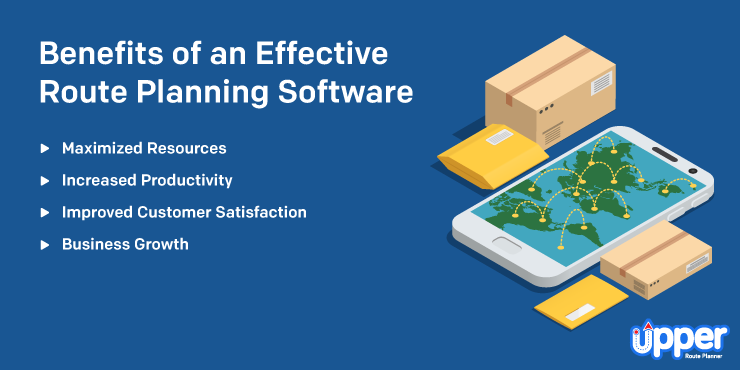 Experience the following benefits from a useful route planning software:
Maximized Resources
Using the right route planning app helps reduce the wear and tear of your delivery trucks, buses, or service vehicles by optimizing routes for multiple destinations and addresses. Route optimization means efficient planning that results in lower transportation and maintenance costs.
Increased Productivity
Optimized maps let you plugin as much as 100 addresses, allowing for more stops and deliveries and yielding to higher productivity. Planning by hand takes hours. Google Maps, although ubiquitous, have limited features. A route planning app can simplify your life and develop effective plans for your team in minutes. It can speed up your planning and reporting time and improve communication.
Improved Customer Satisfaction
Customer satisfaction leads to a positive experience and customer retention. The right route planning app delivers quick response time and faster deliveries. A useful tool also captures the users' contact information so that they can receive notifications in every step of the delivery process.
Business Growth
Shifting from manual route planning into using a route planning app can help you expand your business. When you maximize resources, increase productivity, and continuously leave clients satisfied, you have room for expansion.
Want to learn more about the Best Route Planner options for delivery?
Check out "Best Route Planner App for Delivery Drivers in 2021"
Plan quickly, deliver faster, delight customers and get home early.
Everyone deserves to have simple and easy route planning.
---
FAQs
The question of "best" is always "it depends." We recommend to users to assess their needs, assess all delivery apps, and see which best suits their delivery service.
ROVA is a delivery driving platform for couriers. It allows any delivery job to be connected to consumers. It is a place where couriers and clients can get connected with drivers on a 24/7 basis.
---
Improve Courier Deliveries with a Paid Route Planning Software
In choosing the right route planning for your business, you must consider two things: cost and benefit. The first thing to consider is looking at existing apps for your smartphone (Android, or iPhone) like uber eats, doordash, instacart,
You need a route planning app that saves you time, energy, and other resources for the lowest price. If you are a startup or small business that delivers to less than five locations a day, then using a free route planning app might be the best choice for you.
However, if you have multiple stops, have varying route optimization needs, or are dealing with fleet management, consider investing in paid route optimization software.
Use the right route planning app for your business to see your company soar like Amazon and receive 5-star reviews from satisfied and loyal customers.