A route optimization solution is one of the most important software for a delivery business. Companies need it to achieve their daily targets. Finding good software is not only about managing routing needs and deliveries. The software must help delivery businesses to save time and money as well.
In this Xfleet (My Smart Route) review, you will learn about the features offered by Xfleet (My Smart Route) and how companies can make the most of these functionalities. It enables companies to generate the best route with multiple stops. This is done by receiving driving directions that are accurate and efficient. Let us take a look at how Xfleet software does that.
What is Xfleet (My Smart Route)?
Xfleet is a consolidated route planning software with fleet tracking and analytics. The platform allows customers to work from anywhere and manage their multi-stop delivery routes. Every logistics-related function like route planning, real-time driver tracking, uploading address list, driver and asset management can be managed intuitively, in a convenient and fulfilling way.
The Xfleet algorithm will optimize routes quickly and efficiently, even for complex setups or deliveries. It works to generate the most cost-effective routing solution to help companies get more multi-stop deliveries done in a day. Fleet managers can automate many logistics functions with this software and take into consideration factors like traffic data and time windows.
If you particularly search for MySmartRoute Planner, you will no longer find it on the PlayStore. You will have to look for Xfleet instead. MySmartRoute Planner has been scrapped, and there is Xfleet as a replacement.
How Does Xfleet Work?
Here is a simple order on how Xfleet's route planning process works.
Users can create teams and start adding locations, vehicle settings, territories, invite drivers, and much more.
Users can use the API to import orders or add manually.
The algorithm takes into account all the constraints related to your deliveries.
With a simple drag and drop feature, you can make changes to the plan.
The platform will automatically alert customers with ETAs using real-time GPS data.
Through the customer ratings and reviews, you can know how your drivers perform the deliveries.
The analytics gives you an insight into potential problems that can be worked on before they start affecting your process.
Xfleet Pricing Details
Following are the pricing plans offered by Xfleet route planning software.
Basic: The Basic plan includes 12 months of data history, 1,000 routes per team, collaboration with up to 5 drivers, map-based route plan view, spreadsheet upload, in-app chat, and delivery reports & KPIs.
Premium: The Premium plan includes features like 24 months data history, route optimization, smart zone allocation, intelligent dispatch, Xfleet Driver app, proof of delivery, APIs access, and custom field and attributes.
Enterprise: The Enterprise plan includes features like 36 months data history, advanced optimization, barcode scanner, custom survey mobile app, insight alerts, vehicle diagnosis, Xfleet GPS app, custom dashboards, and support priority.
Xfleet offers a free trial of its services.
We do not comment on specific prices and costs regarding plans because they may vary. Please consult the company or visit the website for an updated price.
Features Offered by Xfleet
Xfleet offers Delivery Management and Fleet Tracking services. Here is a list of features offered in both systems.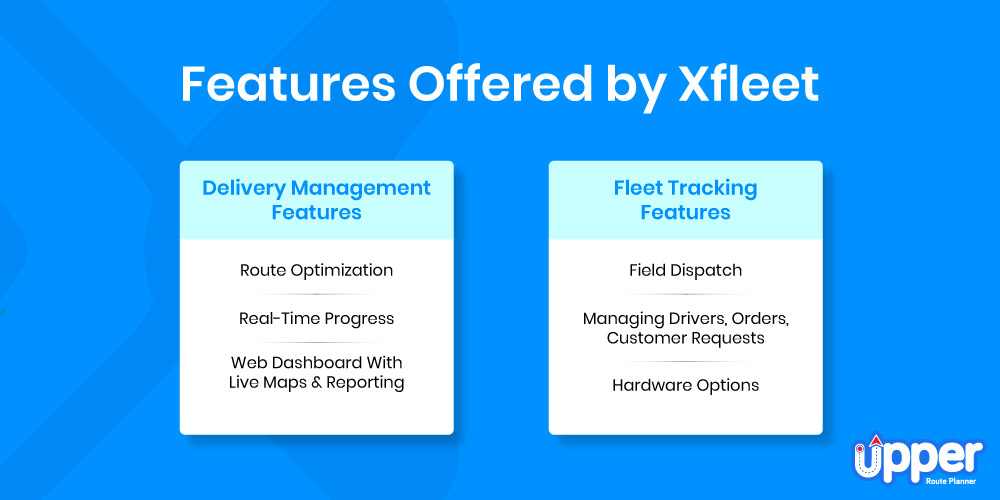 Delivery Management Features
Here are the delivery management features offered by Xfleet.
Route Optimization
With the state-of-the-art architecture of Xfleet, users can upload addresses/stops, get driving directions with multiple stops, optimize, adjust constraints, and reoptimize and generate the best route. It always leaves space for you to adapt and make changes to the routes along the way. Optimizing the constraints and routes can help you manage the business's seasonal fluctuations or ups and downs. This minimizes waste and increases productivity, which will help you save time and money. This way, businesses can boost resources, customer service, and driver efficiency.
Real-Time Progress
A business's workflow can be controlled with all the information provided to it through the platform. Xfleet provides route planning, dispatch driver's information, customer notifications and reviews, and much more. The live GPS vehicle tracking gives you the required fleet management data. Users can receive alerts to improve driver safety, inform customers about any delays, cut costs, and change behaviors. Emergency dispatch becomes easy with real-time information at your disposal.
Web Dashboard With Live Maps & Reporting
Using the Xfleet web dashboard, all your deliveries and driver status is made available to you. The customizable web dashboard offers a quick overview of live maps with pre-defined reports. With the information provided to you, it becomes easy to identify areas that need improvement or employees that need more training. Keeping an eye on KPI trends and making decisions based on facts can help increase efficiency and reduce costs.
Fleet Tracking Features
Here are the tracking features offered by Xfleet.
Field Dispatch
Xfleet is a fully-integrated dispatch solution that allows GPS monitoring, scheduling and is also easy to use. The system will seamlessly integrate with Xfleet Driver. The mobile-workforce related functions and resources can be managed really well, including tasks, vehicles, drivers, and technicians. With all this information available in one place, decision-making becomes quicker for a business. It also allows more accurate dispatching and accurate ETAs to customers.
Managing Drivers, Orders, Customer Requests
With driver coaching and scorecards, worker safety can be improved, job scheduling can be optimized, and dispatch decisions can be made faster. With Xfleet, companies can get a digital proof of service, track rash driving behaviors, confirm labor hours, track expenses, and process orders. Your drivers and fleet managers can work on the go with the mobile app or connect APIs to the existing technology. Real-time vehicle and asset tracking are made possible, along with vehicle and asset maintenance.
Hardware Options
You get access to plug-and-play hardware to read Real Odometer and Real Fuel Data. This hardware can be plugged into the vehicle's OBD-II port. You can run the software on your existing Android and Apple devices. This way, you can work with a familiar device on new software. The GPS tracking device can be easily installed in the vehicle. Fleet managers get a range of options to choose from to suit your routing requirements.
You can check out another review by us here:
Badger Maps Reviews – How Does it Help a Company and Its Sales Team?
Is There An Alternative?
A routing app is one of the most important components of a software package that a business uses to do its activities successfully. Sometimes a certain route optimization solution might not work for your business for any reason. You might require a stronger solution with better features, pricing, or support. This is why it is important to keep looking around for alternative routing app that might better your business. One such alternative route planning app is Upper Route Planner.
What is Upper Route Planner?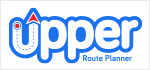 Upper Route Planner is a route optimization software that helps individual drivers, contractors, sales reps, and companies create multi-stop delivery routes. It helps customers find the best route and save time and money while achieving maximum deliveries throughout the day. You can add stops by copy-paste or uploading the spreadsheet of address list from Excel.
Why is Upper Route Planner a Suitable Alternative?
Upper Route Planner simplifies your local delivery operations by helping you set priorities like locations, time windows, driver preferences, etc. Upper Route Planner offers some straightforward features like drag-drop scheduling, driver management, bulk address import from Excel, location-based auto-detect, and duplicate routes. Upper Route Planner aims to provide the best service to its customers by offering software that helps them drive directions, create delivery routes, and provide accurate insights and reports on the drivers and delivery routes.
Upper Route Planner aims to provide utility and value for money to its customers through a web-based platform and mobile app. It does this by providing the best price for its software and offering the best in class customer service. Upper Route Planner's customer-centric features make sure your advanced routing needs are managed through the optimization software. Upper has a mobile app for Android and iOS devices. It offers a 3-day free trial of the route planning services.
---
---
Conclusion
If you have launched your delivery service or you work as an individual driver, you must look around for several route planners available to you. Match the features with your daily delivery service requirements, and you will find the best route planners or fleet management software. In this review, we have covered details of Xfleet along with information about Upper Route Planner to make it easier for you to compare and choose.