Last-mile delivery operations are among the most demanding and ever-expanding industries that require companies to be on their toes constantly. Thousands of companies across dozens of industries, including pharmacy, furniture, food, and beverage, use software that offers ease of use and helps them boost their delivery process with the help of route optimization algorithms and features that make routes and deliver products much smoother.
In this Onfleet review, you will learn how the Onfleet web-based and mobile platform work, its features, and how it helps different companies, whether it is a small business or a larger organization. Onfleet is a service-based product, often known as a SaaS. Good delivery management software is the one that not only satisfies the base demand but is easy to use and takes into consideration real-time traffic data, offers telematics features, performance data while satisfying the business needs. It must also offer good customer support as cloud-based software.
What is Onfleet?
Onfleet is a modern and delightful fleet management software that offers ease of use to manage delivery operations. Businesses use it for route optimization and manage local delivery operations. Businesses from different industries like retail, food, document delivery, and pharmacy can use the delivery management features of Onfleet. Onfleet is used by retailers, distributors, and multi-national couriers. Any business that operates as a last-mile delivery company can benefit from using Onfleet.
How Does Onfleet Help Businesses in Real-Time?
With systematic driver selection and effective monitoring tools, Onfleet can help you keep track of your products' dispatch and delivery. Onfleet is a cloud-based solution that offers search and filter capabilities. It can allow businesses to navigate using status-based queries, customer notifications, and text alerts to locate customers and drivers. The intuitive mobile app and SMS notifications can make sure that you stay engaged with your customers and they stay informed.
Pricing Plans
Onfleet has the following pricing scheme.
Starter: The Starter plan includes 1000 tasks with Analytics and Export History for 30 days.
Basic: The Basic plan includes 2,500 tasks with additional features like API Integration, route optimization, Predictive ETA, etc.
Premium: The Premium plan includes 5,000 tasks with additional features like age verification, barcode scanning, dedicated phone number, etc.
Professional: The Professional plan includes 12,500 tasks with additional features like multi-brand account support and priority support.
Onfleet gives a 14-day free trial of the Basic plan. All the plans include dashboard and driver app analytics, driver to customer communication, online and offline driver tracking, unlimited drivers, and dispatchers.
We do not include specific Onfleet pricing details and costs because they may vary. Please consult the company or visit the website for updated prices.
List of Features Offered by Onfleet
Here is a list of Onfleet features that help a company make better decisions and improve customer experience.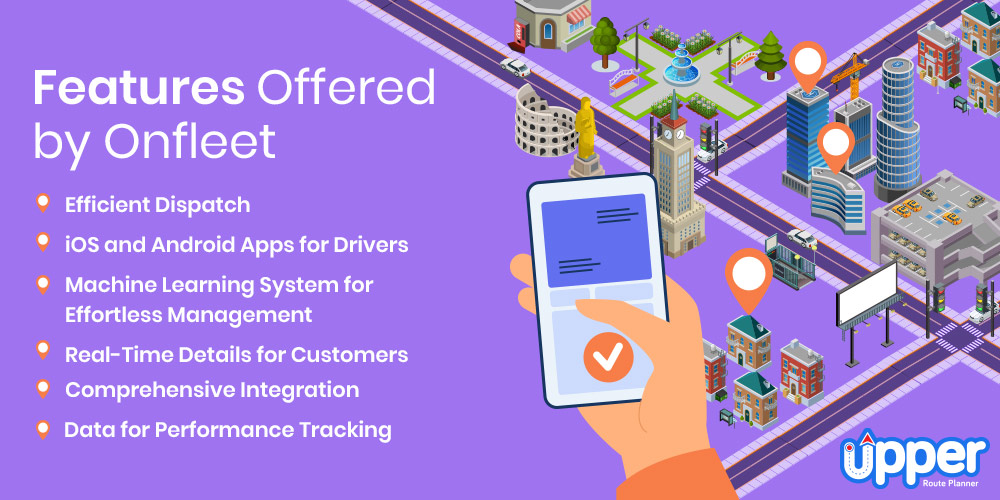 Efficient Dispatch
Routing and dispatch operations can be integrated swiftly in a single intuitive web-based dashboard. The route optimization engine considers location, capacity, time, and traffic data to produce the most enhanced driver schedules. Drivers receive all the updates in real-time. Users can search using text, time, or status based queries. This can be done to find tasks, team members, customers, etc. The auto-dispatch engine reduces service time and labor costs.
iOS and Android Apps for Drivers
The iOS and Android driver apps of Onfleet are intuitive and easy to use, which makes onboarding really simple. Drivers are provided with real-time information regarding orders, navigation, and customers. The app supports navigation services like Google Maps, Apple Maps, and Waze. Drivers can collect photos, signatures, barcodes, and notes as delivery proof. Detailed task history and driver performance metrics can improve productivity and accountability.
Machine Learning System for Effortless Management
The entire dispatch team can communicate using a private, secure platform available on the mobile app. The same platform accommodates proof of delivery. It offers accurate predictive arrival times and real-time alerts, thanks to the app's machine learning system.
Real-Time Details for Customers
The mobile app helps customers by letting them know the real-time details of the delivery. They can also receive SMS notifications. GPS Tracking provides customers with live driver locations and accurate ETAs is a great way to offer a responsive experience and good customer support. Customers can call or text the driver, and these communication channels are anonymized for securing customer information. Onfleet's integrated feedback offers a first-hand account of customer support and experience.
Comprehensive Integration
Onfleet makes it easier to merge with your existing tools and systems. This makes it easier to launch a delivery operation. You can use Zapier to connect with hundreds of third-party apps like Google Sheets and Shopify. Integrating with the Onfleet developer-friendly API offers you complete control.
Data for Performance Tracking
It becomes much easier to track performance with a data-driven platform like Onfleet. It helps you find out key insights about your business operations and make more informed fleet management decisions. The Onfleet mobile app will allow you to visualize success rates, on-time rates, service times, distance traveled, and many more details like clients info. You can get more insights by exporting analytics and raw data to CSV or connecting it with Onfleet's restful API.
Various Industries & Use Cases for Onfleet
Following businesses have been using Onfleet fleet management solution to help them with their delivery process.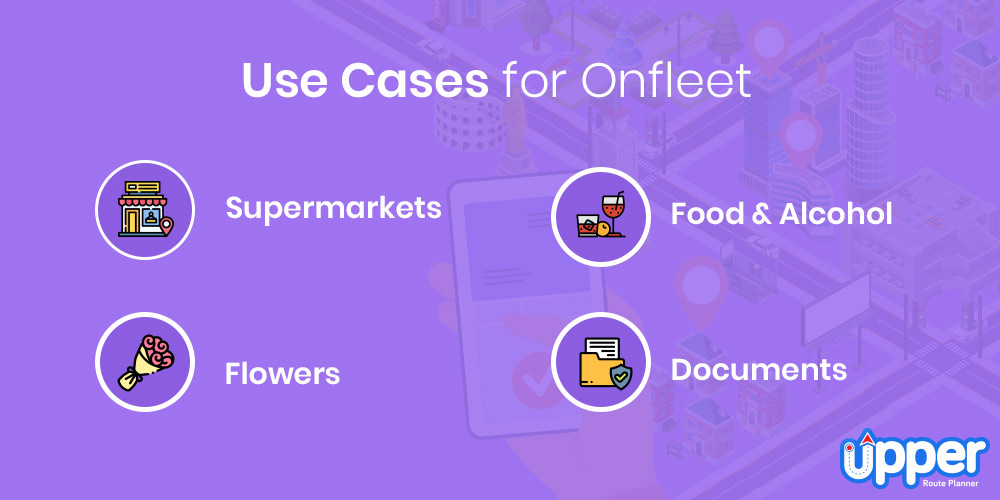 Supermarkets
Supermarkets face the problem of delivering the freshest product on time. With online ordering, the demand has increased. Supermarkets cannot just do 3 or 4 deliveries per hour and be done with it. There are hundreds of deliveries of fresh food that needs to reach its location on time. For this, streamlining orders or deliveries is really important. But with the right tools, last-mile delivery becomes much easier. With Onfleet, supermarket businesses have managed to handle 50% more capacity while still maintaining on-time delivery rates.
Food & Alcohol
Food and Alcohol businesses often outsource their delivery functions to a company that specifically deals in fleet management. But if the businesses themselves get their hands on software like Onfleet, they can manage their own deliveries. With something like Covid-19, demand for delivering groceries and other products at home has spiked. Onfleet management software offers efficient tools to meet the constantly growing demands.
Flowers
Even florists have realized the requirement for strong technology infrastructure to manage logistics and make sure deliveries on time. Onfleet offers ease of use through an intuitive platform that makes sure that florists can deliver fresh flowers to their clients on time.
Documents
Onfleet makes products efficient by connecting drivers, delivery managers, dispatch teams, and clients. Last-mile delivery costs are often said to constitute 50% of the total supply chain cost. But with software like Onfleet that helps make deliveries faster and getting more done in a day, the cost will automatically go down. Additional functionalities like proof of delivery (pictures and contactless signatures) can prove to be more helpful in document delivery.
Pros & Cons Based On Customer Reviews
Here is a list of positive comments and improvement areas for Onfleet based on user ratings and reviews.
Positive Comments
Here is a list of the pros of using Onfleet based on customer service reviews.
Onfleet web dashboard has a modern interface with plenty of useful analytics.
Easy onboarding for delivery drivers.
Real-time delivery tracking to keep track of drivers and deliveries.
The Onfleet website and the app are easy to navigate.
Ease of use by way of adding stops, switching drivers, or adding a whole new route.
The Onfleet app makes communicating with drivers much easier.
Constructive Feedback
Here is a list of constructive feedback for Onfleet based on actual reviews and testimonials.
There is no way to see the total quantity of items being delivered.
A way to search for a particular driver or recipient would be helpful.
No way to customize delivery processes.
The price of the platform is high.
Some admin capabilities and functionalities for the dispatchers will be helpful.
The driver doesn't have the option to cancel or reject the task.
You can read another review by us here:
Badger Maps Review – How Does It Help a Company and Its Sales Team?
Is There a Suitable Alternative?
Exploring alternatives can help companies find a suitable option for any software or process that might not work effectively. To find good alternatives, users have to go through many reviews, pros and cons, and cloud-based software features. We will make it a bit easier for you here and tell you about a route planning alternative.
What is Upper Route Planner?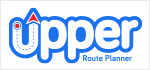 Upper Route Planner is a route planning and route optimization software that helps courier companies and delivery companies create efficient delivery routes seamlessly. Upper Route Planner helps you optimize your delivery routes and save time and costs at each step. The advanced algorithm takes into consideration multiple factors to make your delivery process efficient and cost-effective.
Why is Upper Route Planner a Suitable Alternative?
Upper Route Planner is a SaaS designed with a human-centric approach that ensures clients and their business requirements are satisfied, thanks to great customer support, restful API, and effective features. Compared to Onfleet, Upper Route Planner has a basic dispatch functionality. We are working closely with our users to develop more functionalities.
If an option like Onfleet proves to be expensive for you and your business has smaller or limited delivery operations, then Upper Route Planner might be a good option. It offers value for individual contractors, small businesses, and family-operated organizations for local delivery operations. Upper Route Planner offers a 3-day free trial as well. It works on Android and Apple devices (iPhone, iPad, and Mac).
Conclusion
Software vendors are always making sure that their clients and their enterprises of all various sizes can be satisfied. They offer a free trial to ensure their clients can check how the software works on their device for their small business. That way, you can make sure that the application satisfies your requirements. Hopefully, this review will help you make better purchase decisions.