A product-oriented and service-oriented business often have different requirements. But there is always one common link between these different types of organizations. They all work on the promise of delivering their products or services on time. They can have the best products or services in town, but if they can't deliver efficiently and on time, they will lose out on customers.
These organizations have delivery personnel who make sure the products and services reach the customers in time. For this, they need a guide to help them through their daily commute, and for this, there are several route planning apps or web-based software available to them. Through this Optimoroute review, we will highlight one of those apps and tell you what users really have to think about it.
What is Optimoroute?
Optimoroute is a cloud-based route planning software that helps delivery and field service management companies in route optimization and scheduling. The software strives to help organizations upgrade their bottom line with enhancement in overall efficiency. It works towards being scalable by serving a large variety of organizations and industries.
More Details About Optimoroute
Optimoroute works towards efficiency improvements, lowering operating or fuel costs, boost earnings and offer great customer service. Organizations can automate their optimization, improve their service level, and customer support. The software gives out suggestions on which driver should carry out the delivery, depending on the constraints and requirements you set for a particular task.
You can either feed or import the orders to the Optimoroute software. Depending on the plan you choose, you can import anywhere between 250 to 750 orders at once. The software allows you to tune access levels for each user that is given access to the web app. The optimal route setup and smarter assignments help you in saving your time and money. There are several other benefits of using Optimoroute. Organizations of all sizes, from small family businesses to large corporations, can use it.
Pricing
There are three pricing plans offered by Optimoroute, which are as follows:
Starter: The Starter plan can fulfill 250 orders while offering other features like Mobile App, Route History, Export to Excel, Garmin, and more.
Business: The Business plan can fulfill 500 orders while offering additional features like Live Tracking, Web Service API, and Breadcrumbs.
Enterprise: The Enterprise plan can fulfill 750 orders while offering additional features like Analytics, Weekly Planning, and RealTime Order Tracking.
We do not include specific prices and costs because they may vary. Please consult the company for updated prices.
What are the Features Offered by Optimoroute?
The best Optimoroute reviews include a section on features. Below are some of the major features of Optimoroute: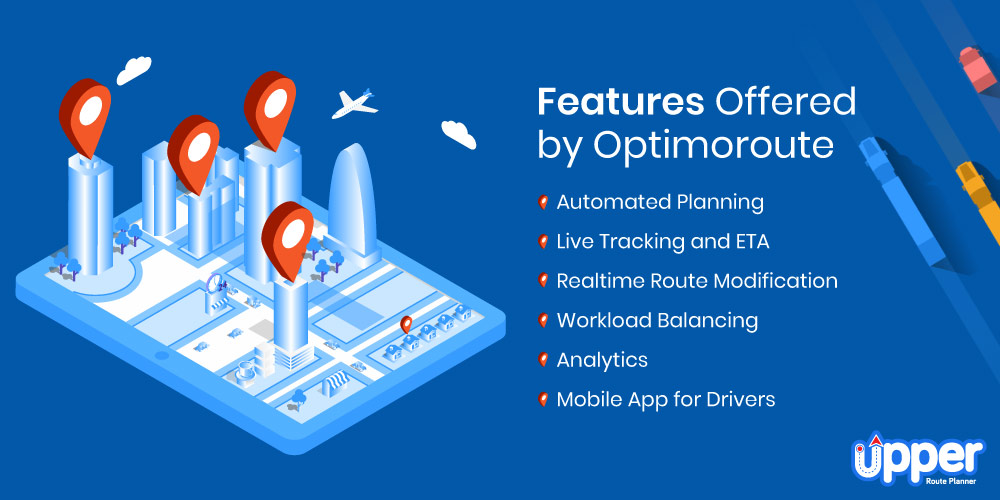 Automated Planning
This feature allows you to import orders easily and, in return, receive efficient routing solutions for all your drivers at once. The information includes order load, stop duration, skills required to do the job, service time windows, service areas, etc.
Live Tracking and ETA
Live tracking and ETA allows you to know where exactly your drivers are. It also calculates and shows the estimated time of arrival of each driver to their assigned location. All this information is made available to users based on real-time statistics collected with the help of the Optimoroute mobile app.
Realtime Route Modification
The Optimoroute software allows you to feed last minute orders, adjust any location or stop sequences or even reevaluate a delivery in case one of your drivers calls in sick. The map route will be automatically recalculated based on the additional information to contemplate additional or manual changes.
Workload Balancing
The software helps with workload balancing by using only drivers required or dividing the deliveries among the drivers. The basis for balancing the deliveries or work orders are done by considering the number of orders per driver or working hours.
Analytics
The software creates and generates concise and error-free reports based on the routes and schedules. This allows a company or business to identify the high performing drivers. You can then make out where you are re-planning was on point and where it missed the targets so you can take better care next time.
Mobile App for Drivers
Optimoroute offers a native mobile phone app for iPhone and Android devices that offers ease of use and manages route, navigation, and order information through the driver's phone. It also offers route updates and order status immediately, without any delays.
Various Use Cases of Optimoroute
Here are some of the best use cases or benefits of using Optimoroute software: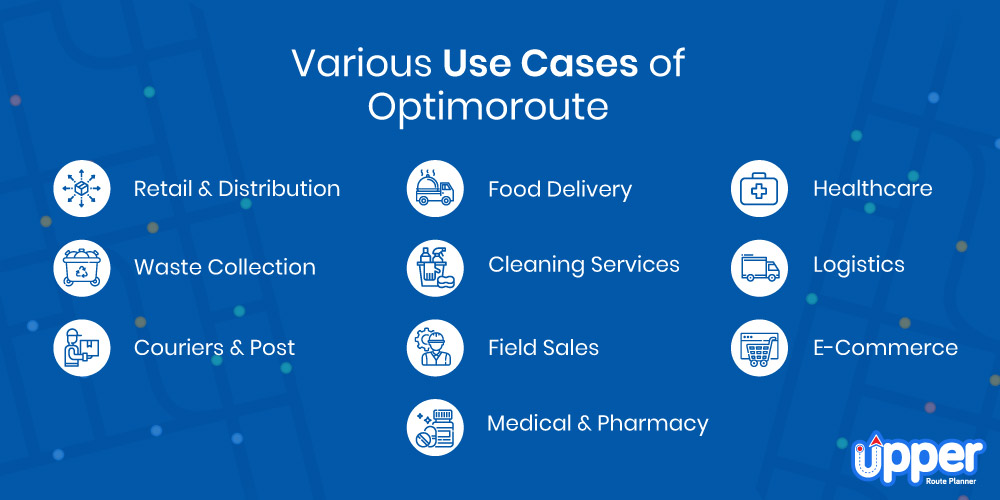 Retail & Distribution
The Optimoroute software offers efficient retail and distribution route optimization for both small and large fleets, offering value for money, increasing its likelihood to recommend by users who have already used the software. Fleets can create an optimized route plan quickly and increase their efficiency. Companies get efficient retail delivery plans that easily accommodate all aspects and help save time and cost with good customer support. It also reduces missed deliveries and driving times with properly optimized circuits.
Food Delivery
The Optimoroute software makes sure food deliveries are made better by creating optimized route plans. Manually planning deliveries can not only take effort but a lot of time as well. Food delivery service needs to take care of the ordering, order management reporting, quick response, gift card management, and customer service. But Optimoroute lets you focus on deliveries rather than worrying about the circuits. This can be beneficial to even small family-owned businesses and restaurants for offering value for money.
Healthcare
Healthcare professionals have more important things to take care of and shouldn't be bothered about the routes. Be it a house call or doing NEMT to and from healthcare institutions, Optimoroute makes sure all the accurate pickup and drop off locations are presented on the app with quick response. It allows you to reach more patients with the same resources and better-planned paths.
Waste Collection
Optimoroute considers necessary constraints to plan the most efficient directions and improve overall operational efficiency. It reduces the driving time by offering optimal directions and smarter vehicle or driver assignment, scheduling driver management that enhances the overall function. With realistic schedules and accurate arrival times, it strives to exceed a person's expectations and offer maximum customer satisfaction.
Cleaning Services
Users can quickly plan daily work schedules and directions for more than 100 locations and respond in just a few seconds. The Optimoroute software has the ability to account for appointment time windows and prioritize different customers. It can also factor in employees' daily breaks, offers ease of use, and helps drivers in configuring multiple start and end locations for all your employees. Service technicians can also benefit from this.
Logistics
Logistics is one of the industries that are always in need of software like Optimoroute and cannot function without well-optimized routes. Logistics businesses can set location business hours and delivery/pickup time windows, support different start and end locations for your drivers, email paths, clock payment collection, quick response, and schedules to your drivers' smartphones. With the web service API, you can automate planning and remitting the planning results.
Couriers & Post
The delivery of post and packages is an increasingly demanding task. This software is easy to use, and the drivers can deliver the maximum number of packages and improve feedback and reviews. Drivers can prioritize orders, balance workload among other drivers, consider vehicle capacities based on package, volume, weight, etc., with Optimoroute.
Field Sales
Optimoroute can help field sales agents make the most of their time and reach their daily targets by optimizing their directions and prioritizing clients' importance or urgency. Field Sales agents or service technicians receive accurate and realistic arrival times and can easily export all their directions and schedules directly to sales personnel through email. They can also upload a list of stops from Excel and set different start and end locations.
E-Commerce
Buyers need quick and reliable services when they order something online. Having optimized paths, considering time windows, offering great customer support, and prioritizing is really important for an e-commerce company. It allows importing deliveries, minimizing driving hours, tracking order management, picking up packages, adhering to employee work hours, and plan returns to the depot for reloading. Drivers that have used the software understand why that is so important.
Medical & Pharmacy
Medical and pharmacy deliveries can become cost-effective and fully scalable. This can be done by optimizing staff schedules, reducing driving time, quick response, planning more than hundreds of deliveries in a few seconds, customer support, etc., through a fully automated process. Delivering medications will not be time-consuming anymore.
From the above-mentioned use cases, you will understand the likelihood to recommend the companies who have used the software in the past.
Customer Reviews and Overall Rating
Here are the positives and negatives of Optimoroute based on the overall rating from users
Positive Comments – Ease of Use
Here is some positive rating breakdown of the app based on user reviews:
The routing software is easy to use.
The functionality and uploading routes are also efficient.
The feature of dividing the route between drivers considering different aspects.
Downloading reports and delivery schedules are helpful.
Email notification of the arrival of drivers is good for customer support and communication.
Accommodates all constraints and is useful for the logistics players.
GPS tracking is also quite accurate.
Has increased work efficiency and reduced travel load for drivers.
The tracking option and communication protocol is an advantage for the companies that have used the software.
Ease of manual scheduling delivery points after the route is created.
Negative Comments – Outdated Maps and more
Here are some criticisms and rating breakdown about the app based on user reviews:
The maps on the software are outdated, and a lot of times, users end up fixing the routes.
Making unexpected changes to the routes is difficult for users.
The user interface of the software feels old and outdated, needs more improvements.
Planning multiple routes for multiple drivers becomes difficult, even though it is a major feature.
No integration with the Wix e-commerce platform.
Set up needs updates for software and other information
No way for a driver to make notes about a stop or a delivery.
No SMS Notifications, customer signature capture for proof of delivery.
When driving times are compared to Google Maps, times offered by Optimoroute are inaccurate.
You might want to check out another review by us:
MyRouteOnline Review – Is it an Ideal Software for your Business?
Is There a Better Alternative?
In every situation, especially business or management-related operations where a lot depends on efficiency and cost-cutting, it is important to have alternatives. One software can't be able to satisfy the business or operational needs of all kinds of organizations. Sometimes, an alternative with a slightly different approach or better features, or even better pricing is needed. This is why we have Upper, which works as a good alternative to Optimoroute unless you like giant software with a clunky interface.
Why is Upper Route Planner a better alternative?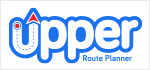 Upper is one of the best route planning apps for delivery drivers who need ease of use to plan multiple stops and need superior functionalities in terms of the features and how the app works. Upper is developed with a 'human-centric design' approach in mind. This means each step of the process is planned and put in its place only to make things easier for the users like delivery drivers, field service technicians, or a home delivery business. They have a good support team to help you out at each step.
This is a multi-platform application that works on computers (Web/Cloud), mobile devices (iPhone and Android), can sync in real-time, and offers ease of use with drag and drop. Real-time sync allows you to add stops on one platform, optimize the directions on another, and record these changes on the app. The smart address input is another favorite feature that the users love. The app is straightforward and intuitive, so adding or navigating stops, optimizing directions, and creating reports become easier.
Pricing Details
Upper is probably the most affordable and cost-effective alternate solution, considering the features and the pricing details it has to offer. It puts focus on offering value for money compared to other apps. You do not need to look anywhere else unless you like giant monthly packages you will regret after 6-12 months. The bottom line is that it is affordable for small businesses or small-scale family businesses that do not have enough resources or money to invest in fancy software for better value for money.
---
FAQs
Any company or person that travels daily could benefit from the route optimization process of the Upper app. It offers great value for money and can fit any company size, even a small business for that matter. Anyone who needs the features of GPS systems along with route planning can make use of it.
The benefits of using a route optimization app include efficient route planning, organized delivery scheduling, increased productivity, customer service, value for money, and saving time. If you are on the fence about routing software, go ahead and try this one. It can fit any company size.
---
Conclusion
For every software in the market, there is always a better alternative with additional features and functionalities or better pricing that could benefit a company or even an individual, for that matter. User ratings are important for software buyers. Hopefully, the overall rating and review mentioned above have helped you find out more about Optimoroute. Alternative software that is available to a user will help them overcome the fence about routing software.