2020 saw a huge shift in consumer preferences due to the Covid-19 pandemic. The effect of the pandemic hasn't been reduced in 2021. In fact, new delivery businesses are opening up to meet the growing demands. A route optimization solution is essential for delivery businesses for efficient delivery route planning.
Each route optimizer software you read about in this article will not only provide you optimized routes but also improve your delivery business. We have also mentioned some important parameters to keep in mind while choosing good routing software.
Basics of Route Optimization
What is Route Planning?
Route planning is the science of calculating the best possible route to reach a particular destination. Of course, this is the simplest explanation for route planning. So when you calculate the most effective way of traveling from one point to another through several stops, it is called route planning.
Businesses, and even individuals for that matter, use route planning to figure out the most cost-effective solution for going from one point to another. There is software designed specifically for route planning.
You can find more information about route planner apps in this blog:
Best Route Planner App in 2021
What is Route Optimization & Management Software?
When planning a route with multiple stops, you will have to consider the travel time against the travel distance and order priority. There are several factors based on which the shorted and most cost-effective routes can be identified: multiple stops, limited delivery time, number of tolls, weather conditions, and many more. The software that optimizes and manages a route is called the route optimization software.
The route optimization and management software arrange the multiple stops to reduce time on-road and save fuel. The route optimization software can manage to do this for your entire fleet. A route optimization software is often known as fleet management software, route planner software, or delivery management software.
Route Optimization Software: 6 Best Solutions in 2021
Upper Route Planner
Upper Route Planner is a route optimization solution that creates daily delivery routes and helps you save time and money by way of automated route optimization. It offers some useful features like Bulk Address Import, Location-Based Auto Detect, Error Proof Address Input, and Quick Route Creation to make sure you spend less time planning and do more deliveries.
Upper Route Planner is a useful tool for individual drivers, contractors, and businesses as well. Upper is a multi-stop route planner that can easily sync across the web, Apple, and Android devices.
Routific
Routific is an easy-to-use route optimization solution that offers features like customer SMS notifications, track drivers' progress, proof of delivery, and reports and analytics. It effortlessly scales your delivery operations by considering real-time factors like lunch breaks, traffic incidents, time windows, etc. Routific is a cloud-based route planner app that is available as a web-app, and a mobile app for Android and Apple users.
Route4Me
Route4Me is a route optimization software specifically designed to meet people's needs in field sales and marketing. It helps businesses in fleet management and territory management by allowing them to create, share, and manage routes within a matter of few seconds. With GPS tracking, they allow businesses to track drivers and their progress. Route4Me is a dynamic routing company with intuitive apps on iPad, iPhone, and Android devices.
OptimoRoute
OptimoRoute is another cloud-based route optimization software that helps businesses allocate resources properly, reduce mileage, and increase overall efficiency. Businesses have adopted OptimoRoute from various industries like Food Delivery, Field Sales, eCommerce, Logistics, and Installation & Maintenance. It allows easy mid-route changes and allows a delivery driver to order, schedule, and navigate a single mobile app.
Circuit Route Planner
Circuit Route Planner has an efficient route optimization feature and can track packages, manage drivers, and improve overall customer satisfaction. Circuit aims to make route planning and carrying out delivery tasks easier for delivery companies, irrespective of the company size. It is suitable software for geographically distributed teams.
MyRouteOnline
MyRouteOnline is a route optimization solution that helps a route manager create routes by converting addresses from an excel file into a route plan shared via mobile or GPS. MyRouteOnline is no more a web-based service. It has a MyRoute App now using which you can do route animation to review route planning.
Badger Maps
Badger Maps is a route planning software to help field sales reps carry out their daily operations smoothly. It helps the sales team to manage their territory by combining Google Maps, data from the CRM, schedule planning, route optimization, and lead generation on the mobile app. The mobile app interface is convenient and user-friendly. It helps traveling salespeople in meeting service calls and satisfying business needs easily.
7 Benefits of Using A Route Planning Software
Here are the benefits of having route planning systems in place.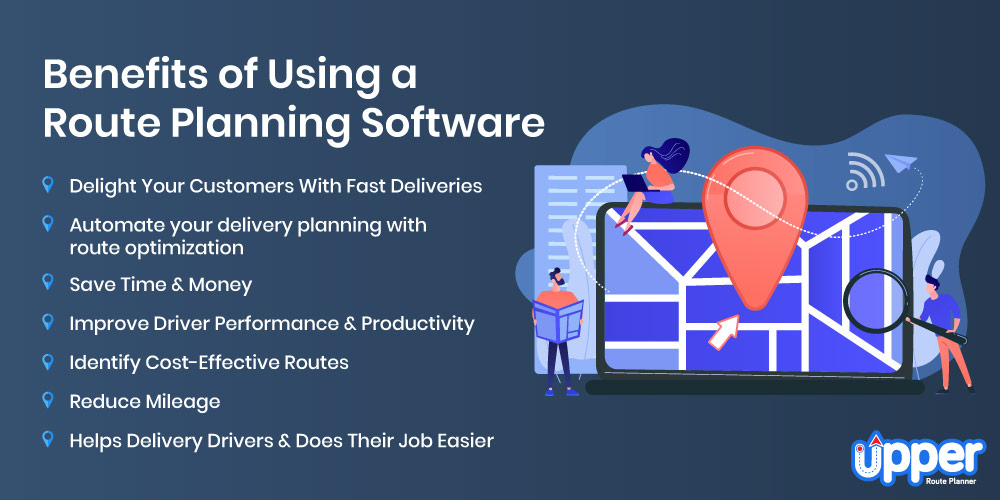 Delight Your Customers With Fast Deliveries
Route optimization software creates the most efficient and accurate delivery routes to help a business do faster deliveries. Nothing is more enjoyable for customers than receiving orders faster in this day and age of instant rewards and gratification.
Automate your delivery planning with route optimization
Planning multi-stop routes is a time-consuming process when done manually. With the help of route planning software, the same task can be done in a matter of minutes and more efficiently. Route optimization algorithms are not only quick but accurate as well. This way, businesses can automate planning for deliveries using a route optimization algorithm and focus on other tasks.
Save Time & Money
A route planning software creates the shortest possible multi-stop route, which can help a business perform deliveries in less time. When the fleet travels fewer miles and can still manage to finish all the delivery tasks, it saves time and saves fuel costs.
Improve Driver Performance & Productivity
When drivers take longer breaks than usual, do not follow a specific route plan, or don't handle their time well, it can result in late deliveries, waste of work hours, and missing out on customers. But a route optimization software allows businesses to examine where their drivers are lacking and offer them support accordingly. A good routing software to monitor driver and their productivity can help in improving their overall performance.
Identify Cost-Effective Routes
When you use route planning apps to optimize routes, you realize the effort you are being saved from. Not just that, but the final result you receive is more accurate than you can ever get from manually optimizing your routes. Having a route optimization algorithm at work, businesses can receive routes that are time-effective and cost-effective.
Reduce Mileage
With time-effective routes, delivery drivers can reduce overall drive time and minimize the number of miles traveled. Reducing mileage can prove to lowered fuel costs, reducing vehicle maintenance expenses, and lowering accidents.
Helps Delivery Drivers & Does Their Job Easier
When delivery drivers receive a properly optimized route with the stops and other details mentioned to them, they know exactly how their journey will pan out. It gives them more time and relieves them from guesswork and maintaining a log of stops in a notebook. With the routes being managed on a mobile app, drivers can focus on the road, resulting in safe delivery operations.
How To Choose the Best Route Optimizer Software for your Delivery Business?
Things to consider before choosing the best route optimizer software for your delivery business.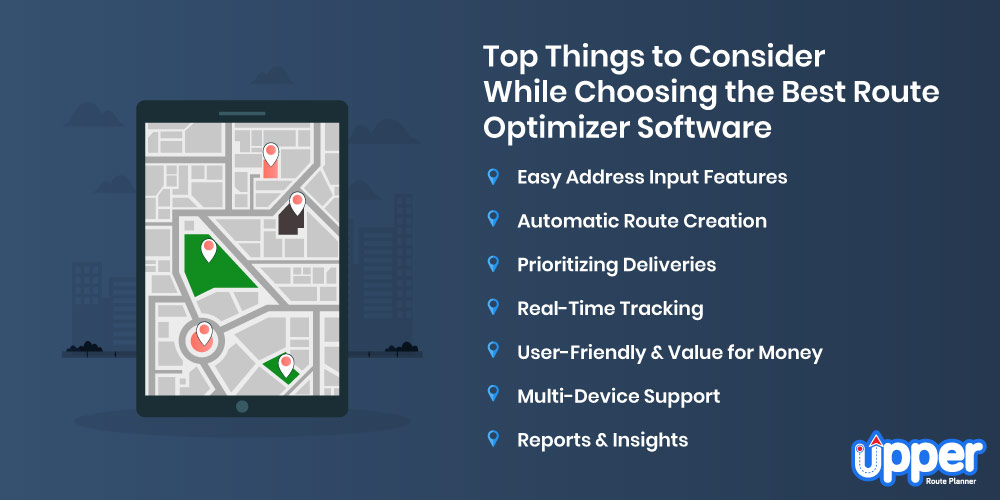 Easy Address Input Features
No matter which navigation or route planning service you use, you must be able to input addresses quickly. It should be equipped enough to record your customer addresses correctly. Automatic lookup and bulk import of addresses are standard features you can expect from route optimization software.
Automatic Route Creation
Once you have entered all your requirements, the route planning app must automatically create routes. It must also consider factors like time windows, traffic incidents, and toll booths. With automatic route creation, you can quickly create a route and dispatch it to your driver. Apps like Upper Route Planner have a feature to save routes and addresses that you use regularly.
Prioritizing Deliveries
The dispatch management team is required to prioritize certain stops or addresses depending on the business needs. The ability to prioritize is a feature every route optimization software must include. The customization of routes according to customer expectations is a regular task, so it is essential to have features that allow you to prioritize certain tasks or stops.
Real-Time Tracking
Businesses often have a hard time tracking field service reps and their activity. With features like real-time fleet tracking, businesses can see what the field service reps are up to and how much of their task has been accomplished. Customers should also be allowed to have an order tracking feature. With order tracking and delivery notifications, customers stay informed about their package.
User-Friendly & Value for Money
The route optimization software must have an intuitive interface that makes it easier for the drivers to navigate. It needs to be user-friendly. In addition to that, the software must offer value for money. A business can derive value for money only when all the necessary features are offered within an affordable price range.
Multi-Device Support
The software must support all major operating systems or devices. Having a web-based app is not enough. The software must be available as a mobile app for Android and Apple devices as well. The modern delivery interface allows drivers to use a route planning app on their personal devices. When choosing a delivery app, remember to choose the one that integrates all major operating platforms and devices.
Reports & Insights
Offering accurate delivery reports and insights into the fleet operations help in better dispatch management. It gives you data points related to delivery service at your fingertips. This way, you can not only find out loopholes but also make better decisions for the future.
You may like to read this:
Considerations for a Consolidated Deliveries App
Choosing the Right Route Optimization Software
Choosing from a bunch of best route planning technology can be tricky. With this article, we have tried to turn that tricky task into an easy one. We hope you found this information about choosing route optimization software in 2021. Let us know if you have further questions, and we will try our best to answer them.