A route planning app is crucial for handling the optimization of multiple stops. This is true right from individuals to a large business. Route optimization not only helps you in saving time but also makes your deliveries more cost-effective. To plan routes you need the right app.
There are a bunch of apps available to you but as a business, you don't want to go through each one of them and see which software suits you the best. That is why we are starting a series of review articles so you can evaluate them for yourself and choose the right route optimization app for you. This Route4Me review will help you understand whether or not it is a good route optimization software for you and your company.
Overview of Route4Me Route Planner
Route4Me is a well-designed cloud-based fleet management software that promises to cover each problem a business may face related to planning and delivery management. It is quite suitable for small, mid-sized, as well as large businesses. The primary feature of Route4Me includes route planning and routing guides for any business that handles deliveries.
Users can type in or upload a particular address and plan their trip. No matter what the schedule is, be it a daily, monthly, yearly, or even a seasonal schedule, the users can easily plan routes to fit their requirements. In addition to this, it also allows a business to track driver progress on routes in real-time.
Review of Route4Me Route Planning Software
About Route4Me
The Route4Me software manages to offer the specific abilities that are desired from it by customers. It is also easy to use and has a helpful customer support team. Route4Me has worked as a handy tool for many businesses in finding and optimizing routes to reach customer addresses and make deliveries on time.
What Does It Do?
Route4Me makes it easier for a business to create communication between everyone as a team which makes the process efficient. It not only saves drivers, field sales or field marketing executives, etc. countless hours in travel time but also helps you save hundreds of dollars in gas.
The businesses that have benefited from Route4Me vary from food delivery services to courier services to a transportation and trucking company.
The in-depth route planning suite of Route4Me has some innovative features that can help in finding the shortest course possible.
One of the best attributes for many companies is still driver tracking progress. It makes the process transparent and easy. A business can better track driver productivity which can help in making further business decisions.
Product Pricing
Companies are also happy to be using the free trial offered by the software, to see if the software was actually useful for their business or not. The price goes up for procuring advanced territory management categories with 4-5 additional features.
We do not include specific prices and costs because they may vary. Please consult the company for updated prices.
What Are People Saying? – Customer References and Comments
The right way to judge something or to decide if it's good for you or not is by taking a look at the success stories and to hear what the customers have to say about it. You can also find customer videos where they talk about their experience with the app. Let us dive into some reviews from customers regarding the use and applicability of Route4Me.
Positive Reviews
Here are some of the positive user ratings:
The platform offers ease of use, a command center, and connects to GPS navigation support.
It finds the address accurately and offers weekly reports which makes it user friendly.
Route4Me successfully offers the ability to plan routes for multiple team members.
Helps in managing driver activity.
Good multi-user feature.
It offers an easy way to replicate and rename routes.
Allows exporting of mapping results to your database.
Supported countries are United States, United Kingdom, Canada, Australia, etc.
Negative Reviews
Here are some of the negative user ratings:
There are some flaws in Route4Me when it comes to shutting down.
It erases all the completed stops for the day and causes the wrong data to be recorded.
Delivery drivers or field sales executive either misses the destination or ends up going back to the ones already completed.
Route4Me requires you to click through a lot of screens for route sequencing.
Sometimes it offers inaccurate address location.
It can be tedious and time-consuming.
Some features did not work. The customer support was not as expected, it was quite disappointing.
The support team promised a demo period during the one-week free trial. But didn't bother to follow up on that.
The pricing plans of Route4Me can prove to be too expensive for a small business or even a medium-sized business. Small businesses cannot spend so much of their budget on getting optimized routes for fleet management.
Is There a Better Alternative?
Sometimes even the most popular option does not satisfy the requirements of all businesses. This is why it is good to have alternatives.
Upper Route Planner – An Affordable and Useful Alternative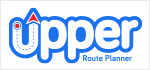 In this case, we have an alternative to Route4Me called Upper, an efficient fleet management software that offers optimized routes.
It offers the same attributes and much more at affordable pricing plans to fit the budget of a small business and any company with a smaller team to manage but needs better efficiency.
Upper is a saas that aims to make delivery easier for courier and small businesses by helping them create delivery routes quickly and manage fleet operations better.
Product Features
The automated route optimization saves a lot of time which makes it a great solution. You can add multiple stops to a path without any hassle. The customer support team helps you with the setting up process and getting started. It can easily sync across the web, iOS (iPhone & iPad), and Android.
With the following features, Upper makes sure you get to more addresses in lesser time.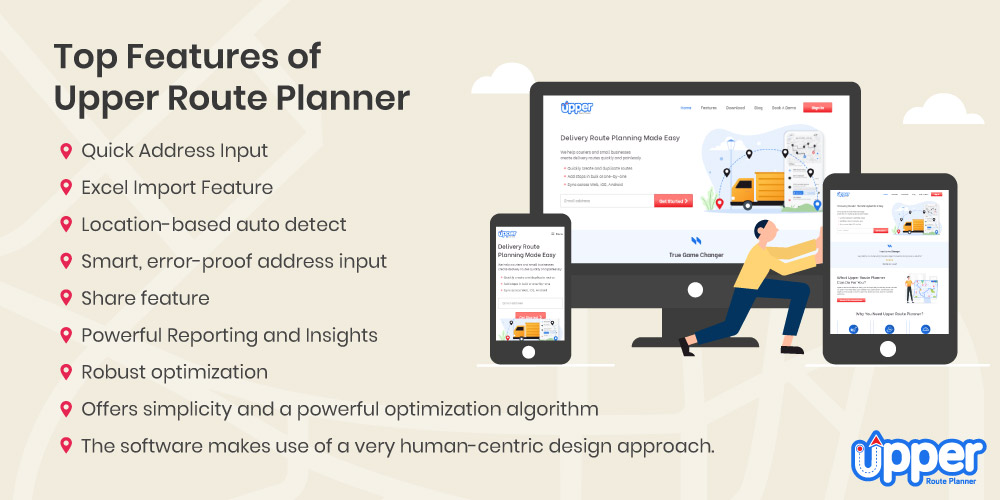 Quick Address Input
Excel Import Feature
Location-based auto detect helps in overcoming route challenges
Smart, error-proof address input
Share feature
Powerful Reporting, Insights, and Route Analytics
Robust optimization
Offers simplicity and a powerful optimization algorithm
The software makes use of a very human-centric design approach.
Supports Google Maps, Waze, etc.
If you want to get started, please click the link below
Plan quickly, deliver faster, delight customers and get home early.
Everyone deserves to have simple and easy route planning.
Conclusion
Going through all the details that are mentioned above, you are better informed and thus in a better position to know which product is more suitable for your needs. Our goal with this blog was to put out information that is useful to a business and helps them in making an informed decision, along with saving their time and money. The alternative software offered against Route4Me is done considering the customer stories and case studies at our disposal. The features and the pricing plans offered by it also look like an attractive deal when compared to Route4Me.