The parcel delivery landscape has many companies competing to offer their customers the best possible solutions to their routing problems. Almost every business requires a tool that can help them carry out their daily delivery tasks smoothly. This is where RouteSmart Technologies came in to offer solutions with insights and analytics to these businesses.
They understand how a business like utilities has their field service personnel traveling throughout the day to record their consumption data. Some postal operators need specific analytics and insights through a technology they can carry in their pockets.
In this RouteSmart Review, we will look at how RouteSmart Technologies has offered that tool to its clients to improve their efficiency. The software becomes more useful when it considers road traffic and offers some innovative features like Route Health Score, Analysis functionality, and Work Area Design.
What is RouteSmart?
RouteSmart is a route optimization technology that has helped many industry-leading clients find solutions to the most complex route planning problems. It boasts of being accurate and with quick processing performance. It improves safety, performance, reducing costs for a newspaper, public works, utilities, postal and local delivery through accurate route optimization.
About RouteSmart Technologies
RouteSmart Technologies was found in 1989 and is based in Columbia, MD. It has been supporting businesses for over 30 years to reach new levels of operational efficiency and effectiveness. RouteSmart Technologies Inc. manages the routing needs of United States Postal Service, FedEx Ground, and top waste collection operators in the United States. It is the driving force for solving a wide variety of fleet management and routing problems and needs.
RouteSmart Online Plans
Here are the plans offered by RouteSmart Online.
Basic: The Basic plan includes features like 24/7 Process Monitoring, Home Delivery Route Books, Account Management, Daily Activity Report, Geocoding, Messaging, Mobile Access, Route Maps, Analysis functionality.
Standard: The Standard plan has additional features like Split Routes, Combine Routes, Solver Sequencing, Re-delivery.
Advanced: The Advanced Edition has additional features like Route Optimization, Route Editing, RouteSmart Route Health Score, and Geographic Route Planner. It will soon feature Work Area Design as well.
We do not comment on specific prices and costs regarding plans because they may vary. Please consult the company or visit the website for an updated price.
Which Businesses Can Benefit from RouteSmart Technologies?
Businesses that make use of RouteSmart's route optimization tool.
Newspaper Companies
RouteSmart Technologies boasts an industry-leading solution that can offer measurable results and manage the newspaper routes' complexity. RouteSmart Online allows you to automate and optimize delivery plans daily from your desktop or mobile device. It makes use of Here Maps to update the street data regularly. Over the years, they have worked with several newspaper clients to solve home delivery and single copy routing problems.
Postal & Local Delivery
By using RouteSmart Routing as a Service, a business can create routes faster. RaaS creates compact, logical, and balanced routes in much less time compared to other systems. RaaS decreases route times and distance, controls side-of-street service, builds routes with intelligent turn movements, and saves time and money. In addition to this, complex routing and dispatching problems can be solved in seconds, and drivers make on-time deliveries, improving overall customer satisfaction.
Public Works
With advanced route optimization solutions like RouteSmart Navigator and RouteSmart for ArcGis, the fleet's operational efficiency increases while maintaining the fuel and labor costs. These solutions help by maximizing stops and lifts per hour, adhere to strict time windows, balance weekly patterns and workloads, create inspection routes by priorities and job qualifications, prioritize snow emergency routes and major roads.
Utilities
RouteSmart helps streamline traditional meter reading operations into uninterrupted geographic areas across cycle days. Mobile collectors can acquire monthly reads much more efficiently compared to the driving and walking meter routes. The powerful optimization algorithms with standard APIs implement the routes faster.
You can find another review by us here:
inRoute App Review – Does It Meet All Your Navigation Needs?
Is There A Route Optimization Alternative?
Every business has different routing challenges. These depend on various factors like the types of products they sell, their areas, fleet size, and the company size. Not every business has a complex routing problem and will not require extensive route optimization features that software like RouteSmart Online offers. The problem with more detailed software is that it can only complicate certain business processes for smaller businesses or might prove to be expensive. This is when they require an alternative like Upper Route Planner.
What is Upper Route Planner?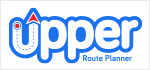 Upper Route Planner is a route planning and optimization software that helps field service personnel, individual drivers, contractors, couriers, and small businesses create efficient routes quickly. It has been software support for several small and medium-sized companies that have delivery as one of its major business processes.
Why is Upper Route Planner a Suitable Alternative?
The human-centric design approach of Upper Route Planner focuses on the user experience and browsing experience of the customers to improve overall customer service. It offers features like Drag-Drop Scheduling, Bulk Address Import from Excel, and Location-based Auto Detect, making delivery tasks more convenient. The software can be easily accessed through a web browser, iOS, and Android mobile app.
Conclusion
Each business has a preference and a reason behind that preference. The major reason is the need the software satisfies. The software mentioned in this review comes with the same goals; the scale might differ. They are not exactly competitors as they serve companies that are on different scales. The question here is which software is more suitable for you depending on the scale of your business? We are hoping this review has helped you find an answer to that question.