Businesses use software and technology not only convenient but to improve their performance and save time and money. When a business requires a particular software, a few assessments are needed to be done. The things to consider include the software's cost, how helpful it is to the business operations, how it can save time and money, etc.
A route planning and optimization software is assessed on pretty much the same factors. In this Smart Routes.io Review, we will take a look at one such route planning software. You will read about the software, its features, and how it has helped businesses in different industries.
What is Smart Routes?
Smart Routes is a multi-drop route planning and optimization software that creates a route based on your priorities. It offers you the flexibility of changing the paths by changing time windows, adding or removing stops, etc. It also offers a mobile app for Android and iOS that helps the drivers view the route while they are on the move. With the mobile app, drivers can add notes, record signatures, check directions, and other additional information about their delivery routes. It offers a 7-day free trial.
Key Features of Smart Routes Multi-Drop Route Planner & Driver App
Planning
Upload or add stops and have multiple routes created and optimized for any given number of vehicles. It not only eliminates manual processing but makes sure that the routes are as efficient as possible.
With Zoning, users can create custom and flexible geographical territories and assign drivers and vehicles accordingly.
With the Sequencing feature, users can manually alter a route as required.
The route optimization algorithm considers specific time windows for drop-offs to meet the customer needs and demands.
Automatically feeding orders to SmartRoutes and having them added to your routing list is possible.
Users can create custom fields, buttons, and functionality to adapt to the platform to a specific business's needs.
The system will automatically verify addresses on order by validating the postcode and EIR code. In addition to that, the system also stores addresses and validate's partial addresses for future planning by way of address autocomplete.
Adding notes for drivers at each stop can be done. This way, you can avoid wastage of paper and improve data privacy compliance.
A company can integrate its current order management system or eCommerce platform for automating and streamlining the entire delivery process with API of flat-file/CSV.
Monitoring
The built-in location tracking on the mobile driver's app provides accurate, real-time location data. It eliminates the need for dated tracking devices in all vehicles.
The mobile app can improve business operations and boost customer satisfaction with accurate real-time ETAs. The Live Routes Dashboard receives up to the minute ETAs.
Customer information, order data, including previous routes and addresses for business and operational improvement.
Sales teams can receive Customer Order Statuses on a live map. It offers full visibility and oversight to sales teams and helps them in boosting profits.
A company can export report data for oversight, trend-spotting, analysis, and invoicing.
Out On The Road
With the in-built route navigation, drivers can easily navigate to each stop.
With the mobile app, drivers can take notes on each delivery and live-feed undeliverables back to the depot.
SmartSig on the mobile app combines both photo and signature PODs. These can be downloaded and or printed on demand.
Dispatching routes to the drivers and allowing them full visibility of routes is possible with the mobile and navigation app.
Best Use Cases for SmartRoutes Route Planning Software
Food Home Delivery
Food home delivery businesses were able to extract customer delivery data from the online store. This data can be uploaded to SmartRoutes to build a plan for each van. This way, they were able to maximize deliveries allowing for more sales. With automation and reliable routing, businesses are provided with better oversight and customer satisfaction through instant and honest updates.
Newspaper Delivery
A tight time window is one of the most prominent challenges in newspaper delivery and distribution, among other logistical challenges. This is mainly solved through Zoning. With Zoning, designated geographical territories for each vehicle are created. The flexibility to adjusted the border rests with the management. The route planning and optimization to the drivers are provided to the mobile app instead of them coming to the depot. The drivers have exposure to all the important customer information and order updates that are automated to the app. This has improved capacity, internal communications,
Courier
A courier business makes full use of the features offered by a smart route planner. In addition to route optimization, courier businesses require additional features like zoning, reporting, proof of delivery, live tracking, and real-time ETAs. A courier company that has used SmartRoutes could save 2,000 hours on driver & admin time, save €5,000 on fuel, and 24,000 miles less traveled in the first year.
Agricultural Industry
With features like desktop route planner, multi-vehicle route optimization, zoning, reporting, real-time ETAs, and proof of delivery. This has offered more visibility for planning extra resources. This has allowed agribusinesses to save more than 800 hours of admin and planning in a year, 3,700 hours of driving, and reduced thousands of kWh of CO2.
You can check out another review by us here:
Descartes Routing Review – A Route Planner On Demand with Telematics & Compliance.
Is There An Alternative?
SmartRoutes is a great multi-drop route planner app with some handy features like Live Vehicle Tracking, Real-Time ETAs, Dispatch Notes, and Proof of Delivery. This Irish-owned and operated company is a great option, but not really for those living in Canada and the United States. SmartRoutes is not available in Canada and the United States. In such a situation, users can try alternatives like Upper Route Planner.
What is Upper Route Planner?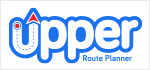 Upper Route Planner is a route planning software that creates optimized and efficient routes that help businesses and drivers make more deliveries while cutting down on operating costs. Just like SmartRoutes, Upper is a multi-drop route planner that allows users to add multiple addresses in delivery routes and make changes to them on the go.
What Makes Upper Route Planner a Suitable Alternative?
Upper Route Planner offers useful features like Quick and Efficient Address Input, Duplicate Routes, Customize Routes, and Sharing, along with the best in class customer support. Individual drivers, contractors, small businesses, and couriers can get the most out of using a route planning app like Upper Route Planner. The route optimization software syncs across Web, Android, and iOS devices.
---
FAQs
Yes, you can use Google Maps to plan a trip. You can add a destination with up to 10 stops per route. With Google Maps, you can create a route plan in advance and then use the program for navigating on the way.
Google Maps, Waze, and Apple Maps are some of the best free route planning and navigation apps. The best route planner is the one that meets your delivery requirements and helps you save time and money.
---
Conclusion
This blog discussed what Smart Routes is and how its features help businesses successfully manage their delivery operations. If you liked this blog, you would find similar pieces on route planning apps on our blog.