How many times has it happened that you have chosen a particular software for your business, and the features offered by it do not really suit your processor are not enough? This is something businesses face quite often. It can be due to a lack of trials or knowledge of other similar platforms available in the market. Sometimes reading a review or listening to a first-hand experience can also influence our choices.
In this blog, you will read a summarised version of a bunch of Speedy Route reviews gathered from customer experience, review, and ratings. Apart from that, we have a section that will also introduce you to an alternative if Speedy Route doesn't feel enough for your delivery process.
What is Speedy Route?
Speedy Route is a route optimization tool that helps you calculate the best route for visiting multiple locations and reaching your final destination. It is a tool that can be used by individual delivery drivers, contractors, sales people on the road, or anyone who need driving directions to their destination with multiple stops. It is a web-based route planning software that also offers features like location timeboxing for multiple vehicles. Speedy Route is available in the United States and other countries like the United Kingdom, Canada, Australia, New Zealand, South America, and Europe. It was founded in 2013 and is based in the United States.
How is Speedy Route Useful?
Speedy Route helps delivery drivers and traveling salesmen create optimal routes with the right driving directions that can save them time and money. Speedy Route arranges your entered locations in a way that you get the best optimal route. You can make sure that all the stops are covered in order before you return to the start location. This way, Speedy Route makes sure that the directions and scheduling give you the shortest and quickest way possible to reach your location.
Pricing Plans
The pricing plans offered by Speedy Route are as follows:
Single Driver: This helps create routes for a single delivery driver with 100 up to stops per route.
Small Team: This helps create routes for up to 5 delivery drivers with up to 500 stops per route.
Large Team: This helps create routes for up to 10 delivery drivers with unlimited stops per route.
SpeedyRoute offers a daily, weekly, and monthly subscription for its plans.
We do not include specific prices and costs because they may vary. Please consult the company or visit the website for updated prices.
List of Features Offered by Speedy Route
Here is a list of features offered by Speedy Route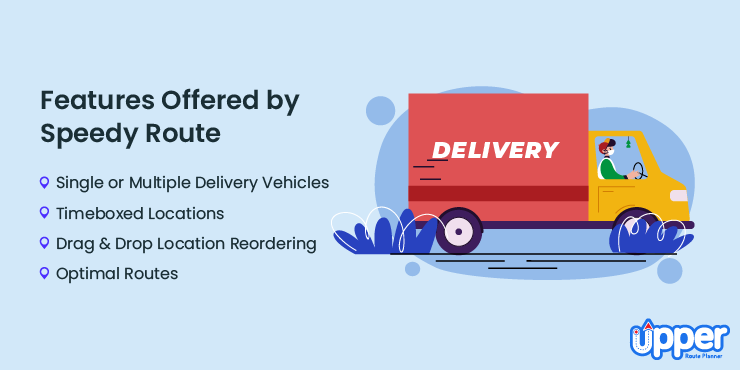 Single or Multiple Delivery Vehicles
Using Speedy Route software, you can plan routes for a single vehicle or multiple vehicles. Speedy Route will produce optimal routes for each delivery vehicle you have. If the number of vehicles available is more, the calculated route order will use only the number of vehicles actually required. It will not use all the delivery vehicles if the job can be done using fewer vehicles.
Timeboxed Locations
When you specify time constraints and optional wait periods at locations, you can do timeboxing of locations. The maximum number of locations in a given route that can be timeboxed is 25%.
Drag & Drop Location Reordering
Speedy Route offers drag and drop reordering. Once a route has been calculated, it can be further fine-tuned according to your specific requirements. This can be done by dragging and dropping the locations for manually re-ordering them. If you do this, the route's driving supervision, distance, and duration are automatically updated to mirror the new routing result.
Optimal Routes
Calculating the optimal route result can help you solve the Travelling Salesman Problem using route optimization software. The optimal route is the one that visits each location at least once before returning to the start location. This is done in the fastest possible manner. This is helpful when you are visiting multiple locations. This can help in cutting down operating costs.
Customer Reviews & Ratings
Here are the pros and cons of Speedy Route based on customer service experience.
Pros
Offers ease of use.
Exporting address folder from Speedy Route to GPS tracking app.
Speedy Route offers good service for anyone visiting multiple locations in a day.
Cons
Takes unreasonably long in correcting and manually re-ordering the route result. Makes it difficult while you are on the road. This makes for a bad customer experience.
Speedy Route offers no web platform or mobile application for Apple devices.
No integrations.
Did not scale to different screen sizes for mobile phones and tablets.
Speedy Route is expensive considering the features it offers.
You can check out another review by us:
Zippykind Review – How Does it Help Your Local Delivery Business?
Is There a Route Planning Alternative?
Alternatives are important for businesses. When you operate a business and have a certain process that needs to be followed, your particular software requirements become more precise. But when these precise or exact requirements or needs are not being fulfilled, it is time to shift to a more suitable alternative. This is why keeping alternatives is a good option. There are always alternatives that will fit in the mold of your requirements and spending budget.
What is Upper Route Planner?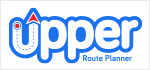 Upper Route Planner is a route optimization solution that helps individual drivers, contractors, salesmen, courier businesses, delivery service businesses, and anyone that needs software for route calculation and optimal directions. This helps them create the best route. With Upper, users can create multi-stop routes daily and automate a large part of their businesses or delivery process. The advanced algorithm helps by considering factors like the number of drivers, real-time traffic, user experience, etc.
What Makes Upper a Suitable Alternative?
Upper is software that is available as a web platform and an app for the mobile devices. The web platform works as a perfect tool to plan and optimize the maps for your delivery operations by creating the best route possible. Simultaneously, the mobile platform becomes a perfect supportive device to refer to delivery drivers in the field. Both these mediums are essential to a business. Upper has apps for both Android and iOS devices.
Upper is a software that has a very human-centric design approach. Users can choose from map services like Google Maps, Yandex, Waze, etc. In addition to this, it offers great value for money and ease of use to its users. These are an integral part of good customer service. Upper offers a 3-day no obligation free trial. The Upper mobile application can be download from the App Store or PlayStore.
---
FAQs
Many free route planning software can help you create the best route with multiple locations. Google Maps' web-based counterpart will allow you to get that best route result, but not the mobile application.
Once you have entered multiple locations on Google Maps, you can go to the pin on the address bar's left-hand side where you have entered the address and drag the pin up to the top to route multiple locations on Google Maps.
---
Conclusion
When selecting a route optimization product or any business software for that matter, be it for delivery personnel, sales people, or even customers who need scheduling and driving supervision while visiting multiple locations for a simple trip, you need that software to be offering that kind of support and functionalities. As a business support product, it definitely needs to be something that gives your delivery process a boost but at the same time offers you value for money and great customer service. Hopefully, this Speedy Route review has helped you know what functionalities to expect from a route planning app.