Routing software is key to several businesses. Almost all kinds of businesses that offer delivery as a service require routing software to achieve their delivery targets and run their daily operations smoothly. A route planning software can help a delivery business, even a delivery driver or a contractor, increase fleet efficiency and improve customer service.
In this StreetSync Review, you will find all the necessary information, like the software's features and solutions.
What is StreetSync?
StreetSync is a multi-vehicle route planning software system that improves fleet efficiency, enhances customer service, and streamlines your overall operations during the day. StreetSync is a useful cloud-based software as it vehicle tracking and integration with TomTom Work. StreetSync multi-vehicle route planning software is a part of Route Solutions. It is based in the United States and was founded in 2004.
Route Solutions works towards providing businesses with multi-day multi-vehicle multi-stop optimization, with navigation and real-time GPS tracking. This way, it can help you handle several business functions like fleet management, work order management, and driver management.
StreetSync Route Planning Software: Several Solutions To Choose From
Route Solutions offers a free trial for all its StreetSync route planning software solutions.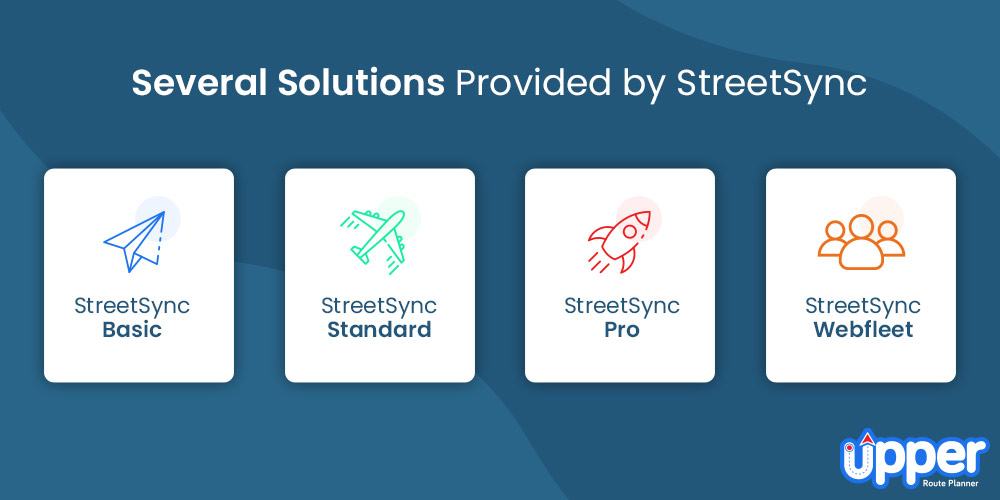 StreetSync Basic
The Basic system can help you plan daily delivery routes with the help of a wizard-based routing workflow. This is one of the most straightforward and most affordable routing systems as it has a low start-up subscription cost. This system offers multi-route balancing, multi-stop optimization, worldwide online self-updating digital maps, full Webfleet Solutions integration, with complete data import/export capabilities.
StreetSync Standard
The Standard system is a flexible route planner and is most suitable for intermediate routing experiments. This system can build both computer optimized and user-edited route plans, save and re-use the routes. You can also export the paths to various mobile formats such as Webfleet Solutions. It can catalog and create routes based on problematic routing cycle frequencies such as daily, weekly, and monthly.
StreetSync Pro
StreetSync Pro is the most robust route planning system that can build route plans considering time windows of arrival, varying service systems, capacity considerations, driver skills, vehicle characteristics, etc. In addition to this, Pro offers a built-in customer database, model existing route structures, mobile-ready reports, and driver tools, embedded user route editing tools, built-in Geocoder for address matching, etc.
StreetSync Webfleet Solutions
Web fleet Solutions offers a complete fleet management solution for your business. It allows real-time wireless dispatch and real-time GPS tracking of your drivers. The routes are wirelessly sent to the driver's in-vehicle navigation devices. Driver positions are recorded via GPS, so planned vs. actual can be viewed on a single map display. All Webfleet Solutions are cloud-based and offer multi-user capabilities with just a simple browser or a smartphone.
What Are The Features Offered by StreetSync?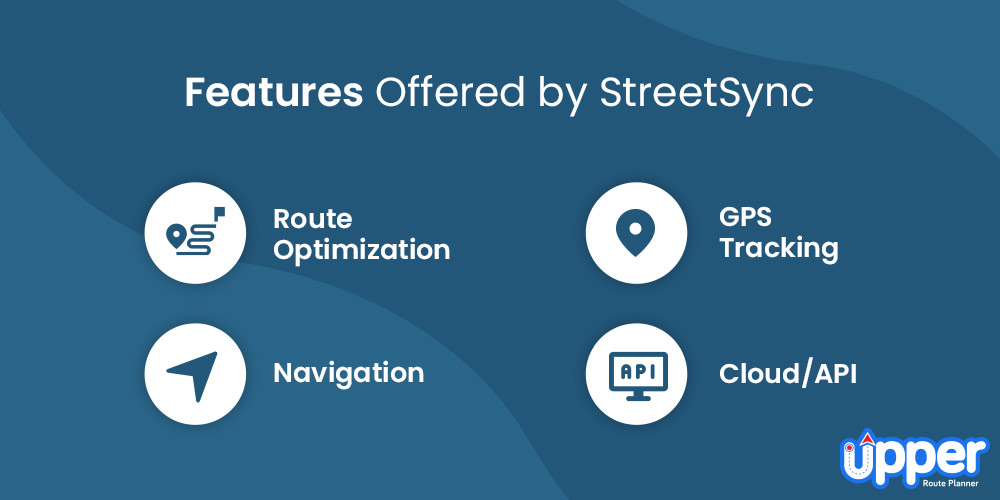 Route Optimization
Route optimization is the central feature offered by StreetSync. Users can optimize multiple routes simultaneously. Depending on the factors you choose, the software creates a balanced route multi-stop route that the drivers can follow.
GPS Tracking
A team leader can gain visibility by being able to track the drivers using GPS in real-time. This helps in making well-informed and quick decisions making. A single map display can show you the planned and actual routes.
Navigation
The Android app offers a click-to-navigate functionality with a voice-guided feature. With the turn-by-turn navigation, users can use Google Navigate with turn-by-turn voice-guided directions that consider the current traffic.
Cloud/API
Users can also use the API to build single, multiple, and custom route plans via code.
You can check out another review by us here:
Routeique Review – How Will it Help Your Supply Chain?
Is There An Alternative?
Not every software solution can be suitable for all businesses. Sometimes the software might offer all the right features, but it cannot be a good match for you if it is not available on a particular platform. StreetSync by Route Solutions is a great route planning software. There are several reasons you should keep an eye out for StreetSync alternatives like Upper Route Planner. It has some handy features for drivers and has an app for Apple users, which StreetSync doesn't offer.
What is Upper Route Planner?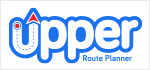 Upper is an excellent solution for couriers and small businesses and individual drivers, contractors, and field service agents. While StreetSync offers some valuable features like vehicle tracking and integration, it is not available on iOS devices like iPhone and iPad. Upper Route Planner has accurate route planning and optimization features and more. It allows users to add multiple stops and create routes daily. Upper Route planning software improve fleet efficiency and streamline your overall operations.
Why is Upper Route Planner A Suitable Alternative?
Upper Route Planner uses a human-centric approach. It works towards making every function and step easier for its users or customers. This way, it offers ease of use, enhances overall customer service, and streamlines your daily delivery operations. Upper offers a 3-day free trial. Upper is available to use on desktop, Android, and Apple devices.
Conclusion
A route planning software can improve fleet efficiency, enhance customer satisfaction, and help a business save time and money. You can refer to more StreetSync reviews like this. It will help you get a better understanding of the software and the benefits it has to offer.