Trucks move over 70% of the country's freight by weight. While there are over 35 million trucks registered and used for business.
The two main types of truck deliveries are – long-haul trucks with cargo crossing state borders and last-mile delivery trucks for delivering packages in the city throughout the day. Having truck routing software can help truck drivers in solving obstacles on both these types of truck deliveries.
The software can help a business in tackling several issues like:
Route planning & optimization
GPS tracking & navigation
Keeping managers and customers informed, and more.
Truck routing software is one of the most remarkable technologies to enter the logistics market. It has helped companies from the logistics industry gain unprecedented growth by successfully managing customer expectations by meeting delivery goals efficiently.
This article will look at some of the best truck routing software available today and how they benefit truck drivers and logistics companies.
Basics of Truck Routing
What is a Truck Route?
The routes taken by a truck driver to make deliveries from one spot to another is called a truck route. It also means specific roads or streets in a city formally designated by a city council as the roads or streets on which trucks must operate while proceeding through the city.
How do you optimize a truck route?
Dispatchers and fleet managers can manually optimize a truck route plan with pen and paper or route optimization software. The best option is obviously to use route optimization software because the software will do that job quickly. Still, it will consider delivery constraints like pickup and delivery times, vehicle capabilities, real-time weather forecast, real-time traffic information.
7 Best Routing Software For Truck Drivers in 2021
Trucking businesses have to deal with truck routing challenges like driver and cargo safety, route compliance & delivery efficiency, fuel consumption, delays in delivery, etc., daily.
With planning and optimization solutions, Planning and optimization solutions easily manage the challenges. Let us take a look at some of these routing tools.
Upper Route Planner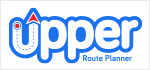 Upper Route Planner is a route planning and optimization tool that helps a business route multiple routes for multiple drivers at once.
Upper Route Planner uses a human-centric design approach which puts the customers' needs at the center of the software interface. This design approach makes Upper one of the most intuitive and easy-to-use software.
With features like Quick Address Input, Excel Import, and robust optimization algorithm, it creates the most practical route schedules within minutes.
Platforms supported: SaaS, Web-based, Android, iPad, iPhone.
FleetUp
FleetUp is a cloud-based trucking software to optimize your fleets with real-time visibility. It is an all-in-one platform used for driver management, fleet optimization, and regulatory compliance.
With the help of the mobile app, fleet managers centralize and accelerate communication among drivers. It also tracks staff time cards, assigns assets to operators, sends job orders, etc.
FleetUp offers real-time diagnostics, previous and current GPS location of vehicles and shipments. It improves driver efficiency by identifying high-risk drivers and reducing traffic violations and mishaps.
Platforms supported: Cloud, SaaS, Web-based, iPad, iPhone, Android.
WorkWave Route Manager
WorkWave's web-based route planning software helps you identify the fastest and most efficient routes in just minutes. Workwave Route Manager helps cut down operating costs like fuel costs, reduce mileage, and improve overall customer service.
With features like GPS tracking, ELD solutions, GPS integration, an ROI calculator, WorkWave eliminates the complexity and improves workforce capacity for both large and small fleets at once.
WorkWave Route Manager can be adopted by logistics professionals or business processes that involve planning, optimizing, and scheduling routes for up to 500 vehicles daily.
Platforms supported: Cloud, SaaS, Web-based, iPad, iPhone, Android.
Paragon
Paragon's advanced routing software takes the guesswork out of planning. Paragon aims to maximize the use of drivers and vehicles while reducing costs and improve customer service. It can be used for a single depot, multi depot, and integrated fleets.
Paragon has been adopted by businesses belonging to various industries like food, retail, pharmaceuticals, and agriculture.
Paragon helps businesses meet customer demands, scaling transport operations, reduce operating costs, and stay in control of their fleets.
Platforms supported: Cloud, SaaS, Web-based, Desktop- Windows.
Route4Me
Route4Me is an easy-to-use scheduling and route optimization software that helps plan routes and dispatching them to the mobile app, which comes with built-in navigation. It is specifically created for field sales, field marketing, territory management, and any business dealing with deliveries daily.
Route4Me aims to reduce schedule route planning time for businesses down to less than 10 minutes per day. Companies looking for a fleet routing software solution will save even more time and money than built-in GPS truck navigation.
Platforms supported: Cloud, SaaS, Web-based, Mac, Windows, iPhone, iPad, Android.
GSMTasks
GSMtasks is a service dispatch software. The routing engine of GSMtasks dispatches plans to and manage mobile fleets of drivers, couriers, and technicians. With proper route & task optimization, reduces fuel costs and improves efficiency.
GSMtasks offers a real-time web dashboard for dispatchers and fleet managers, an intuitive app for drivers and driver tracking, and automatic SMS notifications for customers.
In addition to planning and optimization, GSMtasks offers fleet analytics, proof of delivery, and navigation using Google Maps, Apple Maps, or Waze.
Platforms supported: Cloud, SaaS, Web-based, iPhone, iPad, Android.
TruckMiles
TruckMiles is a free mapping and routing website for truck drivers powered by ProMiles. It has the ability to help you avoid toll roads, turn on or off Canadian border crossing, and detailed turn-by-turn truck routing.
In addition to mapping and scheduling, TruckMiles offers important information like weather forecasts, road conditions, and daily fuel prices. TruckMiles is a great web-based solution for truck routing where truck usable roads are concerned.
Platforms supported: Web-Based, iPad, iPhone, and Android (by the name of ProMiles).
Benefits Received By Trucking Businesses From Using Route Planning Software
Let us take a look at some of the major benefits of using truck routing software.
Reduce Planning Time
Route planners take into consideration various permutations and combinations to create the shortest possible route. Manually, this would take a long time. But with the help of software, the planning time is cut down from hours to minutes.
Dynamic Rerouting
Truck deliveries are complex. It would help if you made sure one delay or one mistake will not mess up the entire route plan. With the help of dynamic rerouting, mishaps or last-minute changes, or adjustments will not lead to canceled deliveries or delays.
Better Utilization of Assets
With the current scenario, operational efficiency is difficult to manage. With automated scheduling and route optimization solution, companies maximize the utilization of drivers and fleets, eventually achieving greater profits.
Cut Fleet Operating Costs
When the fleet efficiency improves, the operating costs go down. With accurate routes, more deliveries are achieved using a lesser number of drivers and fleets. It cuts down fuel and maintenance costs. With fewer drivers and vehicles to support your growth, the operating costs will go down.
Improved Customer Satisfaction
When deliveries are made faster, and features like proof of delivery, driver tracking, delivery updates/notifications are offered, the bar for customer service is raised high enough. Having the right solution is more than just automating the business processes.
Data-Driven Insights
Historical and present data are important to the smooth function of the business. This data helps you solve complex problems and manage difficult situations. With reporting capabilities, businesses receive data-driver insights on drivers, fleets, deliveries, etc.
Make Better Business Decisions
With proper reports and analytics relating to the business process, companies create envision future scenarios. It helps several departments solving issues and make informed decisions about the business.
---
FAQs
Google Maps does not have a specific truck route for delivery drivers. It is a navigation app and not trucking software. It is not a good idea to use it as a primary trucking software.
Waze can be used as a complementary routing software by truck drivers. It gathers up-to-date crowd-sourced information regarding routes, road closures, traffic incidents, and gas prices.
Whether an app is best for truck drivers or not is a subjective opinion. You can try out apps like Upper Route Planner, Circuit, Workwave Route Manager, and FleetUp and see which one suits your truck routing operations.
---
Choose from the Best Truck Routing Options
Adopting the right solution will work wonders for your logistics business. Before you choose one, you must assess your requirements and match them with the features offered by the tool you prefer to use. We hope this article will help you assess and make it easier for your business to optimize truck routes. You can reach out to us if you have any questions or queries.