Whether it is a small business, a large enterprise, or an individual delivery driver – they all need a route management tool to handle their daily delivery operations. A route management tool can help them create multi-stop and multi-vehicle routes based on real-time traffic information. This software also offers the ability to track drivers, a handy feature for a logistics business.
In this WorkWave Route Manager Review, we will discuss how WorkWave Route Manager works, the features and functionalities offered by WorkWave, and the solutions that make routing and GPS for businesses more comfortable. We will also look at an alternate solution for users that might not find WorkWave suitable for their requirements.
What is WorkWave Route Manager?
WorkWave Route Manager is a cloud-based route planning software that offers businesses all the necessary tools to increase operational efficiency and improve customer experience. WorkWave Route Manager helps users plan multi-stop routes to track drivers and stay connected with them. The dispatch team can quickly work around time windows, adjust schedules/routes, confirm driver ETAs, and accommodate customer requests.
Tracking and optimizing routes in real-time becomes easier for the managers. Building optimal routes becomes seamless with features like drag-drop scheduling, assigning last-minute orders, and alerts on violations. From small business to large enterprise-level operations, WorkWave's solutions come with the power and flexibility to suit specific requirements for any company size.
WorkWave Route Manager was founded in 1984 and is based in Holmdel, NJ, United States. For over 30 years, it has helped businesses save time and money by route optimization.
Driver Mobile App
The WorkWave Route Manager Driver allows drivers to send updates to the back office using the mobile app. With mobile driver application, drivers can receive routes, check-in, check-out of stops, mark orders, and capture delivery proof. Drivers can view their assigned deliveries for up to 3 days, verify packages using barcode scanning, and access turn-by-turn directions. With the GPS activation on the driver app, dispatchers and managers have full visibility of the drivers' location.
WorkWave Route Manager Pricing
Here are pricing plans offered by WorkWave Route Manager
Route Manager: This plan includes features like Route Planning and Optimization, Time Window Planning, Navigo Menu Toolbar, API & Order Management Integration, Driver App, Dispatch Approved Route Plans, and more.
Route Manager 360: WorkWave Route Manager 360 offers features like GPS via Smartphone, Manager's App, Record Arrival/Departure, Real-Time Planning, Automated Customer Notifications with Live Tracking, and more.
Route Manager 360+: WorkWave Route Manager 360+ has additional features like GPS in-vehicle, Events and Stops, Mobile Barcode Scanning, Driver Behaviour, Breadcrumbs, Route Performance Dashboard, and more.
We do not comment on specific prices and costs regarding plans because they may vary. Please consult the company or visit the WorkWave website for an updated price.
Best Features of WorkWave Route Manager
These are the major functionalities offered by WorkWave Route Manager.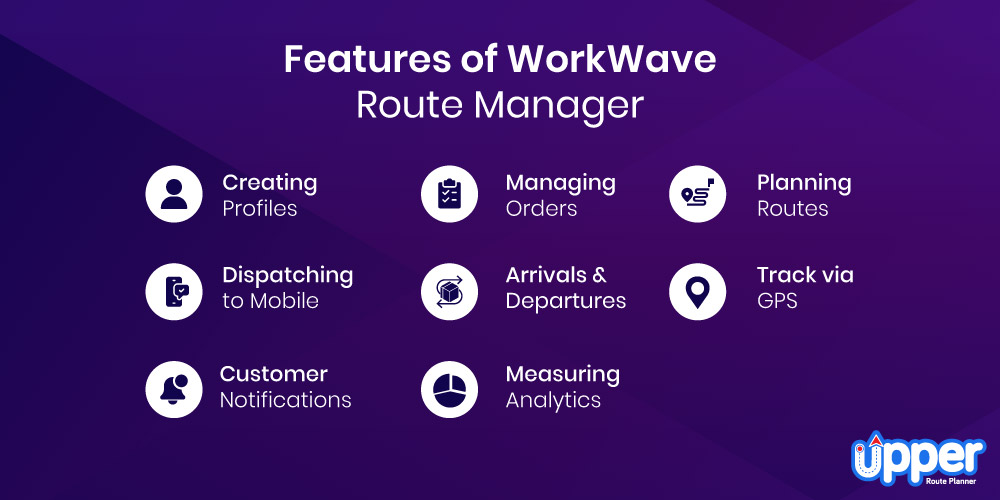 Creating Profiles
You can get started with WorkWave Route Manager by creating depots or starting points, vehicle profiles, adding drivers to the loop, and uploading routes.
Managing Orders
You can easily connect the software with your existing order generating or back-office system. As soon as you place an order in the routing program, the software will create the best route.
Planning Routes
WorkWave Route Manage offers ease of use to automate the entire route planning process. From the order entry stage to the final delivery point, route planners can track and optimize routes in real-time as and when there are updates and changes.
Dispatching to Mobile
From the back office system, route planners can send daily routes to drivers located anywhere. With daily routes being forwarded to the driver's mobile phone, the need for printouts or manual entry into GPS is reduced.
Arrivals & Departures
Any progress made during the day by your drivers can be tracked, and instant updates can be received when a driver arrives or departs from a particular stop, thanks to the WorkWave Route Manage 360 app.
Track via GPS
With the hardwired GPS technology, the visibility for the back office employees into the field operations improves. Communication with the drivers can improve by notifying them through a text or email. Managers can receive workday, work-week, and interstate data for east reporting.
Customer Notifications
Keeping a check on the routes will make sure the work is carried out efficiently. WorkWave Route Manager 360 app helps dispatchers in staying connected to the drivers. By following the routes' progress, any real-time changes can be applied instantly, and communication improves.
Measuring Analytics
By way of importing and exporting data, you can measure the efficiency of your delivery operations. Any unnecessary paperwork can be easily eliminated.
How Does WorkWave Route Manager Solutions Make Routing & GPS Easier?
This is a list of the solutions that contribute towards effortless routing and GPS.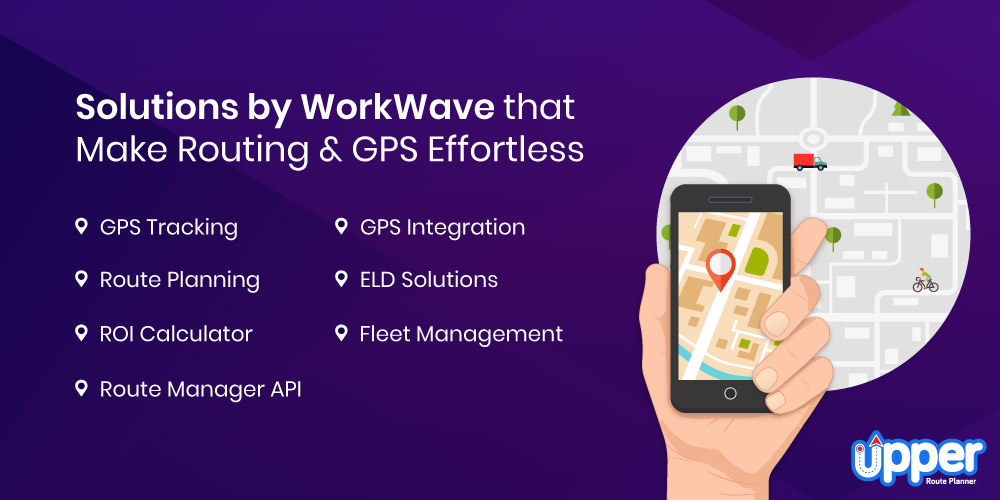 GPS Tracking
GPS tracking allows the dispatch team and the delivery drivers to stay connected while improving the visibility of status, schedules, and vehicle locations. With the mobile GPS app, users can confirm live vehicle position, access previous days tracking, view detailed breadcrumb trail activity, vehicle on/off indicators, choose between a map or list view, filter vehicles for the last lookup, notification area to visualize events, and driver behavior events.
Route Planning
A delivery business can plan routes ahead of time while accommodating last-minute changes without much hassle with route planning. Route Planning can allow dispatchers to move a driver's pin on the map, drag appointments, change fleet assignments, push an appointment time, add last-minute orders, swap entire orders, or transfer orders.
ROI Calculator
The ROI Calculator can help you minimize the costs, increase your capacity, and transform routes to increase profits. ROI can be calculated monthly or annually. It considers aspects like the number of vehicles, average driving distance, average working hours, average hourly wages, average fuel price, etc.
Route Manager API
WorkWave's no-cost API connects with your CRM system and helps you generate more revenue by way of maintaining high order volume and expansion. With the Route Manager API's help, a delivery business can prepare for peak seasons to fulfill deliveries and pick-ups, maximize the number of orders, and integrate with their CRM.
GPS Integration
The GPS Integration can optimize route planning for better fleet management, meeting customer expectations, maximizing driver efficiency, analyzing trends for future planning, and improved customer service. WorkWave offers easy to install GPS monitoring devices for any delivery business.
ELD Solutions
With the Electronic Logging Devices, vehicles can monitor the engine to capture if the engine is running, a vehicle is moving, the number of miles driven, and the duration of machine operating hours. This is mainly for public safety and can act as data loggers for truck drivers who record everything manually.
Fleet Management
A delivery business can receive a fleet's performance information to increase efficiency and improve their customer service level. It offers real-time GPS tracking for managing the workforce and improving accountability. This can help any company size, whether it has a small fleet or a large fleet.
Customer Reviews & Overall Ratings
Here are the comments from users based on the product and customer service experience.
Positive Comments
Here is a list of positive comments based on the actual user reviews.
Uploading CVS files is an easy task.
The software offers ease of use and is aesthetically pleasing.
Customer support is quick and easy to get through.
The driver application offers ease of use of makes the process more convenient.
Importing and exporting data is effortless.
Fleet tracking is a handy feature.
Areas of Improvement
Here are some areas of improvement based on the actual user reviews.
The upgrades have not exactly been helpful. They have only added to the workload.
The report data is tricky. Requires extra work after the final report is generated.
Having the text notifications as a part of essential services would be helpful.
The optimization speed could be increased along with better filtering options.
Requires input of every little detail like traffic patterns.
Difficult to use for people who are slightly less tech-savvy.
You can find another review by us here:
inRoute App Review – Does It Meet All Your Navigation Needs?
Is There An Alternative?
Each delivery business out there in the market is looking to conquer last-mile delivery. They need route optimization software that will help them streamlining their delivery operations and offer great customer support. The routing software should allow the driver achieve the daily delivery target to save time and money. The requirements might differ depending on the company size. WorkWave Route Manager is a robust solution for larger enterprises and will prove to be a little extra for certain individual field service users or drivers. In such cases, we have an alternative like Upper Route Planner.
What is Upper Route Planner?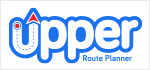 Upper is a routing software that helps with route planning and optimization by considering real-time delivery constraints. It helps you in creating daily delivery routes and save time and money. It is a route planning software that helps you save time at each step of the delivery process with features like Quick Address Input, Share and Duplicate Routes, and Reporting. Upper has an amazing support team that is always ready to provide the best customer support solutions to all their clients.
Why is Upper Route Planner a Suitable Alternative?
Upper creates routes based on real-time locations. Upper can be a perfect fit for a company size of 200-500 employees. In addition to this, Upper is a great tool for individual drivers, contractors, and field service agents can also derive benefit from Upper. It offers an intuitive mobile app for customers who need support on the road. Upper is a route planning software that can easily sync across the web, Apple, and Android devices.
Conclusion
A good route planning software must offer services that meet customer requirements, offer value for money to customers, provide good customer service with ease of use, in addition to efficient route optimization and planning. We hope this blog was helpful to you in understanding how WorkWave can fit into your requirements.