Key Takeaways:
Trucks, RVs, and other large vehicle drivers can use the route planning software inRoute to receive real-time information on traffic, the weather, and other potential dangers.
Users of inRoute can design multi-stop routes and choose the fastest path depending on variables like traffic and time limits.
There are free and paid versions of inRoute available, with the paid version including extra features like weather radar and exportable routes.
One of the best alternatives to inRoute is Upper Route Planner which helps businesses to automate a large part of their delivery planning stage.
The dependency on route planning software and navigation apps has dramatically increased in the last few years. It is not only businesses that have been making good use of it, but even individuals rely heavily on them. There are several navigation apps available to us. While some are extremely popular, others are not very well-known.
In this inRoute App review, we are going to share our views about the inRoute platform. This information is based on the data, reviews, and other information obtained from the users and several portals. This review will offer you an overview of inRoute and see if it can be the right option for your delivery or navigation needs.
What is inRoute Route Planner?
inRoute is a routing app that allows you to generate optimal routes or chart your own route for your deliveries and export the same routes. It considers aspects like elevation, weather, curves, and more at the time of creating routes. The software helps you safely and easily with voice-guided, turn-by-turn directions. It has the ability to check your route automatically for severe changes in weather.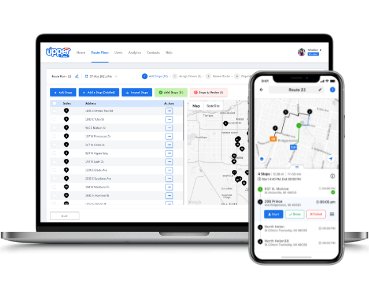 Upper Route Planner
A Simple-to-use route planner that every one is talking about.
Save up to 95% of planning time
Save up to 40% of time on the road
Plan 500 stops at once
How is inRoute different from an app like Google Maps?
inRoute is considered good as any popular navigation app as it offers pretty much the same features. Both the apps are quite popular among the free GPS navigation apps available to us. inRoute offers features like weather alert and interactive chart, which you will not find in Google Maps. Also, planning for multi-segment trips becomes easier with inRoute. However, Google Maps offers transit navigation and traffic alerts, which is not possible with inRoute app. This can be useful for deliveries as well as road trips.
Carl Reese, a multiple world record holder has used inRoute to plan for world record attempts. He said no other weather app gives such accurate information. Thanks to the accurate weather alerts. These weather alerts cannot only help world record holders, but also people who simply need to reach a destination in time while worrying about the weather. It shows details like temperature, humidity, wind speed, precipitation, etc.
Pricing Plan
There is a free trial available with inRoute Pro app, which is only available on iPhone, iPad, and Mac. You can choose to pay monthly or annually. With inRoute Pro, users can create routes with up to 150 stops, sync routes and pins between devices, receive weather chart or custom route, and export routes as GPX files.
There is a free version of the app, which offers minimal functionality, but it can occasionally be suitable for individuals who need route planning. You can download it from the App Store. The subscriptions can be charged to your credit card through your iTunes account. You can easily manage your subscriptions in Account Settings after your purchase.
We do not include specific prices and costs because they may vary. Please consult the company or visit the website for updated prices.
What Are The Features Offered by inRoute Route Planner?
Optimize Routes
Any road trip or route planning tool must have the feature of route optimization. inRoute optimizes routes and figures the fastest way to reach the destination. In case the users need to make more changes to the route, they can reorder manually. Users can easily create custom routes based on elevation, weather, and curviness. There are interactive charts through which showcase temperature, wind, humidity, precipitation, alerts, etc. Users can easily set departure and layover times, depending on the weather forecast.
Search Routes
inRoute the feature of searching for routes while you are already on a journey. You can look for hotels, gas stations, toilets, etc., nearby. This is a tiny thing, but it is important for the ones who are road. You do not want any inconvenience of opening a separate app to look for a place to fill up gas. inRoute allows you to easily add places to the map using Contacts, Search, or a Dropped Pin.
Voice-guided and Hands-free Navigation
While driving, it becomes difficult for the users to be checking their phone screen for directions constantly. It can also be a safety hazard and lead to accidents. inRoute app has voice-guided navigation that guides the drivers while driving to keep their eyes on the road. Hands-free navigation makes sure that the driver only focuses on the route while listening to the directions given to him. The platform navigates and gives out turn-by-turn directions that help them check for any weather or accident alerts.
Save, Share, and Import
Saving, sharing, and importing routes is an often overlooked feature that is actually much more useful to businesses than they think. It allows you to save favorite routes and places. You can share routes with your friends and family. Through the inRoute app, you can also export routes to Google Maps, Apple Maps, Waze, etc. You can also export data to GPS devices and any apps that are compatible with GPX files. Not just that, you can also import from GPX, XLSX, and KML files.
Customer Reviews & Ratings
Here is a list of the pros and cons of the inRoute platform.
Pros
Exporting routes to other apps, GPS devices,
Extremely efficient trip planner with info like weather forecasts and road conditions
Interactive weather app features like charts showing route elevation.
Feature to find stops for gas, food, hotels, etc., on the GPS app.
Cons
Several useful features require in-app purchasing.
A confusing interface.
Not suitable for most kinds of users.
No app for Android device, only limited to Apple devices (iPhone, iPad, Mac, iPod Touch)
Is There A Suitable Alternative?
It is important to have alternatives in businesses. Often, it might happen that we are working with a certain process or software, and after a certain point, it doesn't work as efficiently as we would want it to work. This can happen for several reasons like changing the volume of work, increased number of employees, or more features. It is essential for delivery businesses or delivery services to switch to options that might work for the better and do it as soon as possible. In the case of inRoute app, businesses looking for weather app features might benefit from using it. For other businesses that only need to plan optimal routes, Upper Route Planner is a good alternative.
What is Upper Route Planner?
Upper is a route optimization software that works on a desk top as well as mobile device. It helps individual drivers, contractors, courier businesses, and other small businesses generate optimal routes or chart daily. Upper can help businesses by automating a large part of their delivery planning stage. Its advanced algorithm considers several factors like the number of stops, number of drivers, real-time traffic, user experience, etc. You can share routes with other users.
Why is Upper Route Planner a Suitable Alternative?
Upper offers a web platform and a mobile platform as it knows that both these mediums are essential to delivery businesses. Upper has an imposing web platform that helps businesses in planning and scheduling deliveries. Simultaneously, a highly intuitive mobile app works as a full-support device for the drivers out in the field.
Upper is a great route planning tool because it is designed with a human-centric approach. Users get to choose from map services like Google Maps, Apple Maps, Waze, Yandex, etc. It has some amazing features like Quick Address Input, Route Optimization, Sharing, Location-based Auto Detect, Bulk Address Import, etc. Upper offers a 3-day no obligation free trial. You can download it on the App Store or the Play Store and check out its functionalities.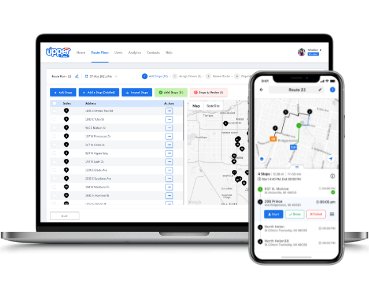 Upper Route Planner
A Simple-to-use route planner that every one is talking about.
Save up to 95% of planning time
Save up to 40% of time on the road
Plan 500 stops at once
---
FAQs
There are a bunch of great navigation apps available for your mobile device. Any navigation app that helps you plan optimal routes by offering reliable and stable information like weather forecasts, route elevation, etc., can be considered the most accurate app. Some examples are Google Maps, Apple Maps, Maps.Me, etc.
---
Conclusion
When choosing a route planning software, you must carefully consider the features and see how useful they are for your daily business or delivery activities. You can try out a bunch of apps or software that offer a free trial. That's a good way to know what works for and what doesn't. With this review, we have tried to cover some important information about route planning apps. Hopefully, it has been helpful to you.