Simplified Dispatching Routes to Multiple Drivers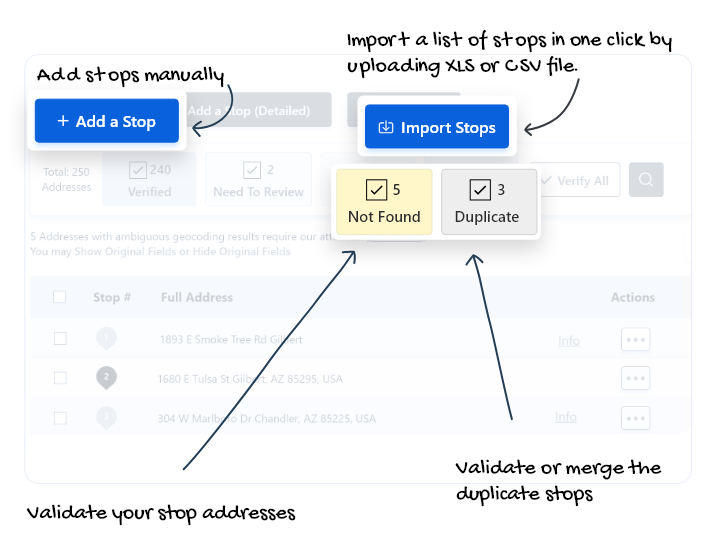 Add Stops Faster
Avoid copy-pasting each stop manually and import all your stops with just one click
Import multiple delivery addresses directly from a spreadsheet (XLS/CSV)
Add hundreds of stops in a click and save time
Importing data into upper using your own templates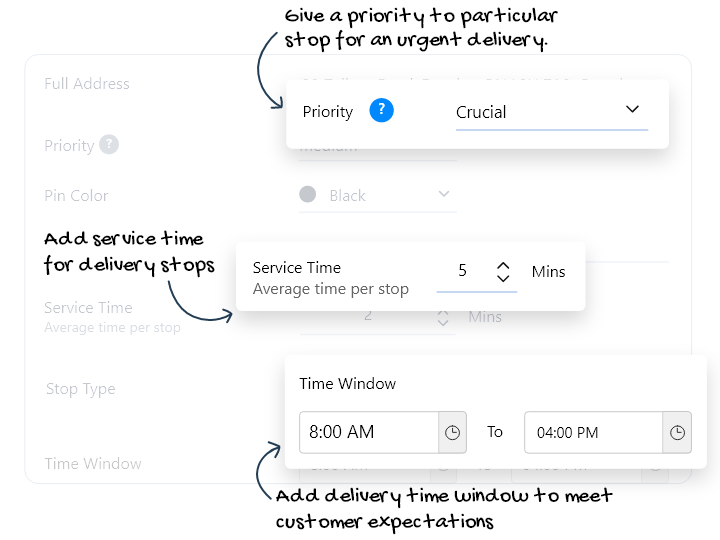 Save Hours Planning on Routing
Plan your routes more efficiently, saving time and fuel
Offer customer-preferred delivery time windows to meet customer expectations
Add service time to have happy drivers on your team
Set priority for the crucial deliveries that need to be reached urgently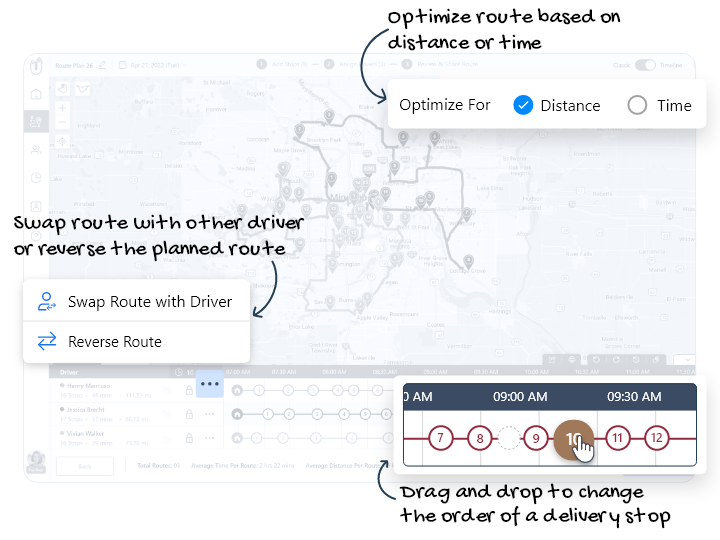 Save Time and Fuel Cost
Get on the road faster as we'll optimize your route in minutes
Reverse the entire route with just one click
Add service time to have happy drivers on your team
Simply drag and drop to manually change the order of any stop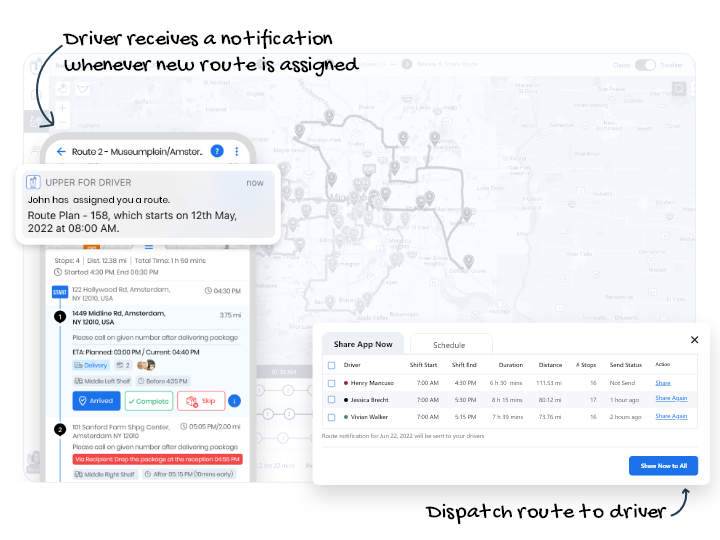 Get Your Drivers on the Road Faster
One-click driver dispatch to distribute deliveries and routes with drivers
Provide accurate driving directions and delivery instructions to drivers
Keep your delivery driver team organized
Send automatic notification to customer for ETA and delivery status
Simplified Dispatching Routes to Multiple Drivers
Import Stops
Route Planning
Route Optimization
Dispatch to Driver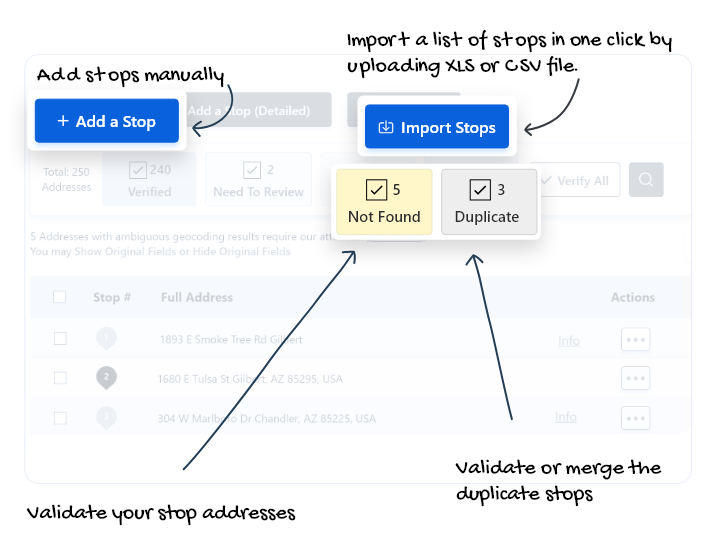 Add Stops Faster
Avoid copy-pasting each stop manually and import all your stops with just one click
Import multiple delivery addresses directly from a spreadsheet (XLS/CSV)
Add hundreds of stops in a click and save time
Importing data into upper using your own templates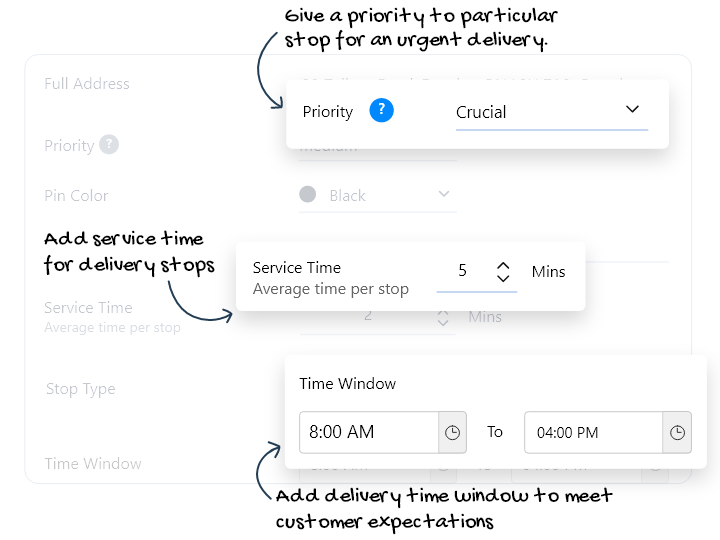 Save Hours Planning on Routing
Plan your routes more efficiently, saving time and fuel
Offer customer-preferred delivery time windows to meet customer expectations
Add service time to have happy drivers on your team
Set priority for the crucial deliveries that need to be reached urgently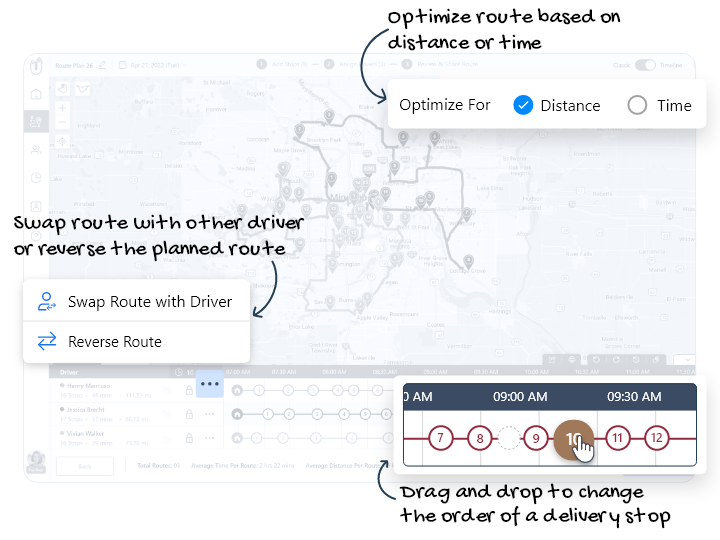 Save Time and Fuel Cost
Get on the road faster as we'll optimize your route in minutes
Reverse the entire route with just one click
Add service time to have happy drivers on your team
Simply drag and drop to manually change the order of any stop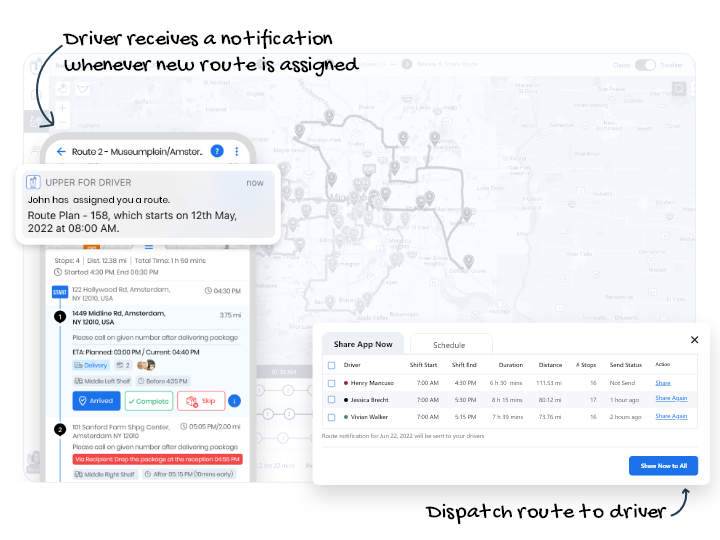 Get Your Drivers on the Road Faster
One-click driver dispatch to distribute deliveries and routes with drivers
Provide accurate driving directions and delivery instructions to drivers
Keep your delivery driver team organized
Send automatic notification to customer for ETA and delivery status
Top Route Planning and Optimization Software
Accredited By
5.0
4.7
5.0
5.0
Top Route Planning and Optimization Software
Accredited By

"We're comfortable taking on more and more orders because we have Upper Route Planner and what that does is it makes our business more profitable."

Phred Swain-Sugarman
Wishlist Delivery Maker
"The best feature for us was to be able to take pictures of the person with the product delivered. It helped us get rid of complaints about damaged goods on arrival."

Jacob Turner Steele
Supply Chain Manager at Parkwood Pvt Ltd

"With Upper, it was easier to reassign routes to the new driver at the last moment. We started capturing property pictures using proof of delivery feature."

Anneliese Holland
Operations Administrator at Station 31 Partners

"We've been using Upper Route Planner for 2 to 3 months. Each month we find it to be more and more useful."

Derek Neill
Founder, Neill's Home Store
Exclusive Features to Meet Your Expectations
Estimated Time of Arrival (ETA)
Know when deliveries will be made at all times.
Automatically updated ETAs based on traffic
Customers are no longer in the dark about their deliveries
Accurate data to remove unwanted surprises
Estimated Time of Arrival (ETA)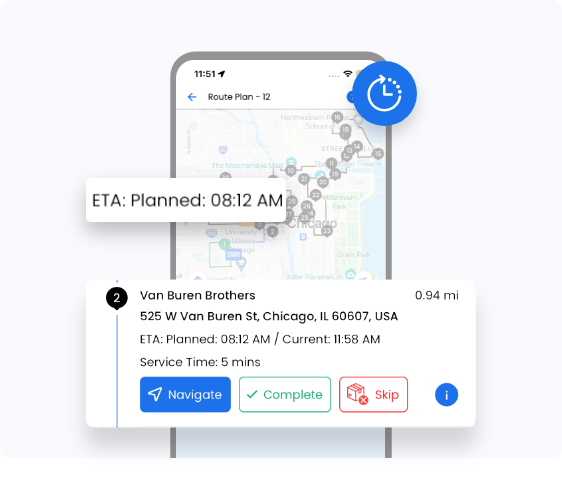 Proof of Delivery (POD)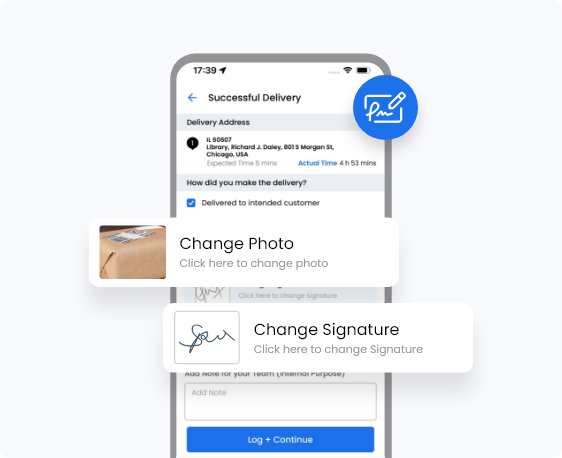 Proof of Delivery (POD)
Forget paperwork and increase transparency with POD
Resolve customer claims faster
Add digital notes
Capture signature and photos easily
Customer Notification
Delight your customers with smart notifications
Send automated notifications
Customize email & text notifications anytime
Enable real-time customer alerts
Customer Notification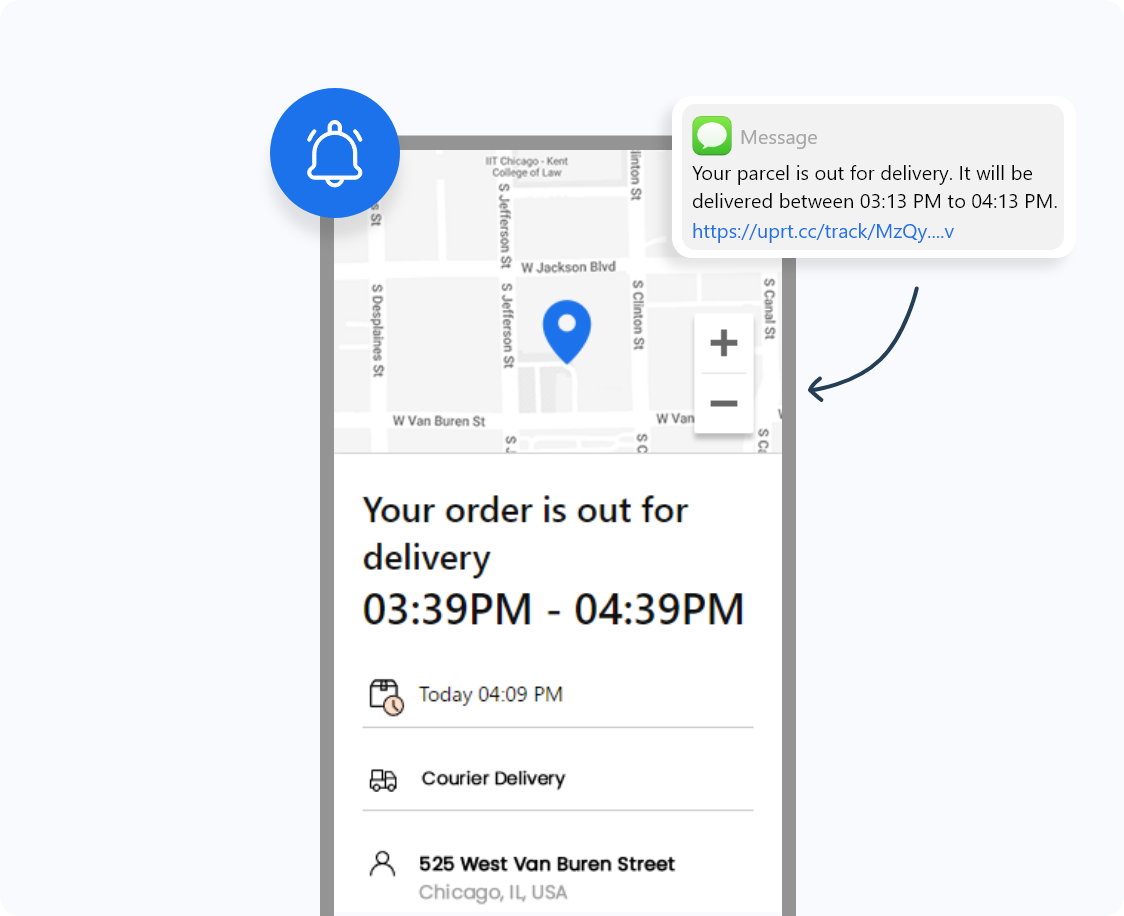 One Solution, Multiple Industries
Helping Different Businesses Like You
Delivering 3x More Meals With Less Time
The Chef Nicol has saved manual office work time using Upper. They just opened up two more areas because all the things were doing with Upper Route Planner were helping to do things faster.
Easily Identifies duplicate addresses
Reassigns route instantly in case of driver's unavailability
Sets individual service time window
Nathaniel Pool
Managing Partner of Chef Nicole (Miami)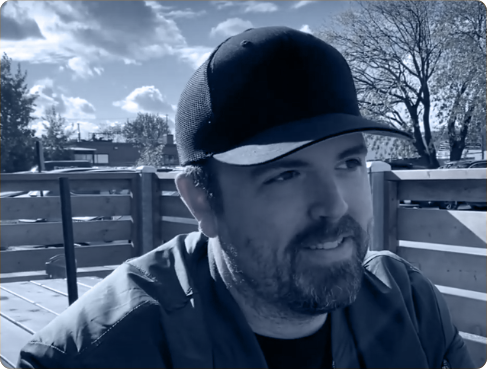 Saved 7.5 Hours of Time Per Week
Automated the whole delivery planning process, Essential Meal Delivery has simplified everything from planning to optimizing and made its meal delivery business more profitable.
Covers 30 stops in a 3-hour delivery window
Got rid of manually adding delivery stops
Keeps customers informed with automated notifications
David Greensmith
Founder at Essential Meal Delivery
Previous
Next
Route Planning Tools, Tips, and Advice