The global pandemic has impacted many business industries. Even the restaurant and food industry couldn't escape its wrath and saw a drastic downfall in the growth.
But it gave rise to new opportunities in the industry; people stopped eating out but started ordering food online.
Multiple restaurant businesses created their food delivery platforms, and also apps like Uber Eats and DoorDash witnessed a substantial hike in their customer base. Now 60% of Americans order food once per week.
If you are in the food delivery industry, there are a lot of opportunities you can explore and scale your delivery business to new heights. 
Look at the food delivery business statistics & trends 2022 to better understand the industry to deliver a quality experience to your customers.
Food Delivery Statistics in 2022
Zippia conducted extensive food delivery industry research in 2021. They figured out some interesting statistics that can help you get a birds' view of the industry's growth.
Online food orders have grown 300% faster than dine-in food orders since 2014.
Online food deliveries account for 40% of the restaurant sales compared to their dine-in space.
In the past five years, the revenue of the food delivery market has increased by 204%.
The United States food delivery business jumped by 17% during the pandemic.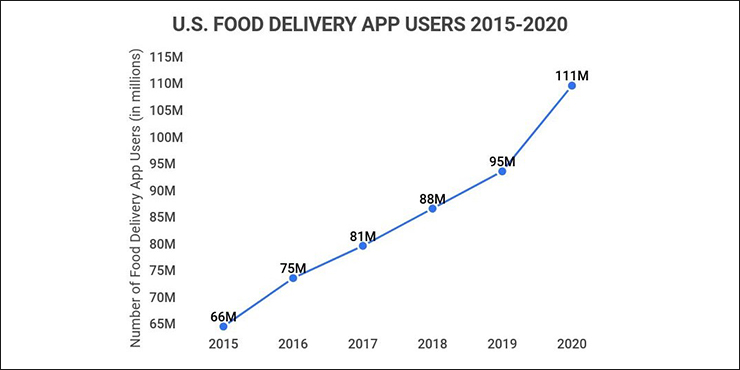 Food delivery from grocery store statistics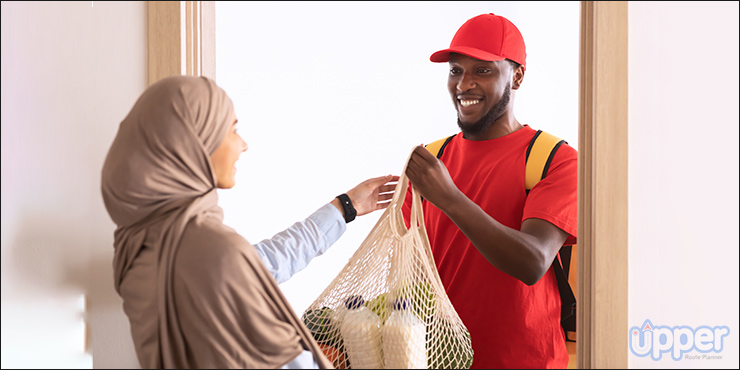 While online food delivery from restaurants is rising, there's no stopping the trending food delivery from grocery stores either.
The grocery food delivery industry boosted from 3.4% to 10.2% from 2019-to 2020.
Different states like California, New York, D.C, and Washington witnessed a combined grocery food order delivery 328% higher than the average.
Instacart grew its business to $1.5 billion with a 43% increase in revenue since 2019.
31% of American households want their deliveries to be delivered at their doorsteps rather than wasting their time standing in lines at the nearby grocery stores.
Online food order consumer preferences statistics
The surge in the advanced online platforms for food deliveries has enabled businesses to market in an optimized way using consumer patterns and preferences. Look at the online food delivery consumer preference statistics to tailor your food business marketing.
Over 52% of the customers in the United States prefer to call the restaurants for their food delivery orders.
Friday is considered the busiest day for food delivery services, with nearly 10 billion visits.
62% of the foodies blame both the delivery company and restaurants if they receive bad service. The most raised issue is with the temperature of the food. Due to delayed deliveries, customers don't get the best customer experience.
Dine-in restaurants vs. online food delivery statistics
No doubt, in the post-pandemic times, we have witnessed a hike in the online food delivery business, but the dine-in restaurants are trying hard to keep their loyal customer base.
77% of the restaurants in the United States have tie-ups with third-party applications to deliver their food orders.
The average spending of Americans has increased, and they spend 15% more on food deliveries than on dine-in.
62% of Americans still prefer dine-in compared to delivery.
These food delivery statistics can help you get a basic understanding of the food delivery business but if you want to dive in-depth, then let's look at the food delivery trends.
You can plan and strategize your future moves for better food and delivery services to your customers using these trends.
Food Delivery Trends to Expect in 2022
1. Increased third-party delivery
The restaurant and grocery industry businesses are outsourcing their food delivery services to third-party delivery businesses to deliver a quality experience to their customers.
Businesses want to focus on the quality of their food and escape the hassles of the food delivery service. Deliver as a Service (DaaS) providers increase their footprint globally and help multiple businesses to match their delivery requirements.
But you don't have any control of the delivery services, and things can get downhill with your target audience if the delivery partners cannot provide on-time deliveries.
2. In-house restaurant delivery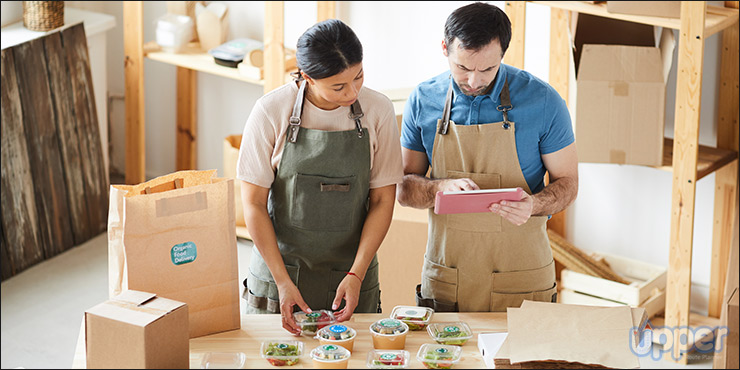 Many food businesses and restaurants are following a different set of business workflow and integrating their built-in delivery fleets to tackle the rising demand in the online food industry.
Businesses hire professionals, integrate new technology systems, and deliver vehicles and other vital components of logistics and transportation to deliver a quality customer experience.
But still, there are a lot of cases of inefficiencies in the delivery system as customers don't get the food quality and on-time delivery compared to the dine-in experience.
With the rising demands, it gets challenging to handle the dynamic online food delivery orders for multiple businesses, and there are still a lot of advancements and improvements that can be made to streamline the deliveries. (We'll discuss the improvement hack in the latter half of the article).
3. Prioritizing delivery data tracking
Much emphasis is being paid to the data collection and analysis to optimize the online food delivery operations and provide a quality experience to the customers.
As a great example of this trend, Mcdonald acquired a big data startup in 2019 for $300 million to stay ahead of their competitors by analyzing, measuring, and enhancing their performance.
Data plays a critical role in handling the requirements of modern-day customers and delivering a tailored home dining experience with minimal flaws in the system.
A robust data analytics system integrated into your delivery ecosystem can provide invaluable benefits and help you achieve flawless deliveries for your target audience.
4. Tech giants moving in on food delivery
The increase in opportunities in the food delivery industry has grabbed the eyeballs of big guns from different industries to invest and help fulfill the industry's requirements.
For example, Amazon acquired Whole Foods to strengthen its presence in the grocery market. Uber came up with UberEats for restaurant and grocery food delivery. Google enables food delivery and ordering from their Maps and Search.
These are a few examples that highlight the trend of tech giants innovating the industry, investing vast sums of money, and creating healthy competition in the food delivery space.
5. Rapid online grocery growth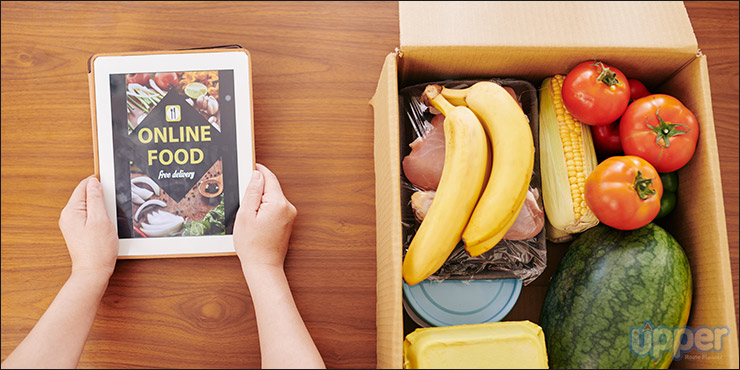 The global pandemic has wholly transformed the grocery industry, with people switching towards online shopping compared to stepping out of their homes.
Businesses are focused on improving the customer experience of purchasing online groceries and delivering the quickest last-mile delivery service in the food industry. Many businesses are adding automation to their brick-and-mortar grocery ecosystem and striving forward to fulfill the customers' needs and match the rising demands of the industry.
It is difficult for many new businesses to succeed in the grocery delivery business because of the big guns. However, there are still opportunities in the local setup to minimize the delivery time cost and enhance the customer experience.
The changing ecosystem showcases to us that customers want more convenience and control over how they order groceries, and it's a must for grocery food delivery businesses to strengthen the on-demand delivery ecosystem.
6. A rise in food delivery subscriptions
The rise of food delivery subscriptions is also rising for grocery and restaurant markets. Businesses want to cut the time people waste periodically ordering the same food.
The subscription-based model approach enables the customers to get a quality experience, and it helps businesses cater to a broader range of audiences with attractive offers and services.
The availability of special discounts and offers on availing the subscription model can help your business scale the customer base and add an extra edge to help you outshine the others in the industry.
But with the increasing demand and scalability, your food delivery ecosystem can take a severe hit if you don't have the right strategy, technology, and employees in place.
And one element that can help you improve the quality of your food delivery service even with the increased orders and customer base is proper route planning and optimization.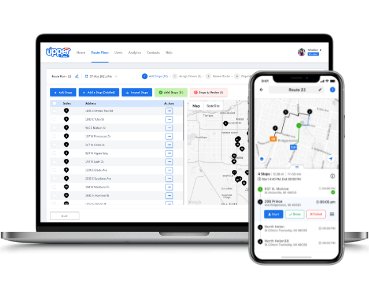 Upper Route Planner
A Simple-to-use route planner that every one is talking about.
Save up to 95% of planning time
Save up to 40% of time on the road
Plan 500 stops at once
No credit card details required
The Rising Importance of Route Planning and Optimization in the Food Delivery Business
Handling bulk orders and delivering them to the right location without hindering the food quality and temperature is a task that can sound uphill for multiple food delivery businesses.
That's the reason why most opt for third-party delivery service providers. But if you want complete control over the delivery experience of your customers and want to establish a dedicated food delivery ecosystem that can help you scale, then you need to understand the importance of route planning and optimization.
A route planning and optimization is the process of finding the optimized and shortened delivery path for your multi-stop last-mile food delivery. It's the process to focus on multi factors that can affect the delivery process and channel that best solution for your on-ground delivery drivers and fleet managers.
But using traditional pen and paper and Google Maps to achieve the desired results is not the ideal solution you want for your business.
It won't help you
Get an optimized multi-stop delivery result.
Deliver an agile delivery experience to your customers.
Handle the scalability of your food business with finesse.
You need dedicated advanced route planning and optimization software to achieve your business goals and fulfill the rising delivery demands of your customers.
But out of hundreds of software available in the market, which one is suitable for your food delivery business?
FAQ
Yes, the food delivery industry is growing in the grocery and restaurant market due to the changing customer and industry ecosystem.
The food delivery business grew by 3.61% in 2020 as the food delivery revenue hit $111.32 billion compared to $107.44 compared to last year.
You need to focus on minimizing the delivery time and maximizing the food quality to strive in the online food delivery business.
Yes, the online food delivery industry is rising every day and outshining the dine-in industry significantly.
Grubhub, Doordash, UberEats, Instacart are a few of the leading food delivery apps in the United States.
Upper Route Planner To Your Rescue
Upper Route Planner is the ideal tool to handle your food delivery business problems and future hurdles. It can help you match the customers' dynamic requirements and enable you to deliver the fastest last-mile deliveries for their quality customer experience.
You can create smoother communication between your fleet management and delivery drivers to handle the rising food industry demands with finesses. Using the powerful software and its easy-to-use functionalities, you can
Import 500 delivery addresses from your Excel sheets within seconds.
Improve your productivity by 40% and minimize the delivery time.
Save 95% of the route planning and optimization time.
So, what's making you wait?
Get instant access to our 7-day free trial and experience powerful software to transform your food delivery operation in no time.