The food delivery industry is booming, and for good reason. There are few things more convenient than having your favorite restaurant show up at your door with whatever you happen to be craving.
But if customers don't get that desired customer experience then the business suffers.
In this blog post, we share 6 ways that restaurants can improve their customer delivery experiences in order to stay competitive and generate a better ROI on marketing efforts.
6 Major Tips For Online Food Delivery Business To Boost Customer Experience
Optimize Food Delivery Routes

One way to ensure that your food delivery business is providing the best possible customer delivery experience is by optimizing your delivery routes. You can do this by using a routing optimization software to create the most efficient route for your drivers. This will help reduce wait times and improve overall customer satisfaction.

If you are using a routing optimization algorithm, make sure that it takes into account the current traffic conditions. This will help ensure that your drivers are not caught in traffic jams and are able to deliver food on time.

This will help ensure that your drivers are taking the most efficient routes and are able to complete their deliveries on time, even during busy times.

Another way that you can optimize customer delivery experiences is by investing in newer technologies. This includes technologies such as GPS-based delivery tracking and food delivery management software.

This will help you improve communication with your drivers, as well as ensure that orders are being delivered correctly and on time.

Offer Curbside Delivery Option for Customers

Curbside delivery is a great way to make the customer delivery experience more convenient for your customers. With curbside delivery, drivers can pull up in front of the customer's house and deliver the order without having to leave their car. Curbside delivery can also be a great way to not waste too much time going up to the customer's house.

Curbside Delivery Tips

Offer customers the option of curbside or in store pickup when they place an order.
If customers are ordering for their office building, consider offering free curbside delivery for orders of $50 or more.
Make sure your signage is visible and easy to read from the street.
Have someone stationed at the curb to greet customers and bring their order out to them.
Utilize a delivery driver app like GoFetch to help manage curbside deliveries.

If you are looking to improve the customer delivery experience for your online food delivery business, consider implementing some or all of these tips. Curbside delivery is a great way to make things more convenient for your drivers and customers alike.

Have you tried curbside delivery before? If so, what has been your experience? Let us know in the comments below.

Let Your Customers Contact Your Drivers

If you can't guarantee fast service, don't advertise it. Customers have the right to choose their food delivery company and some may prefer a faster option than yours due to personal circumstances or dietary restrictions. This is where your customer support comes in! Let them know that they can contact drivers if deliveries are going slow or that they have any other questions or concerns. Even better if your drivers are able to inform the customers about the delay.

Make it easy for them to reach you by providing multiple channels of communication, such as phone, email, and social media. This will help ensure that they always get the fastest response possible. And if there's a problem with their order, your team can troubleshoot it quickly and efficiently.

Keep Your Customers Informed

While your customers are waiting for their food, they might want to know what is going on. For example, it can be useful if the restaurant keeps them up to date about when exactly you will deliver their order. This way, they do not need to wait at home all alone with nothing better than watching TV or scrolling through Instagram posts. After all, people usually prefer to share their delivery experience on social media.

As for the restaurant itself, sending text messages or emails is a great way you can keep your customers informed about what exactly is going on with their order and when it will be delivered. If they know that someone from the food company has received the right address and is on the way, they will be much calmer and happier.

However, if something goes wrong along the way (for example, there was a problem with the order or traffic caused a delay), it is essential to inform your customers as soon as possible. This way, they do not need to worry about anything and can instead focus on something else.

In addition, you should also avoid making your customers wait for the food delivery service as long as possible. If they have been waiting for more than half an hour or even 20 minutes already, then it is better to inform them that their order will be delivered soon and apologize about a delay. To make this information sound less disturbing, you can also add that they will receive a small discount on their next order.

At the end of the day, it is essential to remember that communication is key when it comes to an online food delivery business.

By following these tips, you can ensure that your customers will have a great experience – no matter what!

-Keep your customers informed about the order status, and apologize if there is a delay.

-Avoid making your customers wait for the food delivery service as long as possible.

-Remember that communication is key when it comes to food delivery businesses.

Reach Your Customers On Time

When it comes to online food delivery services, timing is everything. If your business can't deliver the order on time, you'll quickly lose customers. Make sure to invest in a good delivery system that can accurately track orders and get them to their destinations as quickly as possible.

Reach out to customers if there are any delays, and apologize for the inconvenience. Let them know what you're doing to correct the situation and when they can expect their food. This will help keep customers informed and assure them that you're taking steps to fix the problem.

Delivering on time is one of the most important aspects of a good customer delivery experience. Make sure your business is doing everything possible to meet customer expectations.

If you're looking for more tips on how to improve your food delivery business, be sure to check out our other blog posts!

Record Proof of Delivery

When your food delivery business is up and running, it's important to have some sort of record of each delivery that is made. This can be done in a variety of ways, but the most important part is that you have some form of verification that the order was delivered as intended. Having proof of delivery can help ensure customer satisfaction, and it can help you make any product or service improvements as well. This is a quick way to verify that your food delivery business has met the customer's expectations, and it also verifies that there was no damage during transport from point A to B.
Want To Manage and Streamline Your Daily Delivery Operations?
Upper Route Planner is a route planning and optimization software that allows you to easily plan efficient routes with multiple stops.
Learn How Upper Route Planner Helps You Improve Customer Experience While Delivering Food Orders
Customer satisfaction is something that all businesses should strive for, but especially those in the online services industry. Food delivery businesses are no exception, and in order to ensure that your business is providing the best customer experience possible, it's important to follow some simple tips.
Your deliveries are a core component of your business experience. We'll help you get them where they need to go quickly and efficiently. On top of that, we will help you offer a smooth customer experience while making your deliveries.
We'll tell you how.
Upper Route Planner offers:
Accurately Optimized Delivery Routes

Upper Route Planner provides the most efficiently optimized routes for food delivery businesses. Our advanced optimization algorithm creates a delivery plan that takes into account your specific needs and the time of day. This ensures that your customers are getting their orders as quickly as possible without sacrificing quality or service.

Curbside Delivery Option

Dispatchers can mark curbside delivery options or no contact delivery for a customer that requests it . Customers who order for home delivery also have the option of picking up their food from a location close to them or at the curb outside their house. Dispatchers can find out through checking with the customer where they want the food delivered or picked up from.

Deliveries in Specific Time Slots

Customers appreciate good service and timeliness when ordering food, so every dispatch should aim to deliver the order during the customer's chosen time slot. This means that businesses should plan their delivery routes and staffing schedules accordingly. Planning deliveries according to time slots or time windows is extremely convenient with Upper Route Planner. It's all automated.

Enable Customer-to-driver Communication

One of the first steps you can take to improve your customers' experiences is enabling them to communicate with their drivers. Whether it's through an app or messaging platform, giving your customers a line of communication will make for happier people and better reviews. You should also consider pairing up experienced drivers with new ones so that they are able to answer any questions or concerns that come up.

Upper Route Planner allows customers to send drivers specific instructions about how to carry out the delivery. Customers can receive a tracking link, open it in their browser, and type a specific instruction for their delivery driver.

Recipient Notifications To Keep Your Customers Informed

For just $25 a month, you can send out text and email notifications to your customers with real-time updates on their orders. These notifications (SMS & email) will let them know exactly when the food is arriving and keep them from waiting at home all day for an order that never comes. Sending those notifications also keeps customers engaged with your company and brand, improving your customer relationship.

Optimized Routes Help Your Drivers Reach On Time

By following the most optimized routes, your drivers are sure to stay on track and reach your customers on time.

Provide Clear Instructions For Delivery

Make sure that your customers have clear instructions for delivery, so there is no confusion on where to leave the food.

Record Proof of Delivery or Service for Each Delivery

Record proof of delivery or service for each delivery. Make sure that you have proof in writing that the delivery was made to each customer. When customers complain about not receiving their food, this documentation can be very helpful in proving whether complaints are valid or just attempts at scamming your company out of money.

Your drivers don't need to carry manual manifests if you have Upper Route Planner. They can easily click pictures or take customer signatures on their phone as proof of successful delivery.

Keep Your Food Delivery Service Organized

One of the best ways to improve customer delivery experiences is by staying organized. This means keeping track of each order, ensuring that all pertinent information is included in each order, and having a standard process for fulfilling orders. Having a solid delivery system in place will help you improve customer delivery experiences by ensuring that orders are fulfilled accurately and on time.

An organized system is also key to preventing errors in your order fulfillment process, which can lead to negative customer reviews or complaints about the quality of service provided.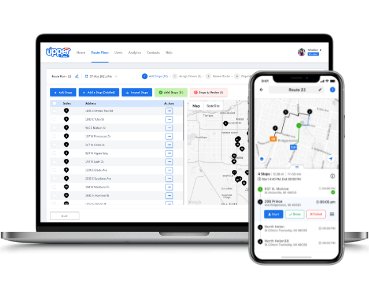 Upper Route Planner
A Simple-to-use route planner that every one is talking about.
Save up to 95% of planning time
Save up to 40% of time on the road
Plan 500 stops at once
No credit card details required
Take Proactive Measures With Upper Route Planner To Improve Customer Satisfaction
In conclusion, besides the proactive measures that a food delivery business can put forth to improve customer experience, there are also reactive and passive methods at their disposal. Only when the proactive and reactive methods are used in conjunction with each other, can a company deliver a positive customer experience (i.e. they can expect repeat business).
Upper Route Planner provides food delivery companies with the right tools that allows them to reach this goal.​ We've built our entire business around making deliveries as fast and reliable as possible for businesses of every size.
Get started with Upper Route Planner today!