Are you looking to kick-start your delivery driver career at DoorDash? You're definitely at the right place. DoorDash is a popular food delivery app that lets you order from your favorite restaurants and then delivers them straight to your door. It is one of the fastest-growing businesses and looks to do well in the future.
You can join DoorDash as an independent contractor. It is clearly excellent news for you, especially at a time when the gig economy is predicted to account for 52% of the American workforce by 2023. If you are a freelancer or independent contractor, it means more opportunities and flexibility in your life! If you're considering joining the gig economy yourself, make sure to read up on what it's like to work as an independent contractor to make an informed decision about whether or not it's right for you. Coming back, if you're interested in learning how to become a DoorDash Driver, keep reading!
About DoorDash Delivery Drivers or Dashers
Want to become a DoorDash driver? This is where you must start. Before we dive into the details of becoming a DoorDash driver, here's an overview of DoorDash delivery drivers and their jobs.
1. Dashers are DoorDash delivery drivers who choose when they want to work and where they want to work based on their availability and preferences. They can set their own hours and can do DoorDash delivery driver jobs as a side hustle.
2. The company sets up a route for each dasher so that they can pick up orders and deliver them to customers quickly and efficiently.
3. Dashers make money based on how many deliveries they complete per hour and a flat fee (or base pay) plus tip.
4. As a DoorDash driver, you have much power at your fingertips. You can scale your earnings as and when you want. As discussed, your earnings are dependent on the number of DoorDash deliveries you make. That means, the better you manage your time, the more deliveries you make, and the more money you take home. You also get to make a difference in your community by providing food delivery services to those who need them most.
Roles and Responsibilities of a DoorDash Driver
Now that you're familiar with who Dashers are, let's understand what the roles and responsibilities of a DoorDash delivery job entail.
As a DoorDash driver, you are required to do the following:
Pick up restaurant orders and deliver them to customers' homes or businesses.
Drive safely and comply with all road rules and regulations.
Handle customer interactions with respect and professionalism.
Keep your vehicle clean and tidy always while on the job.
As a Dasher, it's your responsibility to:
Log in to the DoorDash app at your convenience or at the start of a shift you've previously scheduled in the app.
Choose whether or not you'll accept orders as they come in.
When you accept an order (delivery request), travel to the merchant to pick it up.
When the order is ready, pay with your Red Card—a DoorDash-issued reloadable prepaid card that's secure and easy to use.
Bring the order to the customer.
Hand off the order to them! Accept cash from them and enter the payment in your app immediately if it's cash on delivery.
DoorDash Driver Requirements
Now that we understand what you're expected to do as a DoorDash delivery driver, let's discuss DoorDash driver requirements that define if you're eligible for the role or not.
Before applying, let's ensure you're the right fit for the job! Here are some of the DoorDash driver requirements:
An insurance policy and a valid driver's license are required.
You must pass background and criminal checks as well as driving record checks. It can all be done online!
You must own a smartphone (android or iPhone) for the Dasher App.
You must provide a social security number.
Checks on your driving record and background are required.
Did you know there are no car requirements to be a Dasher? With DoorDash, you can deliver on your bike, scooter, or even your skateboard—it's all up to you. Plus, depending on what city you live in, DoorDash may even allow you to deliver with a motorcycle!
5 Steps to Become a DoorDash Driver
With DoorDash, you can earn money on your way to work or walking down the street. You can have a flexible schedule and choose when, where, and how much you make without committing to a specific job.
DoorDash's transparent payment model lets you quickly calculate how much you'll make for each delivery. Choose your mode of transportation and go!
Smartphones and a mode of transportation are all that are needed to apply.
Following the steps below, you can quickly sign up to become a DoorDash driver:
Firstly, you need to sign up with DoorDash. So, go ahead with the sign up page and enter your details.
DoorDash will ask you for basic information, like your name, phone number, and ZIP code. You'll also need to consent to receive email and text notifications from DoorDash.
As for DoorDash vehicle requirements If you don't own a car but have access to one—that's okay! You'll be asked about your vehicle, insurance, and driver's license information. Enter this information and click "Continue." You can still sign up with us.
You must be willing to submit to a DoorDash background check, which looks for sexual offenses,violent crimes, DUIs, felonies, and other significant issues that would flag you as a safety or security risk. In case you would like to review the DoorDash background check, you can request a free copy. This is a part of the application process to establish new drivers as safe drivers.
Complete the application, and remember to include your address. Be patient, as it may take a few weeks for you to receive your free activation kit from DoorDash.
You will need to wait several days for the background check to be complete, at which point you'll need to complete an online orientation. Sometimes, depending on the case, this orientation is done in person.
Optimize Your Routes for DoorDash Delivery
Get optimized routes for your deliveries with Upper Route Planner and get home earlier.
Try Upper for Free

Advantages of Becoming a DoorDash Driver
There are several advantages that Dashers enjoy; here are the top ones:
You don't have to deal with the stress of maintaining an office space or dealing with coworkers.
You can set your hours and see how much money you want to make daily based on how many deliveries you do per hour (there are no limits)
Based on customer reviews and feedback, you can see which routes are more profitable than others. You'll never have to drive somewhere and feel like you wasted your time.
Your schedule is flexible, so it's easy for you to work around other commitments or even take a vacation.
You can pick up shifts during off-peak hours so that your schedule isn't interrupted by deliveries. And since there's no minimum number of deliveries required to keep your job, it's easy to take some time off when you need it.
How Much Money DoorDash Drivers Make?
DoorDash drivers are likely to earn somewhere between $20 – $25 per hour. So, for an 8-hour shift a day, you can earn $42,240 – $52,800 per year. There are a lot of factors that go into determining how much money you can make as a DoorDash driver.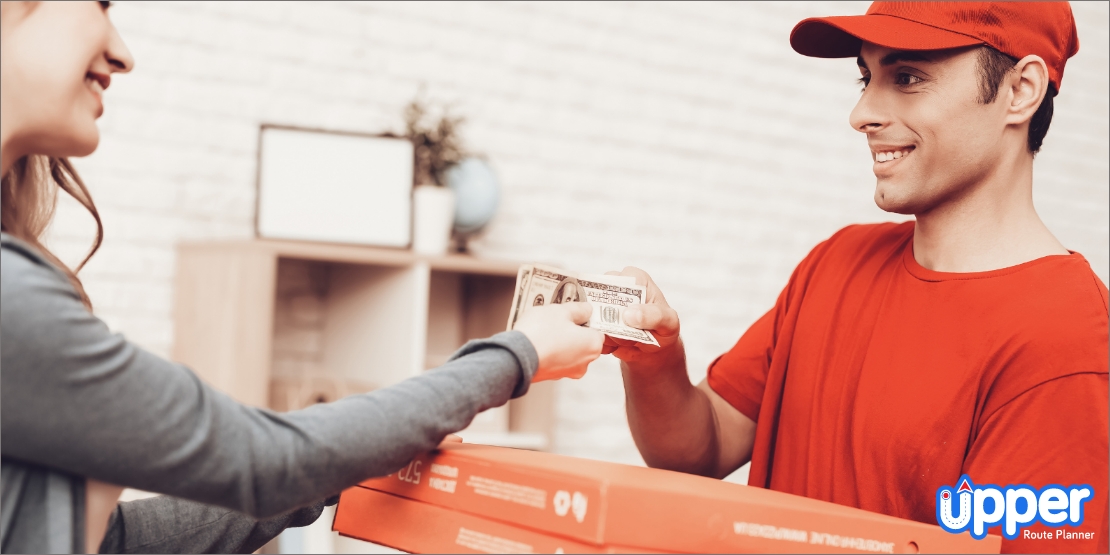 The top 3 factors include:
1. Location
The more popular restaurants in your area, the more likely you'll be able to earn incentives and bonuses. Incentives include free delivery or a percentage of tips on a particular customer's order.
2. Bonuses
Bonuses vary based on what kind of restaurant deliveries are from and whether these restaurants offer extra bonuses for specific deliveries.
3. Incentives
Whether or not you receive incentives will also dictate how much money you'll make as a Dasher. Incentives include things such as a percentage of tips on a particular order.
DoorDash pay model
Dashers are paid weekly directly into their bank account.
They are paid per delivery for each DoorDash order, ranging between $2 – $10.
Dashers can keep 100% of the tips; incentives are additional actual earnings.
Level Up Your Driving Performance with Upper
As a Dasher, it's critical for you to make as many efficient deliveries as possible every single day. Why? Because more daily deliveries translate into more earnings for you.
Upper route planning and optimization software provides a sustainable way for you to do just that. Let's understand in-depth how Upper can uplevel your driving performance:
1. Faster Routes for multi-stop deliveries
As a Dasher, there's no reason you wouldn't like to get to your customers as quickly as possible.
Upper uses a combination of historical data and real-time information to calculate the shortest multi-stop routes for you. It means you can get to the customer's place as quickly as possible, maximizing efficiency and minimizing time spent traveling. This will also help you make more daily deliveries, garner higher customer satisfaction, perform better as a Dasher, and make more money.
2. On-demand delivery reports
As a Dasher, you know the only way to improve is to keep track of your work. With Upper, you can measure efficiency by generating daily, weekly, or monthly reports. Reports help you reflect on your daily delivery tasks and make adjustments when needed.
With these reports, you'll be able to:
Know precisely what time of day you're most productive.
Identify which routes are taking up more time than others.
Spot trends in your performance over time.
See if there's anything else you can do to help improve delivery times.
3. Get instant delivery proof
Upper enables you to capture proof of delivery through e-signatures from customers.
With Upper, you can also click photographs of delivered items. This acts as proof of your efficiency to the management, increasing transparency and reliability.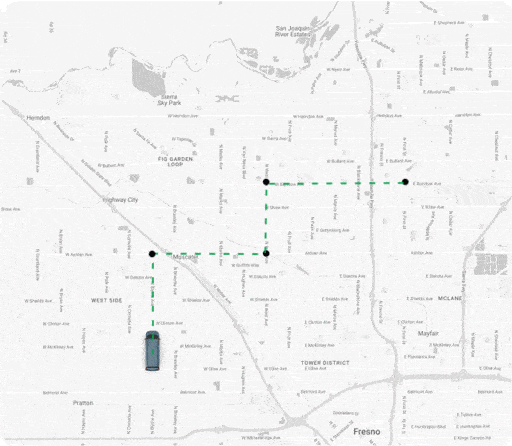 FAQs
As a DoorDash app employee, you have the option of working part-time, full-time, or seasonally. DoorDash driver is the right job for students, moms, teachers, and anyone who wants to make money on their schedule. The hours are flexible, and you only have to work when you want to. You can use your money to pay for school or even buy your car!
It's easy to work as a DoorDash driver. There's nothing more to it than picking up and delivering food. There are no complicated instructions or steps to follow, and the amount of time it takes to complete delivery is generally short. The only thing required of you is that you have a vehicle, an (iphone or Android) smartphone with the DoorDash app downloaded, and a valid driver's license.
You can take 35 minutes of break time during each shift. You can choose to take them in chunks or all at once, but you need to be sure that you've taken the entire 35 minutes before your shift ends.
Conclusion
Once you're through with the DoorDash signup process and have your driving record check complete, you can start active delivery at your own schedule. The boarding process and orientation (online or in-person) are seamless, after which you receive your activation kit and begin earning extra money.
Furthermore, if you are looking for a way to balance your personal life, becoming a DoorDash driver will give you the flexibility to work whenever you want. However, to prove your mettle as a Dasher among the many at the job, you must stand out. That's where route planning and optimization software like Upper come in. Upper helps you with efficient routes so you can spend less time on the road. Try Upper for 7 days for free.