Key Takeaways:
Pick the appropriate business model, such as cloud kitchens, virtual eateries, or food aggregators, to suit the business objectives and available resources.
Assure adherence to laws governing food safety and cleanliness, and also get the required licenses and permits to run the food delivery business.
To ensure the timely and secure delivery of the food, collaborate with trustworthy and high-quality food suppliers and set up effective logistics and delivery systems.
Create a user-friendly and intuitive mobile app or website for improving client experience and speeding up the ordering and payment process.
The food delivery business is expected to grow at a CAGR rate of 18.7% during the forecast period 2022-2030. If you are starting your food delivery business, you may get many opportunities to grow your business.
But, starting a business is not as easy as sipping a coffee. You need to analyze market situations, calculate operational costs, organize food delivery menus, and decide on your offerings.
Also, you must have an excellent start to stay ahead of competitors and sustain in this industry. So, without wasting any time, let's discuss how to start a food delivery business from scratch by understanding 9 simple steps.
What are the Different Types of Food Delivery Businesses?
A food delivery business involves delivering food to customers. Local connections can help create a competitive advantage with more appealing commissions. Customers generally place an order either through mobile applications, websites, or even phone calls.
Restaurant delivery and meal delivery are the two main types of food delivery services.
Restaurant delivery service: You can make money by charging a commission to the restaurants that you work with and charging customers service fees or delivery fees. Unlike takeaway restaurants, you can only place orders online via the company's website or food delivery apps.
Meal delivery service: To entail a chef or cook, often working from their home or a rented commercial kitchen, delivering pre-made quality meals or home meal prep ingredients to homes or many businesses.
Let's dive into steps on how to start your own food delivery business.
9 Easy Steps To Start Your Own Food Delivery Business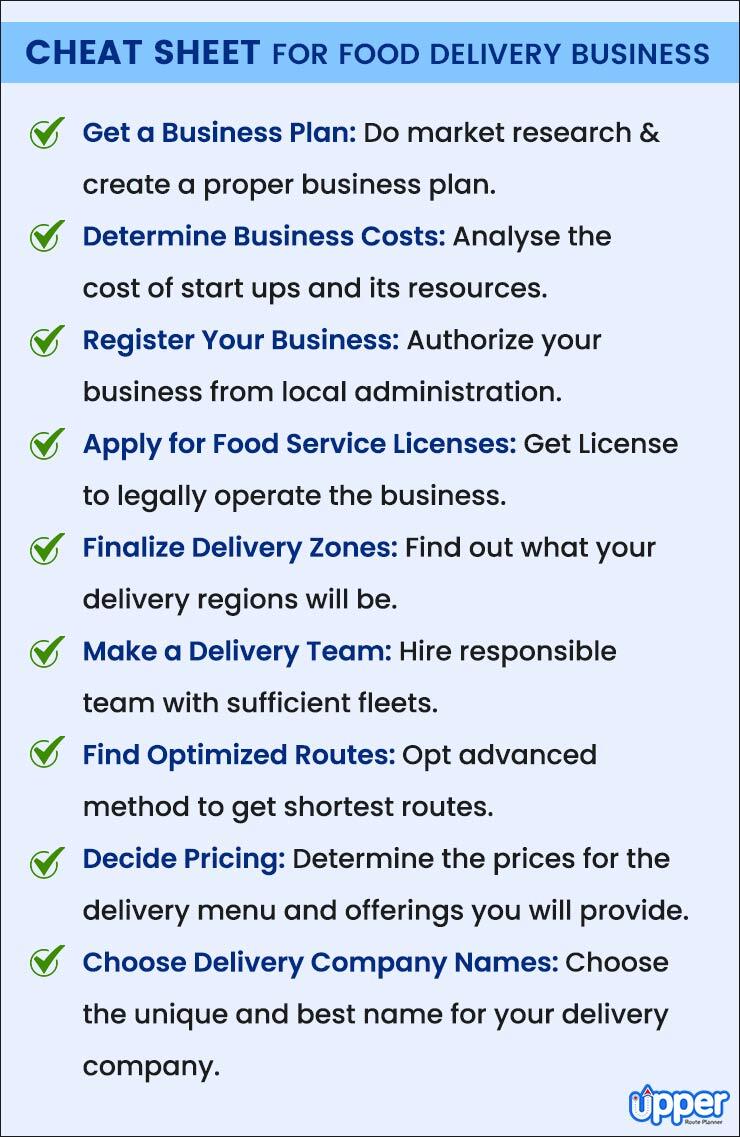 To start a food delivery business, you need to take care of the following essential steps.
Step 1: Compile a food delivery business plan
Before starting your own food delivery company, you must ask yourself: For whom are you starting your business? It is for the customers who are likely to buy what you're selling and will it be your target market.
Generally, there are three familiar target audiences involved in the food delivery business.
College students and young adults: In the active social and fast-paced lives of college students and young adults, they don't have time to think about what they will have for lunch or dinner. So, this generation will be a good target audience.
Parents: Busy parents and families are the target audiences. They are overwhelmed to deal with busy schedules and plan for a meal at the end of the day. It will ‌save them time from visiting grocery stores and have more time to spend with their kids.
Working professionals: Working professionals are increasingly preferring meal kit delivery services. Working professionals choose meal kit delivery because they are busy, and do not require much guesswork for a meal. What could be better after a long day at the office?‌
Once you know your target audience, the chance of business success will reach another level.
Step 2: Money planning for investment
The next thing that you need to concentrate on is having good funding for starting your new food business. Initially, it would help if you had to predict overall startup costs for your business venture. You need to spend many upfront costs just before starting it. Some of them are mentioned below:
A workspace

The cost may vary depending on your business location, cost per delivery, and the area you operate in.
If you start to operate your business from home, you need to consider it less expensive than buying or renting a kitchen space. For example: dark kitchens that don't need a physical location.

Technology & infrastructure costs

You have to include the cost to purchase a computer, telephone system, internet access, and possibly a printer or scanner.
You'll need to purchase a table, kitchen materials, and some cooking items.

Business license and insurance policies

You'll need to consider the cost to purchase general liability insurance policy and a license for your business.
You have to buy commercial auto insurance for your dedicated delivery fleet.
You will need worker's compensation insurance if you are hiring employees.

Marketing materials and website

To promote your business, you'll require printed napkins, cutlery, and other ways to provide superior customer experience.
You have to consider the costs of purchasing a paid subscription to social media and a website domain.
You also have to consider other tactics like flyers and advertising.

Business / Delivery vehicle

In your business, you have to consider the transportation costs like delivery vehicles' maintenance.
The cost of food service bags and reusable food containers designed to maintain freshness and temperature.
Considering all the factors discussed above, we can say that the startup cost to start a food delivery business can range from $3,000 to $25,000.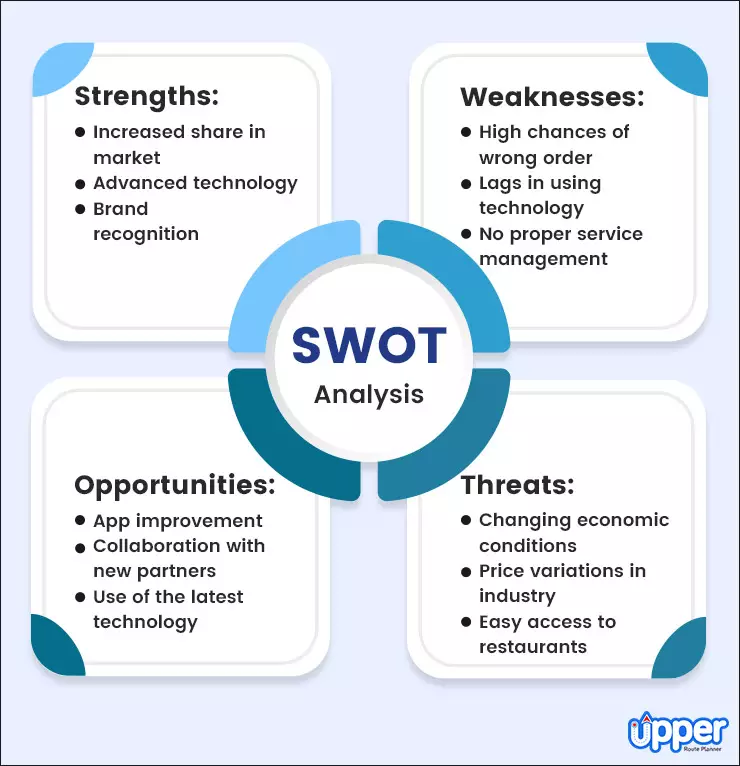 Step 3: Choose delivery company name
One of the most crucial steps of the delivery business is choosing the right name for the company. It is one of the ways to grab customers' attention and promote your food delivery business.
Also, the company name should be catchy and justify your food delivery services. For instance, Uber Eats has a unique name that signifies that it is a food delivery business name. Uber Eats is a global food delivery business that provides food service to multiple locations.
Step 4: Set up SOP for food delivery
For starting a new delivery business having proper planning is of utmost importance. A business plan defines a path to your business success.
Your delivery business plan must include information on a target audience, revenue figures, operational cost projections, delivery capacity, overhead costs, and even a marketing plan. In addition, you should describe the target audience's specifics in your business strategy, especially if you need to target a specific customer base.
What are the essential metrics that you must include in your business plan?
The complete delivery info of your business (executive summary and business description).
Analyzing market dynamics and making your business ready to fit into the local food delivery service market.
Describe how your business is set up, whether you're the sole proprietor or fall into the franchise.
Describe the food options, order value, and cost of delivery, you will be charged.
Describe how you plan to advertise your food delivery startup and to whom you plan to market
Step 5: Decide what would be your service offerings
Once you have identified your target market, include a design of the menu in your food delivery business plan. Decide what dishes you will be serving, especially your signature dish. Also, consider including basic dishes in your menu.
One of the best recommendations is to opt for delivery-friendly menus that can fit all your target audiences like busy working professionals, senior citizens, businesses for meetings, and individuals who hate going out to restaurants/ stores. You can even create a food menu by including quick meals, easy snacks, lunch, and dinner for college students.
You have to first analyze and consult with local restaurants and other food businesses to see what services they are offering. It will give an overall idea about the services that they lack and you can include in your business. Take a look at food delivery trends in the restaurant industry. It will give you some great ideas to have happy customers.
If you plan to have restaurant partners, strategically approach them with your market research and business plan.
Step 6: Ensure you have completed legal formalities
The most important thing you need to perform is to operate your food delivery business legally, with proper permits and licenses. And for that, you have to follow the steps mentioned below:
Form a legal business entity: First of all, you have to decide your business structure. A distinct business entity helps you protect your assets and liabilities. You have the option to select any of the following business entities as per your business regulatory requirements:
Sole proprietorship: You are the sole business operator and have complete authority over your company's assets, liabilities, and other management.
Partnership: You have the option of forming a strong partnership with another company in the food and beverage industry.
Corporation: This legal entity is reserved for those with large-scale and well-established businesses. Even in this structure, there are taxable employees.
Limited Liability Company (LLC): You can quickly reap the benefits of limited liability by forming an LLC. It means that your business qualifies for sales tax breaks and exemptions.
Having a formal business entity helps to simplify paperwork like tax filing and bookkeeping. Nowadays, many food delivery businesses are adopting either LLC or a Corporation business type.
Register for taxes: Taxation is important for your delivery business. Depending on the structure of your business and service offering, you have to apply for an employer identification number. Check your state and federal tax requirements before opening your doors to ensure that you are registered.
Open a business bank account: Remember that your personal and business accounts must be separate. By having a business account, you become entirely protected from your personal assets, and it becomes easy for you to file your federal taxes.
Get food delivery business license & insurance: Find the type of business insurance coverage to protect yourself from liability risks and helps you to reduce payroll expenses. In addition, you must check with ‌local and state governments for the necessary food-handling permits.
The insurance costs like general liability insurance may vary based on what is the business strategy and how large is the delivery company you want to start.
Step 7: Know how will you deliver food parcels
The primary goal of any food delivery business owner is to deliver the food packages to the customers on time. Time management is a critical aspect of a food delivery service. And for delivery packaging, there must be a faster delivery process.
Nowadays, the demand for same-day delivery is increasing day by day. So, you have to prioritize food deliveries so that customers opting for same-day delivery are scheduled first, then other delivery on-route are added to the run.
To speed up the entire delivery process, you must adopt route optimization software that makes it easy for the delivery driver to take the road trip.
Upper Route Planner is one such food delivery route planner that is mainly designed for delivery businesses to plan daily deliveries in less time.
Step 8: Market your business via online/offline channels
Now, you are ready to make your food delivery business and services online to the world. One of the most incredible places to advertise your food delivery business is ‌on the internet.
Nowadays, digital marketing is the platform where you can advertise your business in many ways including brand awareness, leads, search traffic and exposure, social media accounts, and sales. Moreover, it allows you to get to know your audience‌, which may help you build brand loyalty.
Create a professional business website.
Perform search engine optimization (SEO) to get more customers by using the business website and sharing your business information with Facebook and Instagram accounts.
Word-of-mouth allows you to talk with your friends, neighbors, and even perform door-to-door advertisements to share your delivery details.
Use professional business cards, flyers, signs, or newspaper advertisements.
Step 9: Decide pricing
Pricing is the make or break point in the food delivery business. In the food delivery business, customers compare the prices of foods. So, like every other business, you need to keep a minimal price to attract customers, but not less to suffer a loss.
For example, if company A is providing a $20 meal with $40 delivery charges and another company B is charging a $30 meal with $10 delivery charges, customers will choose company B. Because in the end, no one wants to pay extra for the delivery charges.
So, ensure that you are providing affordable costs to attract customers.
These are the standard steps that you need to follow to start your food delivery business from zero.
Streamline Your Food Delivery Services with Upper
Want to find cost-effective delivery routes to perform on-time food deliveries? Switch to Upper and make 3x faster deliveries. Start now!
Start a free trial

What are the Benefits of Starting a Food Delivery Business?
Starting up a food delivery business has many perks as mentioned below.
1. Increased number of repetitive food buyers
Owning a food service restaurant for dining purposes may attract less customers. So, instead of that, if you opt for a food delivery business, you can expect many large numbers of food consumers. By doing so, there are high chances of maintaining existing customers and at the same time, luring new ones.
2. Surge in business revenue
One of the advantages of using food delivery services is that you can achieve desired profit. If you are operating delivery services with the help of a route planner like Upper, your food delivery process will be cost-effective. If you succeed in attracting new and existing customers to your service, your business revenue is likely to surge.
3. Scalability
Food delivery business is a challenging but easy to scale business operation. In this business, you can implement a plan and expect the results as you have thought of. Moreover, you don't have to invest too much money to start that business. Also, it will give you an opportunity to grow and rectify the mistakes easily.
4. Cost-effective
You will require a few resources and can expand them as your business grows. So, you don't have to worry all the time about what it is; take one step at a time, and you will achieve your desired result. Even though you are a startup company or a large enterprise, starting a food delivery service is not tough.
Types of Food Delivery Business Models
In general, there are three types of food delivery models on the market. Let us go through them all one by one.
The Order Only Model: Partial Service Business Model

Through an online food delivery platform, you'll act as a link between users and local restaurants.
You will facilitate delivery orders between the users and restaurants.
Restaurants can easily reach out to a large audience.
Customers can quickly place an order from their favorite restaurant using food delivery apps.

The Order & Delivery Model: Full-Service Business Model

This model easily handles restaurants, customers, and delivery.
It is the common marketplace used by many food delivery businesses.
Customers will have to register to the platform, and they are not concerned with the delivery.
Restaurants will only be responsible for delivering food to the customers.

The Fully Integrated Model: On-demand Business Model

It's a complete meal delivery business plan for catering or meal-prep business.
Here, you need to take care of everything, from cooking to delivery options.
You have an option to cook the meal at your place or can hire a chef for the same.
We've just come across the basic information on these food delivery business models. Now, let us understand how a route optimization software can help you start a food delivery business in the next section.
Utilize Upper to Find the Fastest Routes for Your Food Delivery Services
As a food delivery business owner, delivering hot meals to the customer's doorstep is your priority. And how to make it possible? Simply, by finding the best routes with the Upper Route Planner.
Upper helps you achieve delivery targets in a minimum time with the help of optimized routes. Hence, you don't have to manually check things during the delivery process. In addition, the route planner has multiple benefits to offer, as stated below.
It helps you find the fastest and most cost-effective routes in a few clicks.
Upper helps you manage your delivery teams by showing the availability of drivers with details.
Moreover, you do not have to assign drivers manually, as they will be assigned with the auto-assigning feature.
It helps you to generate reports for weekly or monthly analysis to view delivery statistics.
The route planner allows you to fetch the exact address of the location along with the street view.
Schedule your delivery routes in advance regardless of your number of purchased orders.
It keeps customers in the loop by sending them customized automated notifications.
Following the successful food delivery, it lets the delivery person capture the delivery proof.
Use Upper to Deliver Hot-served Food in Minutes
Taking it too long for your drivers to reach the location? Let Upper reduce your workload by guiding them. Try it Now!
Start Using Upper for Free

FAQs
If you decide to start a food delivery business, you must be aware of the business risks. Many delivery logistics service risks can be covered by insurance for small businesses.
Third-party injury and medical payments.
Third-party property damage.
Personal & advertising injury.
Of course, if you are a restaurant owner, you should start a food delivery business to expand your business network. It will help you reach the audience outside of your service area. Since dining out is not convenient for all customers, the addition of food delivery may attract potential clients to choose your service.
Generally, every restaurant is charged as commission for providing the restaurant delivery services. Additionally, most companies include a food delivery fee, which is paid by the customer.
On average, the profit of food delivery business services is calculated based on location, on-demand food, and overall growth rate. Many experts and professionals have reported an annual profit of $25,000 per year.
Here are the things you require to set up a successful food delivery business from home.
Follow an effective business model
Kitchen space
Delivery vehicle
Competitive pricing for selling food
Conclusion
Starting a food delivery business is easier said than done, indeed, but by following the above-mentioned points, you can easily start a food delivery service. Additionally, if you adopt route planning software like Upper, you will have a secret ingredient that will make your business successful.
Now, you do not have to make customers wait or deal with angry customers about the food delivery. Upper helps you to find the fastest routes and deliver food on time. So, if you are planning to start a new food delivery business, then why not include Upper?
Sign up for a 30 days FREE trial and explore more features.