Any company that works to deliver a product or service to its customers requires an efficient delivery process. To create an efficient and effective process, the company will require the right set of tools and information. Field Sales is another job that requires sales persons to travel around to sell and acquire new customers.
Badger Maps is a scheduling and route planning software dedicated to field sales representatives and teams on a mobile device. In this Badger Maps reviews, you will learn more about Badger Maps Inc – the software company, the website and mobile platform it can be accessed through, and the list of useful features like scheduling appointments, acquiring prospects, performance reports, etc. The software can also be helpful to an individual salesperson for their daily sales activities.
What is Badger Maps?
Badger Maps was founded in 2012 and is based out of San Francisco, CA, United States. Badger Maps is a routing software specifically focused on providing tools and apps for sales reps to be more efficient. Badger allows field sales personnel and other end user groups to manage their territories with a combination of recorded data from CRM, planning, route optimization, lead generation, locations points, and Google Maps through a mobile app. It is an impressive solution for mapping customers' accounts and sales routes.
How Does Badger Maps Help Field Sales Teams?
Helps sales reps in prioritizing their day and focus on the best options in a minute. It helps them filter options based on the locations and the schedule. The mobile app successfully combines a customer list, a map, and a calendar. With automated calls, notes, and record updates, administrative time can be reduced by half.
Leads are presented with the help of a keyword. Sales reps can also see their phone numbers and open hours. This way, it helps in cutting time and money in a sales process. Badger Maps Inc. knows the importance of a mobile app in field sales. That is why they provide the best app for PC, Mac, iPhone, iPad, and Android devices.
Badger Maps Pricing Plans
Badger Maps doesn't offer a free version of the app. Users can have a 7-day free trial on the Business plan, which requires no credit card details.
Business: The Business plan offers features like Prospects for Leads, Phone Support, CRM Integrations, Weekly Reports, Management Tools, Customer Check-ins, and more.
Enterprise: The Enterprise plan offers everything from the Business plan plus Priority Phone Support, Updates via Text Message, One-on-One Training, Custom Roles, Permissions, and more.
We do not include specific prices and costs because they may vary. Please consult the software company or visit the website for updated prices.
How Badger Maps Features Helps You Sell More?
Here is a list of features offered by Badger Maps
Route Mode & Optimization
Using Badger, you can view and manage your daily route and know what to focus on. It helps you reach your destination in the fastest possible time.
Lasso
Just circle a set of points and create new routes much faster. The Lasso feature in Badger also lets companies reassign accounts for their teams geographically.
Color and Filter
Assigning specific colors to different points will help companies quickly target the best opportunities and filter any cross-sell and upsell.
Teams
Badger offer detailed, and custom check-in reports for better insight. It allows you to set routes, reassign accounts to your team.
Check-ins
Creating custom check-ins and adding photos is an excellent feature. This allows you to gather the right data from the field. There are automatic reports that are sent out weekly; these can be done manually as well.
CRM Integration
Badger Maps offers full 2-way sync between almost any CRM.
Leads
Making use of keywords to find the ideal leads is a helpful feature for the sales and marketing team.
Reminders
The Reminders inform you about all your upcoming follow-ups so you can contact a prospective client on time.
Customer Reviews and Ratings
Here are the customer reviews and user ratings for Badger Maps.
Positive Comments
Here is a list of pros of Badger maps based on what the customers had to say.
Using Badger, users save time and increase productivity with route optimization and schedule planning.
The user interface of the website and the app is convenient and easy to use.
Helps the team stay connected to the field sales personnel.
Good app for small and medium-sized businesses.
Good overall customer service from the support team.
Negative Comments
Here is a list of criticisms based on what the customers had to say.
Sometimes the maps are inaccurate, which can create a problem in scheduling,
Poor ability to keep notes.
Implementing complex data and information becomes challenging.
Needs more video tutorials of the product as a customer support
It is an expensive software.
It would be nice to receive monthly sales tips like sales videos, competitors' information, and more.
You can check out another review by us:
Routific Review – Is It Enough for Your Last-Mile Delivery Business?
Is There An Alternate Sales Routes Optimizer?
Having an alternative is helpful, especially in business. As a company or business, you are required to meet the demands of the customers constantly. If the tools you are using aren't exactly helpful, it becomes difficult for you to handle daily operations. Field Sales is not only busywork. It brings together many elements like experience, product information, prospects, and customer service, which become sales activities. For a demanding job like that, there is an alternative called Upper Route Planner.
What is Upper Route Planner?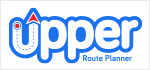 Upper Route Planner is a route optimization solution that easily helps couriers and small businesses generate multi-stop routes. With features like Quick Address Input, Route Sharing, Optimization, and Detailed Reporting, it can help employees make faster deliveries, which results in a better customer experience.
Is Upper Route Planner Better for Sales?
Upper Route Planner is a better route planning and optimization app in a more general sense because it doesn't focus specifically on sales. It is suitable for anyone who already has a sales system in plan and only needs a route planner for better deliveries. In this case, Badger is a great option because it is specifically built by keeping sales requirements in mind and has features like CRM integration and the ability to reveal unutilized sales leads. If you require a sales tool with route planning abilities, Badger is a good option. But if you need an option that is focused only on route planning and optimization, you can opt for Upper Route Planner.
What makes Upper Route Planner a Suitable Route Planner?
Upper Route Planner can automate a big part of your sales activities. The advanced algorithm takes into consideration multiple factors. A web app and a mobile app are equally important for a sales and marketing team. Upper Route Planner has both an impressive web app to plan and schedule appointments and an intuitive mobile app when you are out in the field.
One of the pros of using the Upper Route Planner is that it is designed with a human-centric approach. At its core, it aims to turn the busy work of a user into easy work. You also get to choose from map services like Google Maps, Waze, Yandex, etc. With a 3-day no obligations free trial, you can check out the functionalities and compare with them. The functionalities and customer support offered by Upper Route Planner can be useful to any delivery business.
Conclusion
In this review, we have tried to cover all the crucial information and the pros and cons of the Badger Maps business software. We hope this blog has been useful to you in some way. For more reviews, you can visit our website and our blog.