The floral industry in the United States is worth $5 billion.

The global market for ornamental plants and flowers is estimated at 6.3% CGR in 2025.

65% of American customers like to receive flowers as gifts.

Valentine's Day is said to be the biggest floral event of the year.
Which solutions are you opting for in order to make the most of this vast, ever-growing industry?
Delivering flowers to your customers is no more a small companion piece to your flower business.
Half of your floral arrangement orders now rely on home deliveries.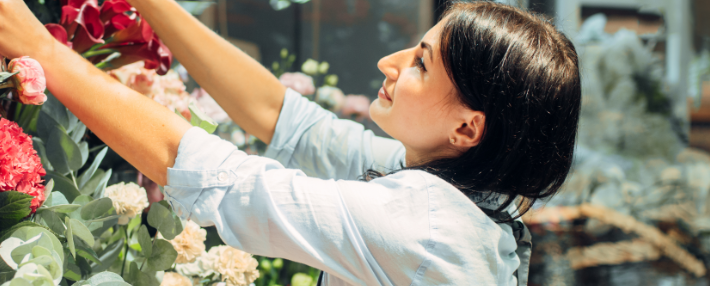 Upper is the one-stop solution
that simplifies the planning of your daily delivery route. Create delivery routes for multiple drivers simultaneously, ensuring the flowers reach your customers while they are still fresh!
Plan and optimize different routes for multiple drivers simultaneously.

Boost order capacity and productivity by up to 40%.

On-time delivery at your customer's doorstep.

Record proof of delivery for every order delivered.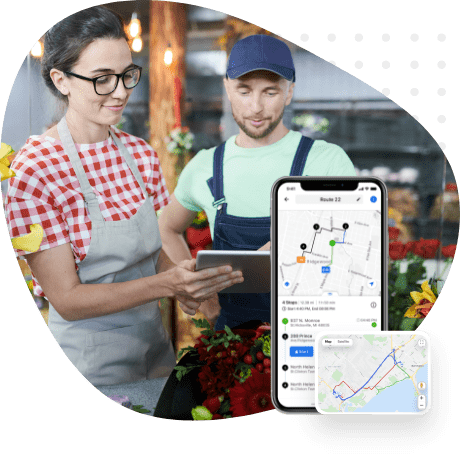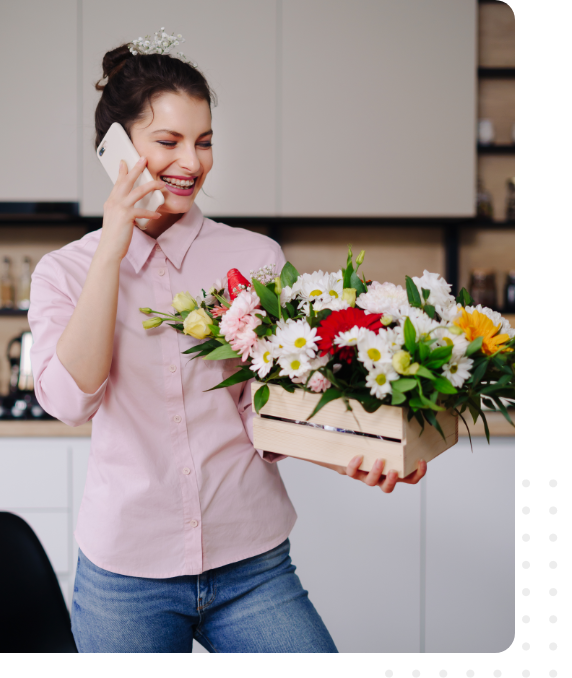 Upper Helps You Deliver Flowers and Smiles To All Your Customers On Time
Managing multiple deliveries for multiple customers is a tedious task. Upper makes planning and delivery easier by optimizing daily delivery routes in just a few minutes.
Save Time in Planning

Free your drivers and dispatchers from manually planning all their delivery routes. Instead, plan and optimize up to 500 stops in less than 5 minutes with features like Import Excel, route optimization, and delivery constraints.

Plan in Advance

Do you need to plan all your deliveries in advance for the month of December? Upload your list of addresses and run the routes in our optimization algorithm. Upper will generate your routes for a specific date in December.

Prioritize Delivery Locations

A particular customer wants their floral arrangements urgently, how do you manage that manually? Optimizing stops according to urgency is easier with Upper. You can optimize your routes to make sure all your urgent orders are given priority over others.

Multi-Driver Route Dispatch

Want to instantly dispatch multiple route plans among 5 of your drivers? Our one-click driver dispatch can send out perfectly optimized routes to your drivers through text or email in the blink of an eye.
Streamlining Delivery of Floral Arrangements Has Never Been This Easy
Save Up to 40% planning time and accommodate more orders with Upper.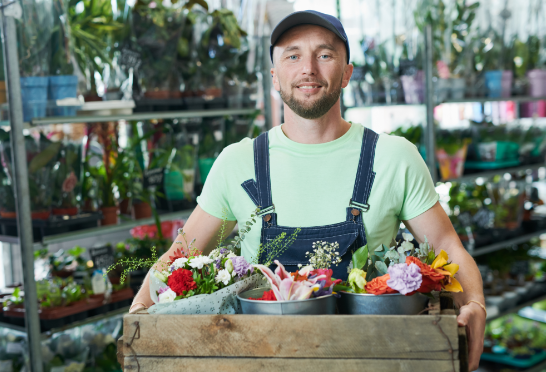 Upper Takes Your Flower Delivery Business To the Next Level
Plan and Dispatch Instantly
Import All Your Delivery Stops Instantly

Your dispatchers can import and plan up to 500 stops using an Excel sheet. Planning for multiple stops can be done in just a few seconds.

Optimize Multiple Stops for Multiple Drivers

Upper's intelligent optimization algorithm helps optimize 500 stops for multiple drivers in just a few minutes.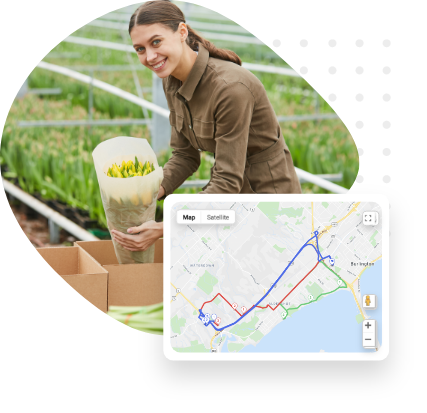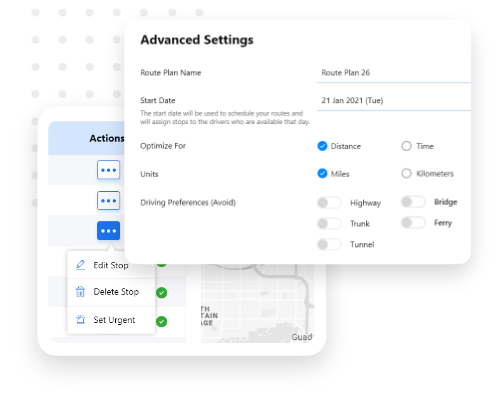 Details Help You Be More Accurate
Set Specific Delivery Constraints

Dispatchers can set specific delivery constraints and make sure that each stop is optimized accordingly. Delivery constraints like time windows, service time, and curbside delivery are taken into consideration.

Add Details for Each Stop

Adding delivery details to each stop helps dispatchers and managers be more specific about each delivery. It helps drivers get distinct information regarding how to carry out a delivery.
Daily Delivery Analytics Made Easy
Generate Electronic Proof of Delivery

Managers can improve accountability in drivers by allowing them to generate electronic proof of delivery by way of capturing pictures, collecting customer signatures or adding specific notes.

Reflect Over Your Daily Delivery Tasks

Reports and analytics help dispatchers and managers get an overview into the deliveries carried out throughout the day, week, or month. It is a useful tool for measuring efficiency.

Route Reallocation

If the driver is not available or not able to fulfil the deliveries on the same day, Upper reassigns the same route to another driver. So, no more chances for flowers to wither and no compromise to affect the flower's freshness.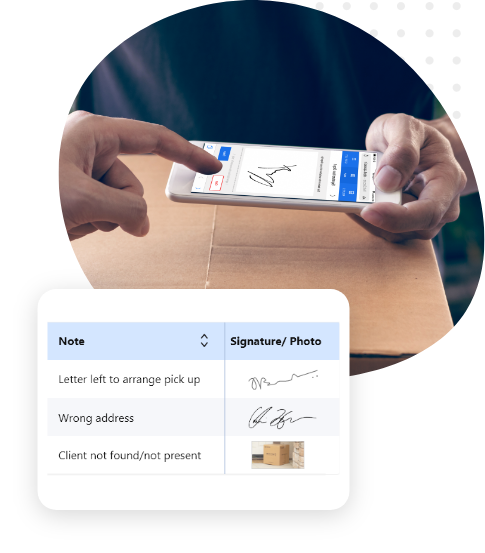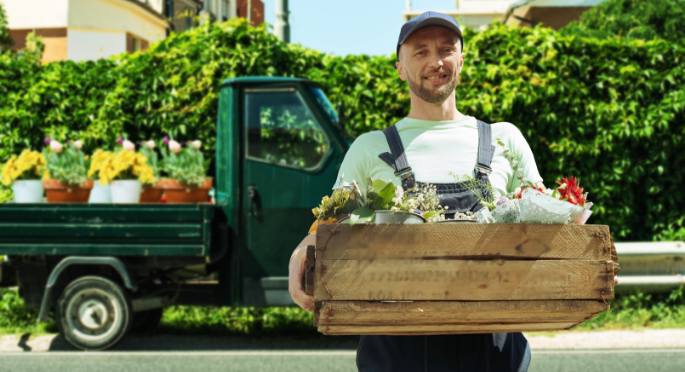 Champion Your Daily Deliveries with Flawlessly Optimized Routes
Upper brings convenience to your dispatchers and delivery drivers, helping them focus on providing fresh and timely floral delivery services to your customers.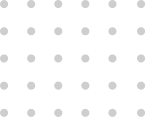 How Does Upper Manage Your Flower Delivery Business?
Avoid Backtracking
With the support of Upper's route planning and optimization abilities, your drivers can make sure that each stop on the route is covered. By doing this, it becomes easier for the drivers to manage all deliveries within a route and steer clear of backtracking.
Manage Tight Delivery Schedules
Having a busy time delivering floral arrangements for the festive season? Upper manages to fit in multiple stops in a single route by helping you cut down time in planning and delivering more orders per route.
Reduce Back Office Load
Thoroughly optimized routes not only improve driver performance and help you save time on the road, but it also reduces the back office and improves dispatcher productivity by taking over most of the planning burden.
Allow Your Drivers to Focus on the Road
Let your drivers pivot each stop without having to worry about missing a priority or taking the wrong route. With optimized routes, your drivers will focus better on the road, not be burdened with pressure of missing out on a stop and reach their destination on time.
Charter Unfamiliar Localities with Ease
Covering deliveries in unknown localities is not a problem anymore. Your drivers get a well-defined route map with all the right details for each customer and stop.
Easy Reporting for Successful Deliveries
Daily reporting for all your floral arrangements not only improves reporting on the part of the drivers but also reduces extra work for the managers and the need for micromanagement.
Fit in More Orders Seamlessly
Upper allows you to accommodate up to 500 stops in a single route, thanks to its accurate route optimization capabilities. Just put in the addresses, set your delivery constraints and optimize.
Enhance Customer Experience
Fast and problem-free delivery is essential when delivering something as delicate as a flower bouquet. Upper helps you optimize all the delivery routes to make deliveries on time and in pristine condition.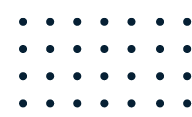 Deliver Floral Arrangements in The Right Place at The Right Time
Upper allows you to optimize daily delivery routes and save 95% of your route planning time.
Try It For FREE