Truck driving is a rapidly growing profession, and the demand for truck drivers is increasing daily.
The US alone is a $700 billion trucking industry that moves over 10.8 billion tons of freight and provides employment to around 7.4 million people. Trucks move about 70% of all goods transported in the USA.
Therefore, stepping into the trucking industry can help you draw many financial benefits. But, ever wondered how do truck drivers get paid? Are there any bonuses involved?
So, with no delay, let's clear all your queries and doubts in this article.
What are the Types of Truck Drivers' Pay?
To start a small or medium trucking and logistics business, it becomes crucial to understand the different truck drivers' pay.
Here are the most commonly used pay models for truckers:
1. Hourly pay
The hourly pay model is generally implemented in the cases of intrastate delivery, where the distance between the pickup location and drop location is ‌less than 150 miles.
You may have to take part in some tasks, like loading and unloading freight and interacting with customers. Also, you have to make stops along the way.
Sometimes you have to start without a fully loaded truck. Performing these extra tasks can assist the drivers in earning more money and incentives.
Mostly the grocery chains and local retailers use the hourly based pay structure. An independent delivery contractor must put in more effort and extra time to increase your hourly payout.
But if you are an owner-operator or run a logistics company, it becomes crucial to analyze the route plan efficiently. Paying hourly pay to your delivery drivers can increase the operational cost if the routes are inefficient.
2. Per mile pay
This is the most commonly used model in the trucking industry and also goes by the term CPM, cents per mile. As stated clearly by the name, a driver gets paid for the miles they drive. The per mile rate differs for various companies and the type of goods.
There are certain ways by which a company calculates the mileage pay.
Household goods (HHG) mileage
This payment method is also known as ZIP code miles or short miles. The main post offices of the two locations are identified, and the shortest distance between the two ZIP codes is calculated.
Practical mileage
The distance here is calculated using the truck's electronic logging device or ELD. The route between the two locations is calculated and shown to the driver on the ELD. This device will log the miles that you travel.
Hub mileage
It is the actual mileage that the truck will haul freight. The truck's odometer is noted when the journey is about to begin and is checked again when the truck reaches its destination. The difference is calculated, and you get paid for the miles driven.
3. Fixed salary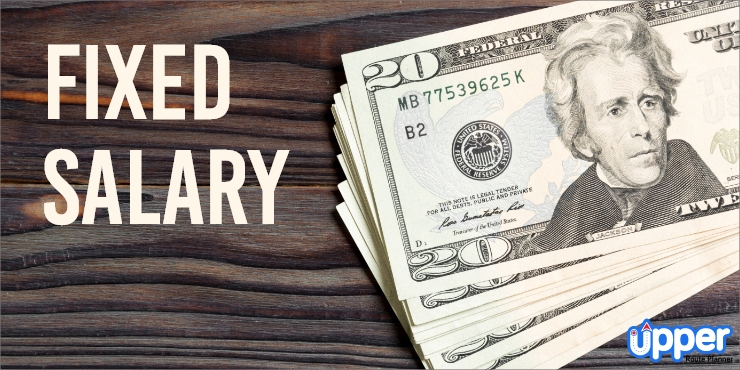 Followed by very few, the fixed salary payment method is seen very less in the trucking industry. As the name suggests, being a driver, you will get a salary irrespective of the mileage, hours, or load you haul. Throughout your contract period, you will be paid the same amount only.
Fixed salary jobs are very few in the trucking industry, which benefits the owner and drivers.
4. Percentage of the load
This is one of the most used methods in the industry as it comes in handy while hauling valuable goods or in medium-to-short range deliveries.
Owner-operators most commonly use this method, as they can come across certain shipments which will require more resources than what is available to the owner.
Instead of hiring new drivers, owners employ freelance drivers or owners and split the profit in an agreed-upon percentage.
5. Team driver pay
This truck driver pay model will have two drivers in place of one. Team rates are substantially higher than the solo driver paid, but the rate is divided between the truck drivers.
The ratio at which the salary is split among drivers is up to the team drivers. Many drivers believe they make more money through this model and are happier sharing the journey with someone. Most drivers prefer working in a team.
The model is generally used for long-range deliveries. A team of two drivers can cover more miles, and that too faster. This is profitable for both drivers and owners.
Now, let's jump on to our next topic to know how drivers get paid.
Multiple Ways Truck Drivers Can Get Paid
It's important to note, however, that truck drivers are typically not paid an annual salary or hourly wage, as with many other careers. Company drivers are paid on a cents per mile basis.
Having understood the different pay payment models, the next question that demands attention is:
What are the multiple ways and types of payment a truck driver receives? Have a look.
1. Per diem pay
It is a non-taxable allowance paid to the driver. It includes the expenses for hotels, meals, and other expenses a driver may incur on the road.
If the company pays the per diem expenses, it will come up in the paycheck only, and the IRS will not assess it for taxes.
If there's a rare case where the company is not paying for per diem charges and all of it is included in your base pay, then a driver can take up to a $59 per day deduction while filing for taxes.
2. Stop pay
If you, being a delivery driver, must make multiple stops along the way, you may be eligible for stop pay.
All the delivery-related stops you make apart from loading and delivery make you eligible for stop pay. It is of huge importance to drivers since any time not spent on the road will lead to less income. Stop pay is a great source for some additional pay.
Multiple companies use intelligent route planning tools to help them reduce costs by planning the stops to reduce time, cut distance, and be well divided among the drivers.
So if you run a logistics business or operate your truck, ensure you use an intelligent, reliable, and fast tool for route and stop planning.
3. Detention pay
It is much like stop pay, but drivers get extra pay when a driver is stuck on a layover or detention.
Stop pay covers multiple stops, but detention pay is awarded to the driver when any unnecessary delay happens because of loading, unloading, or other instances where the driver is not responsible.
4. Fuel and safety bonuses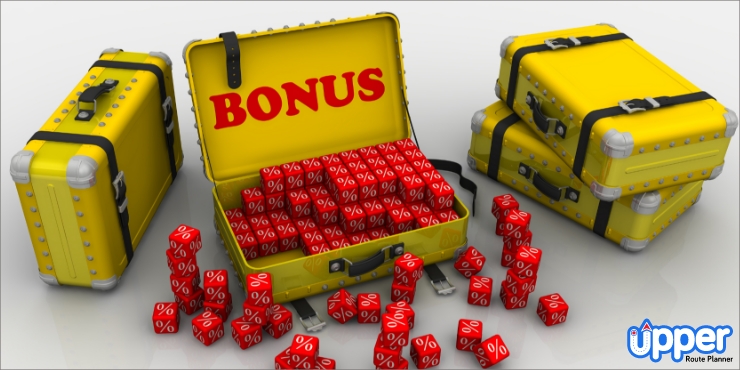 It is not hidden from anyone that trucks require a ton of fuel to work. Multiple companies provide a bonus to drivers for maintaining good mileage.
It reduces the company's operating cost, and drivers are often awarded a bonus.
Safety is a major concern for trucking companies. A truck accident, including an injured person, can result in an average cost of $148,279; if a fatality is caused, it can shoot up to $7 million. So it is not unusual for companies to pay safety bonuses to drivers for safe driving.
5. Accessorial pay
A great way truckers can make more money is by making a bonus by fulfilling certain other activities. It is also called driver activity pay. A few examples are mentioned below.
Undock deliveries

Paying for tolls or border crossings

Loading and unloading trailers

Handling and operating a forklift

Shrink wrapping pallets
These bonuses are awarded to the drivers working with cents per mile or percentage of load models only. Company drivers and hourly workers are usually not compensated for such activities.
Being an independent delivery driver or a business owner, you must ensure an efficient delivery process to increase your profits or income.
Integrate a professional route planner like Upper to avoid inefficiencies and streamline your route planning process.
The software can deliver optimized delivery routes, minimizing operational costs and increasing productivity and earnings.
Get Optimized Driving Routes for Your Truck on Upper
Route planning is tedious; it takes hours to develop a perfect plan. The task gets more complex if you have to make stops or deliveries along the way.
At Upper, we understand your pain that may not exist with a reliable route planner to reduce your work and stress. Upper will help you create an optimized route that will save time, fuel, and other resources.
By doing so, our software gives you the time and freedom to make more deliveries. Planning routes are not all we do. You can use all the features mentioned below to streamline your business.
Try out the 7-day free trial and experience the transformation in your delivery earnings.
Explore Best Routes with No Extra Effort
With Upper, truck drivers need no manual route planning and frequent call-ups to reach the buyer's location. Skip the traffic queues using efficient routes and perform deliveries on time.
Join Upper Now!

FAQs
To be a trucker, you must have a commercial driving license or CDL. There are multiple paid CDL training centers that will help you become an expert in commercial driving, and you can get your commercial license.
A truck driver can make a paycheck in the following mentioned models:
Hourly pay

Per mile pay

Percentage of load

Fixed salary

Team driver pay
Based on the requirements and your availability, you can choose the desired payment method for completing the deliveries.
A CDL truck driver's salary may vary from $3458 to $5541 per month across the United States. Truckers with less experience make less, but experienced truckers can make up to $8625 per month.
The demand for trucks and truck drivers is ever-increasing. In 2018, the American trucking association stated that almost 900,000 more drivers were required to meet the delivery needs. Given the demand for truck drivers, these professions seem very reliable.
An owner-operated business is one in which the truck driver owns their truck-driving business. The owner may have their own truck, a truck on a lease, or a fleet of trucks. In terms of income in the trucking industry, it is one of the most rewarding business types.
Takeaways
The trucking industry is growing at a stable pace. It is a bridge that connects consumers and products. It is a market segment that has been experiencing growth for decades and is expected to grow further.
If you want to become a part of this ever-expanding sector, this might be the right time to dive in.
The aforementioned factors will help you get more insights into truck driver's salary or trucking company income. But, when it comes to driver's performance, Upper could be your go-to tool in analyzing your team's daily performance.
Access a 7-day free trial and know handy route planning features offered by Upper.