According to reports, over two billion people bought products or services online in 2020, and global e-commerce sales exceeded 4.2 trillion US dollars during the same year.
The introduction of new e-commerce platforms altered the delivery ecosystems of today.
Not only has the variety and number of online orders expanded but so has the demand for excellent delivery services. Previously, customers would not mind waiting for seven to ten business days for their packages to arrive.
Many customers nowadays expect next-day or same-day deliveries. Customers are also impatient with any delivery delays or complications. To counter all the bottlenecks of delivery operation, multiple stops route planning is imperative.
It will factor in a wide range of challenges and business constraints, such as delivery time windows, driver skillset, inventory details, and resource availability. Let's understand the crux of what is multi-stop route planning and how it can help scale your business operations.
What Is Multiple Stops Route Planning?
The process of determining the optimal and most efficient routes for delivery drivers to reach multiple locations of customers is known as multiple stops route planning.
This entails route planning in a structured and comprehensive manner to the destinations in order to optimize revenue sales.
A number of factors contribute to the proper planning of these routes. The following are three of them:
1. Location:
Consider a specific geographic region or territory and narrow the route within that location. You should remember that the bigger the territory, the fewer stops an expert may realistically make in a single day.
2. Priority of Potential and Existing Customers:
The most effective route will prioritize the existing customers as well as potential customers who will deliver the greatest return on investment.
3. Performance:
The route must subsequently decrease miles driven while increasing customer retention. When all of these elements are considered, your multi-stop route planning will yield routes with appropriate travel times, realistic accessibility to target destinations, and an increased return on investment. An essential factor to consider and understand here is that in route optimization, quality determines a successful and efficient route, but not the number.
Benefits of Multi-stop Route Planning
Here are some of the advantages of multiple locations route optimization:
1. Increased Productivity and Performance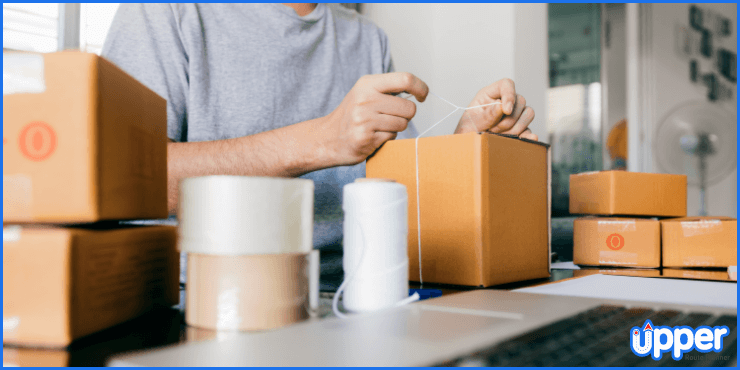 One of the most evident advantages of multi-stop route planning stems from increased efficiency.
The number of visits that sales reps can accomplish in a day can be maximized by planning the most efficient routes between customers from point A to point B.
It will not only help you increase productivity and profitability but also the quality of your customer interactions and your sales team's overall performance.
Your optimized route plans will become more effective and efficient as you analyze and determine which customers are most likely to pay for your service using digital analytics
2. Reduce Your Carbon Footprint
According to reports, the worldwide transportation industry is a major contributor to pollution, emitting over 7.3 billion metric tons of carbon dioxide (CO2) in 2020.
A sustainable enterprise should minimize its reliance on transportation and improve its energy efficiency.
Route optimization will save you money on gas and reduce the carbon footprint produced by your vehicles.
Each gallon of fuel emits over 20 pounds of CO2, and each liter of gasoline emits more than 2 kg of CO2. On the other hand, planning the best route with the help of a route planner reduces greenhouse gas emissions.
3. Increased Customer Satisfaction and Retention
Existing and potential customers can sense when sales reps are not hurrying to their next appointment and can invest the mandatory time.
They will be able to spend meaningful time with professionals who can suit their demands. This will enhance not simply the amount of sales but, more crucially, client satisfaction.
Furthermore, you get access to the best advantages when you integrate data from your travels into CRMs.
When you integrate customer lifecycle data with your most efficient route planning, you can strengthen your connection with existing clients and increase customer retention.
4. Increased Profit and Growth
One of the most significant long-term benefits of streamlining your multi-stop route planning efforts is increased profit margin.
This is because more sales will be produced at a lower operation cost.
When sales reps take the most efficient routes, they will spend less time on the road and have shorter delivery time windows. It also helps with reducing fuel expenses, upkeep costs, and carbon footprints.
Furthermore, as previously said, more quality encounters with customers and prospects will increase the quantity and size of sales.
Therefore, when some costs are reduced, as a consequence, revenue will increase as well.
5. Save Time When Planning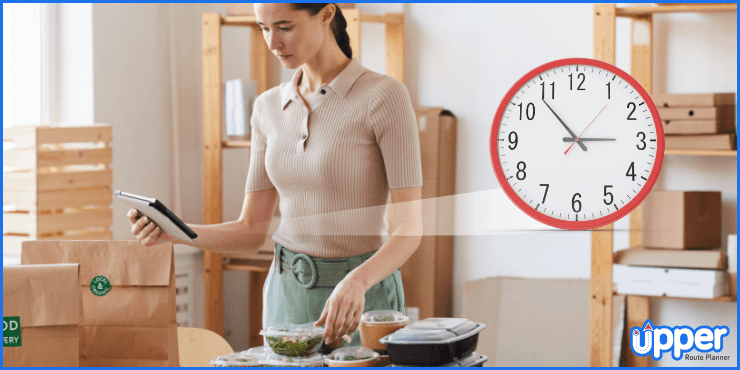 Manually sorting addresses is inconvenient and time-consuming. You will probably end up reviewing and analyzing places and the most efficient route for hours at a time.
You will need to collect a large amount of data, maps, and distance tables, and once you have them all, determining the best route will take even longer.
An efficient multi-stop route planning will provide you with access to all of the easily available data and will allow you to do the calculations much faster.
This will save you a lot of time that you can use to scale your firm's growth.
How Can Route Planner Apps Help with Multi-stop Route Planning?
Multiple-stop route planner apps streamline itineraries and automate route planning. Its goal is to discover the fastest route to get from point A to point B when there are several stops per route.
One of the classic examples of a basic route planner is Google Maps.
Delivery drivers who are exploring a new location, running errands, or trying to avoid construction sites can use Google Maps to discover the fastest route to their destination.
They also have the option to use turn-by-turn directions to cut down their driving times.
Basic route planning apps, such as Google Maps route planner, are convenient for regular drivers but not necessarily for delivery drivers, truck drivers, and commercial drivers.
Multi-stop route planners, on the other hand, provide significant power benefits to commercial fleets, such as
Reduced fuel consumption
Fulfilling customers' expectations for fast turnaround
Enhancing utilization of vehicle capacities
Here are some of the prime benefits of using a multi-stop route planner for your delivery operations:
1. Efficiently Create Routes
A multiple-stop route planner app creates delivery routes in a reasonable timeframe.
It is simple to use and automatically adapts routes in the event of unforeseen circumstances such as traffic and roadblocks.
Multiple-stop route planners make it convenient to plan and discover efficient routes.
It also allows you to include parameters such as specified time windows and other business-level factors.
2. Routes Are Easily and Automatically Distributed to Fleet Drivers
Last-minute route updates are a common cause of frustration for drivers and fleet managers. Calling or texting drivers about route changes confuses them and causes delivery delays.
Route updates are instantly displayed on the delivery drivers' smartphones when using multiple stops route planning apps.
In the event of a last-minute stop, your delivery drivers will be notified of the exact details.
3. Easy Route Re-optimization
Unforeseen circumstances such as vehicle breakdowns, accidents, or roadblocks can cause your regular delivery schedule to be disrupted.
To compensate for the loss of a vehicle, the fleet manager must reassign deliveries to other drivers.
You can shuffle the fleet and plan deliveries using a multi-stop route planner app.
Increases the Productivity and Efficiency of Your Driving
Extra distances driven by drivers continue to raise your last-mile delivery operation costs.
The extended time spent on the road increases the fleet's maintenance and liability costs. This has an effect on the fleet's efficiency and productivity.
Multiple stops route planning apps eliminate unnecessary miles, which reduces fuel costs. Real-time tracking enables fleet managers to monitor deliveries and design strategies to increase productivity and efficiency.
4. Optimize Route Effectiveness with a Small Fleet
The most daunting challenge for mid-sized fleets is maximizing routing capability with a restricted fleet and budget.
They can find an efficient route for several stops using a multi-stop route planner app depending on their fleet size, financial constraints, and vehicle capacities.
Small- and mid-sized fleets can use multi-stop route planners to allocate routes and create delivery zones. These capabilities enable them to improve fleet operations while also saving money.
Now that you're aware of all the benefits of efficient route planning that can be achieved with a multi-stop route planner, let's find the best one for you.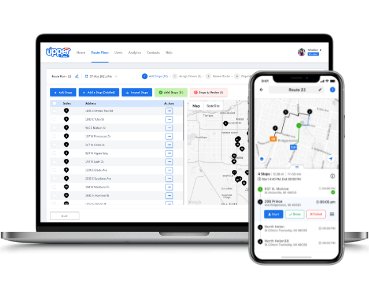 Upper Route Planner
A Simple-to-use route planner that every one is talking about.
Save up to 95% of planning time
Save up to 40% of time on the road
Plan 500 stops at once
No credit card details required
---
FAQs
You could possibly use Google Maps to design a planned route with few stops as long as you manually add stops.
Because Google Maps does not have a specialized option for routes other than bringing you from point A to point B, the application is only tailored for consumers with a broader range of choices.
Users can utilize route planning software to discover the best routes for several stops at a single place based on their size, budget, and vehicles available.
The multi-stop route planning tool assists small- and medium-sized fleets in separating routes, identifying delivery sites, and scheduling delivery of shipments.
It is not easy to plan efficient routes for multiple vehicles and multiple stops. However, with a multi-stop route planner, you can.
A multi-stop route planning app will help you to plan routes quickly and efficiently.
It will help you to distribute routes to fleet drivers easily with automation. A route planning app will also enable you to re-optimize routes conveniently and also make your driving more productive and efficient.
And lastly, it will also help you optimize your routing efficiency with a limited fleet.
Even if you can find a good route manually, the odds are it is not optimal. There are millions of possible sequences, even with a small number of stops.
The chance of finding the best route without computer algorithms is minimal. Route optimizing apps will find better routes, which saves time while traveling.
With fuel prices increasing everywhere and multiple destinations often requiring driving long distances, it is important to find efficient routes to save money on gas.
Route optimization apps find faster routes that reduce traveling time. When traveling time is reduced, so is the fuel cost.
Routing in logistics is the process of determining the most cost-effective and fastest route. It needs to be planned through the minimization of traveling distance or traveling time required in order to reach a set of established destination stops.
Routing is a critical procedure in logistics systems, especially given the global market's intense rivalry and diminishing margins.
The process of determining the most effective route to visit a bunch of locations is known as routing.
Planning is the method of scheduling stops in the most efficient order feasible while taking into account factors like traffic patterns and client availability.
How Can Upper Route Planner Help You?
Who wouldn't like to save hours when planning routes for multiple stops?
Let's be honest: Manual route planning with Excel and Google Maps is a waste of time and resources.
However, with Upper Route Planner, you will save not only time and resources but also deliver more orders and boost profitability.
You can plan all of your everyday delivery routes and optimize your delivery operations with just a few clicks.
For a seamless and efficient route planning procedure, use our multiple routes planning app.
With our meticulously planned and optimized routes, you can minimize turning away delayed deliveries and fulfill last-minute demands.
Go for our free trial or schedule a demo today Go for our free trial or schedule a demo today to plan multiple routes with multiple stops with up to 500 locations in just 2 minutes.