Local delivery businesses are in full swing since the time we faced the pandemic. These businesses were flourishing anyway, but the events of 2020 pushed local delivery service even further as more buyers started to order goods being online to their doorstep. Buyers started getting essentials delivered from grocery stores through an online order. Online order or shopping for all kinds of products has been popular and in great demand.
To successfully make a specific number of deliveries every day, businesses need a system or software to help them manage their delivery service and deliver the goods as quickly as possible. In this Decios (DeliveryCircle) review, you will know more about one such delivery management software that has helped several businesses. We will look into the benefits, functionalities, and experience of the customers who have been using it.
What is Decios (DeliveryCircle)?
Decios (DeliveryCircle) is a route optimization platform that can help companies make local delivery services more efficient and cost-effective. DeliveryCircle's premier software – Decious, is specifically developed for companies that need a quick to implement system and requires low investment. It helps last-mile businesses and companies in being more tech-enabled and effective in their daily delivery operations.
Decios (DeliveryCircle) Driver Mobile App
The Driver mobile app is available on Apple App Store and Android Play Store. The mobile app provides navigation guidance, signature capture, photographic proof of delivery. Through the application, drivers get real-time visibility, thanks to geo-fencing, automated text notifications, return logistics tools, etc.
With automated dispatching and real-time driver tracking technology, a lot can be done through the mobile application itself. In addition to these functionalities, the mobile application also includes exception-based management, customized alerts, barcode scanning, load polling, route optimization, etc. Financial tools like driver pay and customer invoicing make it easier to do delivery and manage other business operations. This works well for an employee and his business manager as well.
Pricing Details
Basic: The Basic plan includes features like 5000 transactions a month, automatic notifications, driver's application, barcode scanning, photo and signature capture, order file upload, geo-fencing, and a few more.
Premium: The Premium plan includes additional features like route optimization along with vehicle match, API uploads, custom workflows, custom text messages, invoices for buyers, unlimited transitions, apart from the Basic functionalities.
We do not comment on specific pricing plans and costs because they may vary. Please consult the company or visit the website for updated prices.
What Are the Features Offered by Decios (DeliveryCircle)?
Decios offers the following functionalities.
App-based software for Android and iOS devices.
Decios offers real-time tracking with geo-fencing.
Customized alerts for each employee.
Signature and photo capture of products and items as proof of delivery.
White label text messaging service.
Driver/Employee KPIs.
Route optimization and the dynamic estimated time of arrival.
Complete API connectivity with status updates.
Label printing and barcode scanning for products.
Driver pay platform service makes it easier for employees.
Control tower dashboard.
Streamlined fleet management service.
Custom service.
What are the Benefits of Using Decios (Delivery Circle)?
Here is a list of benefits that can be derived from using Decios.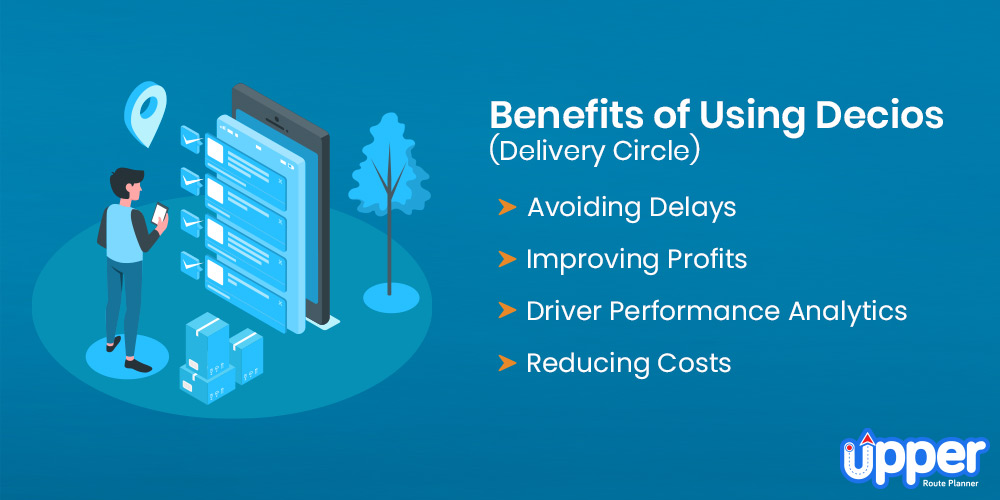 Avoiding Delays
With accurate real-time visibility of the drivers, you get exact status and automated updates with necessary API links. The software offers a service to create instant electronic invoicing for timely payments along with proof of delivery. Be it bread, fresh organic vegetables, farm products, or any other items you shopped online can be delivered to your customers without any delay.
Improving Profits
The software offers instant proof of delivery. This service includes electronic signature capture and photo capture. This way, you can ensure that the shipments have been safely delivered. It also works in the favor of your clients. With geofencing abilities, you can easily notice the shipment or the products have reached the right destination. It is also possible to speed up cashflow if proof of delivery is provided immediately. This can help in improving profits for the business.
Driver Performance Analytics
Decios can solve inconsistency by providing a business/member with information related to a driver's productivity. The dashboard allows you to see the drivers and track them on the map in real-time. This increases visibility for the business. A business can avoid other ways or services of tracking your drivers when you have all the real-time tracking abilities on your desktop.
Reducing Costs
The software offers completely transparent pricing for your business and your clients. The application supports several pricing formats, weight, ZIP codes, piece count, etc. When transparent prices are offered to everyone, it helps in reducing the costs.
You can check out another review by us here:
Circuit Route Planner Reviews – Does It Make Your Delivery Process Efficient?
Is There A Suitable Alternative?
Delivery management is a challenging task for any business- big or small. Businesses and individuals who do deliveries face the same issues in terms of delivery, only the scale differs. Software or technology that worked for an individual might not be suitable for a corporation and vice versa. In this case, it is better to have an alternative software that can replace your current system when the delivery operations need a step up.
What is Upper Route Planner?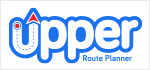 Upper Route Planner is a software that helps a delivery service business and individuals, drivers, and contractors in making their daily delivery job easier and stay on schedule. Delivery takes a lot of prior planning; a team or an individual needs a lot of time for that. Upper Route Planner helps them creating quality routes quickly and easily. Upper Route Planner's optimization algorithm creates multi-stop routes. Bulk Address Import allows you to upload an excel document with a complete list of addresses. This results in quick route planning, which can further be tweaked or shared according to your requirements.
Why is Upper Route Planner a Suitable Alternative?
Upper Route Planner has a human-centric design approach that focuses on making things easier for a small business, couriers, or individual driver. Along with functionalities like Quick Route Creation, Smart Error Proof Address Input, and Location-Based Auto-Detect, route planning becomes easier. Routes generated by the Upper Route Planner platform can be duplicated as well as customized according to your requirements.
You can share the same routes with drivers, and other employees are also made possible. Upper Route Planner mobile platform works on an Apple device as well as an Android device seamlessly. Upper Route Planner focuses on delivering value for money with useful functionalities and best in class customer service. It can share with you detailed reports and insights for the deliveries made using the routes created by the platform. This can be helpful for a business to be better at customer service.
Conclusion
Logistics companies and even individuals who deliver goods daily need only the best delivery software. In addition to the basic functionalities, they need efficient customer service to make sure that any issues can be solved immediately with expert help. You will need a platform you can trust. Hopefully, this Decios (Delivery Circle) review has made it easier for you to know what to look for in route planning and optimization software.