Exceptional delivery is something every business- be it large, medium or small is expected to provide to its customers. The growing competition in the delivery operation market is extremely challenging for businesses. To tackle such competition and provide fast dispatch to their customers, businesses require a good route planner. One such software is GetSwift.
In this GetSwift Review, we will talk about the features it offers, the kind of businesses that use GetSwift's route management software, and actual user reviews and ratings.
What is GetSwift?
GetSwift is a route optimization software that makes last-mile operations more intelligent and efficient. Their goal is to provide ease of use and improve the supply chain while opening up businesses to new growth opportunities. GetSwift has something to offer for every kind of business, irrespective of the company size. This way, it works on streamlining your whole delivery business. Companies have adopted it across 6 continents and 75 industries. GetSwift was founded in 2013 and is located in the United States.
Pricing Details
Professional: The Professional plan includes unlimited users, auto-dispatch, real-time tracking, Live ETAs, Driver App, Driver Incentives, Dashboard Analytics & Reports.
Enterprise: The Enterprise plan includes additional features like Custom Integrations, Deployment Support, Priority Service Desk, Branding & Personalization.
GetSwift charges a monthly fee per driver login. It offers a 30-day free trial.
We do not comment on specific prices and costs regarding plans because they may vary. Please consult the company or visit the GetSwift website for an updated price.
Features Offered by GetSwift
GetSwift offers the following features to a business that requires route planning.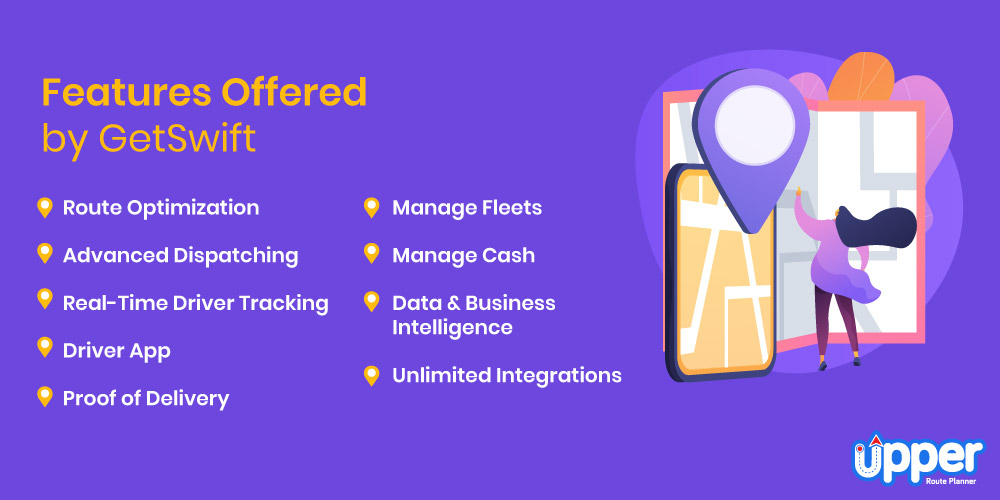 Route Optimization
GetSwift's software has a constantly improving algorithm that evaluates and creates only the best route to make sure you save time and money.
Advanced Dispatching
GetSwift can automatically dispatch and saves time and effort on the part of the dispatch team. You can choose to dispatch based on driver rating, distance, and other constraints.
Real-Time Driver Tracking
When the fleet management team knows where the drivers are in real-time, it increases accountability and efficiency. The Dashboard offers alerts in unforeseen situations before they get real. Helps in tracking and getting updates on delivery status.
Driver App
The GetSwift Driver mobile app offers ease of use to the drivers at every stage of delivery management. The app on drivers' phones sends out automatic SMS alerts to customers to update them. Drivers can communicate with the customers if needed.
Proof of Delivery
Proof of delivery like customer signatures, pictures, or additional notes might prove helpful if something goes wrong with the delivery or to clarify any confusion that might arise later.
Manage Fleets
Managing multiple fleets of drivers who operate out of different locations can be tricky. The management Dashboard on GetSwift can help your team manage the fleets easily, without any additional cost. It also offers a robust performance assessment tools for managers.
Manage Cash
The GetSwift dashboard can offer cash bonuses, record float, and even settle the account at the end of the shift. Any cash payments made to your drivers can be tracked right through the dashboard.
Data & Business Intelligence
The GetSwift dashboard offers analytics like average delivery time and individual driver performance. You can export the same data to the reporting platform of your choice.
Unlimited Integrations
With unlimited integrations on GetSwift, you can integrate orders, export delivery metrics, and connect invoicing. You can integrate the delivery management software with other platforms or use the GetSwift API.
Businesses That Benefit From GetSwift
The following type of businesses that benefit from using GetSwift.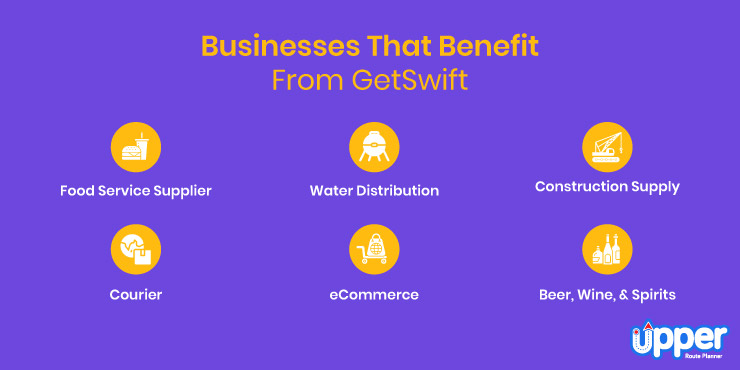 Food Service Supplier
GetSwift's platform has supported over 200 food delivery businesses. It became an automated delivery system with full tracking and reporting. Overall delivery time was cut down, and driver accountability increased. The Geofencing feature on GetSwift helped businesses save time and provide more accurate location data. It offered centralized data reporting like average delivery times and time-to-dispatch. It can be done via a smartphone, no hardwire equipment is required.
Courier
GetSwift's white-labeled booking portal helped in automatically updating the queue and saving time. Tracking driver's locations in real-time and evaluating their performance were made possible. The drivers can view all their upcoming jobs on their mobile screen. SMS feedback from customers allowed them to fix the problems at hand immediately.
Water Distribution
GetSwift has offered water distribution companies a 360-degree solution with features like drivers app, automatic customer alerts, driver tracking, and task scheduling. The entire team has access to a real-time map of driver locations. Each driver can be contacted if needed for help on a particular job. Customer alerts make it easier for businesses to inform customers about their deliveries.
Construction Supply
For a construction supply business, one feature that stood out the most was the dispatcher's ability to track orders through GPS tracking once they were out for delivery. The driver and order track service has proved to be beneficial for many businesses. Corresponding and informing a person on the delivery location became easier. The driver had access to the number of the assigned person whom he could text or call.
eCommerce
For several eCommerce businesses, GetSwift's software offered ease of use by setting up, adding, and removing products, easy navigation, and handling routing, billing, inventory, and drivers. The Pro version also offers automated and targeted email campaigns that can easily boost the eCommerce business's efforts in reaching out to its customers.
Beer, Wine, & Spirits
GetSwift's integrated suite of features made it the perfect choice for an alcohol company in South Africa. It helps businesses manage several complex situations like inventory, pricing, order placement, billing, and route management.
GetSwift Reviews & User Ratings
Here are the positive comments and areas of improvement based on user ratings.
Positive Comments
Here is a list of positive GetSwift reviews.
Auto-assign and Geo-fencing features are useful.
It is good how all the delivery management can be done through the mobile app.
The team can receive personalized details about every customer we serve.
Ease of use while posting jobs, tracking drivers, and deliveries.
Areas of Improvement
Here is a list of improvements GetSwift can work on.
The software lags or slows down when there are too many orders.
A flat monthly fee would be preferred.
Difficult to rearrange the order of stops and pickups.
There is no multi-stop function and no breadcrumb trail.
The maps do not update quickly, which delays the ETAs.
Basic features like route optimization and driver features do not work well.
Customer Service personnel were not helpful.
Needs Asset Manager, Item Storage, Bar Code Scanner, and offer Value for Money.
You can check out another review by us here:
Onfleet Review – Fueling Your Business Delivery Process
Is There An Alternative?
Each delivery management software is known for something specific: an intuitive mobile app, accurate route planning, affordable pricing, or app integrations. GetSwift is quite amazing in the features it combines and brings together in one platform. It works for different kinds of enterprises, medium and small-sized businesses. But the pay-per-delivery plan might not work for every user. Most users like to have a flat monthly fee per user for using a platform. For such users, there is an alternative- Upper Route Planner.
What is Upper Route Planner?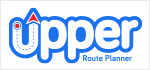 Upper Route Planner is a SaaS that helps individual drivers, contractors, couriers, medium and small business create efficient routes for their daily delivery operation. It not only focuses on serving businesses but also aims to work towards helping individual drivers in finding a cost-effective route planning software. This becomes an important part of good customer support and service.
Why is Upper Route Planner Suitable?
Upper Route Planner has a human-centric design approach to its web-based and mobile apps (iOS and Android). It works toward making things easier for its user while offering value for money for the product they buy. On Upper, users can choose from map services like Google Maps, Yandex, and Waze for support. It offers some advantageous features like Drag Drop Scheduling, Bulk Address Import from Excel, Route Sharing, and Location-Based Auto Detect. Upper offers a 3-day free trial. Upper Route Planner believes in providing the best possible customer support to all its clients.
Conclusion
Finding software that can boost your supply chain while also offering value for money is a difficult task, but not impossible. This is why, by way of reviews, we try to introduce you to different platforms that might be useful to you in some way or the other.