We have explosive growth in last-mile delivery in the past few years. The dramatic rise of same-day deliveries and the rise of e-commerce caused this growth. In essence, we are witnessing a shift in the ways that logistics and our whole society operates. This topic affects many organizations, from the public to the private, and the big and the small. We see this highlighted in many studies, notably this one, which speaks to eCommerce's growth since 2017.
Many of these organizations need to be well aware of the tremendous costs involved in these deliveries and know what to do about it. As such, we wrote this article to answer some of the main questions people may have on topics such as definitions, goals, regulations, benefits, the impact of this sector, and what to do about it.
Basics of the Last-Mile
What is the meaning of Last-Mile Delivery?
As Wikipedia puts it, "The last mile is a term used in supply management and transportation planning to describe the movement of people and goods from a transportation hub to a final destination." (from Wikipedia) It's really about the final journey of a supply chain.
We will go in-depth about the stages of the supply chain further in this article. We are covering about taking the step from a distribution center to the end user's (or client's) delivery destination. The distance can range between a few yards to about 100 miles.
How does Last-Mile delivery work?
These are services that include all the last-mile carriers involved in delivering goods and services within that previous mile (from Amazon, UPS, FedEx, USPS mail delivery, to startups, smaller couriers, logistics companies, and carriers). These are all last-mile logistics solutions. As mentioned above, this generally means between the last transportation hub (or warehouse) to the final destination (typically a personal residence).
These delivery services are a crucial piece in the e-commerce sales puzzle because customers have very high expectations. If there is not high customer satisfaction, they will take their business elsewhere.
This fact means that retailers and logistics companies are now facing an enormous challenge: to withstand the high costs of last-mile deliveries. More on that later.
What is the Purpose?
The primary goal is to deliver goods and services to consumers with speed and cheaply. The purpose is also to keep a high degree of customer satisfaction. Ultimately, the goal is to save an enormous amount of money and time and a business profitable and efficient.
What are All the Steps in the Supply Chain?
There is a variety of steps in the supply chain. We are going to present a brief overview of these stages:
Raw Materials
The first step in any supply chain is raw materials. Depending on the business you are in, the raw materials will differ. If you are in food delivery, your raw materials could be avocados from Mexico, garlic from China, or olive oil from Europe. If you are in the manufacturing industry, raw materials could include iron or other metals, or wool for the textile industry.
Manufacturer
The second main stage is the manufacturer. Now at this stage, there are two types of manufacturers: intermediary (supply chain) manufacturers and finished product manufacturers:
Intermediary manufacturers
These are manufacturers that will use the raw materials to create products or materials used by the final manufacturers. Examples of this could be factories in China or South East Asia that produce electronics components sent to an organization, for instance, Apple.
Finished Product Manufacturers
These are the manufacturers of the finished product. If you are in the food industry, this could be a protein bar or a pre-packaged meal. For apparel industries, your finished product will be a t-shirt or some other type of swag. For an electronics company, this would be an iPhone, or a Google Pixel, and so on. Companies in pharmaceuticals will produce the medication. They all will then use shippers.
First Mile
Once the manufacturer has completed its product, the product then goes to the retailer. This stage is where the so-called "first mile" begins.
An answer in Quora summarizes this quite well by saying it's "the effort that it takes to move goods from the manufacturing system to the beginning of the distribution system."
Source: https://www.quora.com/What-is-first-mile-delivery-How-is-it-different-from-last-mile-delivery
Organizations often use distribution companies to achieve this stage, and this process usually involves other logistics partners and service providers. The product will eventually arrive at a retailer's warehouse space or hubs.
Last Mile
The complete journey of a product is from the warehouse shelf to the consumer's doorstep. The most important part of the logistics and supply chain is the last mile. The last-mile starts when there is an order from the retailer and is the final stage in the "product's journey." The key difference between the final mile and the first mile is that you can ship in bulk quantities in the first mile and have economies of scale (you can save costs by sending a large number at once). The new reality presents many different logistics problems, where route management, an excellent delivery system, transportation assets, and much more come into play.
What are the Costs Associated with the Last-Mile?
How Much Does Last-Mile Delivery Cost?
The problem of inefficiency is to get the final portion of the delivery. This is a huge issue for retail sales. The cost of the final mile is enormous. It is estimated that last-mile delivery comprises 53% of all overall expenses.
Changing trends in customer expectations compound the problem. As Business Insider puts it, "And with the growing ubiquitousness of "free shipping," customers are less willing to foot a delivery fee, forcing retailers and logistics partners to shoulder the cost. As such, it's become the first place they're looking to implement new technologies and drive process improvements."
https://www.businessinsider.com/last-mile-delivery-shipping-explained
The graph below is taken from Statista and outlines this phenomenon quite convincingly. Their research estimates the average cost incurred to organizations is $10.10, whereas the average price to charge is $8.08; this leaves a deficit of $2.02 per delivery (ouch!)
It gets worse, though. The average cost that consumers are willing to pay is a paltry $1.40 per delivery. These data points are why this is such a big topic and has the attention of fulfillment centers, shipping companies, and those in supply chains.
Why is it So Expensive?
The big problem with the last mile today is that it's inefficient. As mentioned above, the final leg comprises of multiple stops with small charges. As you can imagine, there is a lot of variabilities when it comes to delivering directly to consumers (where to leave the package? Are they home? What is the exact location? Can I get confirmation from them? What to do if there's poor weather? etc.)
When you look at rural regions, there could be several kilometers or miles between stops. This fact means there is a long period between destinations or locations. The costs add up for delivery organizations when you think of everything that goes into these deliveries: people, vehicles, management, etc. Many urban areas are not much better because of traffic congestion and other infrastructure issues.
These inefficiencies have risen dramatically with the rise of e-commerce companies in the United States and worldwide. The growth of e-commerce means that demand for home delivery will continue to rise. The number of parcels will increase, and customer experience will continue to be key delivery challenges. This pressure causes massive problems for a person working in this field.
Why is Delivery to the Last-Mile so Important?
There is a combination of three main reasons why anyone should pay attention to optimize their operations: 1) Retail is changing; 2) Consumer expectations are changing, and 3) Technological change and adaptation.
The Changing Face of Retail
Twenty years ago, brands like Sears were ubiquitous and dominant. Every home had its sales catalog. The 90s and 2000s were the eras of big brick-and-mortar stores. These companies were dominant players because they offered convenience: get everything that you need in one store!
Nowadays, access and convenience have changed dramatically, and the trend is tilted heavily towards e-commerce and home delivery. This trend equates to a compounding complexity for last-mile customer deliveries and the last-mile logistics sector as a whole.
Answering Consumer Expectations
As a more significant market share of shopping turns to e-commerce, expectations of shoppers increase. More and more, rapid and seamless fulfillment of orders isn't just a "nice to have," it's quickly becoming a "must-have" in terms of online shopping experience. Retailers are looking to keep up with the demand for quicker ways to get the last-mile delivered. The threat of Amazon Prime looms large over all logistics companies, and to survive; it's crucial to meet customer expectations.
The expectations are rising. Fast delivery is considered critical to 99% of consumers in the United States. Many consumers feel frustrated with the lack of transparency, professionalism, and accuracy when having items delivered.
These statistics point to a tremendous opportunity to build brand loyalty when executing delivery right. The data is pretty clear in this respect: 74 percent of consumers more likely to buy from you again if you offer same-day service. Additionally, about 25% of consumers are ready to pay a premium for this service.
For more information, What You Need to Know About Last Mile Carrier Tracking in 2021
Adapting to the Technological Change
New technologies are transforming the industry, and the transformation of the last mile is spurring new technologies. There are enormous increases in venture capital investments in supply chain and logistics start-us. In 2015, for instance, the investments increased more than 400% (from $388M to $1,2B).
These changes mean that not only are start-ups racing to create a concept and apps that help solve the problem. These changes also mean that existing retailers, couriers, e-commerce package delivery companies, and more need to adapt and adopt these new technologies in their marketplace.
Several technologies are being explored, including artificial intelligence, automation, delivery robots, robot drone, self-driving cars. These are future trends (covered below), and there is also significant investment in route planning (or route management) software and other software to optimize the delivery process.
Plan quickly, deliver faster, delight customers and get home early.
Everyone deserves to have simple and easy route planning.
5 Major Trends to Watch For
The world is changing very rapidly. And so is last-mile logistics. Knowing and studying the trends will allow you to keep the advantage in your industry and make the adjustments to be a leader in your field.
Below are some of the critical trending topics:
Improved Traceability
Smart Technology Sensors
Crowdsourcing and Gig Economy
Self-driving Delivery Vehicles
Upselling
Improved Traceability
The modern end-user wants to know precisely where their product is in every stage, in all the delivery points. This phenomenon is called traceability. Thank notably to smartphone technology, we are blessed to have the possibility of step-by-step information for users. Drivers can accomplish this using bar codes, scanners, and other devices. Finally, this technology allows for proof of delivery, another critical stage in the process.
Smart Technology Sensors
As mentioned, the modern consumer wants to track their order at every step. They want to know the shipment process from the warehouse, the transit, and updates to the delivery destination. The technology we have today has made this distinctly possible. Nowadays, sensors can also be added to packages to detect humidity or temperature levels of the inventory. Other in-transit technology can predict the weather patterns to keep products safe, in particular perishable items.
Crowdsourcing and Gig Economy
Another big trend is the rise of supply chain and logistics start-ups, particularly in the "gig economy" or "crowdsourcing" space. Venture-backed capital in San Francisco, and other cities, are lining up to invest massively in this sector. Interestingly, venture capitalists are not backing assets but rather technology and information-based startups to build these transportation networks.
In this regard, a company that comes to mind is Uber, which is currently the gold standard for this type of business model. Many of these models use a "job post to job complete" flow, whereby the platform facilitates the delivery using inputs from users in all stages.
Self-driving Delivery Vehicles
As mentioned earlier, costs are very high when fulfilling orders to consumers for last-mile delivery. One area where there is a lot of interest is to reduce labor costs by having fleets of autonomous last-mile delivery vehicles. Vehicles include trucks, cars, drones, and any delivery robot that can deliver a parcel to a recipient. These would allow not only cost savings but also around the clock delivery as the robot carrier needs no sleep.
By most estimates, there is still some time before solving all limitations of this technology, and regulation is adopted. The capacity of this tech makes it one of the best alternatives to the current delivery model. However, one thing to note is that large corporations such as Tesla and Amazon are investing large sums of money into these capabilities. Amazon, in particular, has invested $530 million in its self-driving car company called "Aurora."
Upselling
The final trend to be aware of is upselling. The importance of upselling is paramount. Uberlo notes the following:
The probability of selling to existing customers is 60-70%, while the probability of selling to a new prospect is 5-20%.
Source: https://www.oberlo.ca/ecommerce-wiki/upselling
More and more companies are studying psychology and the user journey points to leverage extra sales. This job is dramatically more comfortable with mobile and smart technology, data analytics, and predictive intelligence technology. Gentle nudges, or suggestions, can be made at critical times to increase sales. This trend is already apparent and is likely to continue to grow.
What Can I Do to Reduce My Costs?
Use Route Optimization Software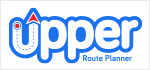 The number one change to make is to acquire a great last-mile delivery app to help with your route planning. Route planning is a much more complex problem than what it appears to be at first glance. There are a high number of factors that come into play that can increase efficiency and reduce costs. We strongly suggest using Upper Route Planner.
Continuous Optimization
Another way to improve last-mile delivery profitability is to do continuous optimization during the day. As new customers place orders during the day, software with real-time optimization can help reorganize the transport schedules. Last-mile logistics systems must consider all the factors, evaluate them, and create optimized delivery times.
Right Vehicle for Right Fit
Another way to cut last-mile logistics and last-mile delivery costs is to ensure that you have the right vehicle for the right job. For example, there may include certain deliveries in congested urban areas; for these routes, you may want to use a different kind of vehicle in density areas than in rural areas. Of course, you will want to look at vehicle utilization as well.
We've covered vehicle costs and other factors in our article on Fleet Management.
Return Policies
On a more human level, 92% of consumers say they would purchase again from the same supplier if they have an easy return policy. This preference has to do with the perceived risk of purchasing something online that they've never seen before. Therefore, if improved, this is an area that can lead to a substantial increase in repeat clients. Areas of improvement can be at the checkout process or in the marketing. Having an excellent reverse logistics plan to go with this is in your best interest.
---
FAQs
This final stage of delivery is important because it can mean the difference between going out of business or becoming a market leader. Fast delivery and positive customer experience are increasingly important to customers.
The main problem is the high costs associated with the inefficiencies inherent to the current model of delivery. There are a lot of variables that go into last-mile delivery. Companies are adapting by using mobile and other technology, and the issue is that the industry is slow to catch up.
---
Conclusion
In conclusion, the importance of optimizing your last-mile delivery is undeniable. Please note the rising trends we discussed and determine how they can best fit your overall shipping plan. We hope this covers many of your questions relating to the challenges of last-mile logistics! If you have any questions, please don't hesitate to contact us or send us a message with your email address, and we'll be sure to get back to you!