Key Takeaways:
Trends in last-mile delivery are being driven by the expansion of e-commerce.
Autonomous delivery vehicles are becoming more prevalent.
In urban areas, same-day delivery is increasingly becoming the new norm.
Many businesses are now providing ecologically friendly delivery solutions.
The last few years have brought drastic shifts in the last mile delivery market. This change has been largely caused due to growing consumer demand for faster delivery and accurate tracking. Around 69% of customers in 2021 were likely to click on the Ad that said 'fast or free shipping.' This has impacted 3PLs (third-party logistics providers), as they are the link between receiving packages and moving them to shipping carriers.
The quarantine effect, when people started buying essential items online, impacted all the processes in the entire supply chain. If you follow the last mile delivery trends in 2023, you are sure to get a competitive edge over other companies. This blog will uncover the top 12 trends that you must not miss out on at any cost!
Basics About Last-mile Delivery
Last mile delivery is the last milestone of the parcel shipment, wherein the product reaches its final destination. This can either be a residential address or a commercial one. The delivery agents have to ensure that they make parcels available to customers within a specific time frame.
A faster order delivery earns you more loyal customers. It involves the movement of packages stored for some time in the last mile distribution center to the delivery location. It is a significant step in the entire supply chain due to a lot of processes, checks, and other tasks being performed.
12 Last Mile Delivery Trends that Can't be Missed in 2023
The fulfillment process is seeing a lot of trends starting from smart technology that comes with sensors in packages for location tracking to autonomous delivery bots. These are in turn helping businesses offer cheaper deliveries and tackle major concerns. Here are the top 12 trends to watch out for:
1. Keeping a short last mile delivery window
The rising consumer expectations for fast deliveries are making it crucial for delivery teams to remain on their toes everyday. Customers' patience and endurance levels are decreasing. They want to escape the hassle of stepping out to a supermarket and wasting their time.
Quick commerce has resulted in businesses focusing a lot on logistic operations to shorten the delivery time windows. The fast delivery segment is expected to rise exponentially in the coming years, and the delivery time of essential items can be minimized between 10 to 90 minutes.
The rising quick commerce demand can only be fulfilled with the help of micro fulfillment centers spread across the city or state. A robust technology web can also help manage the entire delivery ecosystem. It requires robust strategies and advanced route planning to compete with the big guns in the industry and adapt to the rapid last-mile fulfillment driver happening globally.
2. Developing warehouses within the city
The increase in speed of deliveries and the popularity of same-day delivery has made businesses switch towards urban warehousing. Online delivery businesses and logistics companies want to minimize the delivery distance between customers and warehouses.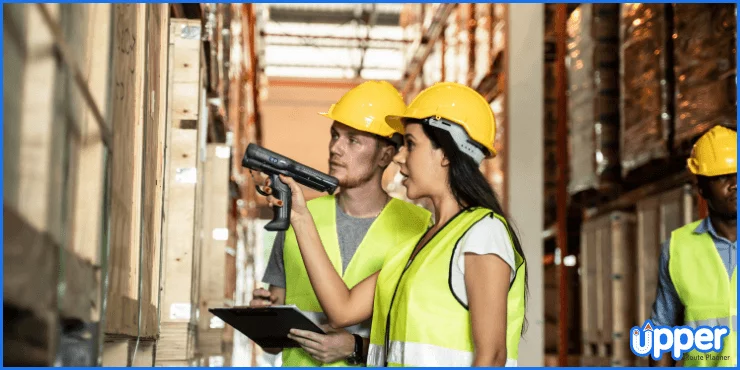 Urban warehouses can be an ideal option to complete instant product deliveries with a quick dispatch and delivery ecosystem. Businesses are switching from big warehouse spaces in the suburbs and rural areas, and moving toward the city.
The reduction in the transit time helps enhance the customer delivery experience and minimizes the burden on your in-house team. Your drivers can quickly trace the delivery paths and increase productivity with instant deliveries.
3. Bringing delivery in-house
A significant shift has been witnessed by businesses shifting towards creating their in-house logistics and delivery segments rather than relying on third-party delivery partners. Companies purchase their own fleet of delivery vehicles and develop a secure local delivery service ecosystem.
Businesses want to deliver their customers an enhanced delivery experience and don't want additional involvement. So, these companies are trying their best to avoid any hiccups in the customer experience that can result in business loss.
Multiple delivery vehicles have been brought and integrated into the delivery ecosystem of online retailers. Businesses are looking to hire local drivers who have decent knowledge about the area and can deliver reliable results.
4. Making the end customer happy
Providing a delightful experience to customers is paramount in the last-mile delivery process. Businesses focus on tailoring last-mile delivery strategies and training their employees for quality customer service.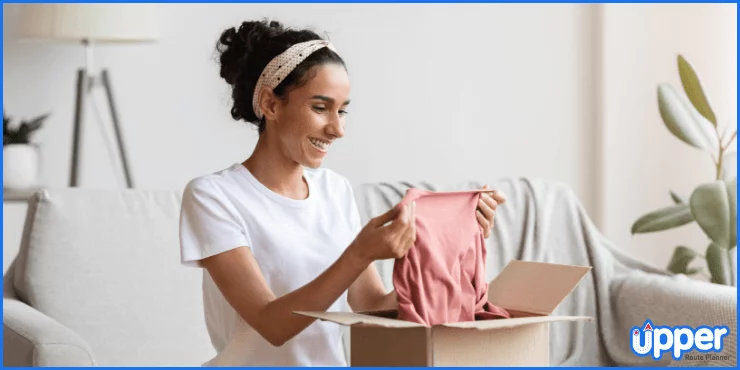 Another significant shift in bringing customer satisfaction is providing customers with real-time updates about their packages. Businesses are stepping beyond tracking codes and sending push notifications with quick updates at different touchpoints in the last-mile delivery address via email or SMS.
Multiple last-mile delivery software solutions are being used and integrated into the business ecosystem to maintain a premium customer experience. This also ensures the smooth functioning of delivery operations.
5. Contactless delivery
Pandemic has promoted the trend of contactless deliveries, and businesses are slowly adapting to the trend post-pandemic times. Over 40% of the United States customers now prefer contactless deliveries and want businesses to take safety precautions during deliveries.
Contactless delivery is offered by most logistics companies. These services companies have started taking safety measures to ensure limited or no contact. As a result, customers can relax and have peace of mind.
Contactless proof of deliveries have also become the new norm in last-mile delivery, as customers and delivery drivers want to avoid physical interactions.
6. Data analytics to predict customer purchase behavior
A new trend, still in the nascent stage, has emerged as the highlight in the last-mile delivery trend. Businesses are exploring new ways to convert their target audience into their customers.
The use of big data plays a critical role in this approach. Businesses are using the power of data analytics to predict the possibility of customers requiring a specific product.
Only food delivery businesses adapt to the new trend. The chances are that multiple other business industries can adapt to the trend shortly to cut the delivery time and provide a unique purchase experience.
7. Using an automated fleet of vehicles
Automation plays a significant role in helping last-mile delivery operators scale their businesses and boost their bottom line.
Multiple retailers are looking to integrate robotic deliveries using self-driving vehicles, drones, robots, and delivery bots. Big guns like Amazon have invested a hefty sum in Aurora, a modern autonomous technology developer.
Businesses must take different regulations and local government approvals to adapt to the new-age delivery solutions completely. Still, these trends highlight the future potential in last-mile delivery.
8. Reducing carbon emissions through green logistics
Sustainability is playing a crucial role with each passing day, and this applies to customers as well. This directly impacts businesses that wish to make a good impression and grow. With the rising carbon emissions, customers are becoming more environmentally conscious when buying items.
Companies running the last mile deliveries will have to ensure they maintain their brand's value by adhering to these issues. Moreover, reducing the carbon footprint will help the planet, and in turn, benefit us all.
So, last mile delivery operators are becoming more focused on finding solutions to minimize the delivery distance and cut down on fuel usage. This will need you to use the right logistics technology so you don't just reduce miles, but can also track the effect of your sustainability measures.
9. Combining different delivery models
Many retailers have started combining their own fleets with third-party providers, as well as crowdsourced and gig delivery drivers. With such a hybrid delivery model, you can ensure control and scalability.
A hybrid fleet model needs an appropriate transportation management system that can manage all the last mile delivery aspects in one place. It must have a centralized dashboard that aids you in optimizing routes, monitoring vehicle location, and getting delivery updates.
Although many businesses are trying to get their hands on this trend, there's still a scope of improvement in managing everything. This challenge is still keeping many companies tied to a single third-party logistics provider.
10. Outsourcing delivery jobs to contractors
Delivery companies have started utilizing crowdsourced delivery models and the gig economy to transport packages to their customers. Freelance drivers who own vehicles can connect with these companies and deliver orders to particular regions.
Here, you don't have to invest your capital as needed in the traditional fulfillment model. Hence, there are fewer hurdles, to begin with. This is an incredible and cost-effective option for regional delivery carriers who offer two-hour or same-day delivery to urban areas.
But, it comes with some challenges around infrastructure, training, and security standards that are available with professional fulfillment providers. So, you will have to correct the issues if any sort of delivery mess happens.
11. Reaching more people with new ideas
With the rising competition in the market, shippers must go beyond outdated methods to reach more audiences and turn them into their customers. As a result, there is a need for delivery drivers to expand their roles in the last mile delivery process.
This trend brings drivers to the forefront of selling products to the target audience through mobile business ideas. Mobile warehouses can also help drivers become merchants and sell items from their trucks or vans.
As a maximum number of people make buying decisions via the internet, using it to display advertisements still remains a good option. Social media is the best way to bring in new customers and generate revenue.
12. Using route planning software
Route planning and optimization software has become the most trusted and reliable technology adaptation to streamline the last-mile delivery flow. It also helps achieve quick and optimized deliveries.
It helps achieve the planning goals with maximum efficiency and sets a solid foundation for the delivery drivers. Thus, they can follow the shortened and optimized path to achieve minimal delivery time for maximum deliveries.
Route planning and optimization software has helped businesses bypass manual route planning hiccups and analyze the delivery path. They can consider multiple touchpoints like traffic, weather conditions, and vehicle efficiency.
Leverage Your Last Mile Delivery Process with Upper Route Planner
While looking at the last mile delivery trends, it is important to focus on a lot of operations that make it happen to your end goal. You can not do it all alone in the era of technological evolution and automated route planning solutions. Here's where Upper Route Planner comes to your aid and makes your route optimization process super smooth and cost-effective.
1. Route optimization
Ever wondered if you could leave the load of manual work and find the best routes in a few seconds? With Upper, you can't just do that, but also save a lot of fuel and money used for deliveries, as your drivers can reach their destinations with the help of optimized routes.
2. Multi-stop route planning
Whether you have a pile of orders to be delivered or multiple drivers to manage, Upper is all you need for route planning. It lets you schedule multiple delivery routes with ease. Additionally, you can also distribute those routes equally among your delivery drivers for optimal outputs.
3. Fulfillment of more orders
Whether you hold a food delivery business or offer cleaning services, Upper keeps your drivers on the fastest routes to perform last mile delivery. With these highly optimized routes, your drivers will save time to make additional deliveries and fulfill more orders.
4. Accurate ETAs
As we saw, customers are the happiest when they have information about the exact location of their parcels. Upper comes with this advanced feature, so you can delight them with alerts about their products and notify them as per the delivery updates.
Make the best use of the technology and advanced features of Upper by signing up for a 30 days free trial today!
Outperform Your Last Mile Delivery Planning with Upper
Get into the fast-paced process of automated route optimization in your last mile delivery process with Upper Route Planner.
Try Upper For FREE

FAQs
The higher operational cost and time-consuming operations make the last-mile delivery process difficult for many online retail businesses and shift to third-party logistics providers. But these hurdles can be bypassed using the right strategies, a professional workforce, and the power of advanced technologies.
Optimizing last-mile logistics operations can be done by using robust route planning for optimized delivery planning that can help your delivery executives to increase their productivity and optimize the delivery operations.
With increased online shopping and changing consumer demands, the last mile logistics market rises. There are many potentials to be explored in the industry soon because of the rising demands. Businesses that offer quick local delivery services to their customers can rise in the last mile delivery industry.
Last-mile delivery service industry faces high operational costs, time-consuming use of outdated technologies, inefficient route planning, and real-time visibility.
You can expand your last mile delivery business after tracking your business's progress. Once you feel you have enough resources and funds to expand, consider the below factors:
Add new market niches
Reach new delivery locations
Offer additional services with delivery
Invest in large-sized fleets
Conclusion
The excitement of new trends draws in new customers, as they want something extra with their parcel deliveries to give an extra rating. So, the last mile logistics companies need to constantly upgrade their quality and make use of technological trends for growth.
If you wish to compete with big e-commerce giants such as Walmart and Amazon, switching to a route planning software is a must. That's where Upper comes to the rescue and releases the overload of manual tasks. You can perform one-click dispatch of routes, schedule routes in advance, take proof of delivery, and manage related tasks with ease. Try the 30 days free trial today.