Whether you are an individual contractor/driver or run a professional delivery business, you cannot afford to have inefficient routes in place to manage your daily deliveries. These routes are not only difficult to manage but also cut into your profits.
Delivery businesses require forethought and arrangement daily in the form of route planning. Planning a route can take hours when done manually. When your business process depends on the route plans you create, you can't afford to waste hours to create inept route plans eventually. Route planning is an important task that dispatchers can delegate to an algorithm or route planner.
Let us take a deeper look into what route planning is and some of the tools to plan your routes.
Basic Overview of Routes and Route Planning
Before we discuss the best route planners, let's take a look at what route planning is.
What is a Route?
A route is a course or the path taken to go from a starting point to a destination. It is a line of travel followed to reach from one point to another. It is something we all follow daily to reach someplace.
What is Routing?
Routing is selecting a cost-effective path and requires minimum time and effort to reach a set of planned stops. Basically, it is a way to figure out multiple methods or alternative approaches to reach a certain location.
What is Route Planning and Route Optimization?
Route planning is the method of calculating the most effective way of transportation to reach the destination through multiple stops. Route planning is often used to determined which path is the most cost-effective to move from one point to another.
Route optimization is slightly more complex than route planning. It is not just about finding the shortest path or distance between different locations. Route optimization considers multiple factors that affect the time taken to travel from one point to another.
The primary difference between route planning and route optimization is the agility derived from adjusting to sudden changes.
Why and Who Needs Route Planner Solutions?
Route planner solutions can be helpful for
People planning a road trip
Daily commuters
Delivery drivers
Independent contractors
Service technicians
Field sales representatives
Couriers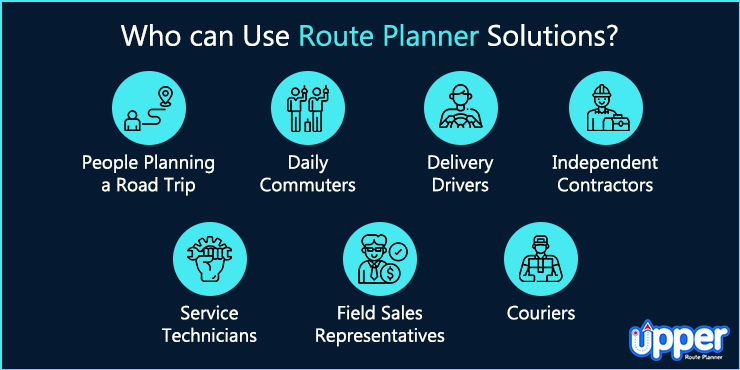 It is said that almost 50% of all field service companies still map addresses and plan routes using pen and paper or whiteboards. This can create significant disparities between the planned and the actual routes. With the help of route planners, users can automatically eliminate this disparity and automatically create the most direct route with accurate driving directions.
Top 16 Route Planners to Check Out for 2021
Here are some of the best route planners in 2021.
1 – Upper Route Planner – Best for Creating Multiple Routes for Multiple Drivers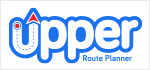 Upper Route Planner is a route planning and optimization app helping couriers, delivery drivers, and delivery businesses create multiple routes with multiple stops. Upper Route Planner aims to decrease your route planning time and so you can spend more time fulfilling deliveries.
Platforms Supported: Web, iOS, Android
2 – Mapquest – Route planning and Optimization Tool for up to 26 Stops
Mapquest is a great tool that has been around for many years offering its users GPS navigation and route directions. Mapquest provides walking and driving directions, multi-segment routing, and built-in traffic information.
Platforms Supported: Web, iOS, Android.
3 – RouteXL – Creating the Fastest Routes with Multiple Stops
RouteXL's smart algorithm identifies and arranges addresses to reduce the overall duration of the routes. RouteXL is a web-based solution that helps you plan and customize routes with API integration and tracks vehicles via GPS or geocoding.
Platforms Supported: Cloud, SaaS, Web-Based
4 – MyRouteOnline – A Route Planning & Optimization Tool That Optimizes your Routes in Seconds
MyRouteOnline is a multi-route, multi-stop route planner and optimization solution that minimizes distance and time and allows multiple manual changes. The mobile app integrates with popular navigation apps, allows API integration, and integration with TomTom Telematic's WEBFLEET.
Platforms Supported: Cloud, Saas, Web-Based, iOS, Android, Windows.
5 – ViaMichelin – A Route Planning Tool with Accommodation and Restaurant Booking
ViaMichelin offers online mapping services. It also provides multiple route calculation options with cost, real-time road traffic updates, accommodation and restaurant reservations, and highlights tourist spots.
Platforms Supported: Web, iOS, Android.
6 – RAC – A Route Planner With a Text-Based Planning System
RAC Route Planner has been used by over a hundred thousand motorists in the past. RAC offers Traffic News and Mileage Calculator. The new Maps feature provides the ability to find garages, hotels, and car dealerships based on the location.
Platforms Supported: Web, iOS, Android.
7 – Roadtrippers – A Route Planning Tool for Travelers
Roadtrippers' database is loaded with millions of fascinating places from around the world. It aims to make road trips more manageable and more fun. Roadtrippers accepts stories from travelers which are shared with users on the app. This way, it becomes easier to find cool new destinations to visit.
Platforms Supported: Android, iOS.
8 – Ride with GPS Route Planner – A Tool to Map, Analyze, and Record Your Bike Routes
RidewithGPS Route Planner is dedicated to creating accurate biking routes. It offers turn-by-turn directions, waypoints, and customer cues. It provides multiple map styles (street-view or satellite map) and integrates with Garmin and Wahoo devices.
Platforms Supported: Android, iOS.
9 – Circuit Route Planner – Free Route Planners With Multiple Stops
Circuit for Teams helps delivery businesses create routes, track deliveries, manage drivers and fleets. With features like route optimization, customer notifications, and accurate ETAs, Circuit makes managing fleets of any size an easy task.
Platforms Supported: Cloud, SaaS, Web-Based, iOS, Android.
10 – Route4Me – A Route Planner to Solve Daily Routing Chaos
Using Route4Me, dispatchers and delivery managers can create routes within minutes and dispatch them to drivers' mobile app. The mobile app offers built-in navigation and is specifically developed for field service, field sales, and territory management.
Platforms Supported: Cloud, SaaS, Web-Based, Mac, Windows, iOS, Android.
11 – Geopointe – A Geo-mapping Tool with Geographic Searching and Live Asset & Vehicle Tracking
Geopointe is a geo-mapping application that allows users to get spatial insights via maps and geography in their business processes. With Geopointe, converting Salesforce data into actionable insights to improve business operations is easier.
Platforms Supported: Web-Based, Android, iOS, Windows.
12 – Speedy Route – A Route Planner with Location Time-boxing and Drag-drop Re-ordering
Speedy Route is an ideal tool for delivery drivers and salespeople on the road. It can plan routes for single or multiple delivery vehicles. This can prove to be useful for delivery businesses with a large fleet.
Platforms Supported: Cloud, SaaS, Web-Based, Android.
13 – Maptive – A Global Mapping Software for Supply Chain, Real Estate, Sales, and More
Maptive can transform your address data in a custom Google map in a few minutes. Maptive allows users to create heat maps, sales density maps, store locators, territory maps, and more.
Platforms Supported: Cloud, SaaS, Web-Based.
14 – BadgerMaps – A Route Planner for Field Sales
Badger Maps is a route planning tool specifically built for sales reps and sales teams. It allows sales teams to manage their territories by combining data from the CRM with Google Maps. It offers schedule planning, route optimization, and lead generation on the user's mobile app.
Platforms Supported: Cloud, SaaS, Web-Based, iOS, Android.
15 – Maps.ie – Calculates Routes Using Google Maps
Maps.ie is a walking, cycling, and driving route planner. Maps.ie offers quick route directions and a way to create a convenient itinerary throughout Ireland.
Platforms Supported: Web-Based.
16 – The AA Route Planner – Route Planning Tool with a Simple Interface
AA Route Planner is a simple and easy-to-use route planning tool to plan a UK, Ireland, and EU journey. AA offers text-based directions and the ability to save routes and view traffic news. It is perfect for people looking for hotels and B&Bs on their road trips.
Platforms Supported: Web-Based, iOS, Android.
Want answers to some of the common questions that you have in mind? Continue reading our next section – frequently asked questions.
---
FAQs
Mapquest and Waze are two of the best free route planners. Google Maps can also be added to the line-up to be used as a navigation app-cum-route planner.
You can create a route with multiple stops using free route planners like Mapquest and Waze. If you want more optimal routes for multiple stops up to 100 or more, you can choose from other options like Upper Route Planner, Circuit Route Planner, Badger Maps, and Routific.
---
Use a Proper Route Planner for Your Next Journey
Having a proper route planner in place will improve your delivery business and set you apart from the competition. Make sure you choose the right route planner for your delivery services. It can also help you save time and fuel on a road trip or your daily commute. We hope the list mentioned above has been helpful to you. In case you have any questions, you can reach out to us. We'll be happy to help.