Different businesses have different requirements, especially when the size of the business is large, the requirements are varied. For such large organizations that need different categories of their business functions handled on a single cloud-based platform like vendor management, shipping management, order management, inventory optimization, etc. They will require a more comprehensive management system that has the ability to handle a variety of categories.
In this Routeique review, you will learn more about cloud-based logistics and delivery management software. Routeique software is stunning as a full-fledged supply chain system that takes care of all the different functions of the process like inventory management, shipping management, fleet management, driver management, vendor management, etc. It is a software company that combines different things in one software quite well with good customer service and value for money.
What is Routeique?
Routeique is a cloud-based software that can help a commercial delivery operation in managing its logistics. Routeique handles all the different parts of logistics and supply chain businesses like order management, inventory management, route optimization, and fleet and driver management.
Routeique is an end-to-end order and delivery management software. It helps in connecting manufacturers, distributors, retailers, and consumers. The synchronicity of various networks helps in improving visibility and flexible inventory optimization and dispatch management. Routeique offers a free trial to check out the different features and functionalities.
Features Offered by Routeique
Here is a list of Routeique features.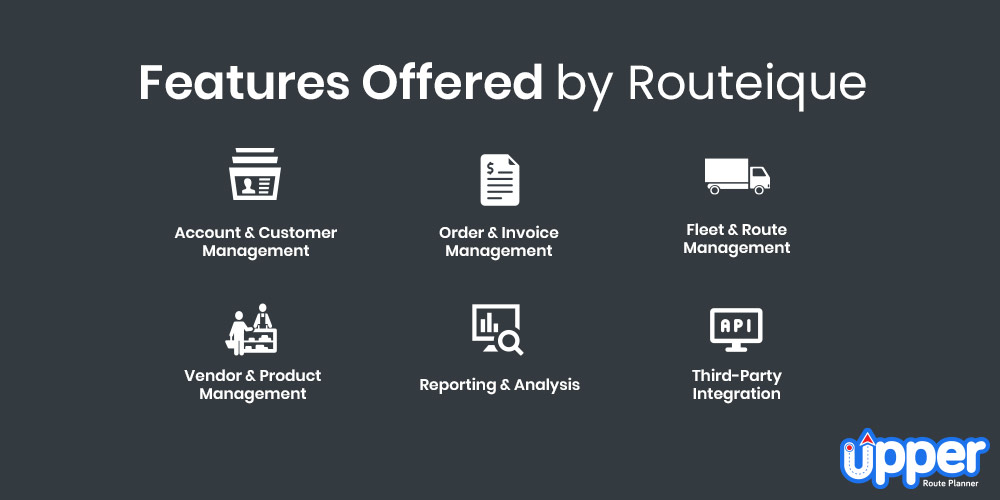 Account & Customer Management
With Account & Customer Management, your employees can edit customer profiles, manage payments, update schedules, and GPS information. This way, you can make sure all the updated information is available and accessible through the business software.
Order & Invoice Management
Creating and modifying orders become easier with Routeique. This information becomes accessible on the platform. This allows all your employees – dispatch teams, drivers, and warehouse personnel to be aware of all the changes.
Fleet & Route Management
Information like traffic parking restraints, customer preferences, and similar information is considered for creating an ideal route. This boosts the delivery operations and improves supply chains.
Vendor & Product Management
Routeique allows you to know the exact product inventory sorted by price, vendor, date, code at the site. It is an inventory management platform with information about all the products you have and where they are placed.
Reporting & Analysis
Routeique offers accurate and accessible metrics. This is in standard reports like sales revenue, order volume, sales reps, drivers, etc. Staying informed with the right data, you can make sure your management doesn't lag.
Third-Party Integration
Routeique makes integration with a bunch of different back-office systems easier. This includes accounting software and partner integrations using an API.
Solutions by Routeique to Distributors & Field Service Businesses
Here is a list of different solutions provided by Routeique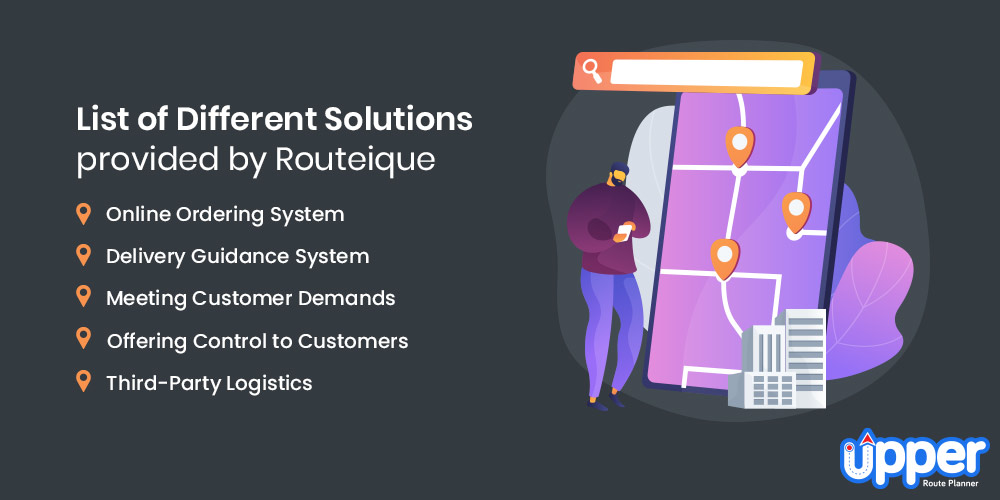 Online Ordering System
Buyers are constantly expecting more and more from organizations. Routeique helps such businesses by offering software for order and inventory management. Using this software, a company can manage inventory, offer increased visibility with clear reporting, place and track orders, contact vendors, and schedule orders in advance.
Delivery Guidance System
This seamless solution from Routeique will allow you to manage your days and deliveries. Using this solution, a company can manage order docket for the day, optimize routes, track and monitor fleet, communicate with customers directly, finishing work orders quickly and efficiently, and managing orders from anywhere.
Meeting Customer Demands
Distribution is a complex function in the supply chain process. It requires a robust system. With Routeique, a company can work on each step of the supply chain from a single platform, import existing data, ensure best customer service, increase employee productivity, track and trace at each step, customize pricing and services, and drive sales.
Offering Control to Customers
Routeique offers supply chain tools for enabling effective communication between your team and your customers after the order and delivery process. With the help of this solution, customers can place and manage orders. They can also easily track deliveries, communicate with the delivery drivers, and receive coupons.
Third-Party Logistics
The third-party logistics tools will help a business in managing orders, inventory, and much more. This solution allows your dispatch team to deliver the products at the right time. This solution will integrate with the customer's e-commerce platform, allowing import of orders, manage products and inventory, real-time reporting on order adjustments, offer home and retail deliveries along with proof of delivery.
Various Technologies Brought Together By Routeique
Routeique brings together the following technologies on its platform.
Supply Chain Technology
This technology is available through a mobile extension that allows a business to receive purchase orders, restock products into inventory, shifting products between zones and bins, keeping a track of all the damaged goods. Picking and dispatching products to fulfill orders, loading products according to order segmentation, and communicating with the Routeique Digital Control Tower is also possible.
Order Management System
Using Routeique's order management portal, you can avoid errors and save time. Customers can easily visit your B2B online portal 24/7 and simply place orders within minutes. They can place, edit, manage and cancel orders easily. Keeping a track of order status and viewing orders in real-time becomes possible. Complete control over order management is possible when there is good inventory management in place. When there is good inventory optimization, time management is also possible. It is a process.
Delivery Management System
The delivery management system is a mobile application for iOS and Android devices, a replacement for a traditional cloud-based transportation management system. This portal for drivers allows them to manage, create, or delete orders while on the road, locate addresses with driving directions, optimize routes, tracking damaged, lost, or returned items, tracking proof of delivery with the ability to capture signatures and store stamps, billing/invoicing on the road, and accept payments on the spot.
Blockchain
Blockchain offers transparency and accurate end-to-end tracking through a digital ledger. It offers a centralized record of all transactions, the ability to trace assets right from manufacturing to delivery, providing visibility to the organization and its customers, the same information for all parties involved, and streamlining admin processes.
Vehicle Intelligence Hub
The VIH monitors on Routeique the health of your entire fleet. The trucks or vehicles are integrated with the VIH system, with GPS tracking and product delivery compliance. It also allows scheduling of preventative maintenance while managing your deliveries at the same time.
Customer Reviews
Here is a list of positive comments and constructive comments for Routeique based on customer reviews.
Positive Comments
Here is a list of positive comments for Routeique.
Routeique has a good user interface design, user friendly.
The Routeique system is time-saving.
Excellent customer service by Routeique employees.
Constructive Comments
Here is a list of constructive comments for Routeique.
Lack of inventory for items divided on the basis of weight.
Lack of functionality for the field staff.
No credit card option available.
You can check out another review by us here:
Routific Review – Is it Enough for Your Last-Mile Delivery Business?
Is There a Suitable Alternative?
For companies that require a software solution that manages all the different parts of the supply chain like order process, shipping management, transportation management, order management, etc. must definitely opt for something like Routeique. But for an organization that wants software that mainly takes care of route optimization and fleet management with better value for money, then considering an alternative would be good.
What is Upper Route Planner?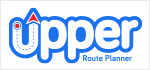 Upper Route Planner is a route planning and route optimization tool that is available as a web app and a mobile application. It works as a part of a delivery management solution by the way of handling the delivery routes. It helps courier businesses and drivers in creating routes quickly and seamlessly. With automated route optimization, a business can save a lot of time and money. Adding multiple stops to a route becomes easier with Upper Route Planner.
Why is Upper Route Planner a Suitable Alternative?
Upper Route Planner has a bunch of useful features like Quick Address Input, Share Routes, Optimization, and Reporting and Analytics. This allows a business to save time in planning for the deliveries while working on more immediate business needs. Upper Route Planner can help organizations in enhancing customer support and service.
As a software company, Upper Route Planner itself offers excellent customer service to its own customers or clients. It works really well for small businesses, courier businesses, individual drivers, and contractors. Upper Route Planner offers a 3-day free trial for you to try out the features. It can sync across the web, iOS, and Android devices and offers great value for money.
Conclusion
Making the choice for a particular software or software company will completely depend on the requirements of your business. If your business process is vast and has various needs and want those needs served through a single software, then a cloud-based software like Routeique software is a good option. You can try out the free trial offered by Routeique. In case, you want a more simplified route optimization software, then Upper Route Planner would be a good choice.