Managing and streamlining business processes is only possible if you have the right business management software at your disposal. We live in a time where most of our business processes or delivery infrastructure are handled through dedicated software. One such dedicated software is the route planning software that helps businesses plan, create, and optimize the best delivery routes.
In this RouteStar review, you will get to know more about one such industry-driven route optimization platform that includes additional functionalities like driver management, territory management, inventory management, online ordering, and field invoicing.
What is Routestar?
RouteStar is an industry-driven route sales and delivery distribution software that can optimize routes, create tasks, manage contacts, courses, and multiple inventory locations. It can also allow you to create invoices for clients from the field. With features like QuickBooks Integration and Managing Truck Inventory, RouteStar aims to set itself apart from any other route planning software in the market.
RouteStar Solutions is a part of Westrom Software Inc. It was founded in 2006 and is based in the United States.
How Does Routestar work?
RouteStar software can schedule routes with multiple frequencies, group and optimize stops with a built-in drawing tool. It can help you manage truck inventory by pulling list items on an invoice out of various locations. Setting up recurring preventative maintenance schedules makes sure that the process is smooth and hiccups are avoided. The software creates invoices for each delivery distribution and avoids any double entry. In addition to this, it offers a smooth two-sync with QuickBooks.
RouteStar Solutions Pricing Plans
RouteStar Solutions has the following customer pricing plans.
Small Teams: This plan is suitable for up to 4 desktop users and two mobile users, with features like Quickbooks Integration, Software Updates, Annual Report, and Unlimited Routes.
Small & Medium Businesses: This plan is suitable for up to 8 desktop users and 15 mobile users, with features similar to Small Teams plan.
Enterprise Businesses: This plan is ideal for up to 20 desktop users and 50 mobile users, with additional features like Customer Portal and XPress Online Ordering.
RouteStar Solutions offers a free trial for its software.
We do not comment on specific pricing details and costs because they may vary. Please consult RouteStar Solutions or visit the website for updated prices.
Features Offered by Routestar Solutions
Here is a list of features offered by RouteStar Solutions.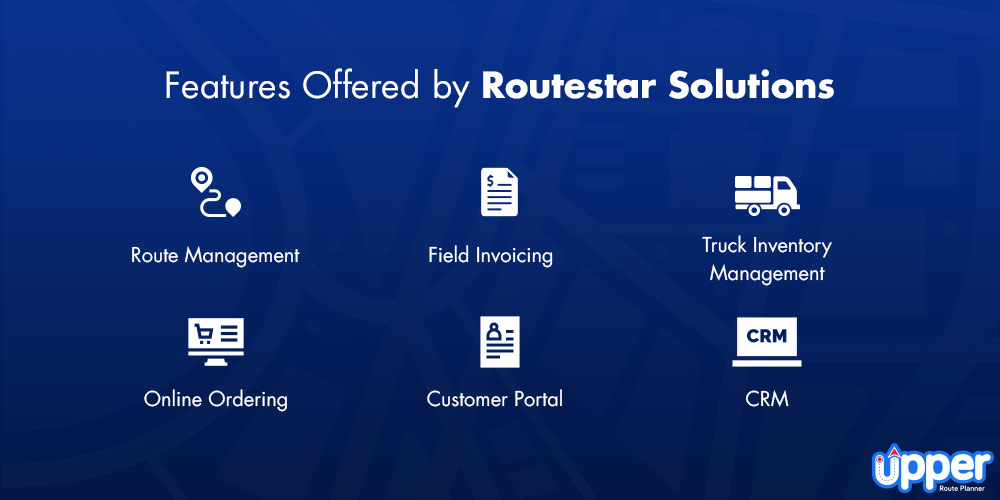 Route Management
With RouteStar Solutions, users can set up unlimited frequencies, use drag-drop scheduling, re-assign stops for a temporary assignment, suspend visits, and add notes. By tracking specific details like budgeted time, average sales, categories for route stops, missed stops, etc., it becomes easier to stay on track. Users are presented with a route summary that shows the number of visits along with the estimated time. Routes can be color-coded for easy identification. With real-time driving data from Google Maps, there is more accuracy in managing courses.
Field Invoicing
Users can view the real-time status of their drivers and pending invoices. They can view invoice details along with the client's signatures, notes, pictures, etc., which can be printed or sent to the client via email. It is possible to auto-generate invoices with the help of the route schedule. The driver is also allowed to create an invoice on the field and add attachments, collect and process payments, signature capture, and flag the invoice.
Truck Inventory Management
Companies can look for any items in their inventory and view details. With pre-kit capabilities, it becomes easier for the warehouse staff to do their job. With this feature, it becomes easier to know what the delivery drivers already have on their trucks, the inventory that needs to be put back, and have the items from the warehouse ready to go. Tracking and inventory management from the field become easy, thanks to the warehouse and driver association. The inventory can be transferred from one warehouse to another through the mobile app. This is the right way of asset tracking.
Online Ordering
Ordering becomes easy for your customers. This order directly goes to the driver or the route that is associated with the customer. A user also has the option to switch between multiple accounts and place orders.
Customer Portal
The customers can view and make direct payments through the customer portal. Customers can see the date of the next delivery and also reschedule. The Test Tracker on the dashboard allows customers to add special notes or instructions attached to the open and pending tasks. With the help of XPress Order, the customers can place orders directly using the customer portal. This results in increased efficiency and productivity for the business.
CRM
The CRM offers customized widgets. Users can set up stages for each of their quotes using these widgets. Users can assign a value, case type, status to the quote. Including attachments is also an option. It is possible to see tasks associated with a quote and get complete task history with performance metrics. There are unlimited custom forms for any repairs that are required.
Industries and Use Cases for RouteStar Solutions
Here is a list of use cases of RouteStar Solutions for different industries.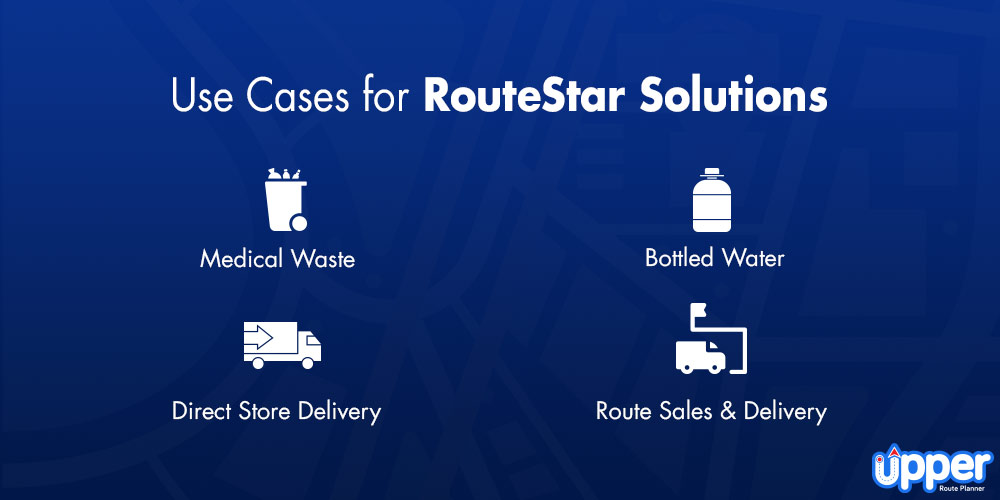 Medical Waste
RouteStar Solutions helps medical waste disposal companies stay organized by letting them create medical waste tracking documents, certificates of destruction, and printing or emailing digital manifests. The customers can make online payments, request service or report a problem, view invoices and payment history.
Bottled Water
Bottled water businesses have been using RouteStar solutions for scheduling routes with multiple frequencies, grouping, and optimizing routes. The platform allows companies to assign different pricing for each customer. Par levels and moving averages of each item can be tracked easily. Delivery history for each article delivered to a customer can be set up on the mobile.
Direct Store Delivery
Direct store delivery businesses can easily create tasks, manage contacts, routes, and multiple inventory locations. Creating invoices in the field and accepting payments from anywhere is made possible with RouteStar solutions platforms. Recurring preventative maintenance schedules can also be set up for clients. Service calls for clients can be tracked, and the closest technicians can be sent promptly.
Route Sales & Delivery
Route Sales and delivery businesses can plan, schedule, track, and route with RouteStar Solutions. By optimizing the routes efficiently, companies can save time and money. Drivers can accept payments, capture pictures, and print or email receipts or invoice to clients on the go. Sending estimates and upselling for your products is also made more comfortable with the RouteStar mobile solution.
RouteStar Solutions Reviews & Overall Rating
Here are the positive comments and improvement areas for RouteStar Solutions based on the customer service and features.
Positive Comments
Here is a list of positive comments for RouteStar Solutions.
The mobile app features are comfortable and make things convenient for the users.
Quick customer service.
Quickbooks Integration is a useful feature for many businesses.
The iOS and Android mobile solution is seamless and offer ease of use.
Constructive Comments
Here is a list of constructive comments for RouteStar Solutions.
Required to pay extra for some fundamental and useful features.
The data base needs to be re-routed quite often, which creates inconvenience.
Synchronization with third-party cloud apps is difficult.
It proves to be an expensive, not good value for money.
You can read more reviews by us here:
SpeedyRoute Reviews – Does it Suit Your Delivery Process?
Is There an Alternative Route Planning Software?
A dispatch management software that can satisfy the requirements of most industries is difficult to find. This is often due to the specific needs of those particular industries. If your delivery business requires integration with Quickbooks along with route optimization then RouteStar Solutions is a good option. But other RouteStar Solutions alternatives can prove to be more cost-effective for businesses that do not require something like Quickbooks Integration. One of these alternatives is Upper Route Planner.
What is Upper Route Planner?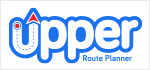 Upper is route optimization software that helps individual drivers, contractors, courier, and dispatch businesses manage their daily dispatch tasks. Upper helps these drivers and companies by carving out the best possible route based on real-time traffic details to save time and money. It makes sure that the course created can help a driver manage his deliveries in the least amount of time possible.
What Makes Upper Route Planner a Suitable Alternative?
One of the significant reasons why Upper is suitable is because of its human-centric' design approach. This makes the software intuitive, and it can offer ease of use to the drivers or users who are using it. Upper also aims to provide the best customer satisfaction and value for money in the route planning market. It understands the complexities of delivery distribution and how expensive it can be. The robust mobile feature of Upper makes it convenient for drivers on the go.
With the 3-day free trial, Upper offers you a chance to see if the software is suitable for your route optimization needs. It offers some beneficial features like Drag Drop Scheduling, Bulk Address Import from Excel, Location-Based Auto Detect, and Duplicate Routes. Upper makes sure it can provide the best customer service through the platform and the helpful and cooperative customer support team.
Conclusion
When choosing a route management software package, you must check if it satisfies all your major delivery management process requirements. In addition to this, the software purchase must be influenced by ease of use and value for money. We hope this review has helped you know which software would be more suitable for your business needs.