The route planning and route optimization process are primary requirements for several organizations that depend on delivering goods and services to their buyers. These delivery businesses make use of route planning and optimizing software daily. A route planning software helps delivery businesses determine the best and most cost-effective way to deliver products and services without any significant delay.
Routific is a route planning software that offers real-time route planning features to delivery businesses. In this Routific review, we have combined functionalities, case studies, and overall user reviews of the platform to help you understand whether or not Routific is a suitable option for you.
What is Routific?
Routific is a route planning and optimization software that offers optimized delivery routes in minutes, increases your fleet's volume, and helps in scaling delivery fleet operations.
Routific Overview
The algorithm of this route optimization software has been in development for over a decade now. It optimizes your delivery route based on real-world factors like the number of vehicles, delivery types, vehicle capacity, driver management, priority stops, etc. It is a suitable routing software for small and medium-sized organizations that make drop-offs and pickups each day. Any business requiring a SaaS-based delivery and routing platform can benefit from Routific.
Pricing Details
Routific offers a 7-day free trial of their software. There are three monthly/yearly pricing plans you can choose from.
The Essentials plan includes basic functionalities like import orders, drop-off routes to the driver, etc.
The Professional plan has additional features like tracking driver progress with GPS, capturing photos and signatures as proof of delivery, etc.
The Premium plan is available at custom pricing with features like premium support and unlimited stops per vehicle.
We do not include specific prices and costs because they may vary. Please consult the company for updated prices.
What Are the Features Offered by Routific?
Here are some of the best features of Routific: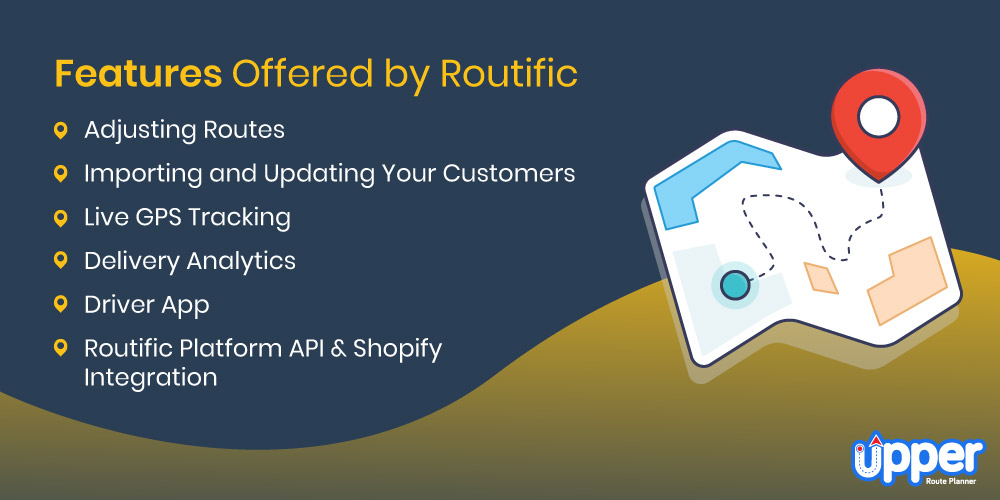 Adjusting Routes
Routific allows you to make as many changes as you want to the routes before dispatching them. You will require Live Tracking to be able to make changes after the routes have been dispatched. Manual adjustments can be made with a simple drag and drop functionality. With this feature, organizations can easily customize routes considering real-live factors like vehicle capacity and time windows, something you can't do with Google Maps. You can also add or delete last minute orders.
Importing and Updating Your Customers
Routific allows you to import your clients' addresses in three ways: Import using a spreadsheet, saving customer profiles, or adding them separately. It also allows you to inform your buyers about when they can expect their package with the help of time windows or when it is on its way or has been completed. This can be done through automatic SMS and email notifications.
Live GPS Tracking
Routific has the ability to track each driver and their progress constantly. The real-time updates can reach the users in the form of ETAs or customer notifications throughout the day. This way, your buyers are more informed about the status of their package. But this can only be done if your drivers are using the Routific Driver mobile app.
Delivery Analytics
The delivery analytics feature offers a detailed analysis of your fleet's delivery management and performance by generating end-of-day reports. To get this analysis, you will need to have Routific's Live Tracking feature and your drivers' Routific mobile application. You can then download a PDF or print these documents if you wish.
Driver App
A company can use the driver app to dispatch routes using a quick and easy SMS link. The driver app allows you to be more organized and in-sync with your team with just a single click. It also allows you to track your drivers. It is quite easy to use for the drivers and offers ease of use to the company to access the drivers' and their vehicles' location in real-time. With access to Live Tracking, drivers notes for the dispatcher and taking pictures and signatures as proof. Drivers can choose Google Maps or Waze to get turn-by-turn directions making it easy to use for them.
Routific Platform API & Shopify Integration
API Integration allows a company to push orders directly to the platform. It is beneficial if you store any customer delivery data on an internal ERP or order management system. You can also easily import orders from your Shopify Store directly into Routific. You will have to install the Routific app from the Shopify App Marketplace to get started.
Various Use Cases of Routific Route Planning Software
Here is a list of the best use cases we have prepared: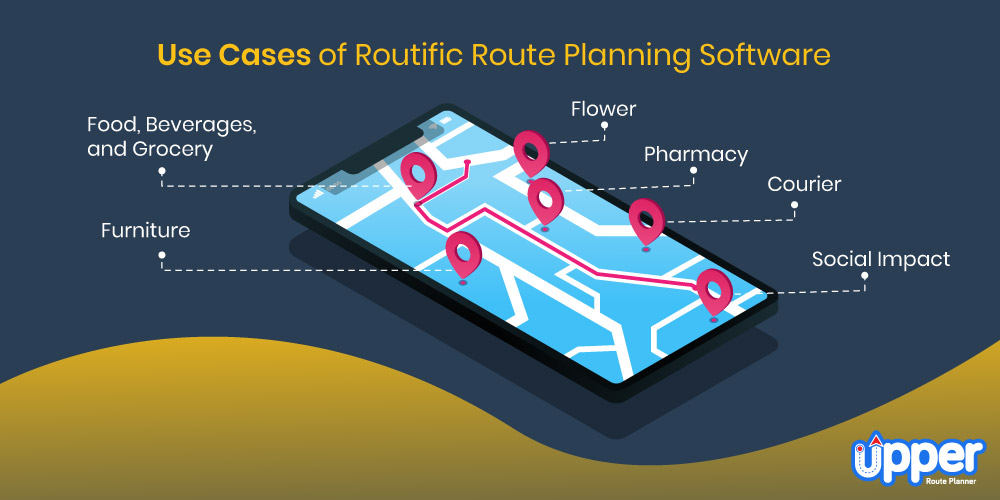 Food, Beverages, and Grocery
Every grocery business is required to dispatch a large number of deliveries throughout the day. With the COVID pandemic, this demand has only seen a boost. Routific has helped every business using the technology to plan thousands of stops, send out automated delivery notifications, save time on their usual delivery route, and make essentials reach the right place at the right time.
For every meal and beverage house, the main focus is on the cooking; deliveries come into the picture much later. But they are an indispensable part of each meal and beverage business in the current times. This is where Routific has been able to help grocery, beverages, and meal delivery company in scheduling driver management, importing a large number of routes to drivers, etc.
Furniture
Without route planning, a delivery service or making deliveries becomes inefficient and unsustainable. Routific has helped a furniture business in Australia to plan each route without a sales call and making complex orders and deliveries incredibly easy.
Flower
A flower business can take anywhere between 500-700 deliveries during the week. It requires a lot of organization and ensures the delivered flowers are fresh, just like food. Uploading the CSV of the orders to Routific and dividing the orders by postal code becomes really helpful for getting perfect routes, and this is made possible with the web app.
Pharmacy
In the United Kingdom, Routific route planner apps managed to help a local cycling club with a delivery service program. Multiple drivers and volunteers came together and, with the help of the Routific route optimization solution, delivering a backlog of over 1000 prescriptions. The route optimization platform and the web app of Routific were straightforward to use even for volunteer drivers who had never used it. Pulling off a task like this would have been not easy with a simple platform like Google Maps.
Courier
Routific's algorithm helped courier and logistics businesses in defining better boundaries for their routes and each vehicle. Routific helped them come up with several mock-ups for modeling and re-modeling their routes, so obtaining a cost-effective routing becomes easier.
Social Impact
Local food delivery campaigns have also benefitted from Routific's route planner apps allowing several volunteers to receive enhanced routes per vehicle and solving their logistics problem. For volunteers who are used to an app like Google Maps, Routific web app or website offers similar ease of use.
Routific Reviews by Customers and Overall Rating
Here are lists describing the positive and negative attributes of Routific.
Positive Comments
Here is a list of good comments about Routific based on customer references and reviews:
Offers ease of use with modifications to stops, drivers, and routes.
Intuitive and user-friendly web interface with simple steps.
Choice of navigation app like Waze, Google Maps, and Apple Maps.
Easy to set up custom notifications.
Great customer service with friendly and comprehensive service.
The easy drag and drop functionality helps in balancing the routes.
No need to enter an end location to enable route optimization.
Negative Comments
Here is a list of criticisms about Routific based on customer references and reviews:
Extra payment for tracking a driver vehicle and collecting notes.
Becomes expensive for a small business.
More suitable for businesses with multiple drivers and a larger fleet operation.
It doesn't accommodate multiple users without the need to have a single login.
Some elements are clunky and require careful clicking, which makes it inefficient.
There is no way to GPS track drivers.
It would be better to have more ways to communicate with the clients through the app.
Limited functionality compared to other route planner apps.
You can check out another review by us here:
Route4Me Review – Is It Right for You?
Is There a Route Optimization Alternative?
It is always a good idea to look around for alternatives, especially in route optimization software. When you look for alternatives to route planner apps, you know the functionalities you are missing out on. These could be essential features that your current route optimization software might be missing. This is where Upper Route Planner comes into the picture.
What is Upper Route Planner?
Upper is a route optimization solution that can help a corporation or a business get optimized routes, tracking dispatch, delivery information, time windows, etc. It is a multi-platform application that works on computers (Web/Cloud) and mobile devices (iPhone, iPad, Android).
Why Choose Upper Route Planner?
Upper is one of the best route planning apps in the market. It offers ease of use while planning multiple routes, dispatching routes to drivers, and meeting one of the most important business needs. Upper is designed with a 'human-centric' approach in mind. The app is a work of art, and each feature is designed to make things easier for users.
Upper also gives you the freedom to choose from map services like Google Maps, Apple Maps, Waze, Yandex, etc. Upper offers a 3-day, no obligations free trial for you to check out the functionalities. Be it a small business or a large corporation, everyone can benefit from using this app/website and getting well-planned routes.
Conclusion
When you choose a platform from software listings or get in touch with software vendors to get your hands on the best route planner apps and website, you must check user ratings and the functionalities and pricing. It must also be easy to use for your team and should offer good customer support. If the software offers a free trial, it's even better. Hopefully, this blog has helped you understand why a certain solution might be more suitable for your business.