Every organization requires systems in place that make their daily functions easier or automate them. For this purpose, companies require an end-to-end SaaS program. These programs can help companies create online marketplaces, build a wider customer base, manage orders and deliveries, make payments and returns easier, and track the business's functions.
In this Tookan app review, we will look at a SaaS company offering delivery and route management software. This review will help you better understand the features offered by Tookan, how exactly it can be useful to different business organizations for satisfying their business needs. Food order delivery services have used Tookan, along with repair services, individual contractors and delivery drivers, traveling salespeople, traveling technicians, etc. Organizations use Tookan to optimize routes and meet dispatch requirements for a delivery business with some beneficial product features like barcode generation, agent capacity management, graphical reports, SMS notifications. Let us get into more detail about the software.
What is Tookan?
Tookan is a fully customizable freight management software. It helps in managing business resources. Tookan helps by streamlining all your business operations. It provides intelligent dispatch for organizations to save time and money. All the business operations can be managed with the help of an intuitive dashboard with tons of features. It will not only simplify your business operations but also automate your tasks of delivery and dispatch. Tookan was founded in 2011 and is based out of the United States.
How Does Tookan App Work?
With delivery management functions like end-to-end route planning, automated dispatch, and real-time tracking, Tookan can help you enhance all your business delivery services. It is useful for field agents, taxi business, companies offering home services, delivery services, etc. Companies can track their on-field agents in real-time. Scheduling and tracking bookings on the delivery service application and manager's dashboard can be really helpful with this fleet management solution.
Pricing Plans
Here is a list of the pricing models offered by Tookan.
Startup: The Tookan Startup plan includes 500 tasks or deliveries per month for unlimited agents. You can get additional deliveries by paying extra.
Growth: The Tookan Growth plan includes 2000 tasks or deliveries per month for unlimited agents. It also includes 1 Tookan form.
Standard: The Tookan Standard plan includes 5000 tasks or deliveries per month for unlimited agents. It also includes 2 Tookan forms.
Enterprise: The Tookan Enterprise plan is a customizable business plan with a variety of features.
Tookan offers a 14-day free trial as well.
We do not include specific prices and costs because they may vary. Please consult the company for updated prices.
What are the Features Offered by Tookan?
Here is a list of features offered by Tookan.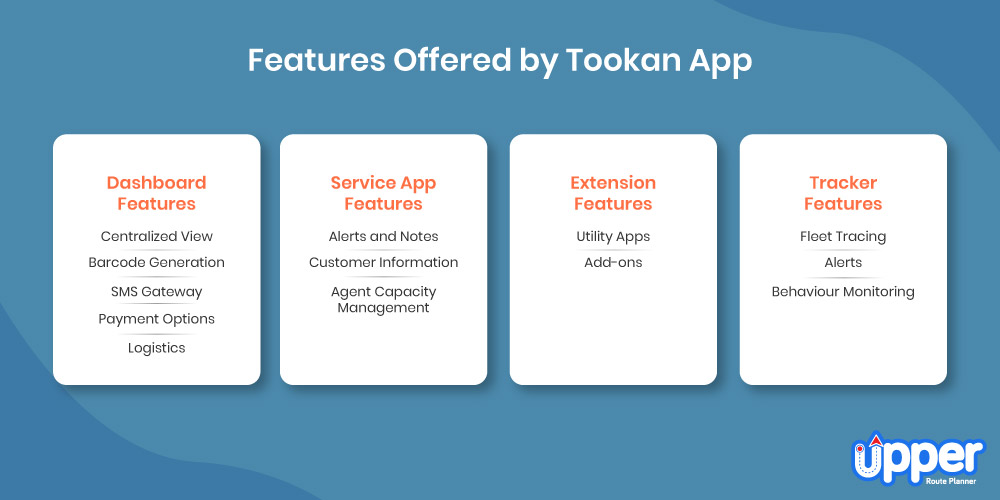 Tookan Dashboard Features
Centralized View: The Display Dashboard offers a centralized view of all your business functions. The Dashboard allows you to create recurring tasks. You can also use Tookan to capture specific information that is important for your business.
Barcode Generation: It offers a convenient way of automating barcode generation for single and multiple delivery orders.
SMS Gateway: The SMS Gateways make end-to-end communications with your clients easier.
Payment Options: There are also convenient payment options for your customers. Your agents can be allotted a specific operational area with multiple geofences.
Logistics: The Tookan Logistics feature tracks long-haul deliveries and improves the overall efficiency of your supply chain.
Service App Features
Alerts and Notes: They can customize operational alerts, communicate with managers and customers, navigate multiple destinations, scan barcodes, enter notes, images, and collect digital signatures all through the service platform.
Customer Information: They also get access to customer information and keep a record of all the transactions made by them.
Agent Capacity Management: There are also features like Agent Capacity Management that defines the capacity for each agent. This helps in managing the delivery efficiently.
Extension Features
Utility Apps: These utility apps help with easy integration where customers receive email and SMS notifications, real-time tracking, insights about customer experience.
Add-ons: Add-ons help with easy on-boarding and efficient management of your dealers on the marketplace platform.
Tracker Features
Fleet Tracing: The Tracker has advanced fleet tracing features to minimize maintenance costs by getting timely alerts for maintenance.
Alerts: Then there are alerts for geofencing, improving overall operational efficiency with better safety and security levels. Users get access to valuable geo-analytics.
Behaviour Monitoring: The behavior monitoring feature allows you to monitor the fleet's behavior in real-time. You get to know your fleet's end-to-end driving behavior. You get details like idle time and rash driving. Fleet Managers also get access to information and tracking summary. They can get comprehensive graphical reports for up to 90 days.
Case Studies On How Different Industries Made Use of Tookan?
Here are various case studies of how different industries made us of Tookan.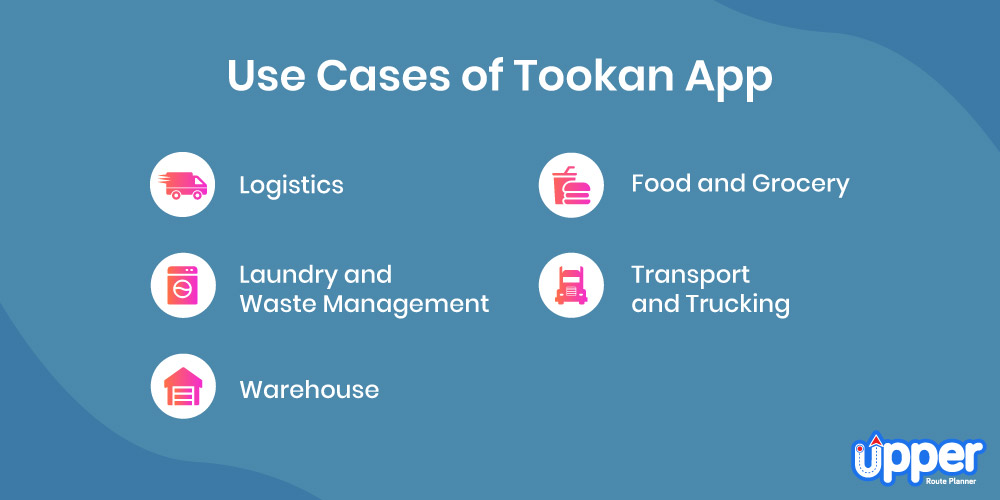 Logistics: Advanced Notifications
With features like Geofencing, Easy Integration, and Smart Analytics, keeping track of a lengthy logistics process becomes much easier. The Automate Logistics feature automates and allocates logistics deliveries to the nearest drivers and field workforce. It has a wide range of options to choose from. A logistics business can add on-application reminders, alerts, and email notifications for drivers.
Food and Grocery: Proof of Delivery
For food delivery and grocery businesses, users can order on desktop or mobile using booking order forms. The booking order form offers reliable payment gateways and adds customers to the CRM. Companies can customize the order booking forms and add some branding of their own. Using the mobile solution, driver onboarding becomes easier; drivers can instantly share their availability and receive delivery requests instantly with complete details. The Driver application also allows drivers to see daily dispatch reports and earnings. The Driver application helps gather proof of delivery.
Warehouse: Real-Time Tracking
The unique Warehouse Management software allows you to keep records of entry of packages, out for distribution, returns, etc. In addition to that, you can customize prices, bills, and services with other features like contract billing, electronic notifications, sales tracing, etc. With Barcode Scanning, you can easily track all your orders. For this, the orders must be scanned before they are dispatched. With online payment gateways, invoice generation is also automated.
Transport and Trucking: Scheduling
Scheduling and managing for transport and trucking business become easier through the Dashboard. The platform offers route optimization to pick the best and most optimized routes. With Route Optimization and Performance Management through the dispatch software, monthly costs for the number of orders decreases. Scheduling helps a delivery company in cutting costs and also reaching locations on time. So it saves you time and money.
Laundry and Waste Management: Agent Wallet
Tookan platform offers various features for a laundry business and a waste management company as well. With in-built chat, it allows two-way communication between the admin and the delivery agents. With actual-time visibility and tracing, customers get instant information. Re-assignment of unforeseen pick-ups and deliveries is also possible; this can reduce errors or admin backlog. It also allows your users to track their drivers and offer feedback and reviews. Pick-up, dispatch, and overall customer engagement become much more convenient for a laundry business. Executives can add notes, signatures, or images to offer proof of service.
Tookan Reviews by Customers
Here are some good things and areas of improvement for Tookan based on customer references and stories.
Positive Comments
Here is a list of positive comments based on customer references.
All the shipping information and quick communication services on a single Tookan platform.
The ability to customize and set various filters.
Seamless and user-friendly Agent app for the field workforce.
The Tookan application and desktop version work well as an overall basic tracing or management software.
Tookan has a good support team with a good account manager.
Constructive Feedback
Here is a list of constructive feedback as provided by the customers.
Manually downloading information from the Tookan database.
It doesn't consider real-time traffic at the time of generating routes.
A Tookan Customer application would have been a great addition to the services.
The Tookan pricing plans are expensive, and the cost of making changes is even higher.
No drag and drop option.
You can read another review by us here:
RouteXL Review – Does it Offer Enough Features?
Is There a Route Optimization Alternative?
Having alternatives or options in case your needs or requirements change is a smart thing to do. A certain management software might be enough for a particular business till there is a limited number of responsibilities. But when responsibilities and workloads increase, new and more robust functions are required. If your current management software cannot do that, you can look for alternatives. You will definitely find something similar. Sometimes this alternative will offer better features or a better pricing plan suitable for your business.
What is Upper Route Planner?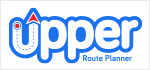 Upper Route Planner is a route planning and optimization software that can help drivers, individual contractors, and delivery and courier businesses generate optimized route plans. It also allows tracing dispatch, adding time windows, considering traffic conditions, and getting delivery information. Upper Route Planner is a multi-platform application with web-based software for desktops and a mobile application for Android, iPhone, iPad, etc. It not only offers quick route creation but also allows you to duplicate routes, name, and customize routes.
Why is Upper Route Planner a Suitable Alternative?
Upper Route Planner is one of the best route planning apps available for businesses, individual drivers, and contractors. It allows businesses to track drivers with reports and insights by offering ease of use and planning multiple routes. Upper Route Planner is designed considering a very human-centric design approach. Each feature and function of the web-based platform and the mobile solution are designed to make things easier.
Upper Route Planner gives its users the freedom to choose from different navigation or map services like Google Maps, Waze, Yandex, etc. It also offers a 3-day, no-obligation free trial for the users to try out the functionalities. Be it an individual user or a business, everyone can make good use of it and benefit from Upper Route Planner's features for getting optimized routes.
Upper aims to offer all the right services and the best in class customer support, and great value for money. Unlike many other delivery management apps available on desktop/mobile or Android/Apple devices, Upper Route Planner is for everyone and all kinds of devices.
Conclusion
A management software needs to be really precise and should include time windows and actual traffic with affordable pricing plans. A good pricing model is what a lot of organizations look for. A free trial is also equally important. In this review, we have tried to include what you can get from a delivery management software. So when you are choosing software next time for your business or your dispatch agents, you will know what exactly to look for, depending on your requirements.