Do you know the average annual vehicle miles traveled by a refuse truck or garbage truck? It comes to 25,000 miles per year, according to the Department of Energy.
These miles per year can be reduced and must be reduced. It not only helps a company save a lot of time and money while still being productive. It has a financial impact on the companies and an environmental impact on the surroundings.
But how exactly do you reduce the number of miles covered by a garbage truck?
The best solution is to use optimized route planning and scheduling software for garbage & waste collection.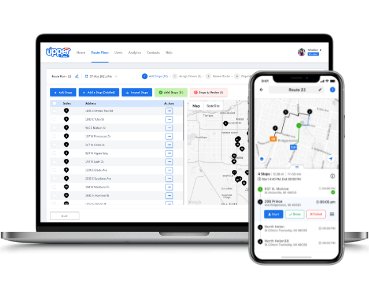 Upper Crew
A Simple-to-use route planner that every one is talking about.
Save up to 95% of planning time
Save up to 40% of time on the road
Plan 500 stops at once
No credit card details required
Having to create these multiple schedules manually will take up too much valuable time and energy. While most private and public organizations that require drivers or sales reps to cover multiple stops during the day are already using a route planning & optimization tool.
For jobs like waste collection, street sweeping, and winter maintenance, the travel distance directly impacts the daily budget of the job function. With proper schedules & optimized routes to follow, the company and the drivers will not only save time and money, but they will be more efficient at each job. Let's look at how that happens.
How Does Waste Collection Route Planning Work?
Here is a step-by-step working of the waste collection route planning process.
Step 1: Create a list of pick-up addresses in Excel or export the list of addresses from your online ordering system.
Step 2: Geolocate, set priorities, time windows, and hours of operations for the stops or tasks.
Step 3: Choose one or more drivers for the list of addresses.
Step 4: Pick the default navigation map for each driver/vehicle along with other details like start point and endpoint, vehicle type, lunch break, and working hours.
Step 5: Start planning and optimizing the routes now. The addresses on the list will be divided equally among the drivers, so the workload is manageable.
Step 6: Once you have the list of drivers and their respective route plans, choose to export the route plan, print the plan, or send it to the drivers using email or text message.
Step 7: The drivers will receive their respective routes and go ahead with their tasks on the date and time assigned to them.
Upper Route Planner: A Waste Collection Routing Software Solution
Upper Route Planner is a route planning and optimization solution that offers a way to optimize routes to a delivery driver, a sales team, or a delivery business. The new, advanced Upper Route Planner web app allows a business to create routes and manage its fleet on a common dashboard.
Integrating your waste collection process with a routing solution like Upper Route Planner will allow you to do the following activities.
Maximize the number of stops and lifts per hour.
Cut down on route planning and manual time spent finding the addresses.
Divide and balance weekly workloads among the drivers.
Maintain and work around strict time windows set by the manager.
Manage high-priority service orders (like collecting industrial waste).
Complete daily and weekly planning of optimal routes in a matter of minutes.
Reduce idle time for drivers and waste collection trucks.
Maximize the number of collections per route, per driver.
Develop faster, more accurate routes for waste collection.
Prioritize emergency routes and major roads.
Benefits of Using Route Planning Software for Garbage & Waste Collection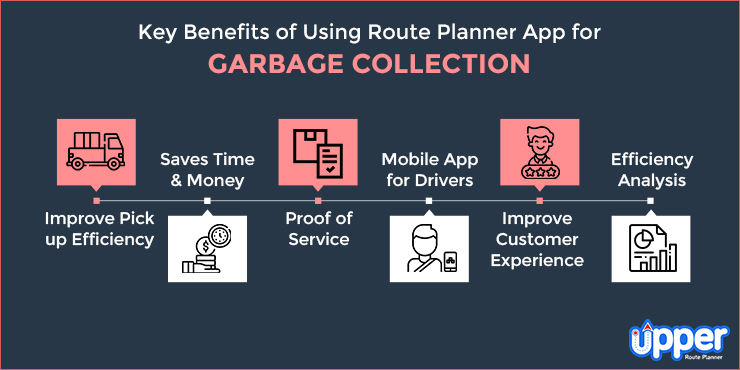 Improve Pick up Efficiency
Each company aims to finish the job with as few vehicles and drivers as possible, and that too, in the shortest possible time. When the addresses and routes are specified in the plan, it becomes quite easy to be able to focus on operational efficiency. It allows a single driver to reach more stops on his route than usual.
A route optimization tool takes into account several factors, divides stops and routes between multiple drivers, and provides the shortest routes to be able to cover more pickups on a single trip.
Saves Time & Money
With the help of a route optimization solution, dispatchers and drivers create more efficient routes compared without spending too much time in planning.
These routes created with specific constraints and route optimization algorithms are always better than manual routing. These routes eventually help drivers and organizations in saving time and costs.
Proof of Service
A route optimization solution like Upper Route Planner also provides proof of service for each stop or location on the list covered by the driver.
Proof of service is a great way to show that a stop has been visited and serviced by the driver. The proof of service is captured by way of signature capture, photo capture, or notes.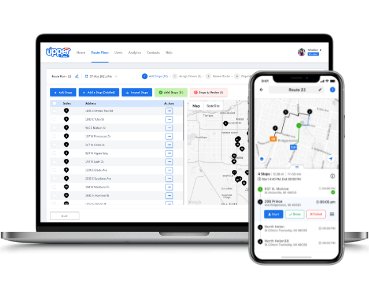 Upper Crew
A Simple-to-use route planner that every one is talking about.
Save up to 95% of planning time
Save up to 40% of time on the road
Plan 500 stops at once
No credit card details required
Mobile App for Drivers
A route optimization solution is often accompanied by a mobile app for drivers. Having a mobile app for drivers facilitates and improves communication between the manager, drivers, and clients.
With the help of the mobile app, the drivers directly receive their daily schedules through email or text. They can also capture proof of service and attach it to the delivery details. Reports can be generated using the app as well.
Improve Customer Experience
When the collection services are performed on time, whether it is for a business or a residential customer, you will be meeting their expectations. Maintaining customer expectations only happens with realistic schedules.
When you optimize routes daily and maintain realistic schedules for waste collecting (residential waste & industrial waste), it helps improve the overall customer experience.
Efficiency Analysis
With detailed reporting and analytics, the dispatcher or manager finds out the efficiency of each driver and route.
These detailed reports include the stops covered, the stops skipped, start time, end time, with notes, and proof of delivery. The manager can choose to get detailed reports for all the routes or a specific route.
Still got more questions? we've answered a bunch of related questions in the FAQ section below
FAQs
The process of organizing and guiding drivers and vehicles to carry out various tasks is called fleet dispatching. Businesses of all sizes can use fleet dispatching for pickups, deliveries, and in-field services.
To cover each address on the route list and doing that in the right order will only be done if you have route optimization support. When optimizing a collection route, it takes into consideration – all the stops, the distance covered, time taken at each stop, and the priority or urgency set for each of these collection stops. Considering all these factors and creating a route plan is called the optimization of the collection route.
Waste optimization includes the act of segregating the residential and industrial waste and treating it in the right manner before it is left out for collection. It is the process of minimizing the amount of harmful waste by treating it using the proper process. It balances and optimizes the services with the customers' waste disposal needs.
Route scheduling is the process or the act of creating and dispatching the route schedule to the driver. A route schedule includes all the number stops with exact addresses along with the time it needs to be covered. The scheduling has to be done depending on the timing. Residential waste collection has fixed timing. On the other hand, industrial waste collection is done on-demand or on specific days of the week.
Make Use of Advanced Route Planning Software to Optimize Waste Collection Routes
Municipalities need just as much efficiency and cost savings as private companies. They are also working for the betterment of the community. The municipalities need to utilize the right tools to make the process easier for them and their clients.
There are several other features like real-time data collection, identifying vehicle capacities, driver skills, and the ability to track different vehicles in real-time. The features offered by route optimization solutions help businesses to manage various processes at once. It will not only benefit businesses by saving costs, but it offers them the ability to get more tasks done with the same amount of time and resources already being used.
Using an advanced route planning solution like Upper Route Planner for Teams will help you plan and optimize your waste collection routes for multiple drivers well in advance. It will create a strong base for your garbage pick-up routes, making sure your drivers are on time.