Key Takeaways:
Spend money on technology such as a website and social media profiles to promote your business and draw in new clients.
Create alliances with regional florists and event coordinators to enlarge the company's market and product offerings.
To cater to the demands of various consumers, provide a variety of delivery alternatives, such as same-day and next-day delivery.
Recruit and train a qualified staff of drivers and customer support agents, to offer superior flower delivery services.
The United States floral industry is estimated to be worth around $5 billion, and the online flower shop business has grown by 8.5% since 2015.
And for the next five years, the United States online floral industry is expected to grow with a CAGR of 6.13%.
With immense opportunities and an abundance of information available on the internet, people still find it difficult to understand how to start a flower delivery business?
Flowers are the most precious and adaptable gifts people choose to give on occasions or share with their loved ones. From birthdays to weddings, from anniversaries to formal business events, flowers as presents are the right fit for any occasion.
But entering an online floriculture business and matching the changing customer behavior and industry requirements is not an easy task.
Despite that, it's not impossible either.
If you plan to enter the online flower delivery business, you won't find a better time compared to the post-pandemic period.
The increased demand for online flower delivery and the changing business ecosystem has created an enormous gap for online floral delivery businesses to bounce and deliver what the customer wants.
So, let's understand the nitty-gritty elements about starting your online flower delivery shop and the things you need to do and what not to do.
But before we jump into the core discussion, here are a few trends over the past few years in the floral industry that can help you with your research.
Trends Showcasing The Increased Demand for Online Flower Delivery
A data-driven and an in-depth study conducted by Arizton in the US floral gifting market spotted many new trends rising in the world post-pandemic. Let us look at the different vital factors that can be handy from a floral online delivery business point of view.
1. Consumer behavior
The new generation is looking for gifts that they perceive as natural, and flowers are their go-to buys. They are skipping the generic gift cards, chocolates, and others.
The therapeutic value of flowers enables people to link flowers with wellness. People tend to choose flowers as high-priority gifts. Valentine's Day and Mother's Day have become the most revenue-generating event for the industry as customers order flowers online.
The young generation enabled the rise of flower delivery apps as people want to order flowers from the ease of their smartphones.
2. Industry shift
A new age of startups focuses on millennials and rewiring the distribution and supply chain system. The direct-to-consumer model (D2C) is being followed across the new age online floral delivery segment, where the focus is to minimize the delivery time and optimize the user experience.
Companies are aligned with the farm-to-table concept and want to remove the previous involvements in the supply chain in the floral business. Enormous emphasis has been paid to the sourcing, design, waste, customer experience, and delivery of the flowers.
3. Opportunity in the delivery segment
With the sudden shift in the business ecosystem, the new opportunity in the floral industry is the delivery of flowers in packed boxes. People want safe deliveries of flat-packed boxes of flowers that can fit inside the standard-sized letterbox space of the door.
Focus and attention are required for agile, hassle-free delivery of flowers as there has been a decrease in the patience level of the consumers. Now everyone wants the fastest and fresh flower deliveries within a few clicks on their mobile devices.
These are the top highlights; now, if you want to pounce on the new opportunities in the flower arrangement and bouquet delivery segment, look at the basics of how to start selling flowers online.
Basics of How to Start a Flower Delivery Business
A few checkpoints are vital for you to stand out from the rest of the competitors in the industry. Following these basics will help you strengthen the foundation of your business and scale your online flower business.
1. Competitor check, market, and customer analysis
With the local flower shops also entering the online segment, the competition will be stiff in the industry. Being a result-oriented business owner, you should be aware of your competitors.
Dig deep into the competitors' operations and determine their online strengths and weaknesses.
List down the services and locations they are offering to the flower buyers, check out the design of the website, and figure out whether they charge for the flower delivery or not.
Going through the nitty-gritty elements, you'll get a pretty good idea of how you can be better with your flower delivery service.
Also, analyze the market trends and statistics of the flower delivery business. You already got a glimpse of the trends in the above sections. Dive deep into understanding the changing delivery requirements of the floral industry before shifting toward a flower shop online.
2. The quick and hassle-free purchase experience
The changing consumer demands have created businesses to switch toward a fast and trouble-free online buying experience for flower buyers.
You need to have an omnichannel presence on the internet with a significant focus on developing a robust mobile application for easy accessibility and quick purchase.
Minimize the buyer's journey, and enable the customers to make the transactions with a few clicks. Once the order is received, you need to have a robust logistics and transportation segment for effective and quick flower delivery to the destination.
3. Storage and transportation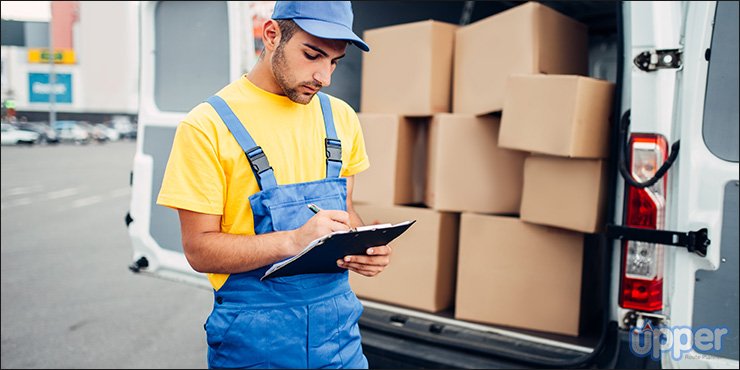 You need to maintain a premium customer experience to scale in the floral industry with the rising competition.
A solid storage and transportation ecosystem can help you deliver fresh flowers to the target buyer for their special occasions.
Adapting to the new innovative D2C business model requires a streamlined supply chain from properly managing your flower inventory to delivering flowers.
An advanced storage and transportation network enables you to adapt to the new farm-to-table concept and scale your online flower store to new heights.
4. Branding and marketing
Both marketing and branding play a vital role in connecting your flower business to the end-user. Also, emphasize choosing a catchy business name because it is the first representation of the world of how your company represents itself as a brand.
Integrate different marketing strategies and tactics to connect with your potential customers to purchase flowers, roses, or bouquets from your brand over others.
You need to package better floral products and market your brand wisely to increase your customer base and solidify your presence in the competitive floral industry.
5. Delivery route planning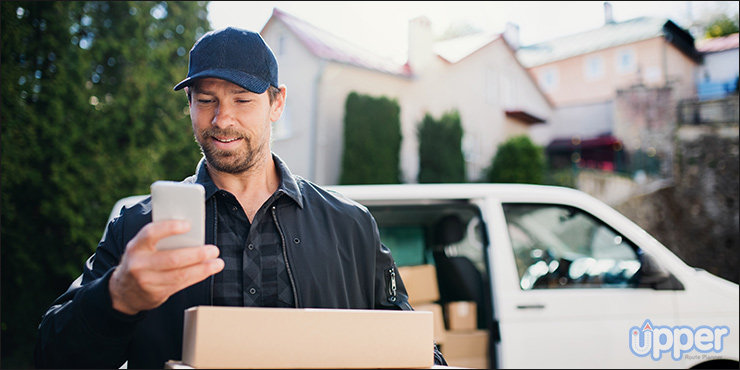 To scale your online business, you need to have the proper infrastructure and access to technologies to match the rising demands and maintain a premium customer experience.
There can be other factors that are responsible to fulfill the above requirements, but in-depth delivery route planning is the hidden gem most online flower businesses miss out on.
But you can leverage the route planning elements and create an immediate impact on your business delivery efficiency, logistics, and transportation effectiveness, and a rise in the overall customer experience.
You might wonder how is this even possible, right?
Let's find out.
Why Are Route Planning and Optimization Important for your Online Flower Shop?
Imagine increasing your customer base and delivering a quick buying experience to your customer to receive your flower delivery order. You process it for a one-day delivery of fresh flowers.
Your logistics team manually checks the inventory, packages the fresh flowers, and instructs the driver to deliver the flower to the desired location within a specific time duration.
But the driver gets stuck in a traffic jam or due to uncontrollable weather conditions, and your delivery gets delayed, and you deliver a poor customer experience.
Bad for business, right? Now, imagine the quantity of orders rises from one to a hundred.
You don't want that to become a reality for your business.
That's where the importance of route planning and optimization comes into the picture.
Route planning is the process where software plans out the shortest multi-delivery optimized route for your drivers by analyzing different parameters like weather and traffic conditions, delivery deadlines, and other vital elements.
It helps you minimize the time, delivery cost, and other undesirable events and maximizes delivery efficiency.
Not only that, it creates a robust communication network between your fleet management and the on-ground workforce. You can provide your customers with the shipment tracking code for easy tracking and provide them a quality customer delivery experience.
And with detailed analytics reports and data-backed information, you can optimize your logistics and transportation process. Look at the other benefits you get:
1. Save time in planning
Remove all human errors and time wastage with manual route planning by your dispatchers and drivers. Plan and optimize multiple stops within minutes with different features offered by dedicated route planning and optimization software.
2. Prioritize quality delivery experience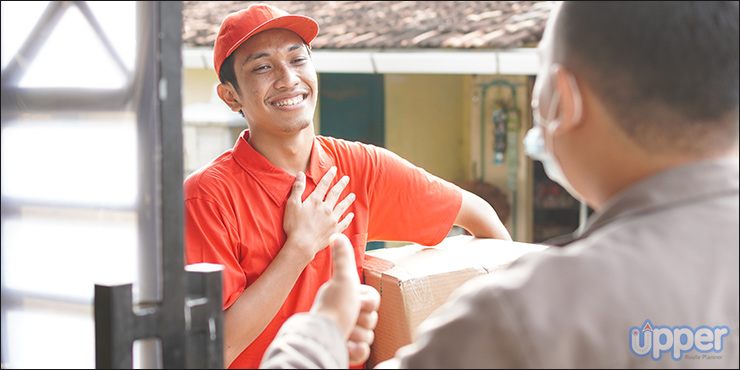 Fulfill urgent and unique customer requirements with streamlined flower delivery while maintaining the freshness of the flowers. Prioritize the urgent requirements and get optimized routes for a quality delivery experience for flower buyers.
3. Multi-driver route dispatch
Within a few clicks, dispatch the multiple route plans to the drivers to follow the most optimized routes for better flower delivery. Handle bulk orders with a streamlined logistics and transportation flow to achieve your business outcomes and outshine your competitors.
Now that you understand the importance of a route planner for your online flower delivery business, you need to filter out one out of the hundreds available in the market.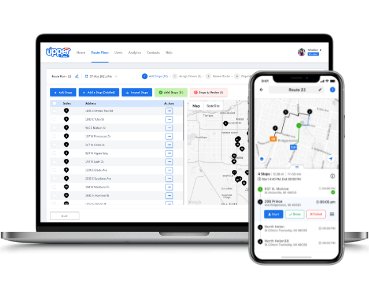 Upper Route Planner
A Simple-to-use route planner that every one is talking about.
Save up to 95% of planning time
Save up to 40% of time on the road
Plan 500 stops at once
FAQ
The success of a flower delivery business depends upon the business. There's no secret mantra that guarantees your business success. Apart from multiple factors affecting your flower delivery business, a few are significant. You should adapt to the changing consumer behavior and industry requirements. You should innovate with time and aim to deliver the best customer experience to your target market.
Yes, florists make a good profit because selling products on online floral shops can result in significant profits.
The profit margin can depend on the reliable services delivered, floral design skills, business structure, and other factors. But on average, the profit margin in a floral business is around 70%.
You can calculate the retail price of the stem by multiplying the wholesale rate per stem by three times. It is one of the most straightforward formulas to get the best price in return.
The role of the florists is to make decorative displays using live, silk, or dried flowers to entice the customers to purchase the product. Having professional florists in your team can significantly boost your business.
Upper Route Planner Got You Covered
Upper Route planner is an easy-to-use, robust florist software for flower delivery route planning and optimization. Being one of the industry's leading tools, it enables you to:
Boost your productivity and order capacity by 40%.
Optimize and plan routes for different drivers simultaneously.
Remove delays in the delivery process.
Store digital records as proof of delivery for every order.
With a wide range of features in the offering, you get the best cost-effective pricing to scale your flower delivery business with the signature of the latest and most advanced software.
So what's making you wait?
Choose the best to become the best. Get a free 7-day trial, and transform your flower delivery process now.