Top Features

3.1

Planning & Scheduling

3.5

Route Optimization

3.6

Reports & Analytics

3.7

Team Management

3.2

Customer Support
Overview
In an era where businesses are moving towards efficiency and precision, route planning and optimization software like eLogii emerges as an ideal example of a streamlined delivery management solution.
eLogii is a delivery management software providing end-to-end route planning with automated route optimization, live driver-on-map monitoring, proof of deliveries, and much more. It can turn out to be one of the best fits for businesses having more than 10 vehicles and completing 100+ daily orders or visits.
With efficient route planning and optimization capabilities, field service businesses have seen a maximum reduction in operational costs. Also, you can communicate with customers in real-time, send live ETAs, and can access the on-map tracking.
Despite the fact that eLogii has a wide range of features available to entertain its target audience, there are some drawbacks that are important for you to know as we head toward the entire review.
Let's dive deep together on the journey to explore if eLogii is a good fit for what you need or not. Along the way, we'll also discover another alternative that could make your operations even smoother.
eLogii Review
Positive
The software is intuitive, allowing users to start using it immediately with minimal training.
Because of its flexibility and user-friendliness, it has resulted in efficient local delivery management solutions.
The 24/7 available customer support team assists in making the onboarding process smooth.
Key strengths of this local delivery management software lie in various task input methods, fast routing, and no lag between the dispatcher and driver apps.
The software's ability to capture images, notes, and electronic timestamps aids in damage claims.
Customizable features based on factors like truck weight limit, driver hours, and service areas contribute to efficiency.
Comprehensive training and support are available, enabling users to adapt the software to their needs with assistance from the tech team.
Negative
Canceled orders sometimes reappear on the dashboard screen.
The software has limited user roles, offering only "admin," "full access," and "viewer" options.
Many advanced features that are essential to the users are exclusively available in the higher-pricing tiers.
In the beginning, some of the filters and wording within the software were confusing for end users. This shows the steep learning curve of the software, making it difficult for the users to understand in one go.
Many advanced features are exclusive to higher-priced product tiers tailored for businesses with higher monthly delivery volumes.
Though minor, an improvement is needed that shall allow users to arrange column orders for CSV downloads of route planning data. For instance, currently, drop-off time windows appear before pick-up time windows.
The driver app's current development lacks a crucial feature: the ability to navigate back to a previous task.
Additionally, there's a notable absence of the option to select a date for a comprehensive weekly overview.
Cannot track driver's progress in real-time, resulting in a lack of visibility into their current status.
Assessing the Worth: Is Your Investment Worth the Price?
The decision to invest in route planning and optimization software demands some critical thinking and careful consideration. This is because it involves adopting new technology, changing the operational routine, as well as equipping new personnel with modernized approaches to route planning and optimization.
Given that, let's look into the feature comparison table shown below between eLogii and Upper:
| | | |
| --- | --- | --- |
| Data Import | | |
| Route Optimization | | |
| Service Time | | |
| Time Windows | | |
| Curbside Delivery | | |
| Live Chat Support | | |
| Turn-by-Turn Navigation | | |
| Multi-Stop Selector Tool | | |
| Offline Mapping | | |
| Address Book | | |
| Electronic Proof of Delivery | | |
| Export Routes to Garmin | | |
| Swap Routes Among Drivers | | |
| Share Route Progress | Limited | |
| Stops Priority via Color Coding | | |
| Pricing Plans | Clear Information NA | openly available |
| Free Trial | Information NA | 7-days |
Features eLogii Upper

Data Import

Route Optimization

Service Time

Time Windows

Curbside Delivery

Live Chat Support

Turn-by-Turn Navigation

Multi-Stop Selector Tool

Offline Mapping

Address Book

Electronic Proof of Delivery

Export Routes to Garmin

Swap Routes Among Drivers

Share Route Progress

Limited

Stops Priority via Color Coding

Affordable and feature-rich plans

Pricing Plans

Clear Information NA

Openly available

Free Trial

Information NA

7-days

Try Upper for FREE No credit card required
What People Say About Upper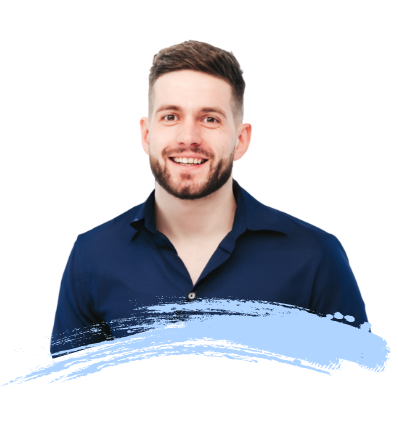 Saved 10 hours per week & delivering 3x more meals with Upper. It's easy to take proof of delivery, the speed is great, it's super super fast!

Ben Parker,
Delivery Manager of Flavors2Go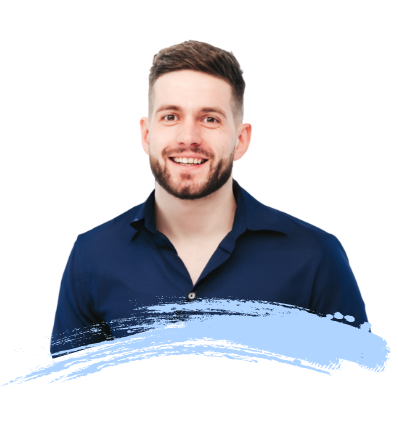 Key Features of eLogii
1. Multi Depot Route Planning and Optimization:
Nowadays, it is challenging to manage several sites and resources effectively. Aligned with this, managing driver and vehicle utilization while monitoring site performance is also difficult. Potential optimizations frequently go unnoticed at certain depots, which causes resource imbalances throughout the organization.
To curb all those concerns, eLogii takes into account numerous operational aspects, including time windows, driver schedules, product sizes, and more, by integrating a multi-depot route planning solution that revolutionizes central planning. Users' resources can be used to their full potential with crystal-clear depot vision, minimizing wastage brought on by inefficient routing.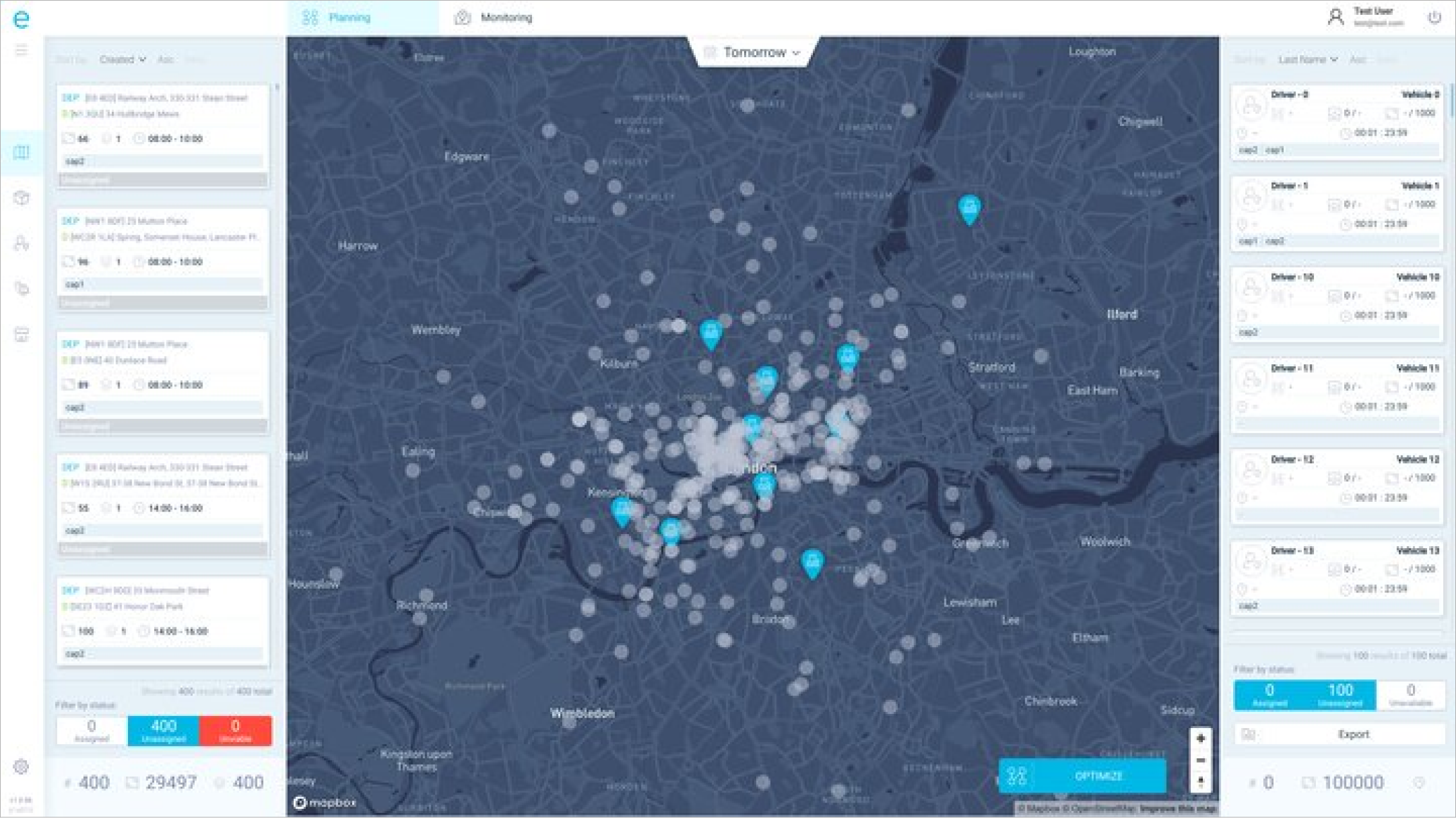 2. Live Operations – Monitoring and Dispatch:
Control and visibility of the ongoing operations are the key features essential for timely and correct deliveries. eLogii provides both of them. Dispatching planned routes may be customized to meet your needs, and it offers automatic, manual, and hybrid methods.
Drivers may be rapidly updated via the platform, and changes can be done dynamically. The ability to track, modify assignments, and respond to client inquiries is made possible through real-time visibility.
With the help of the detailed map view, dispatchers can follow drivers across regions and different kinds of vehicles, providing rapid insights and real-time communication. This way, they can put an end to irritating messages and calls.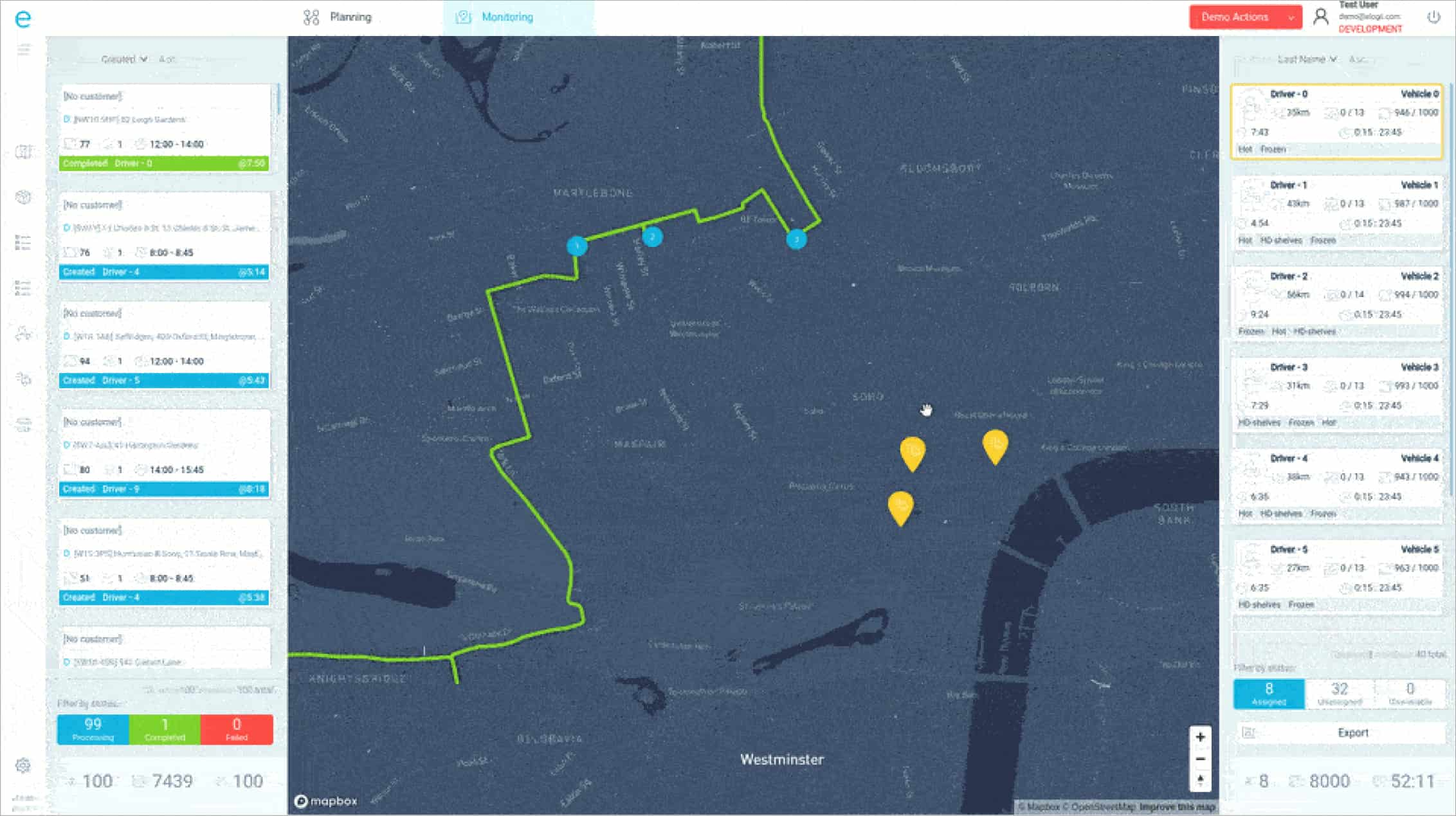 3. Efficient Driver Management:
eLogii offers a centralized dashboard to maintain a comprehensive overview of important driving data. This can enable the dispatchers to maintain control over the different aspects of building driver profiles and granting individual access to the eLogii driver app.
Custom notes, comments, contracts, and attachments may be added to each driver profile to enhance it and build a complete database of essential driver information that is all available in one location.
It is simple to set up and manage driving schedules. Users can even create working schedules for each week, day, or even hour using our platform. Dispatchers may easily see through the interface if a driver is available at any given moment or not. Drivers are also levered with the facility to submit their availability straight through the eLogii driver app as real-time operations are being tracked.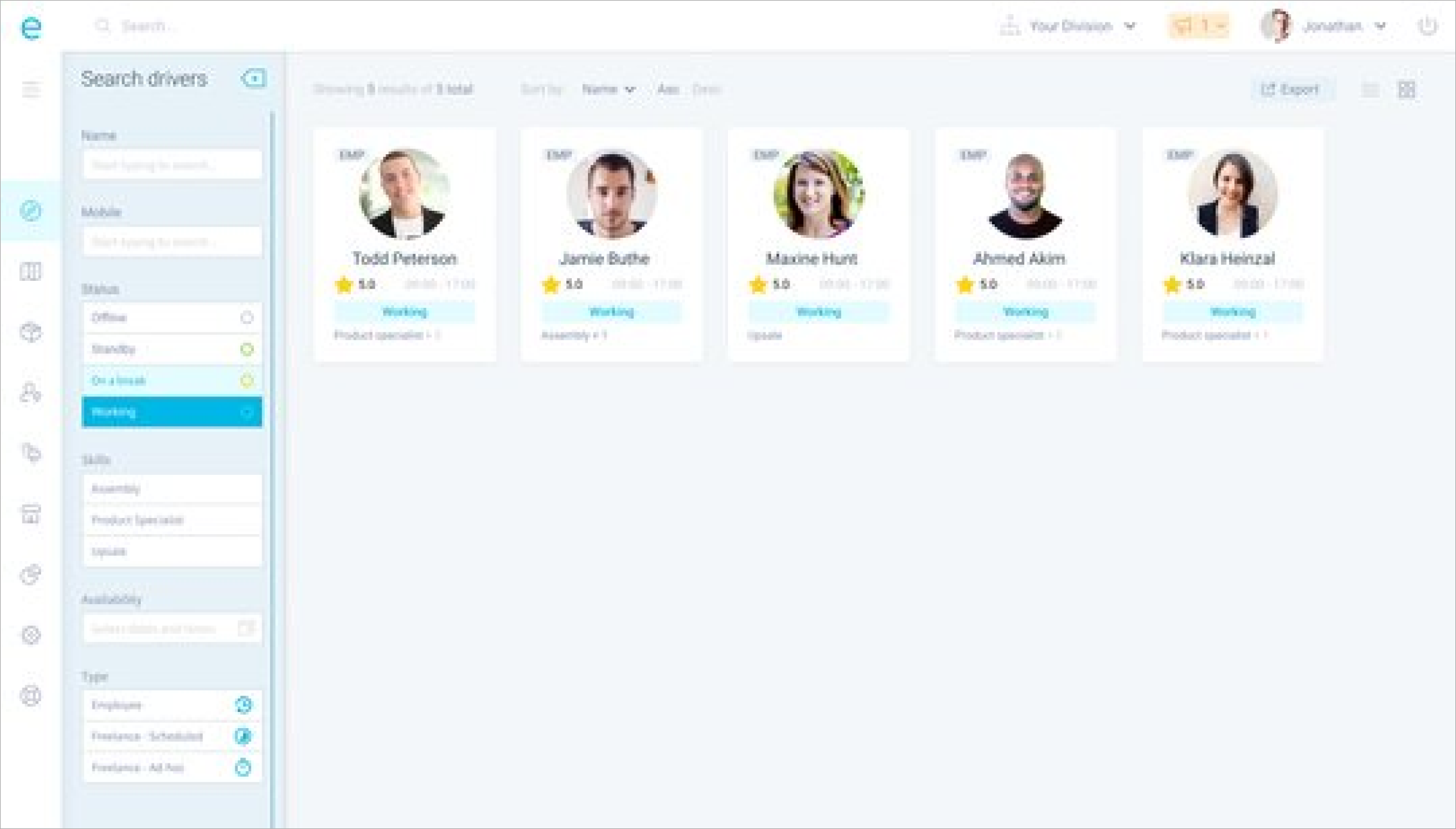 4. Analytics and Reporting:
Making wise judgments requires having significant insights into your business. A complete platform to manage your whole service portfolio is offered by eLogii. This understanding encompasses a variety of areas, including pick-up and drop-off duties, driver performance, and even vehicle economy. With the help of this comprehensive review, you will be better equipped to identify your service's advantages and potential improvement areas.
In the midst of the daily flurry of activities, our real-time analytics provide insightful, dynamic information. Real-time monitoring of important parameters enables proactive management of your delivery fleet and clients. You can better direct operations towards excellence if you have the capacity to measure success rates, on-time performances, customer ratings, feedback, and service times.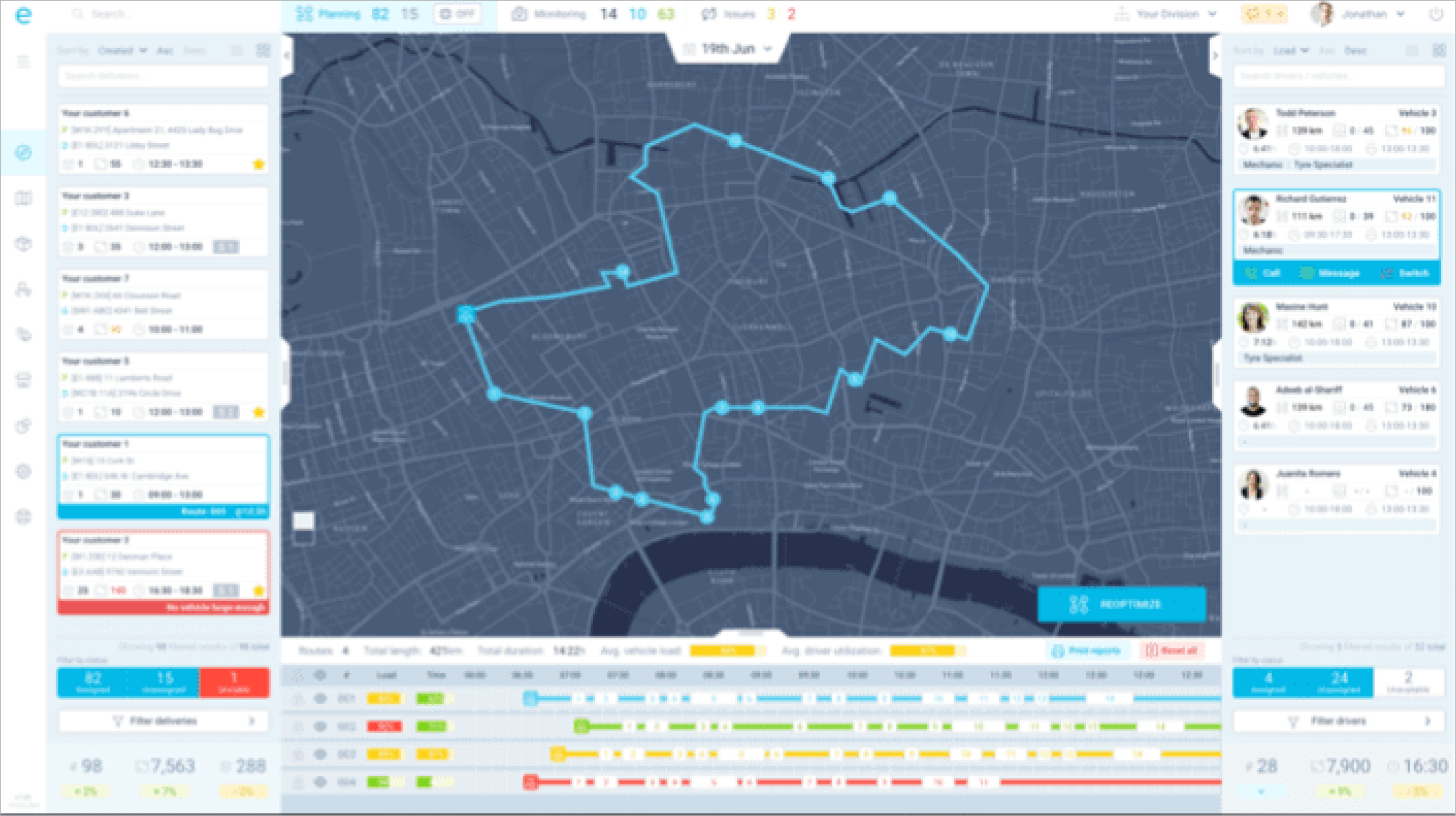 5. Communication and Alerts:
Transparency and communication are crucial in the quick-paced world of today. In addition to helping you manage delivery, eLogii excels at keeping your consumers informed. Increased client satisfaction is ensured by offering automatic and real-time updates throughout the delivery lifecycle. At each stage of the process, these updates may be customized through email and SMS notifications and adapted to meet your unique operating needs.
Our software offers real-time driver tracking and location data in addition to basic updates. Customers may improve their experience by learning about precise ETAs through a straightforward online tracking link.
Customers may also offer insightful comments and ratings, so thanks to eLogii's seamless feedback loop. This mutually beneficial method helps you improve day-to-day services based on useful client input.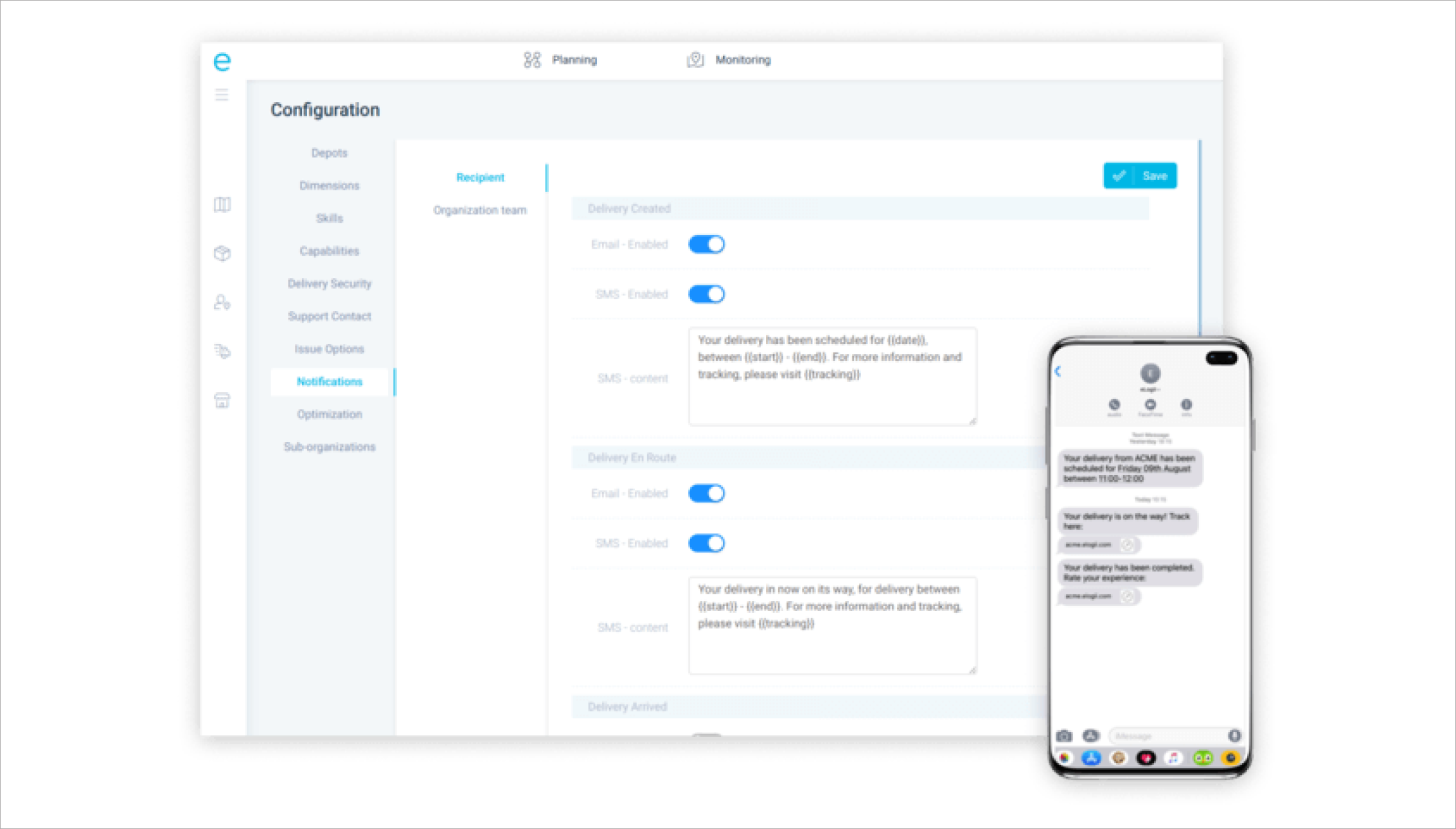 Is eLogii Right for You?
Though eLogii entertains its users with a wide array of features and functionalities offered, there are still some areas of concern that raise doubts over the capabilities of this local delivery management solution.
Have a look at a few of them:
Lack of Essential Features: While comparing the other best route optimization system in the market, there are significant features that are customer-centric though it is not offered by eLogii. For instance, Upper, one of the top eLogii alternatives, facilitate drivers with exact parcel location, count, and picture if needed so that they get exactly what they are looking for. This can help for minimal waste of time on the road.

Other than this, the leverage to save contacts or to efficiently manage the address book is also lacking, which is offered by existing competitors in the market. This can help create routes that are recurring in nature within minutes. Also, one of the highly demanded delivery methods, curbside delivery, is not offered by the software.

Unclear Pricing Plans: Although three pricing plans are visible on their website, the individual plan pricing or the subscription details are not available. This lack of transparency can leave users in a state of uncertainty, unsure about the financial commitment they're stepping into. Without clear pricing information, businesses might hesitate to embrace eLogii, fearing hidden costs or unfavorable terms fully.

No Discount Offered: Unlike other strong alternative options available in the market, like Upper, eLogii does not provide any discount offers on their pricing tiers. This absence of cost-saving incentives can be a significant drawback for businesses looking to streamline their delivery operations while staying within a budget. As a result, businesses might find it challenging to justify the higher cost of eLogii's services compared to its competitors, especially those offering attractive discounts.
A Perfect Alternative for You
It's better to look for an efficient solution that helps in automated route planning and scheduling process with advanced route optimization. Upper has almost everything that you are looking for in an appropriate route planning software.
Have a look at some of the features offered by Upper that might outperform those offered by eLogii:
Avoid copy-pasting each stop manually and bulk upload your address file in CSV or Excel file format.

Optimize deliveries efficiently by considering distance or time-based factors, allocating dedicated service time or time windows.

You can even flexibly swap the routes between the drivers as well as the entire route can be reversed without creating it again.

Automated dispatch of routes in just a click can be done with an effective assignment to respective drivers.

Deliveries can even be prioritized based on urgency.

24/7 excellent customer support is available. You can also get facilitated by a dedicated support manager and a tech consultant as and when needed.

To efficiently organize your mobile workforce, a driver app is also available that is supported on all Android and iOS devices.

To get a bird-eye view and deep insights into the business performances.
DON'T MISS OUT! LIMITED OFFER
Upper's Growth Plan now available @
$160/mo
Get the Best Cost-Effective eLogii Alternative & Speed up Your Deliveries by 3x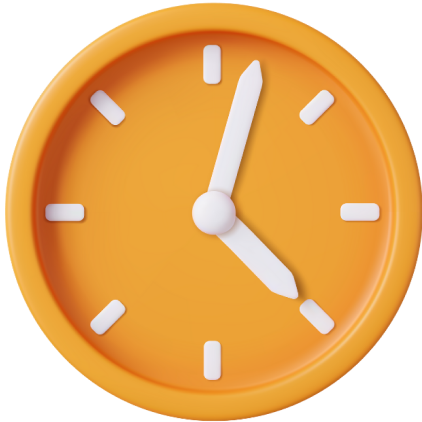 Conclusion
After going through this detailed eLogii blog review, you might have been aware of the strengths' and limitations' of eLogii software. While it does offer a broad range of features to streamline your delivery management, it's crucial to recognize that there are areas that might leave you seeking a more complete solution.
Amidst all these, going through alternative solutions like Upper is an ideal choice to consider. Trying Upper's 7-day free trial. can elevate your route operations to new heights, giving you the best experience.
Frequently asked questions
What is eLogii, and what does it offer?

eLogii is a comprehensive delivery management solution designed to optimize and streamline route planning and execution for businesses. It offers features such as real-time tracking, route optimization, driver management, and customer communication.

How does eLogii's route optimization work?

eLogii's route optimization uses advanced algorithms to create the most efficient delivery routes based on factors like delivery windows, traffic conditions, and vehicle capacity. It aims to minimize the distance traveled, reduce fuel consumption, and improve delivery times.

What industries is eLogii suitable for?

eLogii is versatile and caters to a wide range of industries, including delivery services, courier companies, field service businesses, logistics companies, and Real estate.

What are the key features of eLogii's platform?

Key features of eLogii's platform include real-time tracking, dynamic routing, driver assignment, automated route optimization, single and multi-depot route optimization, API integrations, reporting and analytics, and customer communication.

How does eLogii ensure accurate ETAs for deliveries?

eLogii factors in real-time traffic data, historical route performance, and dynamic variables to calculate accurate ETAs for deliveries, providing customers and dispatchers with up-to-date information.

What is curbside delivery, and does eLogii support it?

Curbside delivery involves dropping off or picking up goods near the curbside of a location. eLogii does not currently support curbside delivery, which might be a constraint for businesses requiring this delivery method.

What integrations does eLogii offer?

Yes, eLogii does offer various third-party integrations, including CRM systems, e-commerce platforms, and order management systems. These integrations enhance the overall functionality and data flow within a business's operations.

Is eLogii user-friendly for drivers and dispatchers?

Yes, eLogii provides a user-friendly interface for both drivers and dispatchers. It provides clear route instructions, real-time tracking updates, easy navigation, and driver support tools to help users efficiently manage their tasks.

What customer support options does eLogii offer?

eLogii does provide customer support however, if you are looking for an immediate and comprehensive response, then eLogii might set back. However, it offers very thorough training with online resources such as tutorials and FAQs to assist users if they find anything complicated.